LOTO Runners Christmas Light Run: All are invited to come out Wednesday (12/12) evening to run from Pappo's Pizzeria to the Osage Beach City Park to see the Christmas light displays, and then back to Pappo's for some holiday cheer. Meet at Pappo's (next door to Wobbly Boots BBQ) at 6:00 p.m.
* * * * *
HOT CHOCOLATE 15K/5K ST. LOUIS (posted December 9th)

Three chocoholics from the Lake area were in St. Louis on a chilly Sunday morning to run in the popular Hot Chocolate 15K/5K. St. Louis is one of nearly twenty stops in the Hot Chocolate series of events held around the country.
Angela Martin finished the 15K in 1:25:54, placing 16th (of 230) in the women's 45-49 age group. Further back in the same age group was Laura Barnhart, who placed 197th with a 2:09:21 finish time.
Pete Groce was the first of our locals to finish the 15K, crossing the line in 1:21:34 and placing 18th (of 74) in the men's 50-54 age group.
Complete race results can be found here. (Note: Race results were not searchable by city, so it was impractical to look through nearly 7,800 finishers to find just those from the Lake area. If I missed anyone, you know the drill.)
Total participation was down 7% from last year, and down 30% from 2016's inaugural race.
| | 2016 | 2017 | 2018 |
| --- | --- | --- | --- |
| 15K | 3,673 | 3,062 | 2,784 |
| 5K | 7,417 | 5,311 | 4,979 |
| Total | 11,090 | 8,373 | 7,763 |
* * * * *
THE SKIPPO (posted December 9th)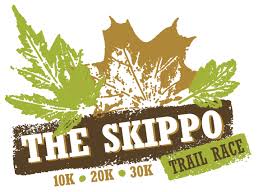 Congratulations to John Shelby for an age-group victory at The Skippo Trail Race on Saturday at Castlewood State Park in west St. Louis County. John topped 9 others in the men's 50-54 age group with a 10K winning time of 54:28.
Complete results can be found here.
* * * * *
SANTA CAUSE 5K (posted December 9th)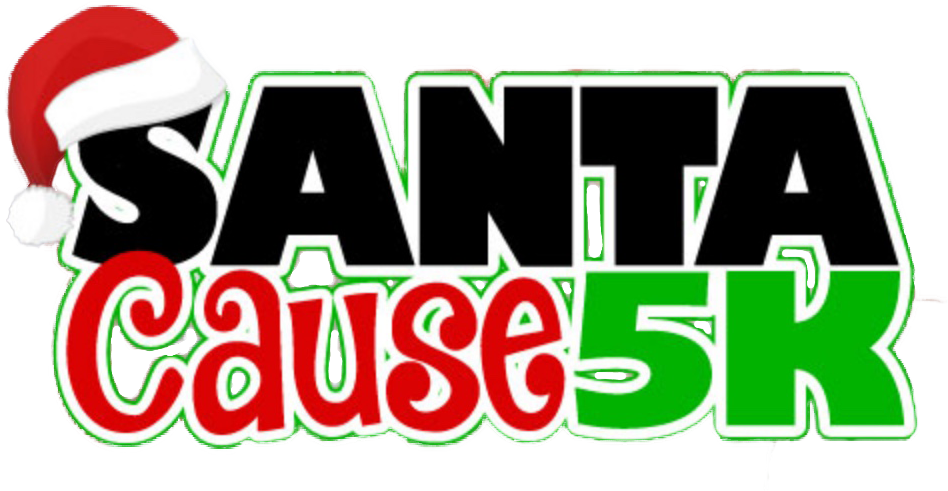 While in Peoria, Illinois this weekend to visit her sister, Jade Fletcher ran in a race-issued Santa Claus suit (it was mandatory for all runners) at the Santa Cause 5K. The suit slowed her down a bit, and Jade finished in 23:51, placing 4th (of 19) in the women's 11-20 age group.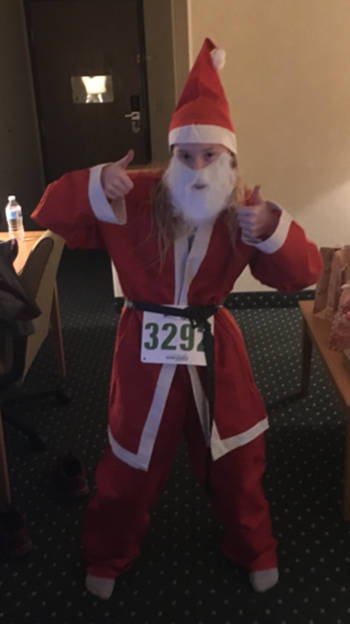 Complete race results are here. Hopefully, photos from the event will be posted at its Facebook page.
* * * * *
36 HOURS OF JACK (posted December 9th)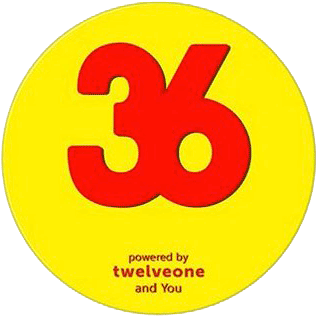 Three Lake-area runners and a couple of our more distant friends competed at the 36 Hours of Jack (Facebook page) in Carthage this weekend. Here are their results:
36 HOURS OF JACK
CARTHAGE, MISSOURI
DECEMBER 8-9, 2018
RESULTS FOR LAKE-AREA RUNNERS

Name

City

Finish Time

Division result

80K:
Melissa Martinez
Crocker

10:45:01

1st of 3 females

Jason Crockett
Camdenton

11:21:14

3rd of 5 males

50K:
Ed Green
Lebanon

6:51:54

9th of 10 males

15K:
Scott Gray
Eldon

2:56:52

5th of 6 males

Margie Gunter
Osage Beach

3:31:52

11th of 11 females
Complete results can be found here.
The biggest news coming out of the race is that, for the first time in its history, the race has a 200K finisher. Shane Sundermann of Lincoln, Nebraska finished in 32:02:04, a pace of 15:28 per mile.
Shown below are the number of finishers, by distance, in the four-year history of the race. (It was known as "You Don't Know Jack" in 2015 and 2016.)
36 HOURS OF JACK
NUMBER OF FINISHERS

2015

2016

2017

2018

5K

-

-

7

5

15K

52

28

10

19

25K

50

33

27

-

30K

-

-

-

13

42.2K

3

-

-

-

50K

41

17

23

18

75K

-

6

4

-

80K

-

-

-

8

50-Mile

-

4

-

-

100K

-

2

6

6

100-Mile

-

-

7

4

200K

-

-

-

1

Total

146

90

84

74
* * * * *

4 FORE 30 (updated December 2nd)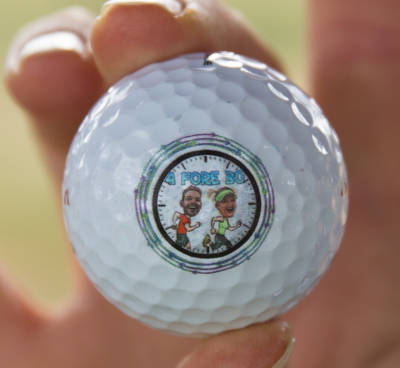 <
Click on photo for a larger image
The inaugural 4 Fore 30 (Facebook page) held this past weekend at Lake Valley Golf Club was, by a huge margin, the longest footrace ever held in the Lake area in terms of both distance and duration. In fact, had the race gone to its limit of 30 hours (i.e. 120 miles), it would also have been, to the best of my knowledge, the second longest footrace ever completed in the state of Missouri, just four miles shy of the longest—the 36 Hours of Jack 200K held in Carthage. (Any takers for a 4 Fore 32?)
The race was a "last man standing" type race, where physical and mental endurance mostly trump speed. At the top of each hour, competitors take off on a four-mile course, and get one hour in which to complete it. Those who fail to do so are eliminated from the race, while the others line up to do it again, and again, and again, until 30 hours have elapse or just one runner remains, whichever comes first. (If it comes down to a 30th hour, the first person to finish that final hour is the winner.)
Proceeds from the race benefit Kids' Harbor, a Lake-area based nonprofit that assists victims of child abuse.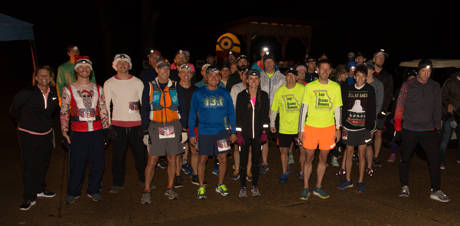 The 4 Fore 30 starting line at 5:59 a.m. To the relief of all, strong thunderstorms that hit the Lake area hours earlier had moved out, leaving clear skies and ideal running temperatures in the upper 40s to upper 50s the remainder of the morning. Cloudy,. chilly and windy weather took its place in the afternoon, and it only got colder during the night.
Thirty-six competitors, including 21 from outside the Lake area, and split 26 men to 10 women, toed the starting line. The two oldest were in their 60s, and two youngest were under 17.
Of the 36 who started, one-third completed a race distance equivalent to somewhere between a 50K and 100K. Nine did more than that, while 15 did less. The table below shows the number of competitors who, based on the miles they completed, would have finished a conventiona race distance.
4 FORE 30
CAMDENTON, MISSOURI
DECEMBER 1, 2018

DISTRIBUTION OF COMPETITORS BY NUMBER OF MILES COMPLETED,
GROUPED ACCORDING TO CONVENTIONAL RACE DISTANCES

Conventional Race Distance

Number of
competitors
completing this distance

Half marathon or less (0 to 13.1 miles)

1

Half marathon to marathon (13.1 to 26.2 miles)

8

Marathon to 50K (26.2 to 31.0 miles)

6

50K to 100K (31.0 to 62 miles)

12

Over 100K (over 62 miles)

9

Total

36
Perhaps it was the favorable weather conditions, or maybe they got caught up in the excitement or inspiration of their fellow competitors, but many of our local runners ran longer than their pre-race expectations or plans. A number even set new personal distance records. Listed below are some of the new records known to us (please let me know of any corrections or additions):
Ryan Page - 16 miles (previous high: 13.1)
Katie Roberts - 28 miles (previous high: 13.1)
Stacy Roberts - 28 miles (previous high: 13.1)
Rob Kucsik - 32 miles (previous high: 26.2)
Nigher Alfaro - 36 miles (previous high: 26.2)
Tucker Seise - 44 miles (previous high: 13.1)
John Shelby - 64 miles (previous high: 50)
Joel Reed - 64 miles (previous high not known)
We suspect that Elaine Mallahan (40 miles), Michael Korst (40 miles), and Colin Cronin (64 miles) may have set new personal distance records, as well.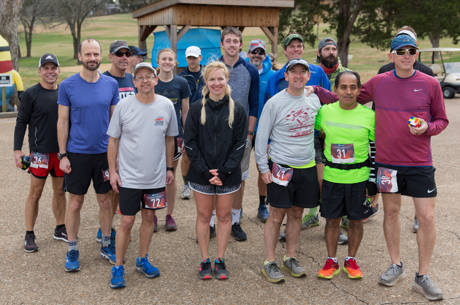 A group photo of those just about to start hour #8. Everyone in this group, plus a few who showed up too late for the photo, would finish with at least 32 miles, and some would go on for many more.
It's a bit sad that, in a race of this type, there can be only one winner. The second-place, third-place, etc., finishers cover extraordinary distances and push themselves to their personal limits, but to do that and come up short must be more than a little disheartening.
The overall winner of the race was Andy Emerson of Columbia. Andy is no stranger to "last man standing" races, after competing in Lazarus Lake's Big Backyard Ultra in Tennessee in four of the last five years. (He completed 104 miles in 2014, 91.6 in 2016, 100 in 2017, and a personal best of 112.5 miles in 27 hours this past October.) Andy's experience and fitness for this type of race obviously worked to his advantage, and he completed 88 miles in winning the inaugural 4 Fore 30. Chris Boyle completed 84, and lined up alongside Andy for the start of the 22nd hour, but soon thereafter decided not to continue. (It's mind-boggling to think that Andy's 88 miles/22 hours is only one-third of the 283 miles/68 hours that it took to win this year's Big Backyard Ultra.)
The top female was Gabrie Burriss, a 24 year-old from Stilwell, Kansas. Gabrie completed 68 miles. It appears that she, too, set a personal distance record--a 50-miler in September looks to be her longest prior race.
Overall winner Andy Emerson (88 miles) and top female Gabrie Burriss (68 miles).
Complete race results can be found here.
Congratulations to everyone who raced. It was inspiring to see people continually push themselves to achieve personal goals, despite their obvious pain and suffering.
A big "thanks" goes to Alysia Maschino and Scott Pagefor creating the race and running it flawlessly, to Margie Gunter and the other volunteers who help support the event, and to Lake Valley Golf Club for indulging a bunch of crazy people who will run in circles for hours in December for a golf ball and a t-shirt.
Over 400 more photos from the race can be found here. Here's a list participants, sorted by bib number, in case you wish to learn the name of someone appearing in a photo.
4 Fore 30 made the front page of the Lake Sun.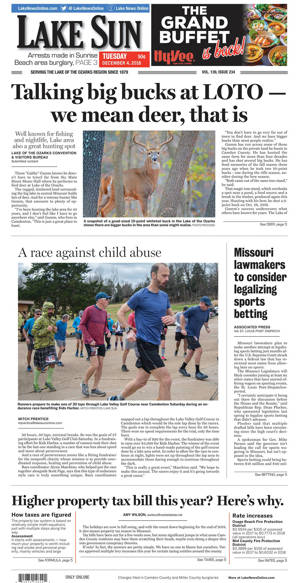 (Click on photo for a larger image)
* * * * *
CALIFORNIA INTERNATIONAL MARATHON (posted December 2nd)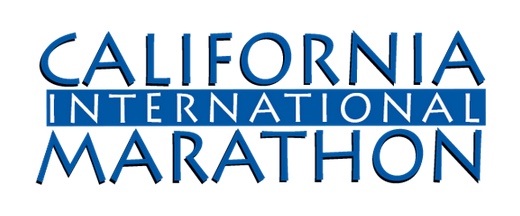 Almost exactly one year after running his very first ultramarathon, Payton Bartlett decided to run his first marathon. Most runners go through a steady progression of longer distances, but 18 year-olds don't pay much attention to conventional wisdom.
On Sunday, Payton finished the California International Marathon in Sacramento in an outstanding 3:14:43, taking fifth (of 29) in the men's 19-and-under age group. That's the fastest marathon of any Lake-area runner this year. (Payton is from Lake Ozark, and is a freshman at the University of Wyoming.) Payton was three minutes shy of breaking Casey O'Connor's record of 3:11:22 for males 19 and under in the Lake area.
The California International Marathon is popular among fast runners, due in part to its net downhill course. Over 8,000 runners participated in this year's event, with fourteen finishing in under 2:15:00.
Complete race results can be found here.
* * * * *
NEW LAKE AREA RECORD-HOLDERS (posted December 1st)
Congratulations to Katie and Stacy Roberts, who on Saturday set a new Lake-area record for the most miles raced in a year by a married couple. At 4 Fore 30, Katie and Stacy each ran 28 miles--a personal distance record for both--bringing their combined mileage for the year (at races 10K or longer) to 287.6 miles, and smashing the previous record of 248.5 miles set by Jayna and Scott Gray in 2015.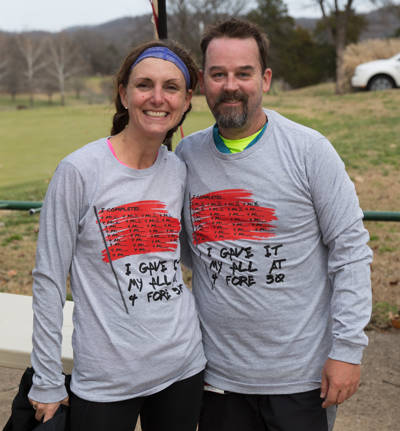 The Lake area's record-holding "runningest couple", Katie and Stacy Roberts.
* * * * *
ST. JUDE MEMPHIS MARATHON WEEKEND (posted December 1st)

Jayna and Scott Gray were apparently the only Lake-area runners among the 25,000 who participated in this year's St. Jude Memphis Marathon Weekend. Despite the start of the race being delayed 30 minutes due to a thunderstorm in the area, Scott reports that they still ended up getting soaked not long after the gun finally went off, although the weather gradually improved after that.
Jayna and Scott ran the 10K together, and finished in 1:52:46. That placed Jayna 302nd (of 318) in the women's 35-39 age group. An age-group place wasn't shown for Scott.
Complete race results can be found here.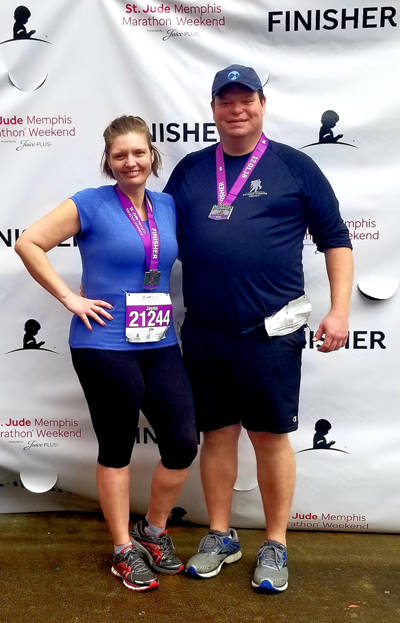 Jayna and Scott Gray at the St. Jude finish line.
* * * * *
RUNNING OF THE ELVES 5K RUN/WALK (posted December 1st)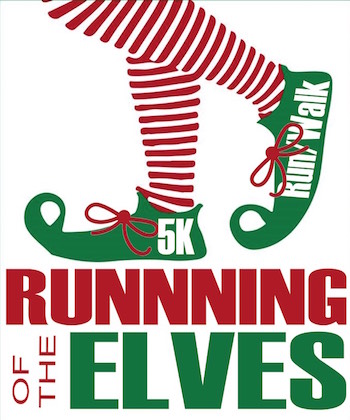 Twenty-five runners and walkers--about half the number from last year--came out to the Camdenton Square on a beautiful, mild December morning on Saturday for the third annual Running of the Elves 5K.
After taking her very first overall victory at this same race one year ago, Jade Fletcher made it two in a row, winning this year in 24:08. (Jade competed in the youth division; Jodi Wolfe was the first female behind Jade, finishing in 28:26.) For the men, Jamy Sloan of Osage Beach took the top spot with a 28:53 finish.
Overall winners Jade Fletcher and Jamy Sloan.
Additional photos from the race can be found here.
* * * * *

2018 Archives
2017 Archives
2016 Archives
2015 Archives
2014 Archives
2013 Archives
2012 Archives
2011 Archives
2010 Archives
2009 Archives
* * * * *

Save the date: A just-announced 5K is coming to Eldon on Saturday, December 15th. The Eldon Future Farmers of America (FFA) chapter will be hosting a 5K that will start at the air park at 8:00 a.m. The cost will be $25, with proceeds benefiting the MU Women's and Children's Hospital in Columbia. A flyer and registration form with more information are forthcoming.
Please note: Despite my request, as of December 9th, I've received no further information about the event. At this time, I'm not even certain that it's happening.
* * * * *
TRAIL OF FOUR WINDS 25K (posted November 12th)
Registration is now open for the Trail of Four Winds 25K trail race scheduled for Saturday, May 4, 2019 at the Lake of the Ozarks State Park.
Visit the race's UltraSignup page for more information about the race, and to register.
* * * * *
ELDON ROCK ISLAND ROAD RACE (posted November 21st)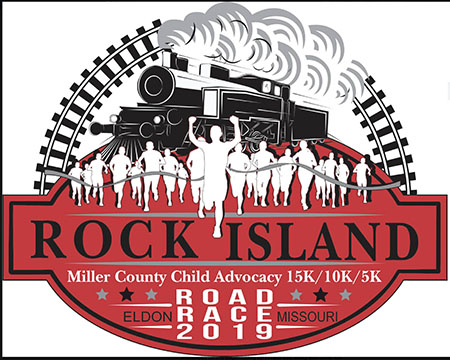 The second annual Eldon Rock Island Road Race will be held on Saturday, June 8th at the Rock Island Park in the heart of Eldon. The race is organized by and benefits the Miller County Child Advocacy Council.
For 2019, a 5K option is being added to the 15K and 10K offerings.
Registration will open in December. Additional details are forthcoming, and will be posted at the race's Facebook page when available. (Like and share the Facebook page by December 22nd and you'll be entered in a drawing to win a free entry to any distance you choose.)
* * * * *

HALF MARATHON, MARATHON & LONGER RUNNING RACES
IN MISSOURI AND VICINITY
2018

Date

Race Name

Distances

Location

NOTE: HIGHLIGHTED DATES INDICATE THAT THE EVENT'S 2017 DATE HAS NOT YET BEEN ANNOUNCED AND/OR CONFIRMED
Dec 1
4 Fore 30
4-mile loops run hourly until last runner stops, or 30 hours have elpased, whichever comes first
Camdenton, MO
Dec 1
Alternate Chili Trail Run
10 miles
Kansas City, KS
Dec 1
Cheese & Sauerkraut 10-Miler
10 miles
Columbia, MO
Dec 1
St. Jude Memphis Marathon Weekend
10K: Jayna Gray, Scott Gray
Marathon/Half/10K/5K
Memphis, TN
Dec 2
Wildwood Trail Marathon
Marathon
Wildwood, MO (west of St. Louis)
Dec 8-9

The Skippo Trail Race
10K: John Shelby
10K/20K/30K


Rescheduled from November 3-4

St. Louis, MO
Dec 8
36 Hours of Jack

200K/100K/80K/50K/30K/15K/5K & 100-mile
Carthage, MO
Dec 9
Half & Half / Double Half
Half & Marathon
Tulsa, OK
Dec 15
Jacob Wells 3 Bridges Marathon
Marathon
Little Rock, AR
Dec 29
Run for the Ranch

Marathon, Marathon Relay, Half and 6-Hour Run
Springfield

2019

Jan 1
Hangover Half Marathon & 5K
Half Marathon & 5K
Overland Park, KS
Jan 20
Chevron Houston Marathon
Marathon & Half
Houston, TX
Jan 18-19
David's Trail Endurance Run
Friday night: 11K
Saturday: 50K, 25K & 7K
Mountain Home, AR
Jan 20
Chevron Houston Marathon
Marathon & Half
Houston, TX
Jan 19
Wildwood Frozen Feet 13.1M Trail Race
Half Marathon
Wildwood, MO
Jan 26
St. Louis Track Club Frostbite Series
Half Marathon & 4-mile
St. Louis, MO
Feb 2
Chocolate Rush Half Marathon & 5K
Half Marathon & 5K
Olathe, KS
Feb 9
Run with the Wind 25K
25K; solo and 3-person team relay
Sarcoxie, MO
Feb 10
Fort Smith Marathon
Marathon/Half/relays
Fort Smith, AR
Feb 10
Rock 'n' Roll New Orleans

Marathon & Half
New Orleans, LA
Feb 16
Heart of the Ozarks
Half Marathon, relay & 10K
West Plains, MO
Feb 16
Cabin Reliever 20K &
Resolution 5K
20K & 5K
Rogersville, MO
Feb 23
Clinton Historic Half Marathon & 5K

Half Marathon & 5K
Clinton, MO
Feb 23
Psycho Wyco Run Toto Run
50K, 20-mile & 10-mile trail runs
Kansas City, KS
Feb 23
Lake Ouachita Vista Trail Endurance Runs
100 miles and 100K
Hot Springs, AR
March 2
Liberty Hospital Half

Half Marathon & 5K
Kansas City, MO
March 3
Quivering Quads Trail Race
Half Marathon;


50K added for 2019

Cuivre River State Park, Troy, MO
March 3
Little Rock Marathon
Marathon, Half & 10K
Little Rock, AR
March 9
Ozark Highlands Endurance Run
50K and 21-mile
Norfork, AR
March 10
Racing for Daylight Ultra Event
See listing
Waynesville, MO
March 10
Lucky 13.1 Half Marathon & 5K
Half Marathon & 5K
Peculiar, MO
March 16
Dublin's Pass ShamRox Run
15K & 5K
Springfield, MO
March 17
ShamRox Columbia
15K & 5K
Rocheport, MO
March 15,16,17
3 Days of Syllamo
Day 1: 50K
Day 2: 50 miles
Day 3: 20K
Blanchard Springs, AR
March 24
Sedalia Half Marathon

Half Marathon & 5K
Sedalia, MO
March 30
Bridge & Dam
Half Marathon, 10K, 5K; Double Down (half+10K) and All-In (half+10K+5K) Challenges
Lake Ozark, MO
March 24
Highline Run for Scouting
Half Marathon & 5K
Springfield, MO
March 25
Relay & Run for 21K
Half Marathon, 7K & Relay
St. Louis, MO
March 31
Mission Run in the Ozarks
Marathon/Half/5K
Mountain Home, AR
March 30
Bridge & Dam
Half Marathon, 10K, 5K; Double Down (half+10K) and All-In (half+10K+5K) Challenges
Lake Ozark, MO
April 6
Do or Die Half Marathon & 5K
Half Marathon & 5K
Boonville, MO
April 6
Big Party Half Marathon
Half Marathon & 5K
Springfield, MO
April 6
Ozark Foothills 50K/25K
50K/25K trail races
St. Louis, MO
April 6
Badge of Honor Run
Half Marathon/10K/5K
Poplar Bluff, MO
April 6
Hogeye Marathon & Relays

Marathon/Half/Relays
Springdale, AR
April 7
GO! St. Louis (See blue-flagged list of LOTO participants)
Marathon/Half/10K
St. Louis, MO
April 7
Brew to Brew
43.5 miles--solo and relays
Kansas City to Lawrence, KS
April 4-8
Super Awesome! MIssouri Edition
Choose among five races in five days (5K/10K, Half, 26.2K, Marathon, 50K)
Sikeston, MO
April 12-13
The 24 Hour Lions Roar
6/12/24 hour run and relays
Columbia, MO
April 13
Rock the Parkway
Half Marathon & 5K
Kansas City, MO
April 13
Garmin Marathon
Marathon/Half//10K
Olathe, KS
April 14
Go Girl Run--Springfield
Half Marathon & 5K
Springfield, MO
April 14
Northland Half Marathon & 5K
Half Marathon & 5K
Riverside, MO (near KC)
April 20
Double Chubb Trail Race
50K & 25K
Eureka, MO
April 20
Run for Missions
Half Marathon & 5K
Carthage, MO
April 27
Illinois Marathon

Marathon/Half/10K/5K
Champaign-Urbana, IL
April 27
Frisco Railroad Run
50 miles/50K/
Marathon/Half/10-mile & 8K
Willard, MO
April 28
New Jersey Marathon
Todd Raney
Marathon & Half
Oceanport, NJ
April 28
Oklahoma City Memorial Marathon
Marathon/Relay/Half/5K
Oklahoma City, OK
May 4
Trail of Four Winds 25K
25K trail run
Lake of the Ozarks State Park
May 5
Half Marathon & 5K
Independence, MO
May 11
Running with the Cows
Half Marathon & 5K
Bucyrus, KS
May 11
RiverTownRun
Half Marathon & 5K
Washington, MO
May 18

Striker Life Half Marathon
Half Marathon, 10K & 5K
Whiteman AFB, Knob Noster, MO
May 18
Joplin Memorial Run
Half Marathon & 5K

Joplin, MO
May 18
Berryman 50-Mile & Marathon

50-Mile & Marathon
Steelville, MO
May 26
Vermont City Marathon
Todd Raney
Marathon & relays
Burlington, VT
June 1
Go Girl Run--Columbia
Half Marathon & 5K
Columbia, MO
June 1
GO! Missouri KT82 Trail Relay
82-mile Katy Trail relay race
St. Louis to Hermann, MO
June 1
Hospital Hill Run
Half Marathon, 7.7-mile & 5K
Kansas City, MO
June 2
In2Action Trail Run
Half Marathon & 5K
Columbia, MO
June 2
War Eagle Trail Running Festival
50K/25K/10K
Hobbs State Park, Rogers, AR
June 9
Eldon Rock Island Road Race
15K and 10K
Eldon, MO
June 9
Run for a Vet
Half Marathon & 5K
Branson, MO
June 10
Race 13.1 St. Louis
Half Marathon & 5K
St. Charles, MO
June 22
Grandma's Marathon
Half: Scott Gray
Marathon/Half 5K
Duluth, MN
July 14
Get Your Butt Kicked @ Route 66
6-hour run
Eureka, MO
July 15
Argo 13.1 Half Marathon
Half Marathon
Blue Springs, MO
July 21
Psycho Psummer Trail Run
50K, 20-mile, 10-mile
Kansas City, KS
July 29
Show-Me State Games Road Race
5K/10K
Columbia, MO
Aug 17
Harder Than Hell Half Marathon
Half Marathon
Highlandville, MO
Aug 25
Corps of Discovery
Half Marathon & 5-Mile trail runs
St. Charles, MO
Aug 25
Go Girl Run - Kansas Ctiy
Half Marathon & 5K (women only)
Kansas City, MO
Aug 29 - Sep 2
A Race for the Ages
Endurance run
Manchester, TN
Sep 1
Forrest Gump Challenge
50K, Marathon, Half & 5K
Reeds Spring, MO
Sep 2
Flatlanders 6/12 Hour Run
6 or 12 hours
Fenton, MO
Sep 2
Heart of America Marathon
Marathon
Columbia, MO
Sep 8
Katy Trail 50/50
50K and 50-mile on the Katy Trail
Dutzow, MO
Sep 16-17
Mark Twain 50/100
No 2018 race;
returns in 2019
50 & 100 miles
Mark Twain Forest
Sep 15
North Shore Trail Run
5K/10K, Half
Lawrence, KS
Sep 22
Pub 2 Pub Half Marathon
Half Marathon & 5K/10K
Rolla, MO
Sep 22
Equinox Half Marathon
Half Marathon & 5K
Maryland Heights, MO
Sep 23
Broadway Bridge Run
Half Marathon & 10K
Kansas City, MO
Sep 22
Quad Cities Marathon

Marathon/Half/5K
Moline, IL
Sep 28
Roots 'n Blues 'n BBQ Festival
10K, Half
Columbia, MO
Sep 29
Run the Burg

(cancelled)

5K/10K, Half
Warrensburg, MO
Sep 29
Pony Express Run
Half Marathon & 5K
St. Joseph, MO
Sep 28
Belleville Main Street Marathon
Marathon
Belleville, IL
Sep 29
Rockin' Rockwoods Trail Race
53K and Half Marathon
Wildwood, MO
Sep 30
Mother Road Marathon
Marathon/Half/5K
Joplin, MO
Oct 5
Frog Hill Half Marathon & 5K/10K
Half Marathon & 10K
(5K on Friday evening)
Waynesville, MO
Oct 6
Rock Bridge Revenge
7 miles, 25K, 50K
Columbia, MO
Oct 6
Panther Run
5K/10K/15K
Springfield, MO
Oct 6
MO' Cowbell Marathon

5K, Half & Marathon
St. Charles, MO
Oct 7
Grand Country Half Marathon & 5K
Half Marathon & 5K
Branson, MO
Oct 12
FLATS Trail Half Marathon
Half Marathon
Kirksville, MO
Oct 13
Chicago Marathon
Marathon
Chicago, IL
Oct 13
Bear Creek Run
Half Marathon
Columbia, MO
Oct 13
AdventureMax Springfield Trail Run
10K, Half
Highlandville, MO

Oct 19
Big's Backyard Ultra
Last man standing race
Belt Buckle, TN
Oct 19
Kansas City Marathon

5K, 10K, Half & Marathon
Kansas City, MO
Oct 20
Des Moines Marathon
Marathon/Half/5K
Des Moines, IA
Oct 20
Great GO! St. Louis Halloween Race
5K/10K, Half
St. Louis, MO
Oct 28
Spooky Sprint Half (aka "Halloween Hustle")
Half Marathon/10K/5K
Kansas City, MO
Nov 2
Ozark Trail 100
100 miles
Steelville, MO
Nov 2-3
The Skippo Trail Race

10K/20K/30K

St. Louis, MO
Nov 3
Kansas Half Marathon
Half Marathon & 5K
Lawrence, KS
Nov 3
Bass Pro Shops

5K, Half & Marathon
Springfield, MO
Nov 3
St. Louis Half Marathon
5K, Half
St. Louis
Nov 3
New York City Marathon
Marathon
New York, NY
Nov 10
Longview Half Marathon & 5K
Half Marathon & 5K
Kansas City, MO

Nov 10
Dogwood Canyon Trail Runs
15K
Lampe, MO
Nov 10
Sanders Saunter

50K/25K/10K trail races
Lawrence, KS
Nov 11
Dogwood Canyon Trail Runs
25K & 50K
Lampe, MO
Nov 11
Gobbler Grind Marathon
Marathon/Half/5K
Kansas City, MO
Nov 16
Fayetteville Half Marathon
Half & 5K
Fayetteville, AR
Nov 17
Honoring Our Heroes
Marathon/Half/5K
Salem to Rolla, MO
Nov 17
White River Marathon for Kenya
Marathon/Half/5K
Cotter, AR
Nov 18
Pilgrim Pacer Run
5K/10K, Half, Marathon
Shawnee, KS
Nov 24
Route 66 Marathon

Half & Marathon
Tulsa, OK
Dec 1
4 Fore 30
4-mile loops run hourly until last runner stops, or 30 hours have elpased, whichever comes first
Camdenton, MO
Dec 1
Alternate Chili Trail Run
10 miles
Kansas City, KS
Dec 1
Cheese & Sauerkraut 10-Miler
10 miles
Columbia, MO
Dec 1
St. Jude Memphis Marathon Weekend

Marathon/Half/10K/5K
Memphis, TN
Dec 2
Wildwood Trail Marathon
Marathon
Wildwood, MO (west of St. Louis)
Dec 8
36 Hours of Jack

200K/100K/80K/50K/30K/15K/5K & 100-mile
Carthage, MO
Dec 9
Half & Half / Double Half
Half & Marathon
Tulsa, OK
Dec 15
Jacob Wells 3 Bridges Marathon
Marathon
Little Rock, AR
Dec 29
Run for the Ranch

Marathon, Marathon Relay, Half and 6-Hour Run
Springfield
* * * * *

TRIATHLONS AND DUATHLONS
IN MISSOURI AND VICINITY
2019

Date

Race Name

Distance(s)

Location

NOTE: HIGHLIGHTED DATES INDICATE THAT THE EVENT'S 2016 DATE HAS NOT YET BEEN ANNOUNCED AND/OR CONFIRMED
Apr 22
The Chain of Rocks Bridge Duathlon
1.5-mile run, 12-mile bke, 1.5-mile run
St. Louis, MO
May 5
Sprint triathlon: 400-meter pool swim, 14-mile bike, 3-mile run
Super sprint triathlon: 100-meter pool swim, 7-mile bike, 1-mile run
Duathlon: 1-mile run, 7-mile bike, 1-mile run
Columbia, MO
May 12
Trek for Trikes
Not a true duathlon (run/bike/run), but offers a 5K or 10K run or bike, or a 20K bike. Mostly on the Highline Trail. Event raises funds to provide adaptive tricycles to children with disabilities.
Bolivar, MO
May 12
Kansas City Triathlon

Sprint: 500-meter swim, 20K bike, 5K run
Olympic: 1.5K swim, 40K bike, 10K run
Duathlon: 1.5-mile run, 20K bike, 5K run
Kansas City, MO
May 20
St. Louis Triathlon
Sprint: 750-meter swim, 12.4-mile bike, 5K run
Olympic: 1500-meter swim, 24.8-mile bike, 10K run
St. Louis, MO
May 26
Iron Horse Duathlon
Duathlon: 5K run, 30K bike, 5K run
Parsons, KS
June 3
Legend Free State Tri


Sprint: 500-yard swim, 12-mile bike, 5K run
Olympic: 1500-meter swim, 40K bike, 10K run
Legend 70: 1.2-mile swim, 56-mile bike, 13.1-mile run
Legend 100: 2-mile swim, 80-mile bike, 18-mile run

Lawrence, KS
June 10
Jefferson City Triathlon &
Duathlon
Triathlon: 400-meter pool swim, 12-mile bike, 3.1-mile run
Duathlon: 12-mile bike, 3.1-mile run
Jefferson City, MO
June 15
Halfmax Championship & Quartermax Triathlons
Halfmax Championship: 1.2-mile swim, 56-mile bike, 13.1-mile run
QuarterMax: 0.6-mile swim, 28-mile bike, 10K run

Innsbrook, MO
June 16
Topeka Tinman Triathlon
Short course: 400-meter swim, 13-mile bike, 3.1-mile run
Long course: 1,000-meter swim, 19-mile bike, 7-mile run
Topeka, KS
Jun 24
Neosho Sprint Triathlon


2018 race cancelled; to return in 2019

Triathlon: 300-yard indoor pool swim, 12.5-mile bike, 3.1-mile run;

Neosho, MO
Jun 24
Lake Freebird Triathlon & Duathlon
Triathlon: 660-meter swim, 14-mile bike, 5K run
Beginners (non-competitive): 300-meter swim, 10-mile bike, 1.3-mile run
Duathlon: 14-mile bike, 5K run
Mountain Grove, MO
Jun 30
Heartland Heat Triathlon
400-meter pool, 12-mile bike, 5K run
Kansas City, MO
July 7
Big Shark New Town Kids Triathlon
0.62-mile swim, 20-mile bike, 4-mile run
New Town St. Charles, MO
July 8
Big Shark New Town Triathlon
0.62-mile swim, 20-mile bike, 4-mile run
New Town St. Charles, MO
July 8
Shawnee Mission Triathlon & Duathlon
Short course: 500-meter swim, 9-mile bike, 3.2-mile run
Long course: 1,000-meter swim, 18-mile bike, 4.5-mile run
Shawnee, KS
July 15
Ballwin Triathlon
300-yard pool swim, 9-mile bike and 3.4-mile run
Ballwin (St. Louis), MO
July 15
Summer Roundup Triathlon
Sprint: 500-meter swim, 12.3-mile bike, 5K run
Olympic: 1500-meter swim, 40K bike, 10K run
Jasper, MO
July 21
Mighty Max Kids Triathlon
Four age-appropriate distances for children up to age 14
Columbia, MO
July 22
Show-Me State Games Triathlon & Duathlon
Triathlon: 0.5-mile swim, 15-mile bike, 3-mile run
Duathlon: 15-mile bike, 3-mile run
Columbia, MO
July 28
WIN for KC Women's Triathlon & Duathlon
Triathlon: 500-meter swim, 10-mile bike, 5K run
Duathlon: 1.5-mile run, 10-mile bike, 5K run
Smithville, MO
July 28
Route 66 Half Iron Triathlon
1.2-mile swim, 56-mile bike, 13.1-mile run
Springfield, IL
Aug 5
Stockton Lake Tri Wild-Life Challenge
Short course: 500-meter swim, 10.4-mile bike, 5K run
Long course: 1,000-meter swim, 20.8-mile bike, 10K run
Stockton, MO
Aug 5
Matt Mason Memorial Cowboy-UP! Triathlon
500-meter swim, 11-mile bike, 5K run
Kansas City, MO
Aug 10
Republic Youth Tigger Tri
Distances to be announced
Republic, MO
Aug11
Republic Tiger Tri
Super Sprint: 150-yard swim; 6.1-mile bike, 1.5-mile run
Classic Sprint: 300-yard swim, 12.2-mile bike, 5K run
Republic, MO
Aug 11
Warrensburg Triathlon (cancelled)
SuperKids Tri: (distances not available)
Trio-Tri: 3-person relay
"98.5 The Bar" Tri: 300-meter swim, 10-mile bike, 5K run
Warrensburg, MO
Aug 18
Lake St. Louis Triathlon
Short course: 0.25-mile swim, 12.3-mile bike, 2.5-mile run
Long course: 0.93-mile swim, 24-mile bike, 10K run
Lake St. Louis, MO
Sep 9
Legend Ad Astra Triathlon
Sprint: 500-yard swim, 12-mile bike, 5K run
Olympic: 1500-meter swim, 40K bike, 10K run
Legend 70: 1.2-mile swim, 56-mile bike, 13.1-mile run
Lawrence, KS
Sep 22
Redman Triathlon
Full: 2.4-mile swim, 112-mile bike, 26.2-mile run
Half: 1.2-mile swim, 56-mile bike, 13.1-mile run
Oklahoma City, OK
Sep 23
Sedalia Duathlon
Short course: 2-mile run, 8-mile bike, 1-mile run
Long course: 5K run, 30K bike, 5K run
Sedalia, MO
* * * * *

CYCLING EVENTS
IN MISSOURI AND VICINITY
2018

Date

Race/Event Name

Distance(s)

Location

NOTE: HIGHLIGHTED DATES INDICATE THAT THE EVENT'S 2016 DATE HAS NOT YET BEEN ANNOUNCED AND/OR CONFIRMED
Feb 23
Rocheport Roubaix
20, 50 and 70 miles
Rocheport, MO
April 27
The Epic (gravel road bike races)
150 and 80 miles
Lake of the Ozarks
April 30
MoBikeFed Ride with Legislators
Jefferson City, MO
May 12
Vino Fondo
38, 58, 91 and 118 miles
Augusta, MO
May 20
The Hairy Hundred
100-mile gravel road race
Katy Trail near Columbia, MO
May 19-20
Down 'n Dirty
Varies by division
Warsaw, MO
May 26-27
Pedaler's Jamboree
Music and cycling event on the Katy Trail
Columbia, MO
May 29
Tour of Kansas City Gran Fondo


Cancelled

20, 50, 60, 75 and 100 miles
Kansas City, MO
June 2
Dirty Kanza 200
200 miles
Emporia, KS
June 2
Tour de Cure
10, 30, 50 and 100 miles
Alton, IL
June 9
Cycle for Life
10, 25 and 50 miles
Ozark, MO
June 16
Queen City Century
22, 45, 60, 82 and 100 miles
Springfield, MO
Jun 17-22
Big BAM
Bicycle ride across Missouri
Weston to Louisiana, MO
June 23
Tour de Lakes
10, 32, 55 and 65 miles
Lee's Summit, MO
July 21
World Naked Bike Ride--St. Louis
St. Louis, MO
July 21
Show-Me State Games Road Cycling Race
19 and 28 miles
Callaway County, MO
July 29
Tour de Jeff
15-mile nighttime bike ride
Jefferson City, MO
July 29
Show-Me State Games Mountain Bike Race
1, 1-1/2, and 3 hours
Columbia, MO
Aug 4
MO State Time Trial Championship
20K or 40K, depending on division
Centraiia, MO
Aug 5
Moonlight Ramble (cancelled for 2018)
10.5 and 18.5 miles
St. Louis, MO
Aug 25
Red Shoe Ride
35, 60 and 100 miles
Columbia, MO
Aug 25
BikeMO
30, 65 and 90 miles (24 and 50 miles for Katy Trail option)
Rocheport, MO
Aug 31 - Sep 2
Singletrackmind Festival
Mountain biking, trail runs, etc. on the Two Rivers Bike Trail
Springfield, MO
Sep 8
Pony Express120 Gravel Dash
120- and 75-mile gravel road races
Maryville, KS
Sep 8-9
Bike MS
Four distances offered
Godfrey, IL
Sep 23
Rhett's Run
Mountain bike race
Columbia, MO
Sep 29
Svitak Freedom Ride
10, 25, 40, 67 and 100 miles
Springfield, MO
Sep 29
Tour de BBQ
15, 35 and 62 miles
Overland Park, KS
Sep 29-30
Pedal the Cause
15, 25, 37, 50, 75 & 100 miles
St. Louis, MO
Oct 6
Cystic Fibrosis Cycle for Life
25, 50 and 100 miles
St. Charles, MO
Oct 7
Tour de Wildwood
28 and 45 miles
Wildwood, MO
Oct 7
Tour de Bass Bike Rides
25, 42, 77 and 102 miles
Springfield, MO
Oct 13-14
Hartsburg Pumpkin Festival Ride
9.5 miles from Jefferson City on the Katy Trail
Oct 20
Cuban Gravel Crisis
20, 50 and 100 mile bike rides
Cuba, MO
Oct 20
BT Epic
Mountain bike race on the Berryman Trail
Steelville, MO
Nov 4
Red Dog 100


(cancelled)

Gravel road race
Jefferson City, MO
* * * * *

PADDLING EVENTS
IN MISSOURI AND VICINITY
2018

Date

Race Name & River

Distance(s) & Boat Type

Location

NOTE: HIGHLIGHTED DATES INDICATE THAT THE EVENT'S 2016 DATE HAS NOT YET BEEN ANNOUNCED AND/OR CONFIRMED
May 12
Spring 12 Race
12 miles
Osage River--Mari-Osa to Bonnots Mill
June 9
MO River Ramble
26-mile fun paddle
Jefferson City to Chamois on the Missouri River
June 12
Lake Race "Paddle Battle"
Paddleboard races
Lake of the Ozarks
June 30-
July 1
Osage Howler

Race: 61 miles
Fun Run: 14 miles
Osage River
Aug 25
Race for the Rivers
(Missouri River)
20 and 40 miles; canoes & kayaks
Washington, MO
Sep 8
Firecracker Race
(Mississippi River -- Alton Pool)
Canoes & kayaks -- 12 miles
Paddlboards -- 3 miles
Alton, IL
Sep 29
Race to the Dome
(Missouri River)
Providence (26.6 miles) or Hartsburg (15.8 miles) to Jefferson City
Jefferson City, MO
Sep xx


(cancelled for 2017)

Fall 36 Race
(Osage, Missouri and Gasconade Rivers)
36 miles
Canoes, kayaks & paddleboards
Starts near Loose Creek; ends at Gasconade
Oct 27
Chattajack 31
(Tennessee River)

31 miles; paddleboard & kayaks
Chattanooga, TN