Trail of Four Winds 25K photos: At long last, they're finally done. It was a big job, so thanks for your patience. You can view them here.
As always, the photos are free to download and use as you wish. No attribution is necessary. Also, if you would like a photo removed from the gallery (for whatever reason and no questions asked), please e-mail the file name(s) to me. Here's how to find the file name.
* * * * *
WEEKEND EVENTS FOR MAY 8 - 9
There are no local races this Mother's Day weekend, and just a few to be found elsewhere.
The Lake of the Ozarks Watershed Alliance is holding its first Kayak Roundup of the season on Saturday. It starts at 8:30 a.m. at the kayak ramp at Ha Ha Tonka State Park. Future roundups will take place the second Saturday of each month through September.
Jefferson City:
Mother's Day 5K Run/Walk, Saturday
Springfield:
Sweet Treat 5K/10K, Saturday

Kansas City:
Heritage Park 5K/10K/15K, Saturday
KC Express Mother's Day 5K Run for Women, Sunday (all 1,000 slots are sold out)

St. Louis area:
Karen for a Cause (5K), St. Charles, Saturday

* * * * *

TRAIL OF FOUR WINDS 25K (posted May 1st)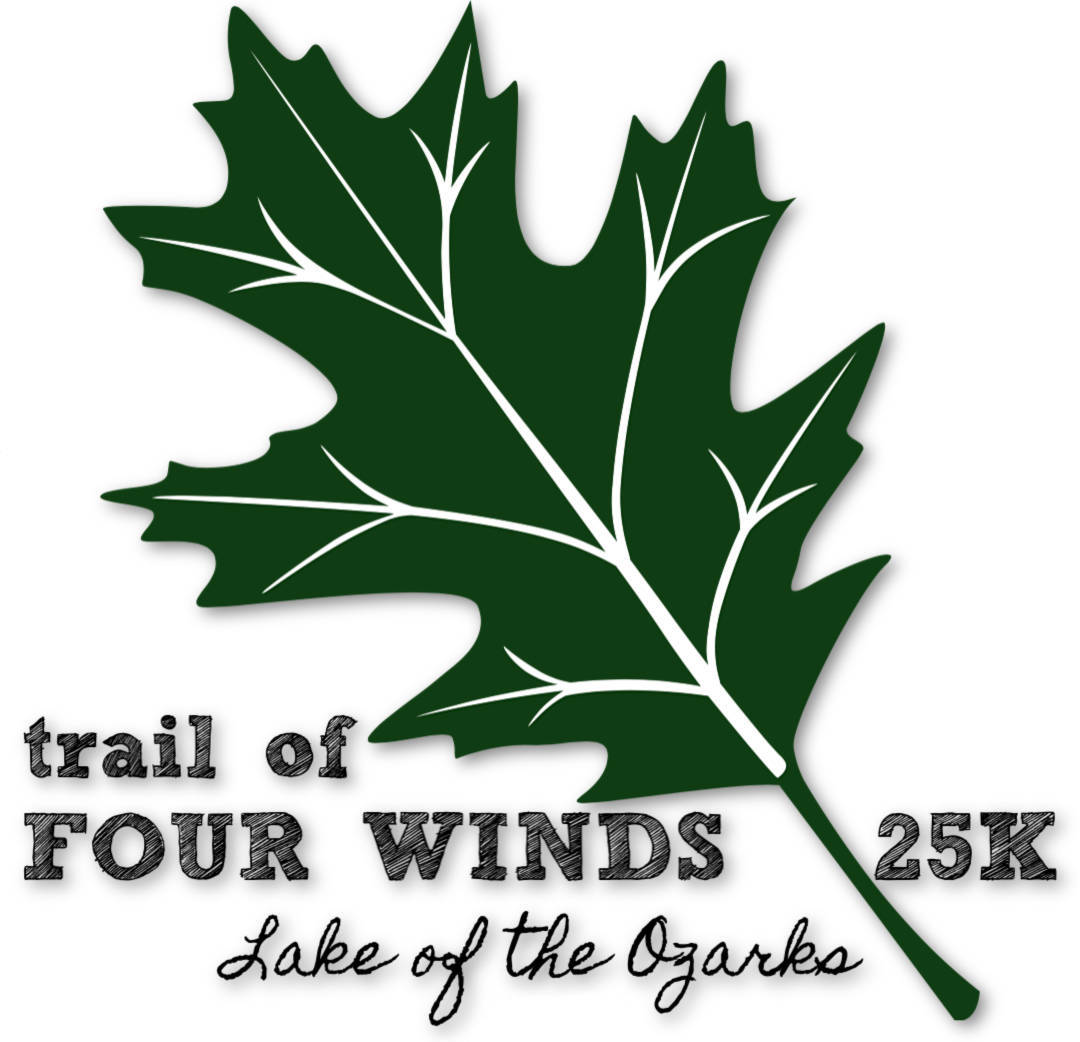 Of the 175 registered participants in the sold-out starting field,
about 145 started, and 134 became official finishers.
(click on photo for a larger image)
Before the gun went off, this year's Trail of Four Winds 25K (Facebook) looked to be pretty much a repeat of the 2019 race. It ended up far different.
Michael McCulloch, a former collegiate track and cross country runner from Columbia now living in the Kansas City area, was the obvious favorite in the men's race. Michael won the 2019 race, the 2020 virtual edition of the race, and even the Trail of Four Winds' precursor event, the Ha Ha Tonka Half Marathon, in 2018. Michael's only real challenge was expected to come from Robert Bruns of St. Louis, who finished just 15 seconds behind him in 2019.
Robert managed to again take second, despite finishing 16 minutes slower than in 2019. But this time it was Nathan Allen, a Jefferson City native now living in Berkeley, California (with an interim stay in Colorado), who took the overall crown. Nathan won in 1:57:53. That was almost six minutes slower than Michael's 2019 winning time (1:52:14), but still 10 minutes ahead of Robert's 2:08:30. (Michael took fifth overall, finishing in 2:20:19. He obviously had a tough day, like so many others.)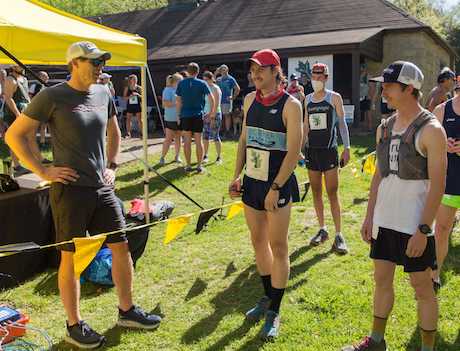 It's always interesting to see how runners position themselves at the starting line. Here, three-time champion Michael McCulloch (bib #1) and Robert Bruns (far right) chat with Rich Luers (left) of Final Lap Race Management just before the first wave takes off, while eventual race winner Nathan Allen (#3) coyly lines up behind them.
The women's race appeared to belong to Jaime Maher of Fenton ( suburban St. Louis). Jaime won the 2019 race in 2:26:10, only 17 seconds ahead of her (friendly) rival, Karolina Zavisiute of St. Charles. Karolina wasn't at this year's race, so Jaime looked to have a lock on the victory. However, a TOFW first-timer, Hilary Campbell of Springfield, who's also a former cross country runner for Kickapoo High School, not only beat Jaime to the finish line, but shattered Jaime's course record by over five minutes. Jaime also had a tough day, but still took third, in 3:00:37. (She also earned bragging rights in the Maher house for the next year, after husband Ryan crossed the line 10 minutes behind her, in 3:10:22. To his credit, though, Ryan was able to do that a few months after undergoing back surgery.)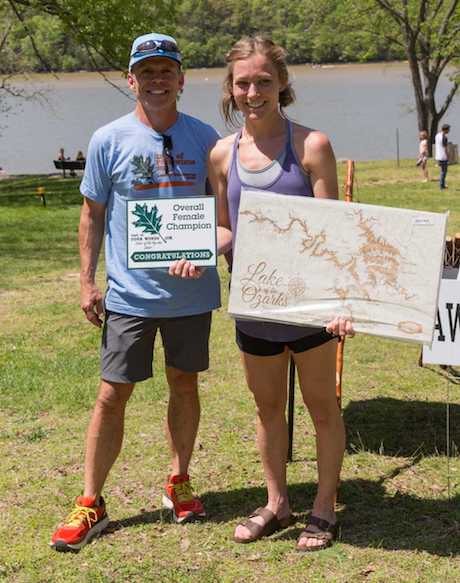 Women's champion Hilary Campbell receives her winnings from Trail of Four Winds 25K race director John Shelby.
The big story of this year's race was the weather. While it was a beautiful day to be hiking, paddling or cycling in the state park, it was too warm for a trail race, especially for those not yet acclimated to running in warm weather. How warm was it? This year's race day was nearly 20° warmer than 2019's. Here are the numbers:
You need only look at the cloudy skies and long-sleeved jerseys and jackets pictured in the 2019 race photos to see just how different the conditions were.
The heat contributed to noticeably slower finish times. The average finish time this year was 3:33:xx, or 12 minutes longer than the 3:21:xx average in 2019.
For the record, here are some miscellaneous race statistics:
| | | |
| --- | --- | --- |
| | 2019 | 2021 |
| Finishers, by gender: | | |
| Men | | |
| Women | | |
| Total | | |
| | | |
| Finishers, by location: | | |
| Lake area | | |
| Elsewhere | | |
| | | |
| Number of two-year finishers: | | |
Two of our Lake-area women claimed victories in the 30-39 and 40-49 age groups--by far the largest and most competitive age groups at this and most other running races. Brittney Defrates won the 30-39 age group (over 16 others), in 3:08:42, while Jessica Clark topped 14 others to win the 40-49 age group, in 3:16:55. (As an aside, both Brittney and Jessica have seemingly come out of nowhere. The only race history I can find for either of them is Brittney's second-place, age-group finish at this year's Bridge & Dam 10K and a 1:52:14 half marathon finish at the Bear Creek Run in Columbia in 2018. If indeed they are relative newcomers, their victories at this very challenging, competitive race are all the more impressive.)
Local age-group winners Brittney Defrates (left) and Jessica Clark.
Two of our local men also earned podium spots. Tucker Seise took second (of 7) in the 20-29 age group, as well as 12th overall, with a 2:31:50 finish. Chris Boyle finished in 2:37:09--24 minutes slower than in 2019. Still, that was good enough for third (of 26) in the 40-49 age group.
The complete race results can be found here. Results for our local runners and a few of our friends from other places are shown below.
TRAIL OF FOUR WINDS 25K
LAKE OF THE OZARKS STATE PARK
MAY 1, 2021
RESULTS FOR LAKE-AREA RUNNERS AND SELECTED OTHERS

Name

City

Finish Time

Division

Division Place

Podium finishers are listed in bold
Tucker Seise
Osage Beach

2:31:50

M20-29

2 of 7

Chris Boyle
Osage Beach

2:37:09

M40-49

3 of 26

Aaron Koeppen
Four Seasons

3:02:59

M40-49

6 of 26

Mark Matthews
Kaiser

3:04:42

M40-49

7 of 26

Brittney Defrates
Lake Ozark

3:08:42

F30-39

1 of 17

Jessica Clark
Rocky Mount

3:16:55

F40-49

1 of 15

Tania Maschhoff
Lake Ozark

3:26:55

F40-49

4 of 15

Emily Smith
Lake Ozark

3:37:43

F30-39

6 of 17

Denise Baker
Lake Ozark

3:37:44

F40-49

6 of 15

Angie Fousie
Lake Ozark

3:49:12

F40-49

8 of 15

Heather Miller
Camdenton

4:03:20

F30-39

11 of 17

Carolyn Youngberg
Linn Creek

4:09:09

F50-59

6 of 9

Gary Thompson
Osage Beach

4:17:05

M60-69

5 of 6

Did not finish:
Lauren Moriearty
Lake Ozark

F20-29

Did not start:
Michael Classen
Versailles

M30-39

Pete Groce
Eldon

M50-59

Frequent Lake visitors and runners:
Andy Emerson
Columbia

2:25:02

M50-59

1 of 18

Andy Goessmann
Ozark

3:00:29

M30-39

13 of 22

Jaime Maher
Fenton, MO

3:00:37

Overall female

3rd of 51

Ryan Maher
Fenton, MO

3:10:22

M30-39

14 of 22

Gavin Eubank
Columbia

4:15:14

M40-49

25 of 26
Congratulations to all who toed the starting line and gave it their all on a very tough day on an equally tough course. Thanks and congratulations, too, to race director John Shelby and his great group of able volunteers for organizing a race of such high quality. This race, like Bridge & Dam, is a real asset to the Lake of the Ozarks running community.
The photos taken by Kristi Mayo of Mile 90 Photography can be found here.
My photos will probably take about a week to post as I try to squeeze that monster job in between all the other stuff I have going on right now. Please bear with me.
* * * * *

2021 Archives
2020 Archives
2019 Archives
2018 Archives
2017 Archives
2016 Archives
2015 Archives
2014 Archives
2013 Archives
2012 Archives
2011 Archives
2010 Archives
2009 Archives
* * * * *

TRAIL OF FOUR WINDS 25K (posted September 19th)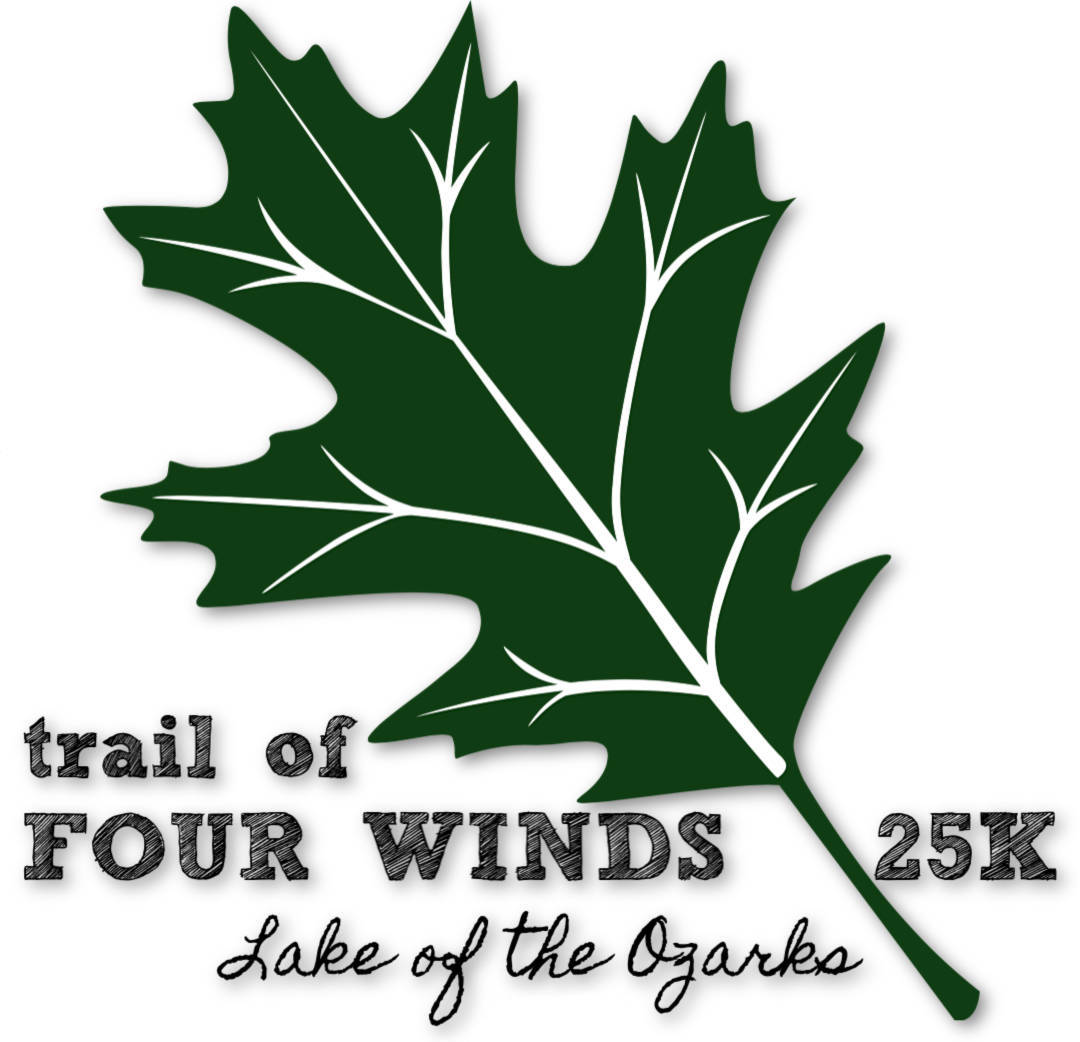 Registration is now open for the 2021 Trail of Four Winds 25K trail race (Facebook page). The race will be held on Saturday, May 1st, at the Lake of the Ozarks State Park.
Please visit the race's website and UltraSignup page for complete information, and to register.
* * * * *
FUND THE TRAIL 5K RUN/WALK (posted March 24th)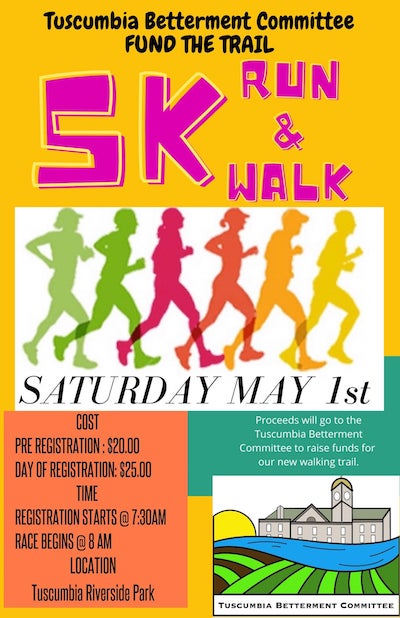 The Tuscumbia Betterment Committee is hosting a run/walk to raise funds for a walking trail in the community. The Fund the Trail 5K will be held on Saturday, May 1st at Tuscumbia's Riverside Park along the Osage River. The run/walk will start at 8:00 a.m.
The entry fee is $20, or $25 on race day. Race-day registration opens at 7:30 a.m.
If the course is the same as the one used for past Tuscumbia 5Ks, it's the flattest 5K course in the Lake area--even flatter than Linn Creek's, if you can believe it.
* * * * *
ELDON ROCK ISLAND ROAD RACE (updated January 1st)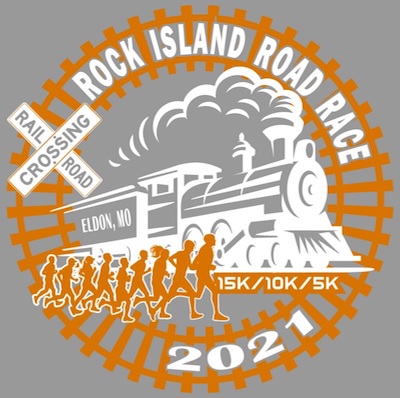 The fourth annual Eldon Rock Island Road Race will be held on Saturday, June 12th at the Rock Island Park in the heart of Eldon. The race is organized by and benefits the Miller County Child Advocacy Council.
The race will start at 7:15 a.m. Race-day registration will be available from 5:45 to 7:00 a.m.
Online registration is available here. Online registration will close at 11:59 p.m. on Wednesday, June 9th. A mail-in registration form is also available.
Entry fees will increase in steps on February 1st, April 1st and on race day. A discounted entry fee for the 5K is available to groups of three who register together.
T-shirts can only be guaranteed to those who register by May 16th.
Visit the race's Facebook page for more information.
A course map can be found here.
* * * * *
LOTO ENDURANCE (posted March 23rd)
The inaugural LOTO Endurance race, benefiting Wonderland Camp, will be held in June at Osage National Golf Club in Lake Ozark. The nighttime races, which include marathon and 6-hour run options, start at 11:55 p.m. on Saturday, June 12th.
More details and a link to registration can be found here.
* * * * *
CHILDREN'S LEARNING CENTER NIGHT GLOW 5K RUN/WALK (posted March 23rd)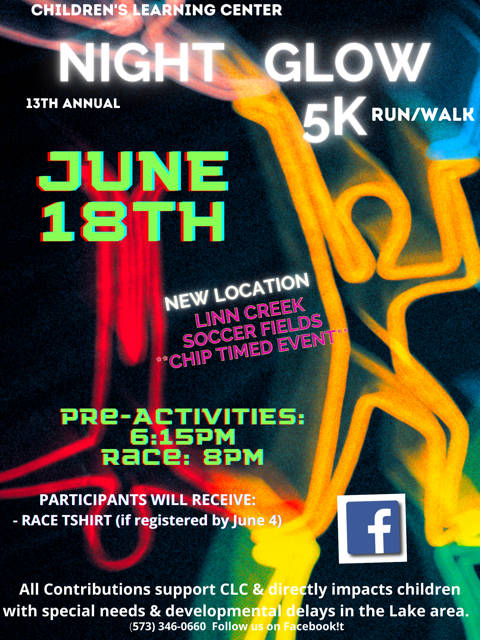 After last year's COVID-caused cancellation, the Lake area's most kid-friendly and family-oriented run/walk of the year returns this year on the evening of Friday, June 18th. The non-profit Children's Learning Center's 13th annual Night Glow 5K Run/Walk (Facebook page) will be held in a new location this year, at the soccer fields in Linn Creek. Also new this year will be chip timing.
The run/walk starts at 8:00 p.m., with race registration and kids' activities starting at 6:15 p.m.
The entry fee is $30 per person if you register by the pre-registration deadline of June 4th. The fee rises to $50 after June 4th.
T-shirts can only be guaranteed for those who pre-register by the June 4th deadline.
Check out the event's Facebook page for additional details.
Online registration is available.
* * * * *
RUN FOR THE HORSES 5K/10K RUN/WALK (posted March 5th)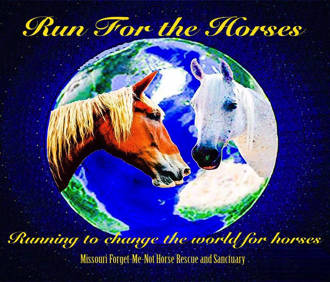 The Missouri Forget-Me-Not Horse Rescue & Sanctuary's (Facebook page) Run for the Horses 5K/10K will be held on Saturday, June 26th at the Linn Creek City Park. The run/walk starts at 7:30 a.m., with race-day registration opening at 6:30 a.m.
The 5K/10K entry fee is $20 (for either distance) if you pre-register by June 19th, and $25 on race day. The entry fee for children 12 and under is $10.
A virtual 5K/10K option is available for $35. Your t-shirt will be mailed to you.
T-shirts can only be guaranteed to those who pre-register by June 9th.
Online registration and additional details are available here.
To register by mail, complete and return a registration form (one for each participant) by June 19th.
* * * * *
ROCKY TOP 5K (posted December 30th)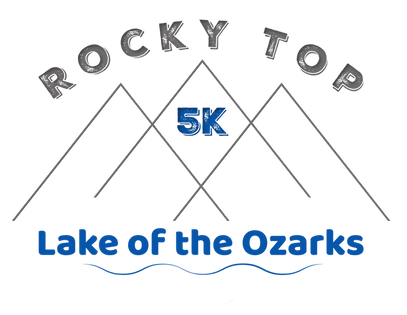 A brand-new trail race--one of three in the Lake of the Ozarks Trail Series (Facebook page)--is coming to the Lake of the Ozarks State Park in 2021. The Rocky Top 5K (Facebook) will be held on Saturday, July 10th on the Rocky Top Trail located near public beach #2 in Osage Beach.
Online registration and more race details are available through the race's UltraSignup.com page. The race will be limited to 125 participants.
The entry fee is $55 until May 8th, after which it rises to $65.
Links to additional information about the trail can be found here.
* * * * *
CHRISTMAS IN JULY 5K RUN/WALK (posted April 16th)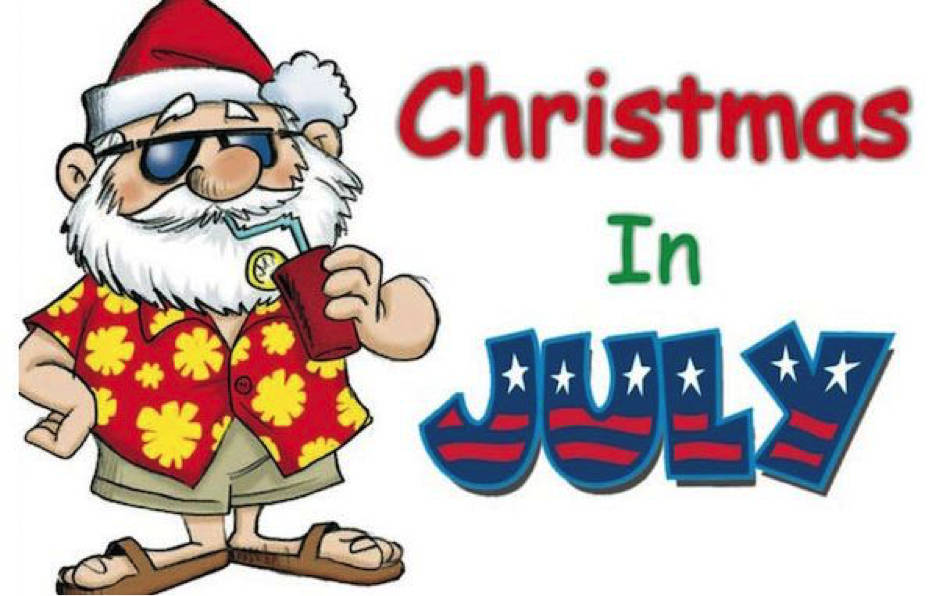 The Tri-County YMCA's fourth annual Christmas in July 5K Run/Walk will be held at the YMCA in Osage Beach on Saturday, July 24th. To beat the July heat, the race will start at 7:00 a.m., with race-day registration opening at 6:00 a.m.
The entry fee is $30 through June 30th, and $35 thereafter. T-shirts can only be guaranteed to those who register by June 30th.
Click for a mail-in registration form with additional race details.
* * * * *
BEST DAM 5K FUN RUN/WALK (posted April 28th)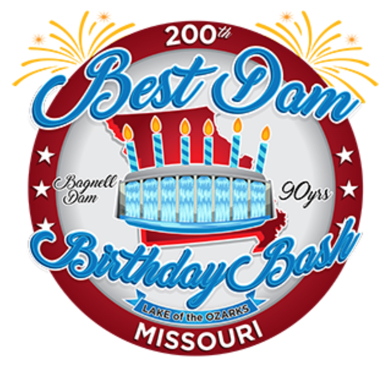 As part of the summer-long "Best Dam Birthday Bash" celebrating Bagnell Dam's 90th birthday (and Missouri's 200th), the Best Dam 5K Run/Walk will take place on Saturday, August 7th at Old Kinderhook.
The run/walk will start at 7:30 a.m. Registration that morning will open at 7:00 a.m. The entry fee is $25.00.
Note: This will not be a timed event.
* * * * *

Ultramarathons, Marathons & Half Marathons
(.xlsx) (.docx) (.htm)