Turkey Trot news:
Coach Dave Weber confirmed this morning that the sixth annual Laker 5K Turkey Trot will be held on Thanksgiving Day. Details are forthcoming.
Tan-Tar-A will once again host a 5K on Black Friday at 9:00 a.m. It will start at the Fitness Center, located not far from the hotel's main lobby. The entry fee is a non-perishable food item or new toy to be donated to local families in need.
If you're planning to be out-of-town, there are turkey trots being held all over the state. Here's a list of last year's events, but the links are old and may not work. I'll provide updated links to the 2015 events as we get closer to Thanksgiving.
* * * * *
WEEKEND EVENTS FOR OCTOBER 9-11
This coming weekend is easily the biggest of the year for Lake area athletes. Many of our local athletes will be traveling to distant places to compete in important races.
(Please note: I just learned of another 5K on Saturday from a small advertisement in the Lake Sun.)
In the Lake area, there are two three 5Ks on Saturday. They start at different times, so it's possible to do more than one. (With so many of our fast runners racing out of town this weekend, the chances for slower runners to achieve some local glory may never be better.)
The Crush Pancreatic Cancer 5K Fun Run/Walk & Chili Cook-Off starts at 10:00 a.m. at the Linn Creek City Park. Registration opens at 9:00 a.m.
In Eldon, Jamison's ReWalk 5K starts at noon at the Eldon Aquatic Center next to the Air Park. Registration will be open from 11:00 to 11:30 a.m.
The Pregnancy Help Center will hold a 5K Run/Walk for Life on Saturday. The run/walk starts at 9:00 a.m. at Paul's Supermarket on Bagnell Dam Blvd. in Lake Ozark. Registration opens at 8:00 a.m. For more information, click here.
Details about both of the 5Ks can be found further down this column under "Upcoming Events".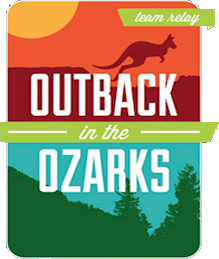 The Lake Area Runners team of Scott Page, Rob Kucsik, Todd Raney, Mark Kempf, Andy Goessmann, John Shelby, Pete Leyva, Anita Leyva, Aaron Koeppen, Sherrie Hamner, Heather Miller and Allen Brickman (from West Plains) will be racing in rural northwest Arkansas this Friday and Saturday at the Outback in the Ozarks 200-mile team relay race. They'll be among thirty-seven teams competing in the point-to-point race between Eureka Springs and Fayetteville. The Lake Area Runners team will start at 8:30 a.m. (according to the race website) on Friday, and have until 7:00 p.m. Saturday to complete the course. Alysia Maschino will also be making the trip to volunteer at the race.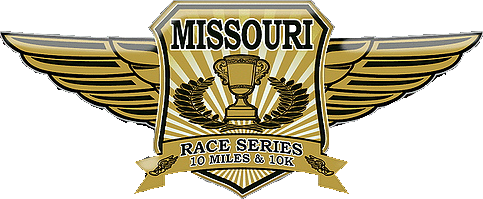 The seventh and final race of the year for the Missouri Race Series 10-Mile & 10K takes place on Sunday in Lee's Summit. Some of our area runners (Melinda Sykes, Ed Doney, Stacey Embry, Heather Doyle, Ashley Pryor, John Sykes and Marvin Bescheinen) currently rank in the top three of their respective divisions in the points standings and are likely to race in order to hold or improve their positions.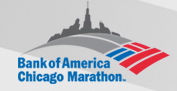 The Bank of America Chicago Marathon starts at 7:30 a.m. on Sunday. Three Lake-area runners---Nigher Alfaro, Denny Gillen, and Curtis Wehmeyer—will be among the 40,000 competitors in the race. Nigher is returning for a bit of redemption. At last year's race, he ran well for the first 20 miles and was on pace for a 3:20-3:25 finish until he hit the proverbial wall and ended up with a 3:41:13 finish--along with a bad case of blisters on his feet. The finish time he'll be shooting for this year is 3:25 (or less), as that will be the Boston Marathon qualifying standard for the 2017 race for men 45-49.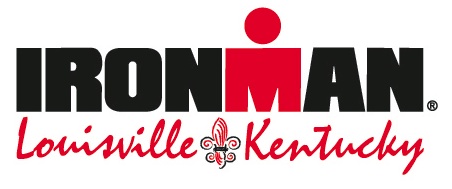 Jim McDermott is in for the longest race of his career on Sunday at the Ironman Louisville Triathlon in Louisville, Kentucky. This will be Jim's first iron-distance triathlon, which includes a 2.4-mile swim, 112-mile bike and 26.2-mile run. A toxic algae bloom in the Ohio River has been threatening for weeks to force cancellation of the swim portion of the race, but rain and cooler weather in recent days appear to be bringing the toxins in the water to a level safe for swimming.
Good luck and safe travels to everyone racing this weekend!
Finally, there's no racing involved, but the Hartsburg Pumpkin Festival is on Saturday and Sunday. One of the most enjoyable things to do each year (weather permitting, of course) is to ride to the festival by bicycle on the Katy Trail. Hartsburg is 9.5 miles from the Jefferson City trail head, and the ride is as flat as can be. On Sunday, you can ride to the festival with the Lake area's Phat Tire Hillbillies. They'll be leaving the Jeff City trail head at 10:00 a.m. They usually have some kids riding in the caravan, so the pace is very leisurely, and it's a lot of fun to ride with that group.
Elsewhere:
Warrensburg:
Run the Burg Half Marathon & 5K/10K, Saturday
Joplin:
The Arc Trick or Trot 5K/10K, Saturday
Springfield & vicinity:
Hero Run 5K (a benefit for injured Springfield police officer Aaron Pearson), Saturday
Springfield Sunshine Run 5K/10K, Sunday
Other area events
Kansas City and vicinity:
Missouri Race Series 10-Mile/10K, Sunday
KC Running Company calendar
St. Louis and vicinity:

The Great GO! St. Louis Halloween Race (5K/10K/Half marathon), Sunday
Rockin' Rockwoods 25K/50K trail runs, Saturday
Big River Running calendar
Fleet Feet Sports St. Louis calendar
Wichita, Kansas:
Prairie Fire Marathon/Half/5K, Sunday
Chicago:
Chicago Marathon, Sunday (LOTO participants: Nigher Alfaro, Denny Gillen and Curtis Wehmeyer)
Eureka Springs to Fayetteville, Arkansas:
Outback in the Ozarks, Friday-Saturday (see above for LOTO participants)
Louisville, Kentucky:
Ironman Louisville Triathlon, Sunday (LOTO participant: Jim McDermott)
Be sure to check out the Lake Area Runners Facebook page to see what they'll be doing this weekend.
* * * * *

MO' COWBELL MARATHON, HALF MARATHON & 5K (posted October 4th)

The MO' Cowbell Marathon, Half Marathon & 5K has come a long way. The event is organized by the St. Charles civic group Partners for Progress, and debuted in 2011 as a half marathon with 1,400 finishers. A full marathon and 5K were added in 2013, and the event has now grown to nearly 4,000 total participants. With Rock 'n' Roll St. Louis cancelling it marathon distance option this year, MO' Cowbell now offers the only fall marathon in the St. Louis area. This race is a gem that now ranks among the largest long-distance races in the state.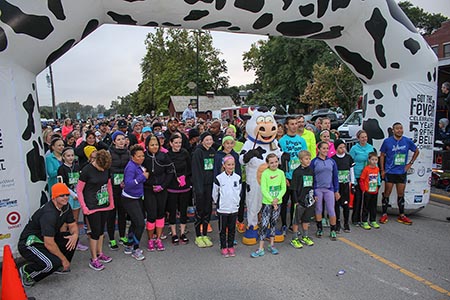 The race mascot was extremely popular with the runners and spectators. It seemed like everyone wanted to get a picture with him.
The race has a beautiful start/finish area along the Missouri River at Frontier Park in historic downtown St. Charles. The course is flat, except for a few minor hills. The second half of the marathon course is all on the Katy Trail that parallels the river.
The weather for this year's race was nearly ideal for a fast run, with temperatures in the lower 50s throughout the morning. A 10-13 mph north breeze on the mostly north-south course, however, added a bit of a chill. The skies were overcast.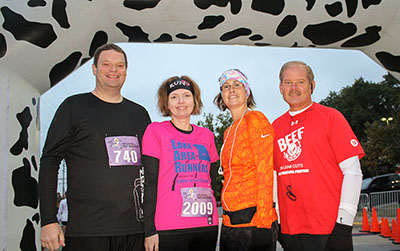 Four of our Lake-area runners at the starting line:
Scott Gray, Jayna Gray, Jen Wiethop and Willard Haley.
Eight runners from the immediate Lake area, plus Sherry Wilson (photo) of Waynesville (who finished second among the women at the Rise 'n Shine Half Marathon two weeks ago), competed in the race. Sherry ran an outstanding marathon, finishing in 4:06:11 and placing 12th (of 38) in the women's 40-44 age group. Willard Haley led all of our half marathon finishers, finishing in 2:03:19 (about two minutes off of last year's pace) and placing 47th (of 103) in the men's 50-54 age group. In the back of the pack, Scott Gray's goal was to finish in under three hours, and his laser-like focus on doing so paid off--he finished in 2:59:37. Congratulations to everyone who competed!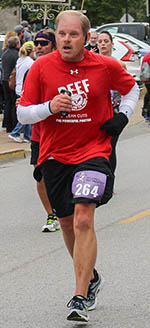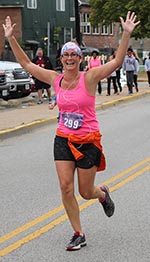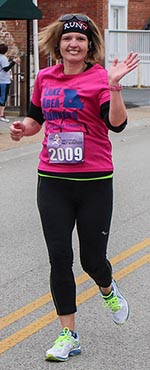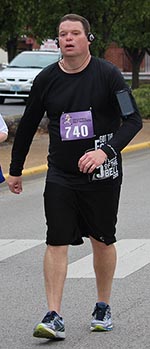 Nearing the finish line: Willard Haley, Jen Wiethop, Jayna Gray and Scott Gray.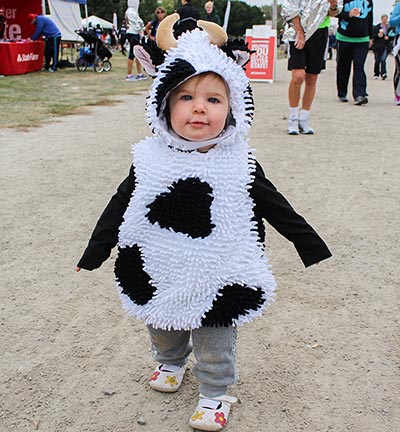 Some of the spectators came dressed for the occasion.
For many more photos from the race, click here.
MO' COWBELL MARATHON, HALF MARATHON & 5K
ST. CHARLES, MISSOURI
OCTOBER 4, 2015
RESULTS FOR LAKE-AREA PARTICIPANTS

Name

City

Finish Time

Age Group

Age Group Place

MARATHON:
Sherry Wilson
Waynesville

4:06:11

F40-44

12 of 38

Jeremy Zimmerman
Camdenton

4:55:58

M40-44

41 of 51

Emmy Zimmerman
Camdenton

4:55:59

F35-39

39 of 62

HALF MARATHON:
Willard Haley
Eldon

2:03:19

M50-54

47 of 103

Jen Wiethop
Linn Creek

2:07:06

F30-34

96 of 307

Erin Svoboda
Eldon

2:19:10

F30-34

155 of 307

Jayna Gray
Eldon

2:20:27

F35-39

197 of 351

Amy Harrell
Eldon

2:23:13

F25-29

144 of 235

Scott Gray
Eldon


2:59:37

M35-39

148 of 153

Race Notes:
Total finishers:
Marathon: 632 (versus 514 in 2014 and 428 in 2013)
Half Marathon: 2,573 (versus 2,870 in 2014 and 2,593 in 2013)
5K: 681 (versus 666 in 2014)
Complete race results can be found here.
* * * * *
PINK UP THE PACE 5K RUN/WALK (posted October 4th)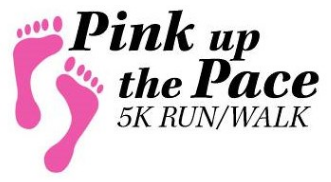 Congratulations to Ed Doney for a new personal 5K record of 27:33 set on Sunday in Jefferson at the Pink up the Pace 5K. The event was a fund-raiser for the American Cancer Society during Breast Cancer Awareness Month.
Ed's achievement was unfortunately tempered by two other runners in the 60-and-over age group who beat him to the finish line and left him with a third-place finish.
* * * * *
PANTHER RUN 5K/10K/15K (posted October 4th)
Every once in a while, we have a local runner--whom we've heard little or nothing about before--suddenly show up in the results of an out-of-town race and cause us to ask who he or she is. Such was the case this weekend, as Wyatt Whitman of Lake Ozark ran a 19:41 at the Panther Run 5K in Springfield on Saturday (October 3rd), finishing 5th overall (of 451 runners) and second (of 15) in the male 13-19 age group. That finish time could win many of our Lake-area 5Ks.
* * * * *
VERN FRANK MEMORIAL / OLDE TYME APPLE FESTIVAL 5K (posted October 4th)
Cub reporter April Boicourt passed along some photos and a few results from the Vern Frank Memorial Walk/Run, a part of this weekend's Olde Tyme Apple Festival in Versailles. Thanks, April!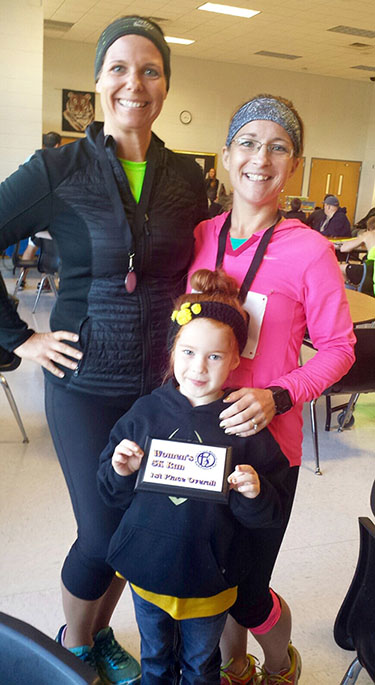 The fast people: April Boicourt (2nd in age group) and Ashley Pryor (1st in age group and overall winner). Ashley's daughter shows off her mom's award.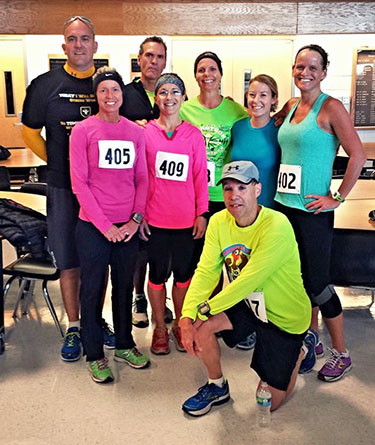 The running elite of Versailles: Marvin Bescheinen (kneeling), Tara Grantham, Ashley Pryor, April Boicourt, Amanda Gerlt and Stacey Embry, and (back row) Jason Zolecki and Ron Bentsch.
* * * * *
FROG HILL HALF MARATHON & 10K (posted October 4th)
A total of 220 runners turned out for the second annual Frog Hill Half Marathon & 10K (presented by Team 413 - Gracerunner Ministries) in Waynesville on Saturday (October 3rd). Of these, 144 ran the half marathon (compared to 187 solo and 7 relay teams last year) and 76 in the newly-added 10K.
Eight runners from the Lake area competed, with the top male and female finishers among them--Randy Holtmeyer and Rachel Russell--both hailing from Iberia.
Jim McDermott, one week out from going for his first Ironman triathlon at Louisville, Kentucky on October 11th, was the solo men's 60-64 competitor, and finished in 2:03:41.
A gang of Lake-area women--Desiree Milburn, Beth Coulter, LaDonna Porter and Alysia Maschino--maintained a more leisurely pace (hey, there's no shame in that!) and finished in 3:42:40, give or take a few seconds.
FROG HILL HALF MARATHON & 10K
WAYNESVILLE, MISSOURI
OCTOBER 3, 2015
RESULTS FOR LAKE-AREA PARTICIPANTS

Name

City

Finish Time

Age Group

Age Group Place

HALF MARATHON:
Randy Holtmeyer
Iberia

1:55:18

M40-44

5 of 8

Curtis Wehmeyer
Camdenton

1:56:41

M40-44

6 of 8

Jim McDermott
Camdenton

2:03:41

M60-64

1 of 1

Rachel Russell
Iberia

2:16:32

F35-39

2 of 12

Desiree Milburn
Camdenton

3:42:28

F50-54

4 of 4

Beth Coulter
Camdenton

3:42:40

F35-39

12 of 12

LaDonna Porter
Camdenton

3:42:42

F45-49

9 of 9

Alysia Maschino
Linn Creek

3:42:43

F40-44

5 of 5
Check out the race's Facebook page for links to photos.
Click to view full results for the half marathon and 10K.
* * * * *
THE NEW HAMPSHIRE MARATHON (posted October 4th)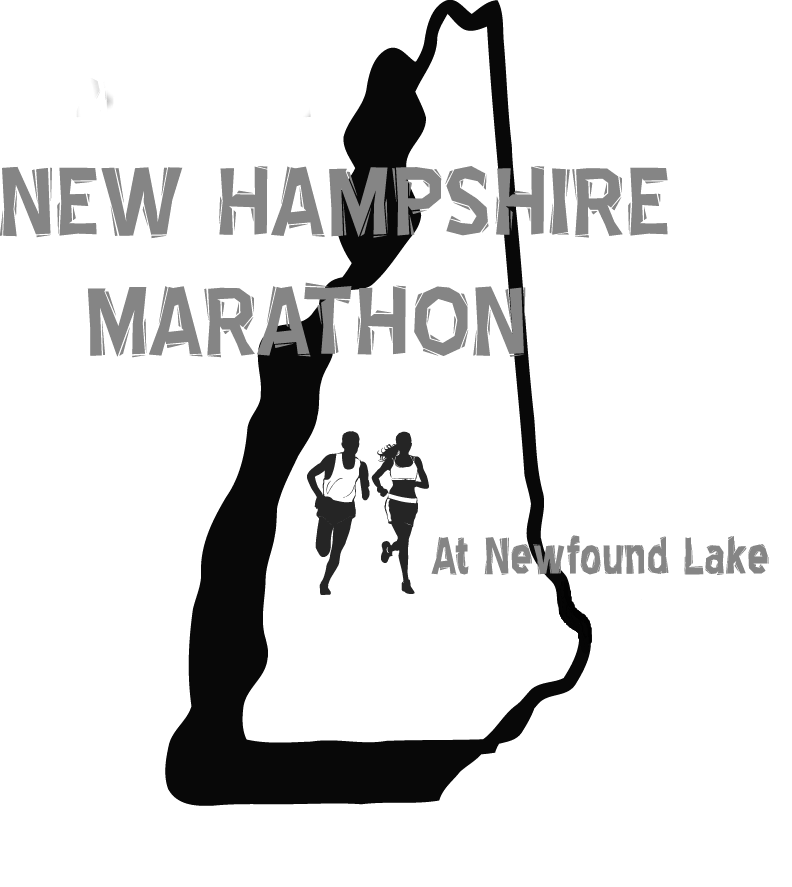 Congratulations to Todd Raney for hitting the big 3 - 0 this weekend. No, that's not an age (he hit age 30 sixteen years ago), but the number of states in which he's now completed a marathon, putting him at an even 60% of his eventual goal of 50.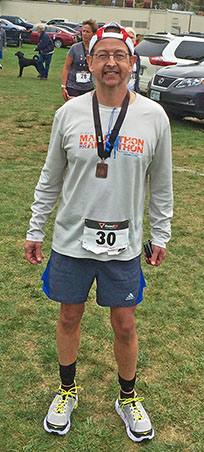 Todd finished The New Hampshire Marathon in Bristol on Saturday (October 3rd) in 3:57:17, placing 14th (of 40) in the men's 40-49 age group.
Complete marathon results can be found here.
* * * * *

* * * * *

CRUSH PANCREATIC CANCER 5K FUN RUN/WALK & CHILI COOK-OFF (updated July 20th)
Last November's Freezin' 5K & Chillin' for Chili Cook-Off gets a new name and an earlier date this year. The Crush Pancreatic Cancer 5K Fun Run/Walk & Chili Cook-Off will be held on Saturday, October 10th at the Linn Creek City Park. The run/walk will start at 10:00 a.m., with race-day registration opening at 9:00 a.m.
The registration fee is $25 per person, or $50 for a family of up to four persons up until the pre-registration deadline of September 22nd. Those fees rise to $35 and $60, respectively, after the deadline. T-shirts are only be guaranteed to those who pre-register.
Registration for the chili cook-off begins at 10:15 a.m., with serving beginning at 11:00 and judging at 11:30. The entry fee is $50.
Registration forms for both the 5K and chili cook-off can be downloaded in this two-page .pdf.
Online registration is also available.
* * * * *
JAMISON'S REWALK 5K (posted August 11th)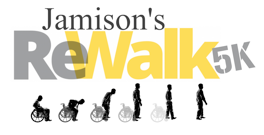 Jamison Clemons of Eldon was paralyzed from the waist down as a result of an automobile accident in 2008 caused by a drunken driver. Jamison's family is organizing a 5K to help raise funds for a surgical procedure that will hopefully allow him to walk once again.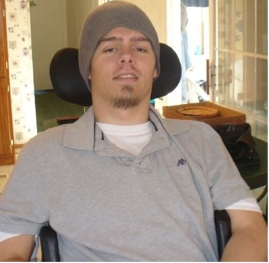 Jamison's ReWalk 5K is going to be held on Saturday, October 10th, at the Eldon Aquatic Center next to the Air Park. The run/walk will start at noon, with race-day registration open from 11:00 to 11:30 a.m.
The entry fee is $20 if you register by the pre-registration deadline of September 18th, and $25 thereafter. T-shirts can only be guaranteed on race day to those who have pre-registered.
Click to download a registration form.
* * * * *
ZOMBIE 5K FUN RUN (updated August 28th)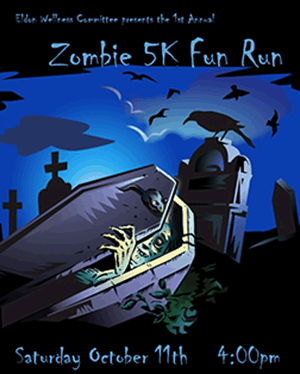 The Eldon Middle School Wellness Committee will be sponsoring its second annual Zombie 5K Fun Run for both kids and adults on Saturday, October 24th. The event will start at 8:00 a.m. at the Eldon Safefty Building next to the Upper Elementary School. Race day registration will open at 7:00 a.m.
The event is free to all Eldon students from grades K through 12. (Race participants under 12 years of age must be accompanied by an adult.) The entry fee for adults and non-students is $20 on or before the pre-registration deadline of October 9th, and $25 thereafter. T-shirts are only guaranteed to those who pre-register by the October 9th deadline.
Click for a registration form or race flyer.
* * * * *
THE COLOR DASH 5K (posted September 15th)
The Color Dash 5K is a Minnesota-based organizer of color runs held throughout the country. On Saturday, October 24th, they'll be bringing an event to Camdenton High School, with Citizens Against Domestic Violence being its local designated beneficiary. The event will start at 10:00 a.m. It is not a timed event.
The entry fee is $40 for individuals ($45 on the day of the event), with discounts available for teams and families. Children 5 and under are free, but don't receive a t-shirt or color pack.
Register online, or click here to download a mail-in registration form and waiver.
* * * * *
GIVE 'EM THE BIRD 5K RUN & 1-MILE FUN WALK (posted August 25th)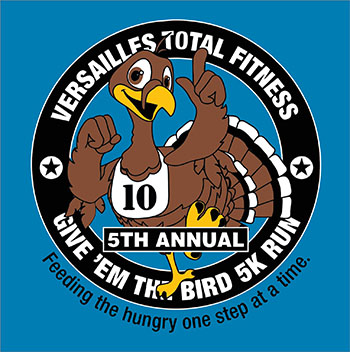 Versailles Total Fitness' fifth annual Give 'Em The Bird 5K run and 1-mile fun walk will be held on Saturday, November 7th. It will start at 9:00 a.m. at Versailles Total Fitness at 131 N. Monroe (course map). As in previous years, proceeds from the event will go to Food for Morgan County to help local families in need during the holiday season.
Give 'Em The Bird has the biggest "wow" factor of any 5K in the Lake area. Last year's race, for instance, included a live radio broadcast and music by race co-sponsor KS95.1 at the start/finish line, a live singing of the national anthem, a chorale group singing on the steps of the Second Baptist Church, a DJ playing tunes in front of the Morgan County courthouse, plenty of course support from the police, firefighters, and volunteers along the closed course, chip timing, and nice technical t-shirts. This race really is the Super Bowl of Lake-area 5Ks, and it perennially attracts a big field with some of the fastest runners in the area.
Those of you who may have skipped the race the past few years because it was held the day before the Bass Pro Marathon & Half won't have that conflict this year--Bass Pro is one weekend earlier, on Sunday, November 1st.
Registration is now open online, or you can download a registration form to mail to or drop off at Versailles Total Fitness. The entry fee is $25 if you register on or before October 31st. The fee rises to $35 on November 1st. Long sleeve technical t-shirts can only be guaranteed to those who register by October 21st.
A quarter-mile kids run is also planned. There's no entry fee, but also no t-shirt, for participants. They will, however, receive finishers ribbons.
* * * * *
RUN FOR THE CHILDREN HALF MARATHON (posted September 22nd)

Registration is now open for the Miller County Child Advocacy Council's fourth annual Run for the Children Half Marathon (Facebook page) in Eldon on Saturday, April 23, 2016. The race will start at 7:00 a.m. in front of the Curves location at 214 S. Mill Street, with race-day registration and packet pick-up opening at 6:00 a.m.
The registration fee is $45 if you register by December 31st. After that date, the fee rises to $50 through March 31st, and to $60 from April 1st through April 24th. The fee on race day will be $75. T-shirts can't be guaranteed for those who register on the day of the race.
Click here for a registration form.
* * * * *

HALF MARATHON, MARATHON & LONGER RUNNING RACES
IN MISSOURI AND VICINITY
2015

Date

Race Name

Distances

Location

Dec 31 & Jan 1
New Year's Double
Cindy, Reagan and Ryan Page: 5Ks on each day
Scott Page: 5K and Half on each day
Marathon, Half Marathon & 5K (each day)
Allen, TX
Jan 10
Runner's Choice 10K/20K
10K & 20K
Columbia, MO

Jan 10

Jan 11

Mississippi Blues Marathon
and
First Light Marathon
Both marathons: Todd Raney
Half & Marathon

Half & Marathon

Jackson, MS

Mobile, AL

Jan 18
Houston Chevron Marathon
Marathon: Jim McDermott, Jim Glickert
Half & Marathon
Houston, TX
Feb 7
Chocolate Rush Half Marathon & 5K
Half Marathon & 5K
Overland Park, KS
Feb 8
Fort Smith Marathon
Marathon: Todd Raney
Half & Marathon
Fort Smith, AR
Feb 14
Psycho Wyco Run Toto Run
50K, 20-mile & 10-mile trail runs
Kansas City, KS
Feb 14
Heart of the Ozarks
Half Marathon & 10K
West Plains, MO
Feb 15
Austin Marathon
Marathon: Denny Gillen
Half & Marathon
Austin, TX
March 1
The Cowtown

50K/Marathon/
Half/10K/5K
Fort Worth, TX
March 1
Little Rock Marathon
Marathon: Ashley Pryor, Heather Doyle and April Boicourt (first marathon)
Marathon, Half & 10K
Little Rock, AR
March 7
AdventureMax St. Louis Trail Run (cancelled)
Half Marathon & 10K
Innsbrook, MO
March 7
Run Hard Columbia
Marathon: Todd Raney
Marathon/Half/5K
Columbia, SC
March 8
Dublin's Pass ShamRox Run
15K & 5K
Rocheport, MO
March 14
Lucky 13.1 Half Marathon & 5K
Half Marathon & 5K
Peculiar, MO
March 14
Dublin's Pass ShamRox Run
15K & 5K
Springfield, MO
March 20,21,22
3 Days of Syllamo
Day 1: 50K
Day 2: 50 miles
Day 3: 20K
Blanchard Springs, AR
March 21
Sedalia Half Marathon
Half Marathon & 5K
Sedalia, MO
March 21
Missouri Race Series
10 miles & 10K
Kansas City, MO
March 22
Relay & Run for 21K
Half Marathon & Relay
St. Louis, MO
March 28
Bridge & Dam Half Marathon
Half Marathon & 10K
Lake Ozark, MO
March 28
Highline Run for Scouting
Half Marathon & 5K
Springfield, MO
March 28
Forrest Gump Challenge
50 Miles, Marathon & Half
Reeds Spring, MO
March 28
Badge of Honor Run
Half Marathon/10K/5K
Poplar Bluff, MO
March 29
Hogeye Marathon & Relays

Marathon/Half/Relays
Fayetteville, AR
March 29
Tomoka Marathon
Marathon: Todd Raney, Pete Russo
Marathon/Half/5K
Ormond Beach, FL
April 11
Rock the Parkway
Half Marathon & 5K
Kansas City, MO
April 11
Mission Run in the Ozarks
Marathon/Half/5K
Mountain Home, AR
April 11
Big Party Half Marathon
Half Marathon & 5K
Springfield, MO
April 12
GO! St. Louis
Marathon/Relay/Half
St. Louis, MO
April 12
Altis Western Maryland Trail Marathon & Half
Marathon: Todd Raney
Marathon & Half
Hancock, MD
April 18
Missouri Race Series
10 miles & 10K
Jefferson City, MO
April 18
Garmin Marathon
Marathon/Half//10K
Olathe, KS
April 19
Go Girl Run--Springfield
Half Marathon & 5K
Springfield, MO
April 25
Run for the Children
Half Marathon & 5K
Eldon, MO
April 25
Illinois Marathon

Marathon/Half/10K/5K
Champaign-Urbana, IL
April 25
Frisco Railroad Run
50 miles/50K/
Marathon/Half & 8K
Willard, MO
April 26
New Jersey Marathon
Marathon: Todd Raney
Marathon & Half
Oceanport, NJ
April 26
Oklahoma City Memorial Marathon
Marathon/Relay/Half/5K
Oklahoma City, OK
May 2
Trail to a Cure Ride/Run/Walk
Half Marathon, 10K & 5K
Rocheport, MO
May 3
Flying Pig Marathon
Todd Raney
Marathon
Cincinnati, OH
May 9
Running with the Cows
Half Marathon & 5K
Bucyrus, KS
May 16
Missouri Race Series
10 miles & 10K
Columbia, MO
May 16
Joplin Memorial Run
Half: Scott Gray (first half) and Jayna Gray
Half Marathon & 5K
Joplin, MO
May 16
Berryman 50-Mile & Marathon
50-Mile & Marathon
Steelville, MO
May 16
Bridge the Gap to Health
Half Marathon, 10K & 5K
Quincy, IL
May 17
Divas Half Marathon & 5K
Half Marathon & 5K
Branson, MO
May 17
RiverTownRun
Half Marathon & 5K
Washington, MO
May 17
Sugarloaf Marathon
Todd Raney
Marathon & 15K
Sugarloaf, ME
May 23
Table Rock Half Marathon
Half Marathon & 5K
Branson, MO
May 24
Med City Marathon
Marathon: Todd Raney
Marathon/Half/5K
Rochester, MN
May 30
Go Girl Run--Columbia
Half Marathon & 5K
Columbia, MO
May 30
Striker Life Half Marathon
Half: Jayna Gray
10K: Scott Gray
Half Marathon, 10K & 5K
Whiteman AFB, Knob Noster, MO
May 30
Midwest Active Katy80
80-mile team relay
Katy Trail State Park
June 6
Sunburst Marathon

Marathon/Half/10K/5K
South Bend, IN
June 6

Hospital Hill Run
Half: April Leonard, Jim McDermott
5K (Friday) and 10K: Scott Gray, Jayna Gray

Half Marathon, 10K & 5K
Kansas City, MO
June 7
Casper Marathon
Marathon: Todd Raney
Half & Marathon
Casper, Wyoming
June 13
In2Action Triail Run
Half Marathon & 5K
Columbia, MO
June 13
Maryville Marathon

Marathon/Half/10K/5K
Maryville, MO
June 13
Marathon to Marathon
Marathon: Jayna Gray (first marathon) & April Boicourt
Marathon, Relay, Half & 5K
Storm Lake, IA
June 20
Missouri Race Series
10 miles & 10K
St. Louis, MO
June 27
Charlevoix Marathon
Marathon: Todd Raney
Marathon/Half/10K/5K
Charlevoix, MI
June 28
Double Road Race
10K+5K
Overland Park, KS
July 4
Midnight Madness 50-Miler
50 miles
Tulsa, OK
July 11
Psycho Psummer Trail Run
50K, 20-mile, 10-mile
Kansas City, KS
July 18
Missouri Race Series
10 miles & 10K
Springfield, MO
Aug 15
Missouri Race Series
10 miles & 10K
Joplin, MO
Aug 15
Harder Than Hell Half Marathon
Half Marathon
Nixa, MO
Aug 30
ET Full Moon
Marathon: Todd Raney
51K/Marathon/Half/10K/5K
Area 51, Nevada
Sep 5
GO! Missouri KT82 Trail Relay
82-mile Katy Trail relay race
St. Louis, MO
Sep 5
North Shore Trail Run
5K/10K, Half
Lawrence, KS
Sep 6
Flatlanders 6/12 Hour Run
6 or 12 hours
Fenton, MO
Sep 6
Go Girl Run--Kansas City
Half Marathon & 5K
Kansas City, MO
Sep 7
Heart of America Marathon

Marathon
Columbia
Sep 12
Azalea Half Marathon
5K/10K, Half
Nixa
Sep 13
Missouri Race Series
10 miles & 10K
O'Fallon, MO
Sep 13
Chesterfield Half Marathon
Half
St. Louis, MO
Sep 13
Erie Marathon at Presque Island
Marathon: Todd Raney
Marathon & 5K
Erie, PA
Sep 19
Mark Twain 50/100
50 & 100 miles
Mark Twain Forest
Sep 19
Rise 'n Shine for Kyleigh
Half Marathon & 5K
Osage Beach, MO
Sep 19
Bismarck Marathon
Marathon: Todd Raney
Marathon/Half/10K/5K
Bismarck, ND
Sep 20
Broadway Bridge Run
Half: Jayna Gray
10K: Scott Gray
5K/10K, Half
Kansas City
Sep 20
Lee's Summit Half Marathon
Half
Lee's Summit, MO
Sep 20
Salt City Run for the Rock
Half
Hutchinson, KS
Sep 26
Roots 'n Blues 'n BBQ Festival

10K, Half
Columbia, MO
Sep 26
Huntsville Marathon
Marathon: Todd Raney
Marathon & Half
Huntsville, UT
Sep 27
Konquer the Konza Trail Races
25K & 10K
Manhattan, KS
Sep 27
Quad Cities Marathon
Marathon/Half/5K
Moline, IL
Sep 27
Berlin Marathon
Running: April Leonard;
Spectating: Paula O'Connor
Marathon
Berlin, Germany
Oct 3
Frog Hill Half Marathon & 10K
Half Marathon & 10K
Waynesville, MO
Oct 3
Rock Bridge Revenge
7 miles, 25K, 50K
Columbia, MO
Oct 3
Panther Run
5K/10K/15K
Springfield, MO
Oct 3
Arkansas Traveller 100
100 miles
Perryville, AR
Oct 3
New Hampshire Marathon
Todd Raney
Marathon/Half/10K
Bristol, NH
Oct 4

MO' Cowbell Marathon
Half: Jayna Gray, Scott Gray

5K, Half & Marathon
St. Charles, MO
Oct 4
Saint to Saint Relay & Ultra Run (cancelled)

41 miles
St. Robert, MO
Oct 9-10
Outback in the Ozarks

200-mile team relay
Eureka Springs, AR
Oct 10
Run the Burg
5K/10K, Half
Warrensburg, MO
Oct 11
Roller Coaster Race
(Cancelled)
Half Marathon (5K on the day before)
Branson, MO
Oct 11
Prairie Fire Marathon
Marathon/Half/5K
Wichita, KS
Oct 11
Missouri Race Series
10 miles & 10K
Lee's Summit, MO
Oct 11
Great GO! St. Louis Halloween Race
5K/10K, Half
St. Louis
Oct 11
Chicago Marathon
Nigher Alfaro, Denny Gillen & Curtis Wehmeyer
Marathon
Chicago, IL
Oct 17
Bear Creek Run
Scott Gray
Half Marathon
Columbia, MO
Oct 17
Waddell & Reed Kansas City
5K, Half & Marathon
Kansas City, MO
Oct 17-18
Dogwood Canyon Trail Runs
15K, 25K, 50K
Lampe, MO
Oct 18
Rock 'n' Roll St. Louis
Half: Jayna Gray, April Boicourt, Amy Snelling & Kari Salsman
5K (on 10/17), 10K & Half Marathon
St. Louis
Oct 18
Des Moines Marathon
Marathon/Half/5K
Des Moines, IA
Oct 18
Lake Perry Rocks
5K, Half, 50K
Meriden, KS
Oct 18
Duke City Marathon
Marathon: Todd Raney
Marathon/Hal/10K/5K
Albuquerque, NM
Oct 18
HITS Running Festival
5K/10K, Half, Full
Oklahoma City, OK
Oct 24
The Bison 50
50 miles
Topeka, KS
Oct 25
Marine Corps Marathon
Alysia Maschino and Denny Gillen
Marathon
Arlington, VA
Oct 25
Cape Cod Marathon
Marathon: Todd Raney
Marathon & Half
Falmouth, MA
Nov 1
Kansas Half Marathon
Half Marathon & 5K
Lawrence, KS
Nov 1
Bass Pro Shops
Half: Jayna Gray
5K, Half & Marathon
Springfield
Nov 1
St. Louis Half Marathon
5K, Half
St. Louis
Nov 1
Marshall University Marathon
Marathon: Todd Raney
Marathon/Half/5K
Huntington, WV
Nov 7
Disney Wine & Dine Half Marathon
Megan Hendrickson (first half)
Half Marathon
Orlando, FL
Nov 7
Team RWB Veterans Day Half Marathon & 4 Miler
Half Marathon & 4-Miler
St. James, MO
Nov 7
Ozark Trail 100
100 miles
Steelville, MO
Nov 7-8
The Skippo Trail Race
10K/20K/30K
St. Louis, MO
Nov 8
America's First Pro-Life Half Marathon & 5K
Half Marathon & 5K
Jefferson City, MO
Nov 8
Gobbler Grind Marathon
Marathon: Todd Raney (tentative)
Half & Marathon
Overland Park, KS
Nov 8
Fayetteville Half Marathon
Half & 5K
Fayetteville, AR
Nov 14
Longview Half Marathon
Half Marathon
Kansas City, MO

Nov 14
Haulin' Bass Trail Runs
8K & 15K
Stockton, MO
Nov 14
Chickamauga Battlefield Marathon
Marathon: Todd Raney
Marathon/Half/5K
Fort Oglethorpe, GA
Nov 15
Pilgrim Pacer Run
5K/10K, Half, Marathon
Shawnee, KS
Nov 21
AdventureMax Springfield Trail Run
10K, Half
Highlandville, MO

Nov 21
White River Marathon for Kenya
Marathon/Half/5K
Cotter, AR
Nov 22
Route 66 Marathon
Marathon: Scott Page
Half: Reagan Page
Half & Marathon
Tulsa, OK
Dec 5
Alternate Chili Trail Run
10 miles
Kansas City, KS
Dec 5
Cheese & Sauerkraut 10-Miler
10 miles
Columbia
Dec 5
St. Jude Memphis Marathon Weekend
Marathon/Half/5K
Memphis, TN
Dec 5
Rehoboth Beach Marathon
Marathon: Todd Raney
Marathon & Half
Rehoboth Beach, DE
Dec 13
Half & Half / Double Half
Half & Marathon
Tulsa, OK
Dec 19
Run for the Ranch
Marathon: Todd Raney (tentative)
Half & Marathon
Springfield
Dec 26
Operation Jack KC Run/Walk in the Snow
Half & Marathon
Shawnee, KS

2016

Jan 2-3
The Pistol Ultra Run
100K: Ashley Pryor, Scott Page & Todd Raney
50K: April Boicourt
50K relay, 50K, 50 miles, 100K, 100 miles
Alcoa, TN
Jan 17
Houston Marathon
Marathon: Todd Raney
Marathon & Half
Houston, TX
Feb 14
Austin Marathon
Possible: Kara O'Connor & Casey O'Connor
Marathon & Half
Austin, TX
Feb 28
Rock 'n' Roll New Orleans
Marathon: Todd Raney
Half: Ashley Pryor, Heather Doyle & April Boicourt
Marathon & Half
New Orleans, LA
April 2
Bridge & Dam Half Marathon & 10K
Half Marathon & 10K
Lake Ozark, MO
April 10
Rock 'n' Roll Raleigh
Marathon: Todd Raney
Marathon & Half
Raleigh, NC
April 23
Run for the Children Half Marathon
Half Marathon
Eldon, MO
April 24
Big Sur International Marathon
Marathon: Todd Raney
Marathon
Big Sur, CA
May 21
Joplin Memorial Run
Marathon/Half & 5K


Marathon added for 2016

Joplin, MO
* * * * *

TRIATHLONS AND DUATHLONS
IN MISSOURI AND VICINITY
2015

Date

Race Name

Distance(s)

Location

Mar 28
Neosho Sprint Triathlon
300-yard indoor pool swim, 12.5-mile bike, 3.1-mile run
Neosho, MO
April 4
MaxTrax Duathlon
Short course: 1.5-mile run, 7.5-mile bike, 1.5-mile run
Long course: 1.5 mile run, 15-mile bike, 3-mile run
Columbia, MO
May 3
Triathlon: 400-meter pool swim, 14-mile bike, 3-mile run
Duathlon: 1-mile run, 7-mile bike, 1-mile run
Columbia, MO
May 17
Kansas City Triathlon
LOTO participants:
April Boicourt
Sprint: 500-meter swim, 20K bike, 5K run
Olympic: 1.5K swim, 40K bike, 10K run
Kansas City, MO
May 17
Challenge Knoxville Triathlon
LOTO participants:
Denny Gillen
1.2-mile swim, 56-mile bike, 13.1-mile run
Knoxville, TN
May 23
Sedalia Spring into Summer Duathlon
Short course: 2-mile run, 5-mile bike, 0.5-mile run
Long course: 2-mile run, 12-mile bike, 2-mile run
Sedalia, MO
May 31
Midwest Meltdown Triathlon & Duathlon
Short course triathlon: 750-meter swim, 10.4-mile bike, 5K run
Long course triathlon: 1.5K swim, 20.8-mile bike, 5.2-mile run
Duathlon: 1-mile run, 10.4-mile bike, 5K run
Paola, KS
Jun 7
Legend Free State Tri


(New event for 2015)

Sprint: 500-yard swim, 12-mile bike, 5K run
Olympic: 1500-meter swim, 40K bike, 10K run
Legend 70: 1.2-mile swim, 56-mile bike, 13.1-mile run
Legend 100: 2-mile swim, 80-mile bike, 18-mile run

Lawrence, KS
June 20
Binder Blast Off-Road Triathlon & Duathlon


Cancelled

Triathlon: 400-yard swim, 7.5-mile bike, 3.1-mile run
Duathlon: 7.5-mile bike, 3.1-mile run
Jefferson City, MO
June 20-21
Warsaw Adult & Kids Triathlon
Adults: 500-yard swim, 12-mile bike, 5K run
Kids: Four age-appropriate distances
Warsaw, MO
June 20
Tinman Triathlon
Short course: 400-meter swim, 13-mile bike, 3.1-mile run
Long course: 1,000-meter swim, 19-mile bike, 7-mile run
Topeka, KS
June 20
Warsaw Area Kids Triathlon
Four age-appropriate distances for kids up to age 15
Warsaw, MO
June 21
Warsaw Area Sprint Triathlon
500-yard swim, 12-mile bike, 5K run
Warsaw, MO
June 27
QuarterMax & OctoMax Triathlons
OctoMax: 500-yard swim, 14-mile bike, 3-mile run
QuarterMax: 0.6-mile swim, 28-mile bike, 10K run
Innsbrook, MO
June 28
Summer Roundup Triathlon
Sprint: 500-meter swim, 12.3-mile bike, 5K run
Olympic: 1500-meter swim, 40K bike, 10K run
Jasper, MO
July 11
Big Shark New Town Kids Triathlon
0.62-mile swim, 20-mile bike, 4-mile run
New Town St. Charles, MO
July 12
Big Shark New Town Triathlon
0.62-mile swim, 20-mile bike, 4-mile run
New Town St. Charles, MO
July 12
Shawnee Mission Triathlon & Duathlon
Short course: 500-meter swim, 9-mile bike, 3.2-mile run
Long course: 1,000-meter swim, 18-mile bike, 4.5-mile run
Shawnee, KS
July 12
Lake Freebird Triathlon
Triathlon: 660-meter swim, 14-mile bike, 5K run
Beginners (non-competitive): 300-meter swim, 10-mile bike, 1.3-mile run
Mountain Grove, MO
July 18
Mighty Max Kids Triathlon
Four age-appropriate distances for children up to age 14
Columbia, MO
July 18
Crossroads Triathlon
(cancelled?)
200-meter swim, 8-mile bike, 2.1-mile run
Cameron, MO
July 19
Show-Me State Games Triathlon & Duathlon
Triathlon: 0.5-mile swim, 15-mile bike, 3-mile run
Duathlon: 15-mile bike, 3-mile run
Columbia, MO
July 25
WIN for KC Women's Triathlon
500-meter swim, 10-mile bike, 5K run
Smithville, MO
July 25
Concreteman Triathlon
Short course: 500-meter swim, 12.5-mile bike, 2-mile run
Olympic: 1,500-meter swim, 25-mile bike, 10K run
Springfield, MO
Aug 1
Warrensburg Triathlon
SuperKids Tri: (distances not available)
Trio-Tri: 3-person relay
"98.5 The Bar" Tri: 300-meter swim, 10-mile bike, 5K run
Warrensburg, MO
Aug 2
Stockton Lake Tri Wild-Life Challenge
Short course: 500-meter swim, 10.4-mile bike, 5K run
Long course: 1,000-meter swim, 20.8-mile bike, 10K run
Stockton, MO
Aug 2
Matt Mason Memorial Cowboy-UP! Triathlon
500-meter swim, 11-mile bike, 5K run
Kansas City, MO
Aug 2
Ironman Boulder Triathlon
LOTO participants:
Denny Gillen
2.4-mile swim, 112-mile bike, 26.2-mile run
Boulder, CO
Aug 7
Republic Youth Tigger Tri
Distances to be announced
Republic, MO
Aug 8
Republic Tiger Tri
Super Sprint: 150-yard swim; 6.1-mile bike, 1.5-mile run
Classic Sprint: 300-yard swim, 12.2-mile bike, 5K run
Republic, MO
Aug 16
Jackson County Triathlon
Short course: 750-meter swim, 11.75-mile bike, 3-mile run
Long course: 1.5K swim, 40K bike, 5-mile run
Lee's Summit, MO
Aug 22
Frisco Runaway Triathlon
300-meter pool swim, 12-mile bike, 5K run
Willard, MO
Aug 22
Lake St. Louis Triathlon
Short course: 0.25-mile swim, 12.3-mile bike, 2.5-mile run
Long course: 0.93-mile swim, 24-mile bike, 10K run
Lake St. Louis, MO
Aug 29
Cedar Creek Triathlon & Duathlon
Triathlon: 400-meter swim, 11-mile bike, 5K run
Duathlon: 1-mile run, 11-mile bike, 1-mile run
Olathe, KS
Sep 6
Heartland Heat Triathlon


(cancelled)

400-meter pool swim, 12 mile bike, 5K run
Kansas City, MO
Sep 6
Des Moines Triathlon
(formerly the Hy-Vee Triathlon)
Sprint: 400-meter swim, 20K bike, 5K run
Olympic: 1.5K swim, 40K bike, 10K run
Des Moines, IA
Sep 12
Mid-America Multisport National Championship


(New event for 2015)

Halfmax Championship: 1.2-mile swim, 56-mile bike, 13.1-mile run

Club National Championship
Innsbrook, MO
Sep 27
Sedalia Duathlon
Short course: 2-mile run, 8-mile bike, 1-mile run
Long course: 5K run, 30K bike, 5K run
Sedalia, MO
Oct 4
Border Wars Triathlon
1.2-mile swim, 56-mile bike, 13.1-mile run
Alton, IL
Oct 11
Ironman Louisville Triathlon
LOTO participants:
Jim McDermott
2.4-mile swim, 112-mile bike, 26.2-mile run
Louisville, KY

2016

July 9
Ironman 70.3 Muncie
LOTO participant: Denny Gillen
1.2-mile swim, 56-mile bike, 13.1-mile run
Muncie, IN
Sep 11
Ironman Wisconsin
LOTO participant: Denny Gillen
2.4-mile swim, 112-mile bike, 26.2-mile run
Madison, WI
* * * * *

CYCLING EVENTS
IN MISSOURI AND VICINITY
2015

Date

Race/Event Name

Distance(s)

Location

Feb 15
Rocheport Roubaix


(New event for 2015)

20, 30, 55 and 70 miles
Rocheport, MO
Feb 22(?)
Froze Toes
(cancelled?)
31 miles (62 for pros)
Columbia, MO
April 13
MoBikeFed Ride with Legislators
Jefferson City, MO
April 25
The Ozark Gravel Road Expedition (OGRE)
(cancelled for 2015)
150 miles
Lake of the Ozarks
May 9
Hellbender Gran Fondo
51 miles
Rolla, MO
May 16
Vino Fondo
38, 58, 91 and 118 miles
Augusta, MO
May 17
The Hairy Hundred
100-mile gravel road race
Rocheport, MO
May 25
Tour of Kansas City Gran Fondo
Kansas City, MO
May 30
Dirty Kanza 200
200 miles
Emporia, KS
June 6
Tour de Cure
10, 30, 50 and 100 miles
Alton, IL
June 7
Down 'n Dirty
Varies by division
Warsaw, MO
June 13
Cycle for Life
10, 25 and 50 miles
Ozark, MO
June 27
Tour de Lakes
10, 32, 55 and 65 miles
Lee's Summit, MO
July 18
Show-Me State Games Road Cycling Race
19 and 28 miles
Auxvasse, MO
July 18
World Naked Bike Ride--St. Louis
St. Louis, MO
July 26
Show-Me State Games Mountain Bike Race
1, 1-1/2, and 3 hours
Columbia, MO
Aug 8
MO State Time Trial Championship
20K or 40K, depending on division
Centraiia, MO
Aug 15
Svitak Freedom Ride
10, 25, 40, 67 and 100 miles
Springfield, MO
Aug 29
Moonlight Ramble
10.5 and 18.5 miles
St. Louis, MO
Aug 29
BikeMO
30, 65 and 90 miles (24 and 50 miles for Katy Trail option)
Rocheport, MO
Sep 4-6
Singletrackmind Festival
Mountain biking, trail runs, etc. on the Two Rivers Bike Trail
Springfield, MO
Sep 12
Red Shoe Ride
35, 60 and 100 miles
Columbia, MO
Sep 26
Tour de BBQ
15, 35 and 62 miles
Overland Park, KS
Sep 26-27
Pedal the Cause
15, 25, 37, 50, 75 & 100 miles
St. Louis, MO
Sep 27
Rhett's Run
Mountain bike race
Columbia, MO
Oct 4
Tour de Bass Bike Rides
25, 42, 77 and 102 miles
Springfield, MO
Oct 4
Tour de Wildwood
28 and 45 miles
Wildwood, MO
Oct 10-11
Hartsburg Pumpkin Festival Ride
9.5 miles from Jefferson City on the Katy Trail
Oct 17
Cystic Fibrosis Cycle for Life
25, 50 and 100 miles
St. Charles, MO
Oct 17
Cuban Gravel Crisis
20, 50 and 100 mile bike rides; 5K run
Cuba, MO
Oct 24
BT Epic
LOTO participants:
Dave Goldberg, Chris Orr, Scott Hofer, Terry Kaufman
Mountain bike race on the Berryman Trail
Steelville, MO
* * * * *

PADDLING EVENTS
IN MISSOURI AND VICINITY
2015

Date

Race Name & River

Distance(s) & Boat Type

Location

Aug 22
Firecracker Race
(Mississippi River -- Alton Pool)
Canoes & kayaks -- 12 miles
Paddlboards -- 3 miles
Alton, IL
Aug 29
Race for the Rivers
(Missouri River)
20 and 40 miles; canoes & kayaks
Washington, MO
Sep 12
Finger Lakes Adventure Challenge
(Finger Lakes State Park)
5K paddle, then 5K run
Columbia, MO
Sep 19
Fall 36 Race
(Osage, Missouri and Gasconade Rivers)
36 miles
Canoes, kayaks & paddleboards
Starts near Loose Creek; ends at Gasconade
Sep 26-27
Two Dam Days
(Lake of the Ozarks)
92 miles (over two days), 16 miles and 1.5 miles
Lake of the Ozarks
Oct 17
Race to the Dome
(Missouri River)
Providence (26.6 miles) or Hartsburg (15.8 miles) to Jefferson City
Jefferson City, MO
Oct 24
Chattajack 31
(Tennessee River)
LOTO participants: Trevor Dowdney
31 miles; paddleboard & kayaks
Chattanooga, TN