Lake Placid Marathon, Half Marathon & 10K: The race posted this statement on its Facebook page Wednesday evening:
"Hello-
We are writing to you as promised tonight with a report from Lake Placid on the status of this Sunday's races. We understand that you want information and want to play it straight. We really believe the weather over the next few days will result in more smoke and poor air quality but the rain will help to mitigate this situation. Looking at the 5 day forecast, winds are expected to turn westerly this weekend and help clear the atmosphere locally. In this light, we are not planning on cancelling or postponing the race.
Obviously you are the one in charge of you. You can decide that racing isn't for you this year and that is your choice. The weather is beyond anyone's control and you need to factor that in your decision. We are going to put on a race and invite you to come, adjust your pace, drop down to the half marathon or 10K, walk, wear a mask; basically do what you feel is right for you. We have made promises to our Charity Partners, various fundraising groups, staff and volunteers as well as the local community and we intend to honor them by conducting the Lake Placid Marathon.
The only realistic way we would see cancelling is if conditions turn hazardous, or public authorities determine the conditions would put too much stress on first responders or the emergency management system in the region. Beyond that, we will give you the chance to race, enjoy your fitness, celebrate the freedom to choose to participate and welcome the spirit of the Lake Placid Marathon.
Make your choice. We thank you for your support over the past 18 years and hope to see you soon and for years to come. We will update you regularly on our social channels and with additional emails.
Happy National Running Day!
Sincerely,
The Medical, Operations and Athlete Services staff of the Lake Placid Marathon/Half/10K
* * * * *
WEEKEND EVENTS FOR JUNE 10 - 11
One of our biggest local races of the year takes place on Saturday. The sixth annual Rock Island Road Race (Facebook page), offering 5K, 10K and 15K options, starts at 7:15 a.m. at the Rock Island Park in the heart of Eldon. Packet pickup, and registration for any spots still available will be open on race day from 6:00 to 7:00 a.m. Scroll down this column to "Upcoming Events" to get more details about the race.
Elsewhere:
Warsaw:
Warsaw Jubilee Days 5K, Saturday
Jefferson City:
The Great Escape Triathlon and Duathlon, kids races on Saturday; adults on Sunday (Sprint triathlon participants: Cody Eubanks, Pete Groce and Mike Korst)
Columbia:
Hope for Heroes 5K, Saturday
Missouri State Senior Games (5K), Sunday
Rocheport:
Mighty Missouri Relay (solo and team options); 45-miles, marathon, half marathon & 5K/10K, Saturday (inaugural race)
Owensville:
Addi's Army 5K, Saturday
Rogersville (near Springfield):
The Bandit 5K, Saturday (evening race)
Kansas City area:
Heroes for Hospice 5K, Saturday
KC Pet Project 5K, Saturday

St. Louis area:
Glendale Firehouse Run 5K/10K, suburban St. Louis, Saturday

Innsbrook Resort: (25 miles west of St. Louis)
Innsbrook Triathlon, Sunday

Cotter, Arkansas:
Arkansas Backyard Ultra Championship, Saturday

* * * * *

HOSPITAL HILL RUN (posted June 5th)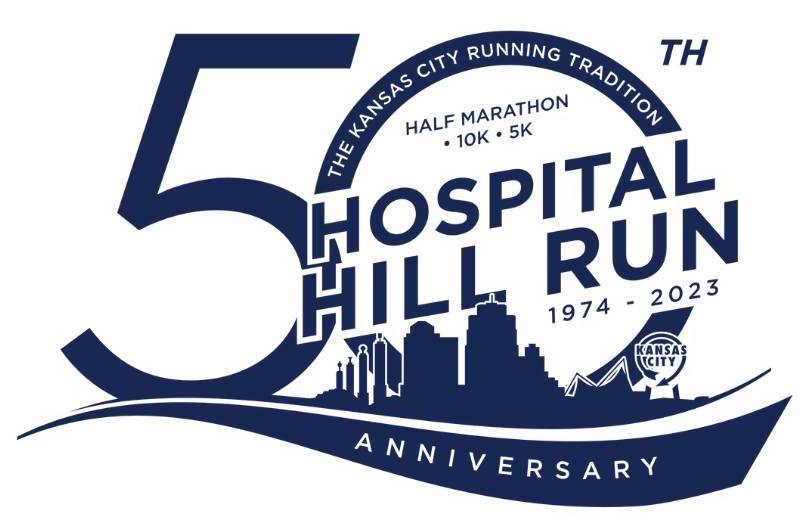 The Hospital Hill Run in Kansas City celebrated its 50th anniversary race on Saturday with a much larger than normal turnout. (Perhaps it was the swag--finishers received a special commemorative running jacket and medal.) Hospital Hill is one of the oldest running races in the state; only the Columbia Track Club's Heart of America Marathon, which was first held in 1960, is known to be older.
Here are the results for our Lake-area runners, plus others we know:
HOSPITAL HILL RUN
OVERLAND PARK, KANSAS
JUNE 3, 2023
RESULTS FOR LAKE-AREA PARTICIPANTS AND A FEW OTHERS


Name

City

Finish Time

Division

Division Place

HALF MARATHON:
Tucker Seise
Osage Beach

1:29:07

M25-29

4 of 105

Andy Emerson
Columbia

1:43:52

M50-54

7 of 105

Henri Coeme
Neosho

1:44:15

M70-74

1 of 23

Scott Page
Osage Beach

1:52:20

M50-54

12 of 105

Marvin Bescheinen
Versailles

1:59:02

M70-74

3 of 23

Heather Doyle
Tipton

1:59:03

F40-44

18 of 164

Alysia Maschino
Linn Creek

2:14:24

F45-49

47 of 140

Jackson Robbins
Sunrise Beach

2:29:29

M25-29

87 of 105

10K:
Scott Gray
Columbia
1:35:46
M40-44
45 of 47
5K:
Complete race results can be found here. Athlinks.com results can't be searched by the participants' cities, so it was necessary to do a quick scan through the 65 pages of half marathon and 10K results. If I missed anyone, or someone ran the 5K, please let me know.
Total participation was up 93% over 2022, and was the largest turnout since 2016. As far as I can tell, only two other races in the state can brag that their 2023 race is about the same size as their 2016, and that's only because their field sizes are limited.
2016

2017

2018

2019

2020

2021

2022

2023

Half Marathon

2,220

1,825

1,497

1,549

Covid

1,048

1,238

2,080

7.7 Miles

-

-

1,014

-

-

-

10K

1,216

1,250

-

1,071

607

688

1,102

5K

1,570

1,457

387

894

598

704

1,623

Total

5,006

4,532

2,898

3,514

2,253

2,630

4,805
* * * * *
GO GIRL RUN COLUMBIA HALF MARATHON & 5K (posted June 5th)


Two Lake-area runners traveled to Columbia for Sunday's women-only Go Girl Run Half Marathon & 5K. Of note, 13 year-old Rose Falter of Lake Ozark, who won the RunStock 10K and took second in the 5K, ran the half marathon and finished in 2:03:06. Rose finished 11th overall among 105 female finishers.
GO GIRL RUN HALF MARATHON & 5K
COLUMBIA, MISSOURI
JUNE 4, 2023
RESULTS FOR LAKE-AREA PARTICIPANTS

Name

City

Finish Time

Age Group

Age Group Place

HALF MARATHON:
Rose Falter
Lake Ozark

2:03:06

F10-14

2 of 2

5K:
Teresa Blumhagen
Linn Creek

40:33

F55-59

7 of 14
Complete race results can be found here.
After a slight rise in participation last year, this year's turnout marked another new low for the race. Heartland Racing took over management of the race (and perhaps even ownership) this year from the race's original organizer, Ultramax Sports.
2016

2017

2018

2019

2020

2021

2022

2031

Marathon

49

-

-

-

Covid

-

-

-

Half Marathon

352

360

263

229

108

138

109

5K

426

352

352

406

203

210

186

Total

827

712

615

635

311

348

295
* * * * *
Other weekend races (June 3 - 4):
The inaugural Hometown Half Marathon and 5K/10K was held in St. Charles on the Katy Trail on Sunday. They had 191 finishers of the half marathon and 96 and 117 finishers, respectively, in the 10K and 5K. The Kansas City version of the race takes place on June 24th.
GO! St. Louis had slightly fewer teams competing this year in their KT82 team relay race on the Katy Trail on Saturday. (For runner safety reasons, the 82-mile race was shortened by about 7 miles to eliminate an intermediate segment that offered no shade.) They had a total of 117 teams this year, versus 134 last year.
* * * * *

2023 Archives
2022 Archives
2021 Archives
2020 Archives
2019 Archives
2018 Archives
2017 Archives
2016 Archives
2015 Archives
2014 Archives
2013 Archives
2012 Archives
2011 Archives
2010 Archives
2009 Archives
* * * * *

ELDON ROCK ISLAND ROAD RACE (updated February 13th)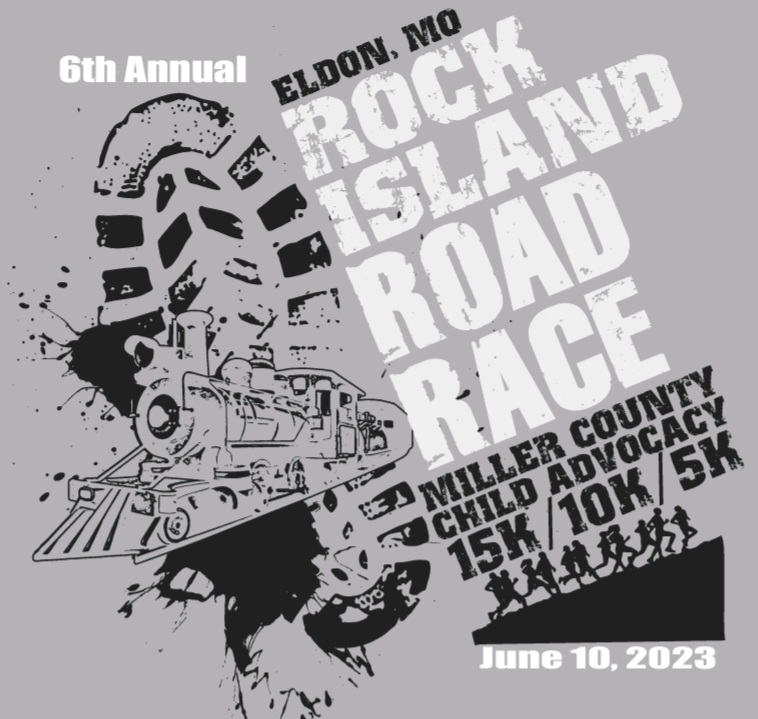 The sixth annual Rock Island Road Race in Eldon will be held on Saturday, June 10th at Rock Island Park. The race, which will offer 5K, 10K and 15K options, is organized by and benefits the Miller County Child Advocacy Council.
The race will start at 7:15 a.m. Race-day registration will be open from 5:45 to 7:00 a.m.
Registration will open at noon on Saturday, March 4th, with discounted entry fees available that day. The first 20 entrants who register for the 10K or 15K will pay just $23. Once those 20 slots are sold, a $5 discount will be available to all other 10K or 15K entrants through the end of the day. The entry fee will be $23 for all 5K registrants that day. The entry fees after March 4th haven't yet been announced.
T-shirts can only be guaranteed to those who register by May 15th.
Visit the race's Facebook page for more information.
A course map can be found here. (The course is unchanged from last year.)
* * * * *
RUN FOR THE HORSES 5K/10K RUN/WALK (posted May 2nd)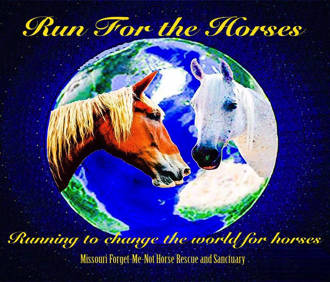 Registration is now open for the Missouri Forget-Me-Not Horse Rescue & Sanctuary's (Facebook page) Run for the Horses 5K/10K will be held on Saturday, June 24th at the Linn Creek City Park.
You can register online at missouriforgetmenot.org/race, or download a mail-in registration form.
The run/walk starts at 7:30 a.m., with race-day registration opening at 6:30 a.m.
The 5K/10K entry fee is $20 (for either distance) for those who pre-register by June 18th, and $25 on race day. The entry fee for children 12 and under is $10.
A virtual 5K/10K option is available for $35. Your t-shirt will be mailed to you.
T-shirts can only be guaranteed to those who pre-register by June 11th.
* * * * *
NIANGUA DARTER (PADDLING) FUN RUN (posted January 20th)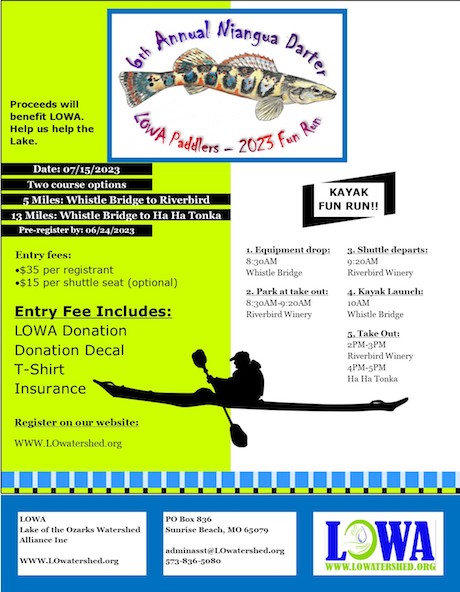 (click on above thumbnail for a larger image)
The Lake of the Ozarks Watershed Alliance will be holding its sixth annual Niangua Darter Fun Run on Saturday, July 15th. Paddlers can choose between 5- and 13-mile courses on the Niangua River. Online registration can be found here.
* * * * *