WEEKEND EVENTS FOR OCTOBER 19 - 20
The weekend weather forecast looks nice, except for a chance of showers and thunderstorms on Saturday morning. Don't fret over the Saturday forecast just yet--we have a few days for things to change for the better.
There are no Lake-area races this weekend, but just a short drive down Highway 5 is the Rotary Route 5K Run in Lebanon on Saturday. The Lebanon Rotary Club uses proceeds from the event to buy winter coats for kids in need.
Two big races are happening on opposite sides of the state this weekend. The Kansas City Marathon, Half Marathon & 5K/10K--the biggest marathon and biggest half marathon in Missouri in 2018--takes place on Saturday, followed by The Great GO! St. Louis Half Marathon & 5K/10K on Sunday. There are lots of 5Ks going on in both Kansas City and St. Louis as well.
Osage cross country runners will be competing at the Borgia Invitational in Washington on Saturday. All of the other area high schools have and "off" weekend.
Lazarus Lake's brainchild "last man standing" race, the Big's Backyard Ultra ("Big" is the name of Laz's bigger of two dogs), starts at 6:40 a.m. Saturday and ends when just one runner remains. (Last year, it took a record 68 hours--or 283.335 miles--to determine a winner.) Four-time previous participant Andy Emerson of Columbia joins 74 others from all over the U.S. and the world for this year's edition of insanity.
The Detroit Marathon is on Sunday. Although no one from the Lake area will be doing it (as far as I know) or has ever done it (as far as I know), one runner who'll be there attempting to complete his very first marathon is Carlos Orosco. What distinguishes Carlos from all other first-time marathoners is that a few years ago he weighed 650 lbs. You can read about him, and about how running helped give him a new lease on life, here.
Elsewhere:
Lebanon:
Rotary Route 66 5K Run, Saturday
Columbia:
Stache Dash 5K, Saturday
Bear Creek Run Half Marathon, Saturday
Rolla:
Superhero 5K, Saturday
Steelville:
BT Epic (mountain bike race on the Berryman Trail), Saturday
Springfield & vicinity:
Reach for the Stars 5K, Saturday
Walk Like MADD & 5K Dash, Saturday
Ozark Mountain Ridge Runners calendar
Kansas City and vicinity:
Kansas City Marathon, Half Marathon & 5K/10K, Saturday
The Overrun Ovarian Cancer 5K, Sunday
KC Running Company calendar
Bodies Race Company calendar
St. Louis and vicinity:

Ivory Crockett Run for Webster 5K, Saturday
Walk Run 'n Roll for Spina Bifida (6K), Saturday
Gumbo Flats Pumpkin Run (5K/10K), Saturday
Minnie Ha Ha 6- & 12-Hour Run, Saturday
The Great GO! St. Louis Halloween Race (half marathon, 5K/10K), Sunday
Big River Running calendar
Fleet Feet Sports St. Louis calendar
Des Moines, Iowa:
Bell Buckle, Tennessee:
Big's Backyard Ultra, starts 6:40 a.m. Saturday; ends when one runner remains
Detroit, Michigan:
Detroit Marathon, Sunday
Be sure to check out the Lake of the Ozarks Runners Facebook page to see what they'll be doing this weekend.
* * * * *

PRAIRIE FIRE MARATHON, HALF MARATHON & 5K (posted October 13th)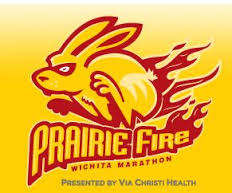 After three consecutive years of running the Prairie Fire Marathon in Wichita, and succeeding in qualifying for Boston on her third try, Bryna Edwards of Lake Ozark stepped down to the half marathon this year. On Sunday, Bryna finished the half in 1:40:54, placing 6th (of 91) in the women's 30-34 age group. It's now the fastest half marathon for Lake-area women so far this year.
Complete Prairie Fire race results can be found here.
* * * * *
F*L*A*T*S TRAIL HALF MARATHON (posted October 12th)
Last year, it was rain and mud. This year, it was the coldest weather (so far) of the season. Despite the weather jinx, 154 runners, including two from the Lake area, took on the F*L*A*T*S Trail Half Marathon at Thousand Hills State Park just west of Kirksville in far northeastern Missouri on Saturday. (FLATS is an abbreviation for the Forest Lake Area Trail System, an all-volunteer community organization that promotes trail development in the Kirksville area.)
Aaron Koeppen, who ran and finished the race last year in 1:50:08, finished this year in 1:52:30 and placed 20th among the 90 male finishers. Aaron finished just ahead of our running friend from Columbia, Andy Emerson. (Andy travels to Bell Buckle, Tennessee later this week for a fifth appearance at Lazarus Lake's Big Backyard Ultra.)
Down in 25th place was Michael Classen of Versailles, who finished in 1:56:23.
Complete race results are here.
As has happened before at this race, the overall race winner was a ringer. This year it was North Face-sponsored ultra runner Coree Woltering, who breezed to victory in 1:31:51, more than four minutes ahead of his closest rival. Check out his past results at Ultrasignup.com, and you'll find a long list of overall race victories--21 in the last four years, in addition to about a dozen other high finishes.
* * * * *
HIGH SCHOOL CROSS COUNTRY MEET RESULTS FOR OCTOBER 12th (posted October 12th)

Versailles and Eldon cross country runners competed at the Russellville Invitational. Their results can be found here.
Results for Camdenton runners at the Ozark Conference meet haven't yet been posted at Milesplit.com.
* * * * *

2019 Archives
2018 Archives
2017 Archives
2016 Archives
2015 Archives
2014 Archives
2013 Archives
2012 Archives
2011 Archives
2010 Archives
2009 Archives
* * * * *

GIVE 'EM THE BIRD 5K RUN, 1-MILE WALK & KIDS RACE (updated August 7th)

Note: This year's Give 'Em The Bird 5K in Versailles is moving up one week. In the past, it's always been held on the first Saturday in November. This year, though, the race will be on Saturday, October 26th. That's welcome news to our many runners who do Bass Pro, which almost always falls on the day after GETB. This year, you'll be able to do both races, without having to scurry down to Springfield right after GETB to pick up your race packets at Bass Pro. (Actually, you should be able to do both races once again in 2020, since the first Saturday in November--November 7, 2020--comes six days after the first Sunday--November 1st--when Bass Pro will likely be held.)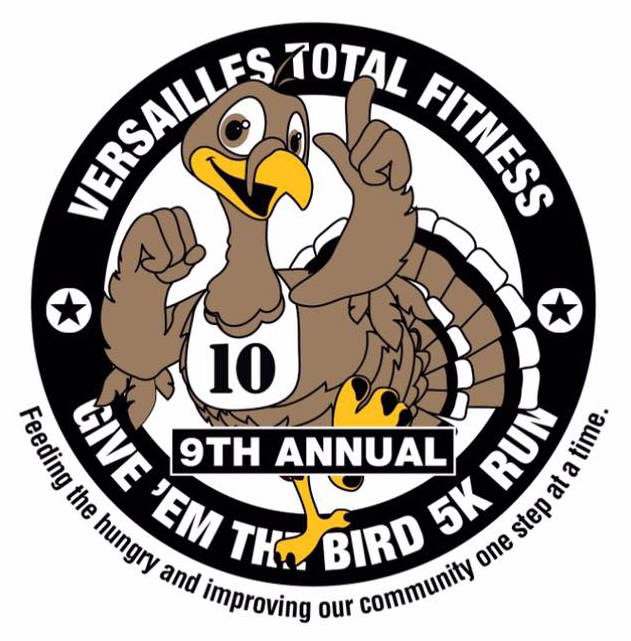 The color of the Give 'Em The Bird t-shirts has always matched the background color of the logo for that year's race, so it looks like this year's shirts will be white.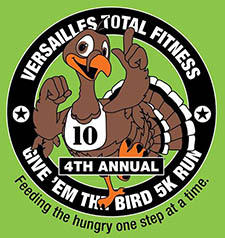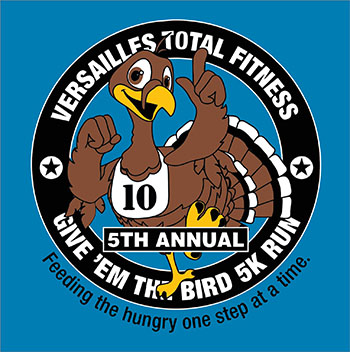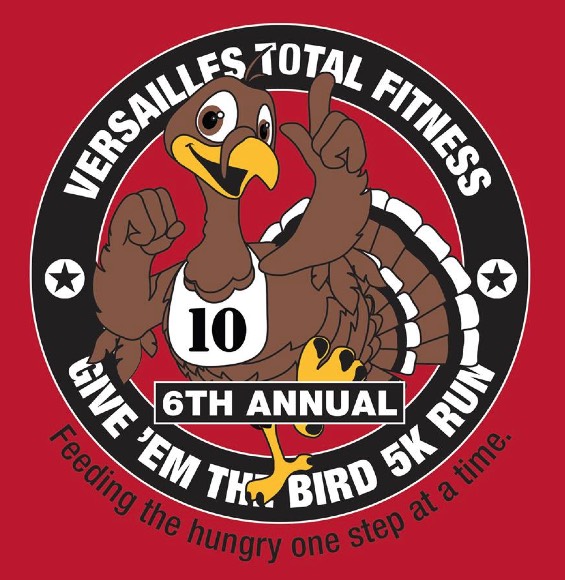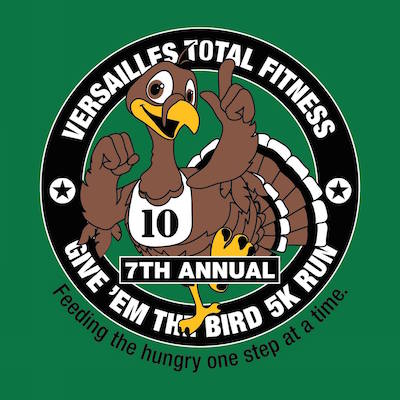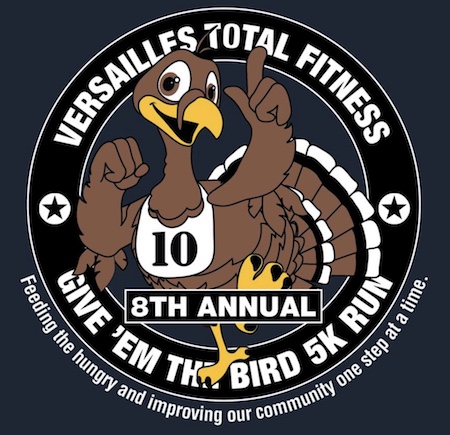 2014 2015 2016 2017 2018
Versailles Total Fitness' ninth annual Give 'Em The Bird 5K run/walk and 1-mile walk, plus a quarter-mile race for kids, will be held on Saturday, October 26th. It will start at 9:00 a.m. at Versailles Total Fitness (map) at 131 N. Monroe in downtown Versailles.
Give 'Em The Bird has the biggest "wow" factor of any 5K in the Lake area, including a live radio broadcast and music by race co-sponsor KS95.1, a live singing of the national anthem, the Second Baptist Church choir singing on the church steps along the course route, plenty of course support from the police, firefighters, and volunteers along the closed course, chip timing, really nice technical t-shirts, and a fun race for kids. This race really is the Super Bowl of Lake-area 5Ks, and it perennially attracts a big field with some of the fastest runners in the Lake area and beyond.
Registration is available online, or you can download a registration form to mail to or drop off at Versailles Total Fitness. The entry fee is $25 if you register on or before October 19th. The fee rises to $35 on and after October 20th. T-shirts can only be guaranteed to those who register by October 4th.
The quarter-mile kids run will follow the 5K and 1-mile events. There's no entry fee, but also no t-shirt, for participants. They will, however, receive finishers ribbons.
* * * * *
TRICK-OR-TROT 5K RUN/WALK (posted September 25th)


Camdenton High School's DECA chapter is holding its second annual Trick-or-Trot 5K Run/Walk on the evening of Saturday, October 26th. The run/walk starts at 6:00 p.m. at Camdenton High School, with race-day registration opening at 5:00 p.m. The entry fee is $25 for those who register by the October 9th pre-registration deadline, and $35 thereafter. Click for a registration form.
* * * * *
4 FORE 30 (posted December 13th)
4 Fore 30 (Facebook page) will return on December 7-8, 2019 to Lake Valley Golf & Country Club. Kids' Harbor will again being the race beneficiary.
The only notable change for 2019 is that the race will start one hour later than in 2018. The 7:00 a.m. start in 2019 will avoid the need for headlamps in the race's first hour.
The entry fee is $90 through October 31, and $100 thereafter. Use the discount code "lakellamas" to get $15 off your entry fee through January 31st.
Registration and full details are available here.
* * * * *
WHOBILATION 5K RUN/WALK (posted September 9th)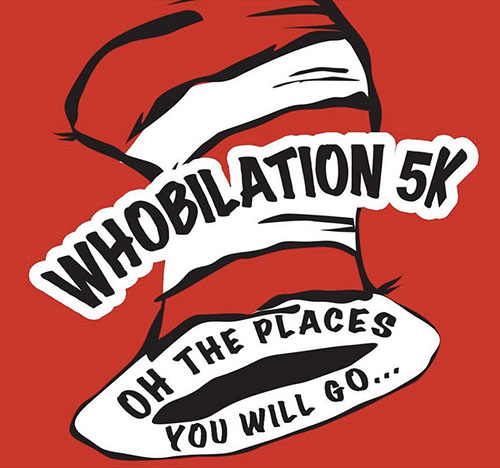 The Tri-County YMCA will hold its second annual Whobilation 5K Run/Walk on Saturday, March 7th, at the YMCA's facility on Airport Rd. in Osage Beach. The Dr. Suess-themed race will start at 8:00 a.m., with race-day registration opening at 6:30 a.m. Proceeds from the event will go to support activities and play equipment for the YMCA's childcare program.
The entry fee is $30 until January 31st, and $35 after.
A mail-in registration form can be downloaded here. (Online registration isn't yet available.)
* * * * *
ROCKY TOP 5K (posted August 7th)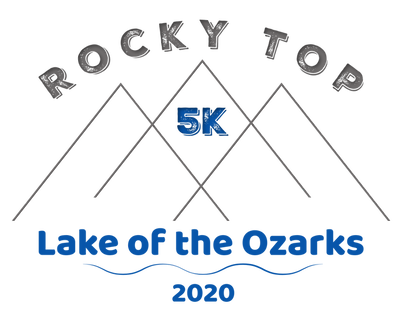 A brand-new trail race--the second to be announced in the Lake of the Ozarks Trail Series--is coming to the Lake of the Ozarks State Park in 2020. The Rocky Top 5K (Facebook page) will be held on Saturday, July 11, 2020 on the Rocky Top Trail located near public beach #2 in Osage Beach.
Online registration and more race details are available through the race's UltraSignup.com page. The race will be limited to 100 participants.
The entry fee is $40 until October 31st, after which it rises to $55.
Lake-area runners who have shied away from the trails should consider making this their first foray into trail running. The race is right in our neighborhood, it's only 5K in length, the course isn't too hilly or difficult, the trail offers some nice lake and glade views, and--something you won't find at any road race in July--at least 95% of the course is in the shade. (For what it's worth, my own description of the Rocky Top Trail can be found here).
* * * * *

HALF MARATHON, MARATHON & LONGER RUNNING RACES
IN MISSOURI AND VICINITY
2019

Date

Race Name

Distances

Location

NOTE: HIGHLIGHTED DATES INDICATE THAT THE EVENT'S 2019 DATE HAS NOT YET BEEN ANNOUNCED AND/OR CONFIRMED
Jan 1
Hangover Half Marathon & 5K
Half Marathon & 5K
Overland Park, KS
Jan 6
Argo 13.1
Half Marathon
Kansas City, MO
Jan 18-19
David's Trail Endurance Run
Friday night: 11K
Saturday: 50K, 25K & 7K
Mountain Home, AR
Jan 19
Wildwood Frozen Feet 13.1M Trail Race
Half Marathon
Wildwood, MO
Jan 20
Chevron Houston Marathon
Marathon & Half
Houston, TX
Jan 26
St. Louis Track Club Frostbite Series
Half Marathon & 4-mile
St. Louis, MO
Feb 2
Chocolate Rush Half Marathon & 5K
Half Marathon & 5K
Olathe, KS
Feb 9
963 Beulah Challenge
9/6/3-hour nighttime trail races
Wildwood, MO
Feb 9
Run with the Wind 25K
25K; solo and 3-person team relay
Sarcoxie, MO
Feb 10
Fort Smith Marathon
Marathon/Half/relays
Fort Smith, AR
Feb 10
Rock 'n' Roll New Orleans

Marathon & Half
New Orleans, LA
Feb 16
Heart of the Ozarks
Half Marathon, relay, 10K & 2-mile
West Plains, MO
Feb 23
Cabin Reliever 20K &
Resolution 5K
20K & 5K
Rogersville, MO
Feb 23
Clinton Historic Half Marathon & 5K

Half Marathon & 5K
Clinton, MO
Feb 23
Castlewood Cup 15K Trail Race
John Shelby
15K
Castlewood State Park, west St. Louis county
Feb 23
Psycho Wyco Run Toto Run
50K, 20-mile & 10-mile trail runs
Kansas City, KS
Feb 23
Lake Ouachita Vista Trail Endurance Runs
100 miles and 100K
Hot Springs, AR
Feb 23
Taum Sauk 50K FatAss
50K
Ironton, MO
March 2
Liberty Hospital Half

Half Marathon & 5K
Kansas City, MO
March 2
The Endurance Trials
12/6/1-hour races
Festus, MO
March 3
Quivering Quads Trail Race


(postponed to March 10th)

Half Marathon and 50K
Cuivre River State Park, Troy, MO
March 3
Little Rock Marathon
Marathon, Half & 10K
Little Rock, AR
March 9
Ozark Highlands Endurance Run
50K and 21-mile
Norfork, AR
March 9
Racing for Daylight Ultra Event
Click on link at left
Waynesville, MO
March 15
Howard Aslinger Endurace Run
12/24-hour endurance runs
Cape Girardeau, MO
March 16
Lucky 13.1 Half Marathon & 5K
Half Marathon & 5K
Peculiar, MO
March 16
Dublin's Pass ShamRox Run
15K & 5K
Springfield, MO
March 17
ShamRox Columbia
15K & 5K
Rocheport, MO
March 15,16,17
3 Days of Syllamo
Day 1: 50K
Day 2: 50 miles
Day 3: 20K
Blanchard Springs, AR
March 23
Sedalia Half Marathon

Half Marathon & 5K
Sedalia, MO
March 23
Highline Run with Evangel
Half Marathon & 5K
Springfield, MO
March 30
Mission Run in the Ozarks
Marathon/Half/5K
Mountain Home, AR
March 30
Bridge & Dam
Half Marathon, 10K, 5K; Double Down (half+10K) and All-In (half+10K+5K) Challenges
Lake Ozark, MO
March 30
Barkley Marathons
100 miles with 60-hour time limit; 60-mile "fun run"
Frozen Head State Park, TN
April 6
Do or Die Half Marathon & 5K
Half Marathon & 5K
Boonville, MO
April 6
Camp Barnabas Big Party Virtual Run
Half Marathon/10K/5K
Springfield, MO
April 6
Ozark Foothills 50M/50K/25K
50-Mile/50K/25K trail races
St. Louis, MO
April 6
Badge of Honor Run
Half Marathon/10K/5K
Poplar Bluff, MO
April 6
Hogeye Marathon & Relays

Marathon/Half/Relays
Springdale, AR
April 7
GO! St. Louis
Marathon/Half/10K
St. Louis, MO
April 7
Brew to Brew
43.5 miles--solo and relays
Kansas City to Lawrence, KS
April 4-8
Super Awesome! Missouri Edition


(cancelled)

Choose among five races in five days (5K/10K, Half, 26.2K, Marathon, 50K)
Sikeston, MO
April 12
Riverboat Series Day 6
50K/Marathon/Half/10K/5K
Cape Girardeau, MO
April 12-13
The 24 Hour Lions Roar
6/12/24 hour run and relays
Columbia, MO
April 13
Rock the Parkway
Half Marathon & 5K
Kansas City, MO
April 13
Garmin Marathon
Marathon/Half//10K
Olathe, KS
April 13
Wolf Creek Trail Run
Half Marathon & 6K
Poplar Bluff, MO
April 14
Go Girl Run--Springfield
Half Marathon & 5K
Springfield, MO
April 20
Double Chubb Trail Race
50K & 25K
Eureka, MO
April 20
Run for Missions
Half Marathon & 5K
Carthage, MO
April 27
Illinois Marathon

Marathon/Half/10K/5K
Champaign-Urbana, IL
April 27
Frisco Run
50 miles/50K/
Marathon/Half/8K
Willard, MO
April 27
LX3
12/6-hour trail runs
Washington, MO
April 28
New Jersey Marathon
Todd Raney
Marathon & Half
Oceanport, NJ
April 28
Oklahoma City Memorial Marathon
Marathon/Relay/Half/5K
Oklahoma City, OK
May 4
Trail of Four Winds 25K
25K trail run
Lake of the Ozarks State Park
May 4
Strolling Jim
40-mile, Marathon, 13.2-mile, 10K
Wartrace, TN
May 4
Rock-star Run (formerly Northland Half)
Half Marathon & 5K/10K
Riverside, MO (near KC)
May 5
Half Marathon & 5K
Independence, MO
May 11
Running with the Cows
Half Marathon & 5K
Bucyrus, KS
May 18

Spirit of Missouri Half Marathon/10K/5K
Half Marathon, 10K & 5K
Whiteman AFB, Knob Noster, MO
May 18
Joplin Memorial Run
Half Marathon, 10K & 5K

Joplin, MO
May 18
Berryman 50-Mile & Marathon

50-Mile & Marathon
Steelville, MO
May 25
Screaming Eagle Ultra
1, 3 and 6-hour races
Lake Pomme de Terre
May 26
Vermont City Marathon
Todd Raney
Marathon & relays
Burlington, VT
June 1
Go Girl Run--Columbia
Half Marathon & 5K
Columbia, MO
June 1
GO! Missouri KT82 Trail Relay
John Shelby
82-mile Katy Trail relay race

(moved to Illinois for 2019 due to Katy Trail flooding)

St. Louis to Hermann, MO
June 1
Hospital Hill Run
Half Marathon, 7.7-mile & 5K
Kansas City, MO
June 1
War Eagle Trail Running Festival
50K/25K/10K
Hobbs State Park, Rogers, AR
June 8
Eldon Rock Island Road Race
15K/10K/5K
Eldon, MO
June 8
In2Action Trail Run
Half Marathon & 5K
Columbia, MO
June 8
Run for a Vet
Half Marathon & 5K
Branson, MO
June 9
Race 13.1 St. Louis
Half Marathon & 5K
St. Charles, MO
June 16
Estes Park Marathon
Scott Page, Payton Bartlett
Marathon/Half/10K/5K
Estes Park, CO
June 22
Grandma's Marathon
Half: Scott Gray
Marathon/Half 5K
Duluth, MN
July 14
Argo 13.1 Half Marathon
Half Marathon
Blue Springs, MO
July 20
Get Your Butt Kicked @ Route 66
6-hour run
Eureka, MO
July 20
Psycho Psummer Trail Run
50K, 20-mile, 10-mile
Kansas City, KS
July 28
Show-Me State Games Road Race
5K/10K
Columbia, MO
Aug 17
Harder Than Hell Half Marathon
Half Marathon
Nixa, MO
Aug 25
Go Girl Run - Kansas Ctiy
Half Marathon & 5K (women only)
Kansas City, MO
Aug 29 - Sep 2
A Race for the Ages
Endurance run
Manchester, TN
Aug 31
Forrest Gump Challenge
Scott Page (half); Reagan and Ryan Page (5K)
Half Marathon & 5K
Branson, MO
Sep 1
NE Green River Marathon
Todd Raney
Marathon
Vermont to Massachusetts
Sep 2
Flatlanders 6/12 Hour Run


(cancelled)

6 or 12 hours
Fenton, MO
Sep 2
Heart of America Marathon
Marathon
Columbia, MO
Sep 6-7
Superior Fall Trail Race
Chris Boyle (100M)
100-mile, 50-mile, marathon
Lutsen, MN
Sep 7
Corps of Discovery
Half Marathon & 5-Mile trail runs
St. Charles, MO
Sep 7
Katy Trail 50/50
Melissa Martinez (50-mile)
100K, 50K and 50-mile on the Katy Trail
Dutzow, MO
Sep 14
GO! Missouri KT82 Trail Relay

82-mile Katy Trail relay race
St. Louis to Hermann, MO
Sep 14
Mark Twain Trail Summit

25-mile group run
Mark Twain Forest
Sep 15
North Shore Trail Run

(cancelled for 2019)

5K/10K, Half
Lawrence, KS
Sep 21
The PB&J Run
Margie Gunter
5K/10K
Clearwater, FL
Sep 21
The Barkley Fall Classic
50K
Frozen Head State Park, TN
Sep 21
Pub 2 Pub Half Marathon
Half Marathon & 5K
Rolla, MO
Sep 21
Equinox Half Marathon
Half Marathon & 5K
Maryland Heights, MO
Sep 23
Broadway Bridge Run
Half Marathon & 10K
Kansas City, MO
Sep 22
Quad Cities Marathon

Marathon/Half/5K
Moline, IL
Sep 28
Belleville Main Street Marathon
Bill Pauls
Marathon
Belleville, IL
Sep 28
Roots 'n Blues 'n BBQ Festival
10K, Half
Columbia, MO
Sep 28
Pony Express Run
Half Marathon & 5K
St. Joseph, MO
Sep 28
Rockin' Rockwoods Trail Race
53K and Half Marathon
Wildwood, MO
Sep 28
FlatRock 50K/25K
50K/25K
Independence, KS
Sep 29
Mother Road Marathon


(cancelled)

Marathon/Half/5K
Joplin, MO
Sep 29
Berlin Marathon
Marathon
Berlin, Germany
Oct 5
Frog Hill Half Marathon & 5K/10K
Half Marathon & 10K
(5K on Friday evening)
Waynesville, MO
Oct 5
Rock Bridge Revenge
John Shelby (50K)
7 miles, 25K, 50K
Columbia, MO
Oct 5
Panther Run
5K/10K/15K
Springfield, MO
Oct 6
MO' Cowbell Marathon

5K, Half & Marathon
St. Charles, MO
Oct 6
Grand Country Half Marathon & 5K
Half Marathon & 5K
Branson, MO
Oct 12
FLATS Trail Half Marathon
Half Marathon
Kirksville, MO
Oct 12
SBC AdventureMax Springfield Trail Run
10K, Half, 30K
Highlandville, MO

Oct 13
Chicago Marathon
Marathon
Chicago, IL
Oct 13
Prairie Fire Marathon
Marathon, Half & 5K
Wichita, KS
Oct 19
Bear Creek Run
Half Marathon
Columbia, MO
Oct 19
Big's Backyard Ultra
Last man standing race
Bell Buckle, TN
Oct 19
Minnie Ha Ha
(inaugural race)
6- and 12-hour runs
St. Louis, MO
Oct 19
Soaring Wings Half Marathon & 10K
Half: Scott Gray; Chris Hein
Half Marathon & 10K
Conway, AR
Oct 19
Kansas City Marathon

5K, 10K, Half & Marathon
Kansas City, MO
Oct 20
Des Moines Marathon
Marathon/Half/5K
Des Moines, IA
Oct 20
Great GO! St. Louis Halloween Race
5K/10K, Half
St. Louis, MO
Oct 20
Detroit Marathon
First marathon for Carlos Orosco, who once weighed 650 pounds
Detroit, MI
Oct 26
Timber 'n' Trails
8-mile trail race. Formerly called the Quivering Quads II Trail Race
Cuivre River State Park, MO
Oct 26
Trail of Tears Three
22.4 miles, Half/10K/5K
Jackson, MO
Oct 27
Spooky Sprint Half (aka "Halloween Hustle")

Half Marathon/10K/5K

Kansas City, MO
Nov 2
Ozark Trail 100
Ryan and Jaime Maher
100 miles
Steelville, MO
Nov 2-3
The Skippo Trail Race

10K on Saturday; half marathon/30K/50K relay on Sunday

St. Louis, MO
Nov 3
Kansas Half Marathon
Half Marathon & 5K
Lawrence, KS
Nov 3
Bass Pro Shops

5K, Half & Marathon
Springfield, MO
Nov 3
St. Louis Half Marathon
5K, Half
St. Louis
Nov 3
Bowling Green Marathon
Bill Pauls (after turning 70)
Marathon & Half
Bowling Green, KY
Nov 3
New York City Marathon
Marathon
New York, NY
Nov 9
Longview Half Marathon & 5K
Half Marathon & 5K
Kansas City, MO

Nov 9-10
Dogwood Canyon Trail Runs
15K on Saturday; 25K/50K on Sunday
Lampe, MO
Nov 9
Sanders Saunter

50K/25K/10K trail races
Lawrence, KS
Nov 10
Gobbler Grind Marathon
Marathon/Half/5K
Kansas City, MO
Nov 16
Fayetteville Half Marathon
Half & 5K
Fayetteville, AR
Nov 16
Honoring Our Heroes
Marathon/Half/5K
Salem to Rolla, MO
Nov 16
V22
22-mile solo or 4-person team relay, and 2.2-mile run/walk
Bennett Springs State Park to Lebanon
Nov 17
Pilgrim Pacer Run
5K/10K, Half, Marathon
Shawnee, KS
Nov 23
White River Marathon for KenyaHalf: Scott Gray, Jayna Gray
Marathon/Half/5K
Cotter, AR
Nov 24
Route 66 Marathon

Half & Marathon
Tulsa, OK
Dec 7
Cheese & Sauerkraut 10-Miler
10 miles
Columbia, MO
Dec 7
St. Jude Memphis Marathon Weekend

Marathon/Half/10K/5K
Memphis, TN
Dec 7
Alternate Chili Trail Run
10 miles
Kansas City, KS
Dec 8
Wildwood Trail Marathon
Marathon
Wildwood, MO (west of St. Louis)
Dec 7-8
4 Fore 30
4-mile loops run hourly until last runner stops, or 30 hours have elpased, whichever comes first
Camdenton, MO
Dec 7
36 Hours of Jack


Cancelled

200K/100K/80K/50K/30K/15K/5K & 100-mile
Carthage, MO
Dec 8
Half & Half / Double Half
Half & Marathon
Tulsa, OK
Dec 28
Jacob Wells 3 Bridges Marathon
Marathon
Little Rock, AR
Dec 28
Run for the Ranch

Marathon, Marathon Relay, Half and 6-Hour Run
Springfield

2020

Jan 17-18
David's Trail Endurance Run(see list 8/23/19)
Friday night: 11K
Saturday: 50K, 25K & 7K
Mountain Home, AR
Feb 29
Olympic Marathon Trials
Atlanta, GA
Mar 7
Creve Coeur St. Paddy's Day Run
Half marathon & 7K
Creve Coeur, MO
June 18
Heart of the South Road Race
500K
Arkansas to Georgia
June 20
Grandma's Marathon
Scott Gray (first marathon)
Marathon & Half
Duluth, MN
July 6
Badwater 135
135-mile ultramarathon
Death Valley to Mt. Whitney, CA
July 9
Vol State
Scott Page
500K (314-mile) race from Missouri to Georgia
Dorena Landing, MO
July 11
Rocky Top 5K
5K trail race on the Rocky Top Trail in the Lake of the Ozarks State Park
Osage Beach, MO
* * * * *

TRIATHLONS AND DUATHLONS
IN MISSOURI AND VICINITY
2019

Date

Race Name

Distance(s)

Location

NOTE: HIGHLIGHTED DATES INDICATE THAT THE EVENT'S 2019 DATE HAS NOT YET BEEN ANNOUNCED AND/OR CONFIRMED
Apr 27
Neosho Sprint Triathlon

Triathlon: 300-yard indoor pool swim, 12.5-mile bike, 3.1-mile run;

Neosho, MO
Apr 28
The Chain of Rocks Bridge Duathlon
1.5-mile run, 12-mile bke, 1.5-mile run
St. Louis, MO
May 5
Sprint triathlon: 400-meter pool swim, 14-mile bike, 3-mile run
Super sprint triathlon: 100-meter pool swim, 7-mile bike, 1-mile run
Duathlon: 1-mile run, 7-mile bike, 1-mile run
Columbia, MO
May 12
Trek for Trikes
Not a true duathlon (run/bike/run), but offers a 5K or 10K run or bike, or a 20K bike. Mostly on the Highline Trail. Event raises funds to provide adaptive tricycles to children with disabilities.
Bolivar, MO
May 12
Kansas City Triathlon

Sprint: 500-meter swim, 20K bike, 5K run
Olympic: 1.5K swim, 40K bike, 10K run
Duathlon: 1.5-mile run, 20K bike, 5K run
Kansas City, MO
May 19
St. Louis Triathlon
Sprint: 750-meter swim, 12.4-mile bike, 5K run
Olympic: 1500-meter swim, 24.8-mile bike, 10K run
St. Louis, MO
May 25
Iron Horse Duathlon
Duathlon: 5K run, 30K bike, 5K run
Parsons, KS
June 9
Jefferson City Triathlon &
Duathlon

(postponed)

Triathlon: 400-meter pool swim, 12-mile bike, 3.1-mile run
Duathlon: 12-mile bike, 3.1-mile run
Jefferson City, MO
June 15
Halfmax Championship & Quartermax Triathlons
Halfmax Championship: 1.2-mile swim, 56-mile bike, 13.1-mile run
QuarterMax: 0.6-mile swim, 28-mile bike, 10K run

Innsbrook, MO
June 15
Topeka Tinman Triathlon
Short course: 400-meter swim, 13-mile bike, 3.1-mile run
Long course: 1,000-meter swim, 19-mile bike, 7-mile run
Topeka, KS
June 22
Anchor City Triathlon
Super Sprint: 1500-meter pool swim, 6.3-mile bike, 1.2-mile run
Sprint: 250-meter pool swim, 14.6-mile bike, 3.1-mile run
Centralia, MO
Jun 30
Lake Freebird Triathlon & Duathlon
Triathlon: 660-meter swim, 14-mile bike, 5K run
Beginners (non-competitive): 300-meter swim, 10-mile bike, 1.3-mile run
Duathlon: 14-mile bike, 5K run
Mountain Grove, MO
Jun 30
Heartland Heat Triathlon
400-meter pool, 12-mile bike, 5K run
Kansas City, MO
July 7
Shawnee Mission Triathlon & Duathlon
Short course: 500-meter swim, 9-mile bike, 3.2-mile run
Long course: 1,000-meter swim, 18-mile bike, 4.5-mile run
Shawnee, KS
July 13
Big Shark New Town Kids Triathlon
0.62-mile swim, 20-mile bike, 4-mile run
New Town St. Charles, MO
July 14
Big Shark New Town Triathlon
0.62-mile swim, 20-mile bike, 4-mile run
New Town St. Charles, MO
July 14
Summer Roundup Triathlon
Sprint: 500-meter swim, 12.3-mile bike, 5K run
Olympic: 1500-meter swim, 40K bike, 10K run
Jasper, MO
July 20
Mighty Max Kids Triathlon
(cancelled for 2019; returns in 2020)
Four age-appropriate distances for children up to age 14
Columbia, MO
July 21
Ballwin Triathlon
300-yard pool swim, 9-mile bike and 3.4-mile run
Ballwin (St. Louis), MO
July 21
Show-Me State Games Triathlon & Duathlon
Triathlon: 0.5-mile swim, 15-mile bike, 3-mile run
Duathlon: 15-mile bike, 3-mile run
Columbia, MO
July 27
WIN for KC Women's Triathlon & Duathlon
Triathlon: 500-meter swim, 10-mile bike, 5K run
Duathlon: 1.5-mile run, 10-mile bike, 5K run
Smithville, MO
July 27
Route 66 Half Iron Triathlon
1.2-mile swim, 56-mile bike, 13.1-mile run
Springfield, IL
Jul 28
Jefferson City Triathlon &
Duathlon

(rescheduled date)

Triathlon: 400-meter pool swim, 12-mile bike, 3.1-mile run
Duathlon: 12-mile bike, 3.1-mile run
Jefferson City, MO
Aug 4
Stockton Lake Tri Wild-Life Challenge
Short course: 500-meter swim, 10.4-mile bike, 5K run
Long course: 1,000-meter swim, 20.8-mile bike, 10K run
Stockton, MO
Aug 4
Matt Mason Memorial Cowboy-UP! Triathlon
500-meter swim, 11-mile bike, 5K run
Kansas City, MO
Aug 9
Republic Youth Tigger Tri
Distances to be announced
Republic, MO
Aug10
Republic Tiger Tri
Super Sprint: 150-yard swim; 6.1-mile bike, 1.5-mile run
Classic Sprint: 300-yard swim, 12.2-mile bike, 5K run
Republic, MO
Aug 17
Lake St. Louis Triathlon
Short course: 0.25-mile swim, 12.3-mile bike, 2.5-mile run
Long course: 0.93-mile swim, 24-mile bike, 10K run
Lake St. Louis, MO
Aug 31 - Sept 1
Trifest for MS
Sprint, super sprint and Olympic distances
Bentonville, AR
Sep 15
Legend Ad Astra Triathlon
Sprint: 500-yard swim, 12-mile bike, 5K run
Olympic: 1500-meter swim, 40K bike, 10K run
Legend 70: 1.2-mile swim, 56-mile bike, 13.1-mile run
Lawrence, KS
Sep 21
Redman Triathlon
Full: 2.4-mile swim, 112-mile bike, 26.2-mile run
Half: 1.2-mile swim, 56-mile bike, 13.1-mile run
Oklahoma City, OK
Sep 23
Sedalia Duathlon
Short course: 2-mile run, 8-mile bike, 1-mile run
Long course: 5K run, 30K bike, 5K run
Sedalia, MO

2020

May 31
Ironman Tulsa
Jim McDermott
2.4-mile swim, 112-mile bike, 26.2-mile run
Tulsa, OK
* * * * *

CYCLING EVENTS
IN MISSOURI AND VICINITY
2018

Date

Race/Event Name

Distance(s)

Location

NOTE: HIGHLIGHTED DATES INDICATE THAT THE EVENT'S 2019 DATE HAS NOT YET BEEN ANNOUNCED AND/OR CONFIRMED
Feb 23
Rocheport Roubaix
20, 50 and 70 miles
Rocheport, MO
April 27
The Epic (gravel road bike races)
150 and 80 miles
Lake of the Ozarks
April 23
MoBikeFed Ride with Legislators
Jefferson City, MO
May 5
El Chupacabra Grondo
103K gravel road race
Columbia, MO
May 11
Vino Fondo
42, 75 and 104 miles
Defiance, MO
May 19
The Hairy Hundred
100-mile gravel road race
Katy Trail near Columbia, MO
May 25-26
Pedaler's Jamboree
Music and cycling event on the Katy Trail
Columbia, MO
May 29
Tour of Kansas City Gran Fondo


(cancelled)

20, 50, 60, 75 and 100 miles
Kansas City, MO
June 1
Dirty Kanza
200, 100, 50 and 25 miles
Emporia, KS
June 1
Route 66 Mother Road Bicycle Tour
15, 27, 45, 70 and 100 miles
Carthage, MO
June 8
Cycle for Life
10, 30 and 50 miles
Springfield, MO
June 8
Tour de Cure
10, 30, 50, 62 and 100 miles
St. Charles, MO
June 8-9
Down 'n Dirty
Varies by division
Warsaw, MO
June 15
Queen City Century
22, 45, 60, 82 and 100 miles
Springfield, MO
Jun 9-14
Big BAM
Bicycle ride across Missouri
Columbia to Arrow Rock, MO
June 22
Tour de Lakes
10, 32, 55 and 65 miles
Lee's Summit, MO
July 14
Tour de Jeff
15-mile nighttime bike ride
Jefferson City, MO
July 20
World Naked Bike Ride--St. Louis
St. Louis, MO
July 20
Show-Me State Games Road Cycling Race
19 and 28 miles
Kingdom City, MO
July 28
Show-Me State Games Mountain Bike Race
1, 1-1/2, and 3 hours
Columbia, MO
Aug 3
MO State Time Trial Championship
20K or 40K, depending on division
St. Charles, MO
Aug 17
Moonlight Ramble
10.5 and 18.5 miles
St. Louis, MO
Aug 24
Red Shoe Ride
35, 60 and 100 miles
Columbia, MO
Aug 24
BikeMO
30, 65 and 90 miles (24 and 50 miles for Katy Trail option)
Rocheport, MO
Aug 31 - Sep 2
Singletrackmind Festival

(cancelled; resumes in 2020)

Mountain biking, trail runs, etc. on the Two Rivers Bike Trail
Springfield, MO
Sep 7
Pony Express120 Gravel Dash
120- and 75-mile gravel road races
Maryville, KS
Sep 7-8
Bike MS
Four distances offered
Godfrey, IL
Sep 14
Svitak Freedom Ride
10, 25, 40, 67 and 100 miles
Joplin, MO
Sep 23
Rhett's Run
Mountain bike race
Columbia, MO
Sep 29
Tour de BBQ
15, 35 and 62 miles
Overland Park, KS
Sep 28
Hartsburg Hammer
100 and 50 mile gravel road races
Hartsburg, MO
Sep 28-29
Pedal the Cause
15, 25, 37, 50, 75 & 100 miles
St. Louis, MO
Oct 5
Cystic Fibrosis Cycle for Life
25, 50 and 100 miles
O'Fallon, MO
Oct 6-11
Big BAM
Bicycle ride across Missouri
St. Charles to Pleasant Hill, MO
Oct 6
Tour de Wildwood
28 and 45 miles
Wildwood, MO
Oct 6
Tour de Bass Bike Rides
25, 42, 77 and 102 miles
Springfield, MO
Oct 12-13
Hartsburg Pumpkin Festival Ride
9.5 miles from Jefferson City on the Katy Trail
Oct 12
Cuban Gravel Crisis
20, 50 and 100 mile bike rides
Cuba, MO
Oct 18-20
BT Epic
Mountain bike race on the Berryman Trail
Steelville, MO
* * * * *

PADDLING EVENTS
IN MISSOURI AND VICINITY
2018

Date

Race Name & River

Distance(s) & Boat Type

Location

NOTE: HIGHLIGHTED DATES INDICATE THAT THE EVENT'S 2016 DATE HAS NOT YET BEEN ANNOUNCED AND/OR CONFIRMED
May 11
Spring 12 Race
12 miles
Osage River--Mari-Osa to Bonnots Mill
June 15
Osage Howler


cancelled due to Osage River flooding

Race: 30 miles
Fun Run: 14 miles
Osage River
June 22
MO River Ramble


postponed due to Missouri River flooding

26-mile fun paddle
Jefferson City to Chamois on the Missouri River
Aug 24
Race for the Rivers
(Missouri River)
20 and 40 miles; canoes & kayaks
Washington, MO
Sep 8
Firecracker Race
(Mississippi River -- Alton Pool)
Canoes & kayaks -- 12 miles
Paddlboards -- 3 miles
Alton, IL
Oct 5
Race to the Dome
(Missouri River)
Providence (26.6 miles) or Hartsburg (15.8 miles) to Jefferson City
Jefferson City, MO
Sep xx


(cancelled?)

Fall 36 Race
(Osage, Missouri and Gasconade Rivers)
36 miles
Canoes, kayaks & paddleboards
Starts near Loose Creek; ends at Gasconade
Oct 26
Chattajack 31
(Tennessee River)

31 miles; paddleboard & kayaks
Chattanooga, TN