ATTENTION ALL
OUTBACK IN THE OZARKS
RUNNERS, DRIVERS AND VOLUNTEERS
The 2018 edition of the Lake of the Ozarks Runners t-shirts have just arrived, and because your race is now just a week away, we're putting you at the front of the line to get one.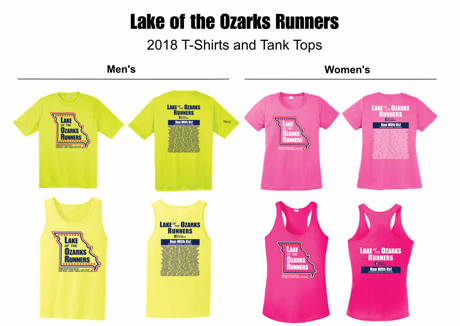 Click on the above thumbnail for a larger image.
The men's t-shirts are the same color ("safety green") as previous Lake Area Runners' shirts. The women's shirts, though, are much brighter than before. (They're so bright, ladies, that others may need to wear solar eclipse glasses to safely look at you.)
As you can see, for the first time, we've added tank tops to our shirt options. We've noticed that many women prefer to wear tank tops in warm or hot weather, so we think these will prove popular. Tank tops don't seem to be nearly as popular among the men, so theirs are pretty limited in quantity. The men's tank tops weren't available in safety green, so we went with yellow.
All of the t-shirts and tank tops are available free of charge. (Yes, you read that right. They're free.)
So, if you're heading to Outback in the Ozarks and you want a shirt, YOU NEED TO CONTACT YOUR TEAM CAPTAIN BY THIS SUNDAY NIGHT (OCTOBER 22ND) and tell him what size (small, medium, large or XL) and what style (t-shirt and/or tank top) you want. We'll get the required shirts to your team captain, and he'll handle distribution to the team members.
For anyone reading this who's not doing Outback in the Ozarks but who would still like a shirt, we'll figure out a plan for a general distribution in due course.
* * * * *
WEEKEND EVENTS FOR OCTOBER 21-22
Two big races and lots of smaller, shorter ones are on tap this weekend. The Kansas City Marathon, Half Marathon & 5K/10K takes place on Saturday, followed by The Great GO! St. Louis Half Marathon & 5K/10K on Sunday. There are lots of 5Ks going on in both Kansas City and St. Louis as well.
There are no Lake-area races this weekend, but just a short drive away is the Rotary Route 5K Run in Lebanon on Saturday. The Lebanon Rotary Club uses proceeds from the event to buy winter coats for kids in need.
The Missouri high school cross country championship series begins this weekend. The Class 4 district races are on Saturday in Nixa. Camdenton is one of 12 schools that will be competing. Those who qualify at this race will proceed to the Class 4 sectionals on October 28th. The Class 1, 2 & 3 districts races, which include Osage and Eldon, will also be on the 28th. The state championships for all classes will be on November 4th in Jefferson City.
Elsewhere:
Lebanon:
Rotary Route 66 5K Run of Lebanon, Saturday
Jefferson City:
Run for Your Life 5K (glow run), Saturday evening
Steelville:
BT Epic (mountain bike race on the Berryman Trail), Saturday (sold out)
Cuba:
The Cuban Gravel Crisis (gravel road bike race), Saturday
Springfield & vicinity:
MBCH Foundation 4 Miles 4 Kids, Saturday
Ozark Mountain Ridge Runners calendar
Kansas City and vicinity:
Kansas City Marathon, Half Marathon & 5K/10K, Saturday
The Overrun Ovarian Cancer 5K, Sunday
KC Timber Challenge 5K (obstacle course run), Sunday
KC Running Company calendar
St. Louis and vicinity:

Gumbo Flats Pumpkin Run 5K/10K, Saturday
Great GO! St. Louis Halloween Race (half marathon, 5K/10K), Sunday
Big River Running calendar
Fleet Feet Sports St. Louis calendar
Atlantic City, New Jersey:
Atlantic City Marathon, Sunday (LOTO participant: Todd Raney)
Be sure to check out the Lake of the Ozarks Runners Facebook page to see what they'll be doing this weekend.
* * * * *

ROCK 'N' ROLL ST. LOUIS HALF MARATHON, 10K & 5K (updated October 15th)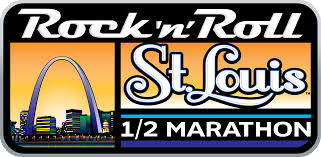 The cold front that moved in Saturday night made this morning's Rock 'n' Roll St. Louis Half Marathon & 10K the chilliest in the race's seven-year history. Temperatures were in the low-to-mid 50s, and breezy winds adding to the chill.
Three runners from the Lake area ran the half marathon, while one ran the 5K held on Saturday. That represents the smallest number the Lake area has sent to the race, and was down significantly from the eleven who participated last year.
Pete and Anita Leyva made it seven Rock 'n' Roll St. Louis Half Marathons in a row. There are very few Lake-area runners who have that many consecutive appearances at a race.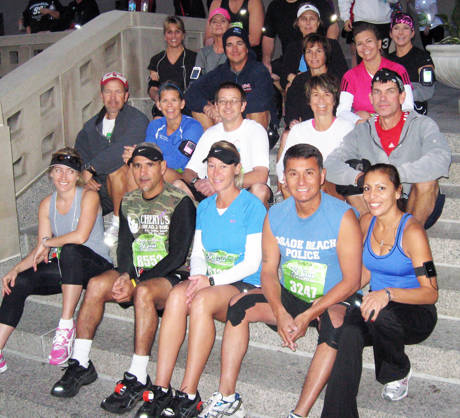 Flashback photo: Runners from the Lake area gather for a group photo before the inaugural Rock 'n' Roll St. Louis Marathon & Half Marathon on October 27, 2011. Pete and Anita Leyva are sitting on the right end of the front row. (Todd Raney, in the middle of the second row, was still over a year away from running his first marathon.)
This was a watershed race for Anita Leyva. For the first time, Anita finished Rock 'n' Roll St. Louis ahead of Pete. She finished in 1:52:57, placing sixth (of 209) in the women's 45-49 age group--her highest-ever placing at Rock 'n' Roll St. Louis. Just for grins, here are Pete's and Anita's finish times through the years:
ROCK 'N' ROLL ST. LOUIS HALF MARATHON FINISH TIMES


Pete Leyva

Anita Leyva

2011

1:44:08

1:53:03

2012

1:36:54

1:47:40

2013

1:37:31

1:46:28

2014

1:40:31

1:48:00

2015

1:43:02

1:48:44

2016

1:50:08

1:59:15

2017

1:55:44

1:52:57
Heather Miller was our third half marathon finisher. Heather crossed the line in 2:25:59, placing 183rd (of 357) in the women's 35-39 age group. Kathy Drew did the 5K on Saturday, finishing in 1:53:09.
Complete race results can be found here.
ROCK 'N' ROLL ST. LOUIS HALF MARATHON, 10K & 5K
ST. LOUIS, MISSOURI
OCTOBER 14-15, 2017
RESULTS FOR LAKE-AREA PARTICIPANTS

Name

City

Finish Time

Age Group

Age Group Place

HALF MARATHON:
Anita Leyva
Lake Ozark

1:52:57

F45-49

6 of 209

Pete Leyva
Lake Ozark

1:55:44

M55-59

26 of 94

Heather Miller
Camdenton

2:25:59

F35-39

183 of 357

10K:
None
5K (held on Saturday):
Kathy Drew
Lake Ozark

1:53:09

F50-54

64 of 67

Race Notes:

2017

2016

2015

2014
Number of Finishers:
Marathon

Not offered

Not offered

Not offered

1,200

Half Marathon

3.365

4,963

5,758

6,360

Relay participants

Not offered

Not offered

Not offered

402

10K

1,041

1,522

1,123

Not offered

5K

1,113

1,658

1,274

1,622
Participation was down substantially at this year's race, and for every distance. There were 5,519 finishers at this year's race, down 32% from last year's 8,143. Compare that to the 17,932 finishers at the inaugural race in 2011, when the 5K and 10K weren't even offered. That's an astounding decline for a big-city race.
* * * * *
GREEN MOUNTAIN MARATHON (updated October 16th)
Vermont is playing hard to get for Todd Raney. After two prior attempts--in May of 2016 and July of this year--to run a sub 4-hour marathon in the state, Todd was back for his third attempt this weekend at the Green Mountain Marathon.
Todd reports that strong headwinds after the turnaround on the out-and-back course stood in his way today, resulting in a 4:09:55 finish. That leaves his sub-4 total unchanged at 42 states. He'll try to add New Jersey to his total next weekend.
Complete marathon results can be found here.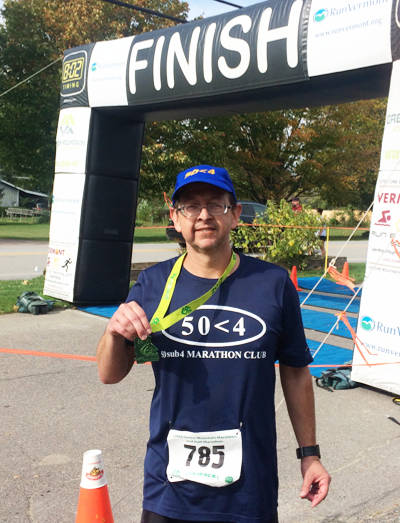 * * * * *
BEAR CREEK RUN (updated October 16th)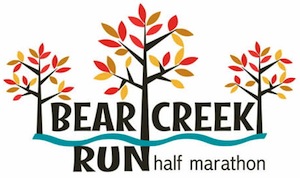 Congratulations to Jim McDermott for winning the men's 60-and-over age group at yesterday's fourth annual Bear Creek Run trail half marathon in Columbia. Jim finished in 1:51:32, ahead of five other competitors in his age group, and 21st overall.
Willard Haley's name doesn't appear in the official results, but he ran the race and finished in 2:30:xx.
There were 196 solo runners and 9 relay teams at the race.
Full results can be found here.
* * * * *
FRANKENSTEIN 5K (posted October 15th)

Believe it or not, there really is a Frankenstein, Missouri, located about 12 miles east of Jefferson City. While not an incorporated city, Frankenstein is the namesake for the Frankenstein 5K put on by St. Mary School in nearby Bonnots Mill.
Scott and Jayna Gray are believed to be the first Lake-area participants in the race's six-year history. They finished side-by-side, in 43:59.
* * * * *

2017 Archives
2016 Archives
2015 Archives
2014 Archives
2013 Archives
2012 Archives
2011 Archives
2010 Archives
2009 Archives
* * * * *

GIVE 'EM THE BIRD 5K RUN, 1-MILE WALK & KIDS RACE (posted July 27th)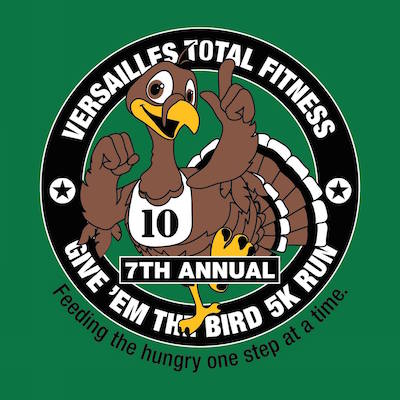 Versailles Total Fitness' seventh annual Give 'Em The Bird 5K run and 1/4-mile fun unwalk will be held on Saturday, November 4th. It will start at 9:00 a.m. at Versailles Total Fitness at 131 N. Monroe in downtown Versailles. As in previous years, proceeds from the event will go to Food for Morgan County to help local families in need during the holiday season.
Give 'Em The Bird has the biggest "wow" factor of any 5K in the Lake area, including a live radio broadcast and music by race co-sponsor KS95.1, a live singing of the national anthem, a chorale group singing on the steps of the Second Baptist Church, plenty of course support from the police, firefighters, and volunteers along the closed course, chip timing, really nice technical t-shirts, and a fun race for kids. This race really is the Super Bowl of Lake-area 5Ks, and it perennially attracts a big field with some of the fastest runners in the area.
Registration is now open online, or you can download a registration form to mail to or drop off at Versailles Total Fitness. The entry fee is $25 if you register on or before October 28th. The fee rises to $35 beginning October 29th. T-shirts can only be guaranteed to those who register by October 13th.
A quarter-mile kids run will follow the 5K and 1-mile events. There's no entry fee, but also no t-shirt, for participants. They will, however, receive finishers ribbons.
* * * * *

HALF MARATHON, MARATHON & LONGER RUNNING RACES
IN MISSOURI AND VICINITY
2017

Date

Race Name

Distances

Location

NOTE: HIGHLIGHTED DATES INDICATE THAT THE EVENT'S 2017 DATE HAS NOT YET BEEN ANNOUNCED AND/OR CONFIRMED
Dec 10, 2016
Hoover Dam Marathon
Todd Raney
Marathon/Half/10K/5K
Lake Mead National Park, NV
Dec 11, 2016
Half & Half / Double Half
Half & Marathon
Tulsa, OK
Dec 31, 2016
Run for the Ranch
Marathon, Marathon Relay, Half and 6-Hour Run
Springfield, MO
Dec 31- Jan 1
The Pistol Ultra Run
50K relay, 50K, 50 miles, 100K, 100 miles
Alcoa, TN
Jan 1
Hangover Half Marathon & 5K
Half Marathon & 5K
Leawood, KS
Jan 14
Runner's Choice 5K/10K


(cancelled)

5K & 10K
Columbia, MO
Jan 14
Cabin Reliever 20K &
Resolution 5K

(Postponed until Jan. 21)

20K & 5K
Rogersville, MO
Jan 15
Chevron Houston Marathon
Marathon & Half
Houston, TX
Jan 15
Rock 'n' Roll Arizona
Marathon: Todd Raney
Marathon & Half
Phoenix, AZ
Jan 21
Wildwood Frozen Feet 13.1M Trail Race
Half Marathon
Wildwood, MO
Jan 21
David's Trail Endurance Run
25K: Gary Braman, Chris Boyle, John Shelby
50K, 25K & 7K

Mountain Home, AR
Jan 28
St. Louis Track Club Frostbite Series
Half Marathon & 4-mile
St. Louis, MO
Feb 4
Chocolate Rush Half Marathon & 5K
Half Marathon & 5K
Olathe, KS
Feb 5
Surf City MarathonMarathon: Todd Raney
Marathon & Half
Huntington Beach, CA
Feb 11
Run with the Wind 25K
25K; solo and 3-team relay
Sarcoxie, MO
Feb 11
Heart of the Ozarks
Half Marathon, relay & 10K
West Plains, MO
Feb 11
Mississippi River Marathon
Todd Raney
Marathon & Half
Lake Village, AR to Greenville, MS
Feb 12
Fort Smith Marathon
Marathon/Half/relays
Fort Smith, AR
Feb 19
Austin Marathon
Marathon & Half
Austin, TX
Feb 19
Fort Lauderdale A1A Marathon
Todd Raney
Marathon & Half
Fort Lauderdale, FL
Feb 25
Clinton Historic Half Marathon & 5K


(inaugural race)

Half Marathon & 5K
Clinton, MO
Feb 25
Psycho Wyco Run Toto Run
50K, 20-mile & 10-mile trail runs
Kansas City, KS
March 4
Myrtle Beach Marathon
Todd Raney
Marathon & Half
Myrtle Beach, SC
March 4
Liberty Hospital Half


(inaugural race)

Half Marathon & 5K
Kansas City, MO
March 5
Little Rock Marathon
Marathon, Half & 10K
Little Rock, AR
March 11
Lucky 13.1 Half Marathon & 5K
Half Marathon & 5K
Peculiar, MO
March 11
Dublin's Pass ShamRox Run
15K & 5K
Springfield, MO
March 12
ShamRox Columbia
15K & 5K
Rocheport, MO
March 17,18,19
3 Days of Syllamo
Day 1: 50K
Day 2: 50 miles
Day 3: 20K
Blanchard Springs, AR
March 18
Sedalia Half Marathon
(Facebook page)
Half Marathon & 5K
Sedalia, MO
March 19
Relay & Run for 21K
Half Marathon, 7K & Relay
St. Louis, MO
March 25
Bridge & Dam Half Marathon & 5K/10K
Half Marathon/10K/5K
Lake Ozark, MO
March 25
Highline Run for Scouting
Half Marathon & 5K
Springfield, MO
March 26
Queens Marathon
Todd Raney
Marathon
New York, NY
April 1
Do or Die Half Marathon & 5K
Half Marathon & 5K
Rocheport to Boonville, MO
April 1
Badge of Honor Run
Half Marathon/10K/5K
Poplar Bluff, MO
April 1
Big Party Half Marathon
Half Marathon & 5K
Springfield, MO
April 1
Mission Run in the Ozarks
Marathon/Half/5K
Mountain Home, AR
April 2
Brew to Brew
43.5 miles--solo and relays
Kansas City to Lawrence, KS
April 8
Rock the Parkway
Half Marathon & 5K
Kansas City, MO
April 8
Hogeye Marathon & Relays

Marathon/Half/Relays
Fayetteville, AR
April 9
GO! St. Louis
Marathon: Gary Braman
Marathon/Relay/Half
St. Louis, MO
April 9
Vernonia Marathon
Todd Raney
Marathon & Half
Banks, OR
April 15
Double Chubb Trail Race
50K & 25K
Eureka, MO
April 15
Go Girl Run--Springfield
Half Marathon & 5K
Springfield, MO
April 22
Run for the Children Half Marathon & 10K
Half Marathon & 10K
Eldon, MO
April 22
Garmin Marathon
Marathon/Half//10K
Olathe, KS
April 22
Illinois Marathon

Marathon/Half/10K/5K
Champaign-Urbana, IL
April 23
Northland Half Marathon & 5K
Half Marathon & 5K
Riverside, MO (near KC)
April 23
Glass City Marathon
Todd Raney
Marathon & Half
Toledo, OH
April 29
Frisco Railroad Run
50 miles/50K/
Marathon/Half/10-mile & 8K
Willard, MO
April 29
Run for Their Lives


(cancelled)

Half Marathon & 5K
Owensville, MO
April 30
Oklahoma City Memorial Marathon
Marathon/Relay/Half/5K
Oklahoma City, OK
May 6
Trail to a Cure Ride/Run/Walk (final race--TTAC ceasing operations)
Half Marathon, 10K & 5K
Rocheport, MO
May 7
Half Marathon & 5K
Independence, MO
May 13
Running with the Cows
Half Marathon & 5K
Bucyrus, KS
May 13
RiverTownRun
Half Marathon & 5K
Washington, MO
May 20

Striker Life Half Marathon
Half Marathon, 10K & 5K
Whiteman AFB, Knob Noster, MO
May 20
Joplin Memorial Run
Marathon/Half & 5K

Joplin, MO
May 20
Berryman 50-Mile & Marathon
50-mile course sweepers: Chris Boyle, Gary Braman & John Shelby
50-Mile & Marathon
Steelville, MO
May 20
Great American Bacon Race
Half Marathon & 5K
Branson, MO
May 20
Fargo Marathon
Todd Raney
Marathon & Half
Fargo, ND
May 21
Race 13.1 St. Louis
Half Marathon & 5K
St. Charles, MO
June 3
Go Girl Run--Columbia
Half Marathon & 5K
Columbia, MO
June 3
GO! Missouri KT82 Trail Relay
82-mile Katy Trail relay race
St. Louis, MO
June 3
Half Marathon, 10K & 5K
Kansas City, MO
June 10
Run for a Vet
Half Marathon & 5K
Branson, MO
June 10
In2Action Trail Run
Half Marathon & 5K
Columbia, MO
June 17
Grandma's Marathon
Todd Raney
Marathon & Half
Duluth, MN
July 9
Mad Marathon
Todd Raney
Marathon & Half
Waitsfield, VT
July 15
Get Your Butt Kicked @ Route 66
6-hour run
Eureka, MO
July 22
Psycho Psummer Trail Run
50K, 20-mile, 10-mile
Kansas City, KS
July 22
Madison Marathon
Todd Raney
Marathon & Half
Montana
July 23
Big Sky Marathon
Todd Raney
Marathon & Half
Montana
July 24
Deseret News Marathon
Todd Raney
Marathon/Half/10K/5K
Salt Lake City, UT
Aug 19
Harder Than Hell Half Marathon
Half Marathon
Highlandville, MO
Aug 26
Nebraska State Fair Marathon
Todd Raney
Marathon, Half & 5K
Grand Island, NE
Aug 27
Corps of Discovery
Half Marathon & 5-Mile trail runs
St. Charles, MO
Sep 2
Forrest Gump Challenge
50K, Marathon, Half & 5K
Reeds Spring, MO
Sep 3
Flatlanders 6/12 Hour Run
6 or 12 hours
Fenton, MO
Sep 4
Heart of America Marathon

Marathon
Columbia
Sep 10
Sioux Falls Marathon
Todd Raney
Marathon, Half & 5K
Sioux Falls, SD
Sep 10
Go Girl Run--Kansas City
Half Marathon & 5K
Kansas City, MO
Sep 16-17
Mark Twain 50/100
Chris Boyle (50-mile)
50 & 100 miles
Mark Twain Forest
Sep 16
North Shore Trail Run
5K/10K, Half
Lawrence, KS
Sep 23
Pub 2 Pub Half Marathon
Half Marathon
Rolla, MO
Sep 23
Sundance to Spearfish Marathon
Todd Raney
Marathon
Wyoming to South Dakota
Sep 24
Broadway Bridge Run
5K/10K, Half
Kansas City, MO
Sep 24
Quad Cities Marathon
Marathon/Half/5K
Moline, IL
Sep 30
Roots 'n Blues 'n BBQ Festival

10K, Half
Columbia, MO
Sep 30
Run the Burg
5K/10K, Half
Warrensburg, MO
Sep 30
Pony Express Run
Half Marathon & 5K
St. Joseph, MO
Sep 30
Belleville Main Street Marathon
Marathon
Belleville, IL
Oct 1
Mother Road Marathon
Marathon/Half/5K
Joplin, MO
Oct 1

MO' Cowbell Marathon
Marathon: Ed Doney (first marathon)

5K, Half & Marathon
St. Charles, MO
Oct 1
Double Road Race
10K+5K
Overland Park, KS
Oct 1
Grand Country Half Marathon & 5K
Half Marathon & 5K
Branson, MO
Oct 1
Maine Marathon
Todd Raney
Marathon
Portland, ME
Oct 7
Frog Hill Half Marathon & 5K/10K
Half Marathon & 10K
(5K on Friday evening)
Waynesville, MO
Oct 7
Panther Run
5K/10K/15K
Springfield, MO
Oct 7
Rock Bridge Revenge
7 miles, 25K, 50K
Columbia, MO
Oct 8
Chicago Marathon
Marathon
Chicago, IL
Oct 14
Bear Creek Run
Half Marathon
Columbia, MO
Oct 14
AdventureMax Springfield Trail Run
10K, Half
Highlandville, MO

Oct 15
Rock 'n' Roll St. Louis
5K (on Sat.), 10K & Half Marathon
St. Louis
Oct 15
Des Moines Marathon
Marathon/Half/5K
Des Moines, IA
Oct 15
Green Mountain Marathon
Todd Raney
Marathon
South Hero, VT
Oct 21
Kansas City Marathon
5K, 10K, Half & Marathon
Kansas City, MO
Oct 22
Great GO! St. Louis Halloween Race
5K/10K, Half
St. Louis, MO
Oct 22
Atlantic City Marathon
Todd Raney
Marathon
Atlantic City, NJ
Oct 27-28
Outback in the Ozarks

200-mile team relay
Eureka Springs, AR
Oct 28
FLATS Trail Half Marathon
Half Marathon
Kirksville, MO
Oct. 29
Good Life Halfsy
Scott Gray
Half Marathon
Lincoln, NE
Nov 4
Ozark Trail 100
100 miles
Steelville, MO
Nov 4-5
The Skippo Trail Race
10K/20K/30K
St. Louis, MO
Nov 5
Kansas Half Marathon
Half Marathon & 5K
Lawrence, KS
Nov 5
Bass Pro Shops
Marathon: Jim McDermott, Josiah Peterson
5K, Half & Marathon
Springfield, MO
Nov 5
St. Louis Half Marathon
Half: Ed Doney
5K, Half
St. Louis
Nov 5
New York City Marathon
Jesse Shields
Marathon
New York, NY
Nov 11
Team RWB Veterans Day Half Marathon & 4 Miler

(2016 cancelled; will retry in spring 2017)

Half Marathon & 4-Miler
St. James, MO
Nov 11
Longview Half Marathon & 5K
Half Marathon & 5K
Kansas City, MO

Nov 11
Fayetteville Half Marathon
Half & 5K
Fayetteville, AR
Nov 11
Dogwood Canyon Trail Runs
15K
Lampe, MO
Nov 12
Dogwood Canyon Trail Runs
25K & 50K
Lampe, MO
Nov 12
Cotton Land Marathon
Todd Raney, Mark Kempf
Marathon
West Monroe, LA (home of "Duck Dynasty")
Nov 18
Honoring Our Heroes
Marathon/Half/5K
Salem to Rolla, MO
Nov 18
White River Marathon for Kenya
Marathon/Half/5K
Cotter, AR
Nov 19
Route 66 Marathon
Half: Scott Gray; Jayna Gray
Half & Marathon
Tulsa, OK
Nov 19
Pilgrim Pacer Run
5K/10K, Half, Marathon
Shawnee, KS
Dec 2
Alternate Chili Trail Run
10 miles
Kansas City, KS
Dec 2
Southernmost Marathon
Angela Martin
Marathon & Half


Rescheduled from Oct. 7th due to Hurricane Irma damage

Key West, FL
Dec 2
Cheese & Sauerkraut 10-Miler
10 miles
Columbia
Dec 2
St. Jude Memphis Marathon Weekend
Marathon/Half/5K
Memphis, TN
Dec 2
Panama City Beach Marathon
Aaron Koeppen, Gary Braman
Marathon/Half/5K
Panama City Beach, FL
Dec 9
You Don't Know Jack
100K: Scott Page, Alysia Maschino, Jen Wiethop (Curtis Wehmeyer possible)
50K: Payton Bartlett
200K/100K/75K/50K/25K/15K/5K & 100-mile
Carthage, MO
Dec 10
Half & Half / Double Half
Half & Marathon
Tulsa, OK
Dec 10
Honolulu Marathon
Todd Raney
Marathon
Honolulu, HI
Dec 16
Hawaii Bird Conservation Marathon
Todd Raney
Marathon (inaugural race)
Volcano to Hilo, Hawaii
Dec 16
Jacob Wells 3 Bridges Marathon
Marathon
Little Rock, AR
Dec 30
Run for the Ranch
Marathon: Scott Page possible
Marathon, Marathon Relay, Half and 6-Hour Run
Springfield

2018

March 4
Rock 'n' Roll New Orleans
Marathon & Half
New Orleans, LA
March 24
Bridge & Dam
Half Marathon, 10K, 5K; Double Down (half+10K) and All-In (half+10K+5K) Challenges
Lake Ozark, MO
May
Ha Ha Half Marathon
Trail half marathon
Ha Ha Tonka State Park
* * * * *

TRIATHLONS AND DUATHLONS
IN MISSOURI AND VICINITY
2017

Date

Race Name

Distance(s)

Location

NOTE: HIGHLIGHTED DATES INDICATE THAT THE EVENT'S 2016 DATE HAS NOT YET BEEN ANNOUNCED AND/OR CONFIRMED
Apr 22

Ironman Texas Triathlon
Jim McDermott
2.4-mile swim, 112-mile bike, 26.2-mile run
The Woodlands, TX
Apr 23
The Chain of Rocks Bridge Duathlon
1.5-mile run, 12-mile bke, 1.5-mile run
St. Louis, MO
April 30
Trek for Trikes
Not a true duathlon (run/bike/run), but offers a 10K run or bike, or a 20K bike. Mostly on the Highline Trail. Event raises funds to provide adaptive tricycles to children with disabilities.
Bolivar, MO
May 7
Sprint triathlon: 400-meter pool swim, 14-mile bike, 3-mile run
Super sprint triathlon: 100-meter pool swim, 7-mile bike, 1-mile run
Duathlon: 1-mile run, 7-mile bike, 1-mile run
Columbia, MO
May 13
Trek for Trikes
Not a true duathlon (run/bike/run), but offers a 10K run or bike, or a 20K bike. Mostly on the Highline Trail. Event raises funds to provide adaptive tricycles to children with disabilities.
Bolivar, MO
May 14
Kansas City Triathlon

Sprint: 500-meter swim, 20K bike, 5K run
Olympic: 1.5K swim, 40K bike, 10K run
Duathlon: 1.5-mile run, 20K bike, 5K run
Kansas City, MO
May 21
St. Louis Triathlon
Sprint: 750-meter swim, 12.4-mile bike, 5K run
Olympic: 1500-meter swim, 24.8-mile bike, 10K run
St. Louis, MO
May 27
Iron Horse Duathlon
Duathlon: 5K run, 30K bike, 5K run
Parsons, KS
June 10
Halfmax Championship & Quartermax Triathlons
Halfmax Championship: 1.2-mile swim, 56-mile bike, 13.1-mile run
QuarterMax: 0.6-mile swim, 28-mile bike, 10K run

Innsbrook, MO
June 11
Jefferson City Triathlon &
Duathlon
Triathlon: 400-meter pool swim, 12-mile bike, 3.1-mile run
Duathlon: 12-mile bike, 3.1-mile run
Jefferson City, MO
June 17
Legend Free State Tri


Sprint: 500-yard swim, 12-mile bike, 5K run
Olympic: 1500-meter swim, 40K bike, 10K run
Legend 70: 1.2-mile swim, 56-mile bike, 13.1-mile run
Legend 100: 2-mile swim, 80-mile bike, 18-mile run

Lawrence, KS
June 17
Topeka Tinman Triathlon
Short course: 400-meter swim, 13-mile bike, 3.1-mile run
Long course: 1,000-meter swim, 19-mile bike, 7-mile run
Topeka, KS
Jun 24
Neosho Sprint Triathlon

Triathlon: 300-yard indoor pool swim, 12.5-mile bike, 3.1-mile run;

Neosho, MO
July 8
Big Shark New Town Kids Triathlon
0.62-mile swim, 20-mile bike, 4-mile run
New Town St. Charles, MO
July 9
Big Shark New Town Triathlon
0.62-mile swim, 20-mile bike, 4-mile run
New Town St. Charles, MO
July 9
Summer Roundup Triathlon
Sprint: 500-meter swim, 12.3-mile bike, 5K run
Olympic: 1500-meter swim, 40K bike, 10K run
Jasper, MO
July 9
Shawnee Mission Triathlon & Duathlon
Short course: 500-meter swim, 9-mile bike, 3.2-mile run
Long course: 1,000-meter swim, 18-mile bike, 4.5-mile run
Shawnee, KS
July 15
Mighty Max Kids Triathlon
Four age-appropriate distances for children up to age 14
Columbia, MO
July 23
Show-Me State Games Triathlon & Duathlon
Triathlon: 0.5-mile swim, 15-mile bike, 3-mile run
Duathlon: 15-mile bike, 3-mile run
Columbia, MO
July 29
WIN for KC Women's Triathlon & Duathlon
Triathlon: 500-meter swim, 10-mile bike, 5K run
Duathlon: 1.5-mile run, 10-mile bike, 5K run
Smithville, MO
July 29
Route 66 Half Iron Triathlon
1.2-mile swim, 56-mile bike, 13.1-mile run
Springfield, IL
July 30
Lake Freebird Triathlon & Duathlon
Triathlon: 660-meter swim, 14-mile bike, 5K run
Beginners (non-competitive): 300-meter swim, 10-mile bike, 1.3-mile run
Duathlon: 14-mile bike, 5K run
Mountain Grove, MO
Aug 6
Stockton Lake Tri Wild-Life Challenge
Short course: 500-meter swim, 10.4-mile bike, 5K run
Long course: 1,000-meter swim, 20.8-mile bike, 10K run
Stockton, MO
Aug 6
Matt Mason Memorial Cowboy-UP! Triathlon
500-meter swim, 11-mile bike, 5K run
Kansas City, MO
Aug 11
Republic Youth Tigger Tri
Distances to be announced
Republic, MO
Aug12
Republic Tiger Tri
Super Sprint: 150-yard swim; 6.1-mile bike, 1.5-mile run
Classic Sprint: 300-yard swim, 12.2-mile bike, 5K run
Republic, MO
Aug 12
Warrensburg Triathlon
SuperKids Tri: (distances not available)
Trio-Tri: 3-person relay
"98.5 The Bar" Tri: 300-meter swim, 10-mile bike, 5K run
Warrensburg, MO
Aug 19
Lake St. Louis Triathlon
Short course: 0.25-mile swim, 12.3-mile bike, 2.5-mile run
Long course: 0.93-mile swim, 24-mile bike, 10K run
Lake St. Louis, MO
Sep 10
Legend Ad Astra Triathlon
Sprint: 500-yard swim, 12-mile bike, 5K run
Olympic: 1500-meter swim, 40K bike, 10K run
Legend 70: 1.2-mile swim, 56-mile bike, 13.1-mile run
Lawrence, KS
Sep 16
Redman Triathlon
Full: 2.4-mile swim, 112-mile bike, 26.2-mile run
Half: 1.2-mile swim, 56-mile bike, 13.1-mile run
Oklahoma City, OK
Sep 24
Sedalia Duathlon
Short course: 2-mile run, 8-mile bike, 1-mile run
Long course: 5K run, 30K bike, 5K run
Sedalia, MO
Sep 24
Border Wars Triathlon

(Cancelled)

1.2-mile swim, 56-mile bike, 13.1-mile run
Alton, IL
Sep 24
Ironman Chattanooga Triathlon
2.4-mile swim, 112-mile bike, 26.2-mile run
Chattanooga, TN
Oct 15
Ironman Louisville Triathlon

2.4-mile swim, 112-mile bike, 26.2-mile run
Louisville, KY
* * * * *

CYCLING EVENTS
IN MISSOURI AND VICINITY
2017

Date

Race/Event Name

Distance(s)

Location

NOTE: HIGHLIGHTED DATES INDICATE THAT THE EVENT'S 2016 DATE HAS NOT YET BEEN ANNOUNCED AND/OR CONFIRMED
Jan 15
Rocheport Roubaix
30, 50 and 70 miles
Rocheport, MO
April 10
MoBikeFed Ride with Legislators
Jefferson City, MO
April 29
The Epic (gravel road bike races)
150 and 80 miles
Lake of the Ozarks
May 13
Vino Fondo
38, 58, 91 and 118 miles
Augusta, MO
May 21
The Hairy Hundred
100-mile gravel road race
Katy Trail near Columbia, MO
May 21
Down 'n Dirty
Varies by division
Warsaw, MO
May 27-28
Pedaler's Jamboree
Music and cycling event on the Katy Trail
Columbia, MO
May 29
Tour of Kansas City Gran Fondo
20, 50, 60, 75 and 100 miles
Kansas City, MO
June 3
Dirty Kanza 200
200 miles
Emporia, KS
June 3
Tour de Cure
10, 30, 50 and 100 miles
Alton, IL
Jun 10-16
Big BAM
Bicycle ride across Missouri
Weston to Louisiana, MO
June 10
Cycle for Life
10, 25 and 50 miles
Ozark, MO
June 17
Queen City Century
22, 45, 60, 82 and 100 miles
Springfield, MO
June 24
Tour de Lakes
10, 32, 55 and 65 miles
Lee's Summit, MO
July 9
Tour de Jeff
15-mile nighttime bike ride
Jefferson City, MO
July 15
World Naked Bike Ride--St. Louis
St. Louis, MO
July 22
Show-Me State Games Road Cycling Race
19 and 28 miles
Callaway County, MO
July 30
Show-Me State Games Mountain Bike Race
1, 1-1/2, and 3 hours
Columbia, MO
Aug 5
MO State Time Trial Championship
20K or 40K, depending on division
Centraiia, MO
Aug 5
Moonlight Ramble
10.5 and 18.5 miles
St. Louis, MO
Aug 19
Svitak Freedom Ride
10, 25, 40, 67 and 100 miles
Springfield, MO
Aug 26
Red Shoe Ride
35, 60 and 100 miles
Columbia, MO
Aug 26
BikeMO
30, 65 and 90 miles (24 and 50 miles for Katy Trail option)
Rocheport, MO
Sep 1-3
Singletrackmind Festival
Mountain biking, trail runs, etc. on the Two Rivers Bike Trail
Springfield, MO
Sep 9
Pony Express Dash
120- and 75-mile gravel road races
Maryville, KS
Sep 9-10
Bike MS
Four distances offered
Godfrey, IL
Sep 16

Moonlight Ramble
(reschdule date)
10.5 and 18.5 miles
St. Louis, MO
Sep 23-24
Pedal the Cause
15, 25, 37, 50, 75 & 100 miles
St. Louis, MO
Sep 24
Rhett's Run
Mountain bike race
Columbia, MO
Sep 30
Tour de BBQ
15, 35 and 62 miles
Overland Park, KS
Oct 1
Tour de Wildwood
28 and 45 miles
Wildwood, MO
Oct 7
Cystic Fibrosis Cycle for Life
25, 50 and 100 miles
St. Charles, MO
Oct 8
Tour de Bass Bike Rides
25, 42, 77 and 102 miles
Springfield, MO
Oct 14-15
Hartsburg Pumpkin Festival Ride
9.5 miles from Jefferson City on the Katy Trail
Oct 21
Cuban Gravel Crisis
20, 50 and 100 mile bike rides
Cuba, MO
Oct 21
BT Epic
Mountain bike race on the Berryman Trail
Steelville, MO
Nov 4
Red Dog 100
Gravel road race
Jefferson City, MO
* * * * *

PADDLING EVENTS
IN MISSOURI AND VICINITY
2017

Date

Race Name & River

Distance(s) & Boat Type

Location

NOTE: HIGHLIGHTED DATES INDICATE THAT THE EVENT'S 2016 DATE HAS NOT YET BEEN ANNOUNCED AND/OR CONFIRMED
May 31
Lake Race "Paddle Battle"
Paddleboard races
Lake of the Ozarks
June 10-11
Osage Howler
Trevor Dowdney (61 miles)
Race: 61 miles
Fun Run: 14 miles
Osage River
July 22
Firecracker Race
(Mississippi River -- Alton Pool)
Canoes & kayaks -- 12 miles
Paddlboards -- 3 miles
Alton, IL
Aug 27
Race for the Rivers
(Missouri River)
20 and 40 miles; canoes & kayaks
Washington, MO
Sep xx


(cancelled for 2017)

Fall 36 Race
(Osage, Missouri and Gasconade Rivers)
36 miles
Canoes, kayaks & paddleboards
Starts near Loose Creek; ends at Gasconade
Sep 30
Race to the Dome
(Missouri River)
Providence (26.6 miles) or Hartsburg (15.8 miles) to Jefferson City
Jefferson City, MO
Oct 28
Chattajack 31
(Tennessee River)
Trevor Dowdney
31 miles; paddleboard & kayaks
Chattanooga, TN