RUNNING OF THE ELVES 5K RUN/WALK (posted December 4th)
I hope to have race results and photos posted by Sunday evening.
* * * * *
ST. JUDE MEMPHIS MARATHON WEEKEND (posted December 4th)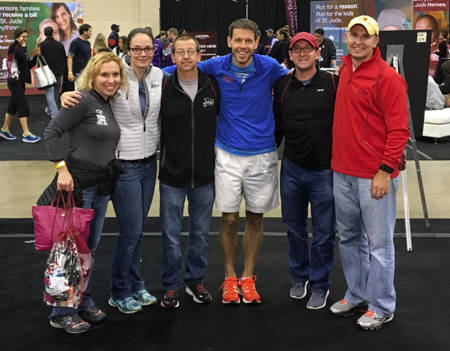 Lake-area runners at the St. Jude Marathon expo on Friday (from left): Sherrie Hamner, Heather Miller, Todd Raney, Scott Page, Rob Kucsik and Aaron Koeppen.
First marathons are true enigmas. Most runners--no matter how much they've trained or how long they've been a runner--have a tough time during their first marathon, and slog to the finish line in a relatively slow time. (I could cite many examples just among our Lake-area runners.) A few, however, have outstanding races--so good, in fact, that they'll have a real challenge in ever topping it in the future. Aaron Koeppen is one of the latter. On Saturday, Aaron finished his very first marathon at the St. Jude Memphis Marathon Weekend in a remarkable 3:48:10. He also beat all of our local, experienced marathoners to the finish line: Scott Page crossed in 3:48:34 for a new personal record (by four minutes), followed by Todd Raney (3:55:13), Rob Kucsik (in a new personal record of 3:55:39), Heather Miller (5:29:52) and Sherrie Hamner (5:29:53).
As a group, our Lake-area runners tied the record of four sub 4-hour finishers in a single marathon. The record they tied was set at the 2013 Garmin Marathon by Andy Goessmann, Jim McDermott, Scott Page and Rob Kucsik.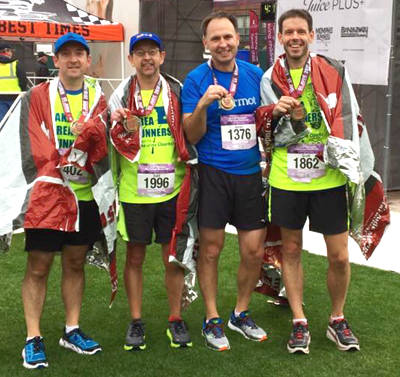 The sub 4-hour group brandishing their finishers medals (from left): Rob Kucsik,Todd Raney, Aaron Koeppen and Scott Page.
ST. JUDE MEMPHIS MARATHON WEEKEND
MEMPHIS, TENNESSEE
DECEMBER 3, 2016
RESULTS FOR LAKE-AREA PARTICIPANTS

Name

City

Finish Time

Age Group

Age Group Place

MARATHON:
Aaron Koeppen
Four Seasons

3:48:10

M40-44

37 of 213

Scott Page
Lake Ozark

3:48:34

M45-49

35 of 175

Todd Raney
Camdenton

3:55:13

M45-49

49 of 175

Rob Kucsik
Four Seasons

3:55:39

M45-49

53 of 175

Heather Miller
Camdenton

5:29:52

F30-34

151 of 199

Sherrie Hamner
Osage Beach

5:29:53

F40-44

146 of 197

Race weather: 47°, cloudy and 10 mph winds at the 8:30 a.m. start. Light rain started falling between 10:00 and 11:00 a.m.
There were 2,474 and 8,178 solo finishers of the marathon and half marathon, respectively. Complete race results can be found here.
* * * * *
YOU DON'T KNOW JACK TRAIL RUN (posted December 4th)
There were no Lake-area runners at the You Don't Know Jack trail runs in Carthage on Saturday, but there was one name familiar to many of us. Melissa Martinez of Crocker was one of two finishers (out of four starters) of the 100K (i.e. 62-mile) race, crossing the finish line in 10:46:46.
Full results can be found here.
* * * * *
ALTERNATE CHILI TEN-MILE TRAIL RUN (posted December 4th)
Three years after a great finish at the 2013 Alternate Chili Ten-Mile Trail Run in Kansas City, Kansas, Trevor Dowdney returned for more on Saturday. Trevor finished this time in 1:43:37--eight minutes slower than before--and placed 6th (of 22) in the men's 50-59 age group.

It might be of some comfort to Trevor seeing that another old dog runner is slowing down, too. Eight year-old "Winston" Schmitz, who won the canine division in 2013 in 1:27:52, won again on Saturday, but in a more leisurely 1:34:41. Below is a 2013 photo of "Winston" leading his "mom", Amy Schmitz, Amy was the overall female winner in 2013, and fourth overall female this year.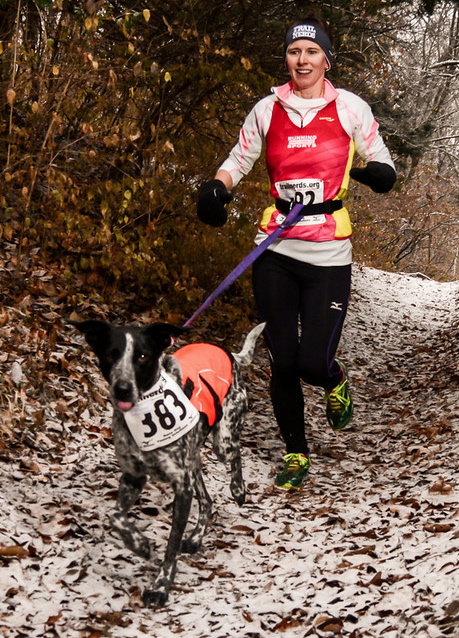 Full results can be found here.
* * * * *
AMAZON WEB SERVICES' re:INVENT 5K (posted December 1st)
Congratulations to Gary Braman for a near top 10% finish in the men's 40-49 age group at the inaugural AWS re:Invent 5K in Las Vegas on Wednesday. Gary finished in 21:56, placing 27th (of 244) in his age group.
Perhaps not surprisingly, it looks like more than a few registered participants may have partied a little too hard in Sin City the night before the 6:00 a.m. race start. There were 985 registered for the sold-out race, yet only 587 finishers.
Women outnumber men at nearly every 5K everywhere, but not at this male-dominated convention and race. There were nearly ten men for every woman at the 5K.
Complete race results can be found here.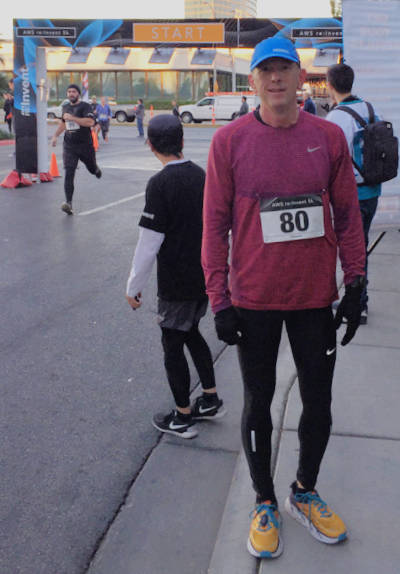 Gary Braman at the AWS re:Invent 5K start/finsh line at
The Mirage Resort & Casino on the Las Vegas Strip.
* * * * *
WEEKEND EVENTS FOR DECEMBER 3-4
And then there was one. The very last Lake-area race of the year is being held this weekend--the inaugural Running of the Elves 5K. It starts at 9:30 a.m. (registration opens at 8:45 a.m.) on Saturday at the Camdenton square. (Complete details can be found in the race's listing under "Upcoming Events" further down this column.) Come out and join us. You won't have another chance to race locally for nearly three months.
Gary Braman won't be waiting until the weekend to race. He's out in Las Vegas on business this week for Amazon Web Services' re:Invent convention, and will be doing the sold-out re:Invent 5K on Wednesday morning at 6:00 a.m. (Only the real crazies get up that early--or stay up that late--in Las Vegas.)
Some of our Lake-area running royalty will be heading to Tennessee this weekend for the hugely popular St. Jude Memphis Marathon Weekend. Scott Page, Rob Kucsik and Todd Raney will be running the marathon. Megan Hendrickson registered for the half, but I haven't heard if she's still planning to go. Update: Three other locals--Aaron Koeppen, Heather Miller and Sherrie Hamner--will be doing the marathon. This is Aaron's very first marathon, and Sherrie's third St. Jude Marathon.
Good luck and safe travels to everybody racing this weekend!
Elsewhere:
Jefferson City:
Big Brothers Big Sisters Jingle Jog 5K, Saturday
Columbia (McBaine Trailhead on Katy Trail):
Cheese & Sauerkraut 10-Miler, Saturday
Carthage:
You Don't Know Jack (100K/75K/50K/25K/15K & 50-mile), Saturday
Springfield & vicinity:
Kansas City and vicinity:
Alternate Chili 10-Mile Trail Run, Saturday
KC Running Company calendar
St. Louis and vicinity:

Castlewood 8-Hour Adventure Race, Saturday
Big River Running calendar
Fleet Feet Sports St. Louis calendar
Panama City Beach, Florida:
Panama City Beach Marathon, Saturday (I forgot who told me many months ago that they were planning to do this race)
Memphis, Tennessee:
St. Jude Memphis Marathon Weekend, Saturday
Be sure to check out the Lake Area Runners Facebook page to see what they'll be doing this weekend.
* * * * *

LAKER 5K TURKEY TROT (updated November 29th)
For the second year in a row, a record field turned out for the Laker 5K Turkey Trot in Camdenton on Thanksgiving Day. A total of 180 runners and walkers took part in this year's race, exceeding last year's total of 166, and firmly establishing this as one of the Lake area's biggest and most popular annual races. The record attendance also generated a record $3,047 in cash proceeds--on top of donated food items--for local food pantries.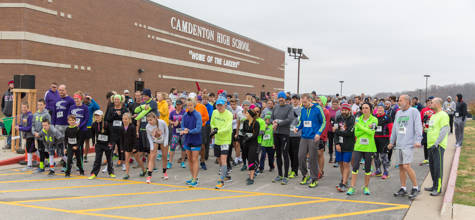 A new women's record for this race was set by the phenomenal Heather Oddo in winning her second consecutive Laker Turkey Trot. Heather smashed last year's record-setting 19:26 with a blistering 18:50 finish time. It was 19 seconds shy of her women's course record of 18:31 set at the Summer Night Glow earlier this year.
Heather finished 7 seconds behind former Camdenton High School and current Drury University freshman cross country runner Blake Jesse. This was Blake's first Laker Turkey Trot overall victory.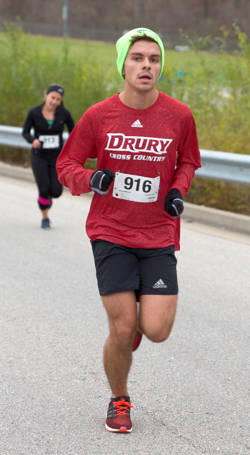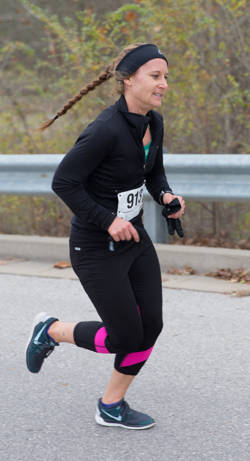 Blake Jesse (left) hears the footsteps of Heather Oddo (close-up at right) at the two-mile mark of the Laker 5K Turkey Trot.
Follow the links below to view the full race results:
By finish order (.pdf or .xlsx)
By age group (.pdf or .xlsx)
William Wright was the winner of the pie-eating contest. William beat back the challenge of eight other competitors by downing a whipped cream-topped slice of pumpkin pie in 17 seconds.
You can view all 575 race photos from the race at this page.
A big "thank you" goes to coach Dave & Lynn Weber, Gary & Ellen Thompson, their families, and the other volunteers who put on the Laker Turkey Trot. This race is consistently one of the most well-organized races in the Lake area.
* * * * *
THANKSGIVING DAY RACE RESULTS (updated November 26th)

Here are the race results for Lake-area runners at non-local events around the state. If I missed anyone, please let me know.
Congratulations to the eleven Lake-area runners who earned top-three age-group finishes at the Jefferson City Thanksgiving Day Pie Run. That was one of the best showings ever for Lake-area runners at an out-of-town race. One notable performance was that of Bryna Edwards, who ran the fastest 10K among Lake-area women so far this year and took second place in the very competitive 30-39 age group. In addition, April Leonard, who previously held the year's fastest time of 56:07, topped her own best time with a 50:55 and won the women's 40-49 age group. Among the men's highlights, Elijah Bentch won the 19-29 age group over 26 others with a 21:00 finish in the 5K, while Shawn Wood took third in the very competitive 40-49 age group.
Please note: There were several large races that didn't post results which were searchable by participants' cities. With many hundreds--and sometimes thousands--of participants at these races, it simply wasn't practical to search for those from the Lake area. I'll be happy to post your results if you tell me where you raced.
THANKSGIVING DAY RACE RESULTS FOR LAKE-AREA RUNNERS

Name

City

Finish Time

Age Group

Age Group Place

Jefferson City - Thanksgiving Day Pie Run 5K/10K (results)
10K:
Bryna Edwards
Lake Ozark

47:25

F30-39

2 of 33

April Leonard
Eldon

50:55

F40-49

1 of 11

Chris Reynolds
Eldon

50:57

M40-49

11 of 17

Tobby Eldridge
Eldon

58:06

M30-39

12 of 16

Steve Martonfi
Eldon

58:06

M40-49

14 of 17

Nathan Evans
Osage Beach

1:04:20

M50-59

11 of 11

5K RUN:
Shawn Wood
Eldon

20:33

M40-49

3 of 44

Elijah Bentch
Versailles

21:00

M19-29

1 of 27

Nathan Reynolds
Eldon

22:17

M12 & under

3 of 43

Ron Bentch
Versailles

22:35

M50-59

3 of 29

Matt Rice
Camdenton

28:02

M30-39

16 of 37

Emilie Reynolds
Eldon

29:21

F13-15

11 of 18

Ashley Hanks
Eldon

29:49

F30-39

12 of 46

Audrey Bentch
Versailles

35:54

F16-18

7 of 9

Matt Hanks
Eldon

37:55

M30-39

33 of 37

Cindy Bentch
Versailles

47:54

F50-59

26 of 31

Meghan Riedel
Linn Creek

51:44

F16-18

7 of 9

Melissa Riedel
Linn Creek

51:44

F19-29

44 of 46

5K WALK:
Caleb Rice
Camdenton

38:16

M13-15

2 of 5

Megan Rice
Camdenton

39:50

F12 & under

1 of 12

Heidi Rice
Camdenton

42:55

F40-49

3 of 26

Scott Gray
Eldon

42:59

M30-39

1 of 6

Natalie Rice
Camdenton

44:14

F12 & under

2 of 12

Tami Rice
Versailles

44:30

F50-59

8 of 27

Emma Pruitt
Eldon

53:01

F12 & under

8 of 12

Eryn Pruitt
Eldon

53:01

F16-18

6 of 8

Jayna Gray
Eldon

53:02

F30-39

6 of 11

Carol Wiles
Lake Ozark

1:09:41

F60-69

13 of 13

Springfield - Turkey Trot 5K Run (results) -

Results not searchable

Chesterfield - Chesterfield Turkey Trot 5K (results)
Anthony Valenti
Eldon

23:52

M1-12

7 of 126

Carolyn Valenti
Eldon

40:50

F40-49

156 of 264

Sophia Valenti
Eldon

37:56

F13-19

120 of 190

Jack Sinclair
Lake Ozark

40:10

M70+

13 of 26

Kansas City - Thanksgiving Day 5K Run & Family Stroll (results)
Sara Deere
Lake Ozark

43:20

F45-49

96 of 149

Kansas City - Ward Parkway Thanksgiving Day 5K (results)
Paige McCane
Osage Beach

32:17

F20-24

85 of 213

Branson - Branson Turkey Trot 5K (results)
Tyler Knight
Camdenton

35:05

M25-29

22 of 30

Columbia - Turkey Trax 5K (results)
Peggy Henderson
Lake Ozark

53:04

F70-74

4 of 7

Joplin - Joplin Turkey Trot 5K (results)
Margie Gunter
Osage Beach

44:44

F45-49

63 of 79
* * * * *
THANKSGIVING DAY RACE PARTICIPATION (updated November 26th)
The record attendance at this year's Laker 5K Turkey Trot wasn't a fluke. Attendance was up at nearly every turkey trot in the state of Missouri on Thanksgiving Day.
Excluding some small races for which results aren't available, there were 39,533 participants at turkey trots around the state this year, up 4,700 over last year, and nearly 9,500 over 2014.
This is one of the few bright spots we've seen this year when measuring the level of interest in running.
Here's the data:
THANKSGIVING DAY RACES IN MISSOURI
NUMBER OF FINISHERS
Race
2016
2015
2014
SpringfieldCity
Turkey Trot 5K Run

7,215

7,002

6,733

Kirkwood
Kirkwood Webster Turkey Day Run
(3 miles, 6 miles, and both distances)

4,863

4,504

4,047

Kansas City
Ward Parkway Thanksgiving Day 5K

3,860

3,151

2,689

Kansas City
Thanksgiving Day 5K Run & Family Stroll

3,191

3.104

3,537

St. Charles
Turkey Trot STL 5K

3,334

2,602

2,598

Chesterfield
Chesterfield Turkey Trot 5K

2,599

2,457

2,184

Arnold
Turkey Trot STL 5K

1,530

1,479

1,118

Parkville
Parkville Turkey Trail Trot

1,449

1,284

1,177

Eureka
Turkey Trot STL 5K

1,127

1,207

1,143

Columbia
Turkey Trax 5K

1,289

1,173

912

St. Louis
(Forest Park)
St. Louis Turkey Trot 8K (Forest Park)

2,160

1,020

NA

Kansas City
Pilgrim Run 5K

1,085

894

886

Joplin
Joplin Turkey Trot

1,293

859

622

St. Louis (Downtown)
The Hungry Turkey 5K

702

785

868

Branson
Branson Turkey Trot 5K

928

775

544

Jefferson City
Thanksgiving Day Pie Run 5K/10K

758

723

813

Olivette
(St. Louis County)
Turkey Trot 5K

760

616

211

Chesterfield
Gobble Wobble 5K

304

321

386

Sappington
(St. Louis County)
Run for Ryan 5K

260

288

NA

Ozark
Turkey Scramble 5K/10K

199

NA

204

Mt. Vernon
Mountaineer Turkey Strut 5K

241

192

185

Camdenton
Laker 5K Turkey Trot

180

166

145

Mexico
Turkey Trot 5K

NA

NA

98

Rolla
Galloping Gobbler for G.R.A.C.E. 5K/10K

150

147

58

Troy
Thanksgiving Day Turkey Trot 5K

NA

NA

NA

Lebanon
Turkey Trot 5K

NA

NA

NA

Festus
YMCA Thanksgiving Day Workout 5K

NA

NA

NA

Pierce City
Pilgrims Run 5K

56

NA

NA

TOTAL

39,533

34,782

29,981
* * * * *

* * * * *

The next local event will be the Polar Bear Strut 5K on February 25, 2017. Details are coming.
* * * * *

HALF MARATHON, MARATHON & LONGER RUNNING RACES
IN MISSOURI AND VICINITY
2016

Date

Race Name

Distances

Location

NOTE: HIGHLIGHTED DATES INDICATE THAT THE EVENT'S 2016 DATE HAS NOT YET BEEN ANNOUNCED AND/OR CONFIRMED
Jan 2-3
The Pistol Ultra Run
100K: Ashley Pryor, Scott Page & Todd Raney
50K: April Boicourt
50K relay, 50K, 50 miles, 100K, 100 miles
Alcoa, TN
Jan 16
Runner's Choice 5K/10K
5K & 10K
Columbia, MO
Jan 16
Cabin Reliever 20K &
Resolution 5K
20K & 5K
Rogersville, MO
Jan 16
David's Trail Endurance Run
40K, 25K & 7K


(40K cancelled due to flooding)

Mountain Home, AR
Jan 17
Houston Marathon
Marathon: Todd Raney
Marathon & Half
Houston, TX
Jan 23
St. Louis Track Club Frostbite Series
Half Marathon & 4-mile
St. Louis, MO
Jan 23
Wildwood Frozen Feet 13.1M Trail Race
Half Marathon
Wildwood, MO
Feb 6
Chocolate Rush Half Marathon & 5K
Half Marathon & 5K
Olathe, KS
Feb 13
Run with the Wind 25K
25K; solo and 3-team relay
Sarcoxie, MO
Feb 13
Heart of the Ozarks
Half Marathon, relay & 10K
West Plains, MO
Feb 14
Fort Smith Marathon
Half & Marathon
Fort Smith, AR
Feb 14
Austin Marathon
Kara O'Connor; Casey O'Connor (possible)
Marathon & Half
Austin, TX
Feb 14
Mercedes Marathon
Marathon: Todd Raney
Marathon, Half & 5K
Birmingham, AL
Feb 20
Psycho Wyco Run Toto Run
50K, 20-mile & 10-mile trail runs
Kansas City, KS
Feb 21
Shelby Forest Loop Marathon
Marathon: Todd Raney
Marathon & Half
Millington, TN
Feb 27
Soggy Bottom Endurance Run
100-mile, 100-mile relay, 40-mile, 40-mile relay; 4-mile (afternoon) and 10-mile on Feb 28
Sparta, MO
Feb 28
Rock 'n' Roll New Orleans
Marathon: Todd Raney & Amy Harrell
Half: Ashley Pryor, Heather Doyle & April Boicourt
Marathon & Half
New Orleans, LA
Feb 28
The Cowtown

50K/Marathon/
Half/10K/5K
Fort Worth, TX
March 6
Little Rock Marathon
Marathon: Jim McDermott
Marathon, Half & 10K
Little Rock, AR
March 12
Lucky 13.1 Half Marathon & 5K
Half Marathon & 5K
Peculiar, MO
March 12
Dublin's Pass ShamRox Run
15K & 5K
Springfield, MO
March 12
Rock 'n' Roll DC
Marathon: Todd Raney
Marathon, Half & 5K
Washington, DC
March 13
ShamRox Columbia
15K & 5K
Rocheport, MO
Mar 20
Bataan Memorial Death March
Rona Schaefer, Paul Schaefer, Ryan Lewis & Wayne Meckley
Marathon
White Sands Missile Range, NM
March 18,19,20
3 Days of Syllamo
Day 1: 50K
Day 2: 50 miles
Day 3: 20K
Blanchard Springs, AR
March 19
Sedalia Half Marathon
Half Marathon & 5K
Sedalia, MO
March 20
Relay & Run for 21K
Half Marathon & Relay
St. Louis, MO
March 26
Missouri Race Series
10 miles, 10K & 5K
Lee's Summit, MO
March 26
Highline Run for Scouting
Half Marathon & 5K
Springfield, MO

April 2

Do or Die Half Marathon & 5K
Half Marathon & 5K
New Franklin to Rocheport, MO
April 2
Badge of Honor Run
Half Marathon/10K/5K
Poplar Bluff, MO
April 2
Bridge & Dam Half Marathon & 10K
Half Marathon & 10K
Lake Ozark, MO
April 2
Big Party Half Marathon
Half Marathon & 5K
Springfield, MO
April 2
Charlottesville Marathon
Marathon: Todd Raney
Marathon & Half
Charlottesville, VA
April 3
Brew to Brew
43.5 miles--solo and relays
Kansas City to Lawrence, KS
April 9
Go Girl Run--Springfield
Half Marathon & 5K
Springfield, MO
April 9
Rock the Parkway
Half Marathon & 5K
Kansas City, MO
April 9
Mission Run in the Ozarks
Marathon/Half/5K
Mountain Home, AR
April 10
Rock 'n' Roll Raleigh
Marathon: Todd Raney
Marathon & Half
Raleigh, NC
April 10
Hogeye Marathon & Relays

Marathon/Half/Relays
Fayetteville, AR
April 10
GO! St. Louis
Marathon: Amy Harrell
Marathon/Relay/Half
St. Louis, MO
April 16
Missouri Race Series
10 miles,10K & 5K
Jefferson City, MO
April 16
Garmin Marathon
Marathon: Todd Raney
Marathon/Half//10K
Olathe, KS
April 23
Run for the Children Half Marathon
Half Marathon
Eldon, MO
April 23
Royal Running Series
10K/20K trail race
Lake of the Ozarks State Park
April 24
Big Sur International Marathon
Marathon: Todd Raney
Marathon
Big Sur, CA
April 24
Oklahoma City Memorial Marathon
Marathon/Relay/Half/5K
Oklahoma City, OK
April 30
Illinois Marathon

Marathon/Half/10K/5K
Champaign-Urbana, IL
April 30
Frisco Railroad Run
50 miles/50K/
Marathon/Half/10-mile & 8K
Willard, MO
April 30
Rock 'n' Roll Nashville
Marathon: Jim McDermott
Marathon & Half
Nashville, TN
May 1

Independence Half Marathon (inaugural race)

Half Marathon & 5K
Independence, MO
May 7
Trail to a Cure Ride/Run/Walk
Half Marathon, 10K & 5K
Rocheport, MO
May 7
Wisconsin Marathon
Marathon: Todd Raney
Marathon/Half/5K
Kenosha, WI
May 8
Kalamazoo Marathon
Marathon: Todd Raney
Marathon/Half/10K/5K
Kalamazoo, MI
May 14
Running with the Cows
Half: Willard Haley
Half Marathon & 5K
Bucyrus, KS
May 14
RiverTownRun
Half Marathon & 5K
Washington, MO
May 14
Missouri Race Series
10 miles, 10K & 5K
Joplin, MO
May 15
Divas Half Marathon & 5K
Half Marathon & 5K
Branson, MO
May 21
Go Girl Run--Columbia
Marathon/Half/5K
Columbia, MO
May 21

Striker Life Half Marathon
Half: Scott Page, Reagan Page & Cooper Vickers
Half Marathon, 10K & 5K
Whiteman AFB, Knob Noster, MO
May 21
Joplin Memorial Run
Marathon: Jim McDermott
Marathon/Half & 5K


Marathon added for 2016

Joplin, MO
May 21
Berryman 50-Mile & Marathon
50-Mile & Marathon
Steelville, MO
May 22
Race 13.1 St. Louis
Half Marathon & 5K
St. Charles, MO
May 22
Rockford Marathon
Marathon: Todd Raney
Marathon, Half & 10K
Rockford, IL
May 29
Vermont City Marathon
Marathon: Todd Raney
Marathon & relay
Burlington, VT
June 4
GO! Missouri KT82 Trail Relay
82-mile Katy Trail relay race
St. Louis, MO
June 4
Half Marathon, 10K & 5K
Kansas City, MO
June 11
Marathon to Marathon
Marathon, Relay, Half & 5K
Storm Lake, IA
June 12
Revel Rockies Marathon
Marathon: Todd Raney
Marathon & Half
Denver, CO
June 18
Missouri Race Series
10 miles, 10K & 5K
Columbia, MO
June 25
In2Action Trail Run
Half Marathon & 5K
Columbia, MO
July 10
Freedom 321 Run
Half Marathon & 5K
Joplin, MO
July 10
MIssoula Marathon
Marathon: Todd Raney
Marathon/Half/5K
Missoula, MT
July 23
Psycho Psummer Trail Run
50K, 20-mile, 10-mile
Kansas City, KS
Aug 20
Harder Than Hell Half Marathon
Half Marathon
Nixa, MO
Aug 21
Anchorage RunFest
Marathon: Todd Raney
49K/Marathon/Half/5K
Anchorage, AK
Aug 27
Nebraska State Fair Marathon
Marathon: Todd Raney
Marathon/Half/5K
Grand Island, NE
Sep 3
Forrest Gump Challenge
50K: Jim McDermott
50K, Marathon, Half & 5K
Reeds Spring, MO
Sep 3
Pocatello Marathon
Marathon: Todd Raney
Marathon/Half/10K/5K
Pocatello, ID
Sep 4
Flatlanders 6/12 Hour Run
6 or 12 hours
Fenton, MO
Sep 4
Kauai Marathon
Marathon: Angela Martin
Kauai, Hawaii
Sep 4
Go Girl Run--Kansas City
Half Marathon & 5K
Kansas City, MO
Sep 5
Run 2 Remember


CANCELLED

Half Marathon (new in 2016),

10K & 5K
Willard, MO
Sep 5
Heart of America Marathon

Marathon
Columbia
Sep 10
Azalea Half Marathon
5K/10K, Half
Nixa, MO
Sep 17-18
Mark Twain 50/100
50 & 100 miles
Mark Twain Forest
Sep 17
North Shore Trail Run
5K/10K, Half
Lawrence, KS
Sep 18
Lee's Summit Half Marathon

CANCELLED

Half
Lee's Summit, MO
Sep 18
Tunnel Light Marathon
Marathon: Todd Raney
Marathon
Hyak, Washington
Sep 18
Konquer the Konza Trail Races
25K & 10K
Manhattan, KS
Sep 24
Kyleigh Phillips Memorial 5K & Half Marathon
Half Marathon & 5K
Osage Beach, MO
Sep 24
Pub 2 Pub Half Marathon
Half Marathon
Rolla, MO
Sep 24
Pony Express Run
Half Marathon & 5K
St. Joseph, MO
Sep 25
Broadway Bridge Run
5K/10K, Half
Kansas City, MO
Sep 25
Quad Cities Marathon
Marathon/Half/5K
Moline, IL
Oct 1
Frog Hill Half Marathon & 10K
Half Marathon & 10K
(5K on Friday evening)
Waynesville, MO
Oct 1
Roots 'n Blues 'n BBQ Festival

10K, Half
Columbia, MO
Oct 1
Run the Burg
5K/10K, Half
Warrensburg, MO
Oct 1
Lake Perry Rocks
5K, Half, 50K
Meriden, KS
Oct 1
Panther Run
5K/10K/15K
Springfield, MO
Oct 1
Arkansas Traveller 100
100 miles
Perryville, AR
Oct 2
5K, Half & Marathon
St. Charles, MO
Oct 2
Haulin' Bass Trail Runs
8K & 15K
Stockton, MO
Oct 2
Grand Country Half Marathon & 5K

(inaugural race)

Half Marathon & 5K
Branson, MO
Oct 8
Rock Bridge Revenge
7 miles, 25K, 50K
Columbia, MO
Oct 8
Hartford Marathon
Marathon: Todd Raney
Marathon/Half/5K
Hartford, CT
Oct 9
Newport Marathon
Marathon: Todd Raney
Marathon & Half
Newport, RI
Oct 9
Chicago Marathon
Nigher Alfaro, Curtis Wehmeyer
Marathon
Chicago, IL
Oct 9
FLATS Trail Half Marathon
Half Marathon
Kirksville, MO
Oct 9
Double Road Race
10K+5K
Overland Park, KS
Oct 9
Prairie Fire Marathon
Marathon/Half/5K
Wichita, KS
Oct 15
Bear Creek Run
Half Marathon
Columbia, MO
Oct 15
Waddell & Reed Kansas City
April Leonard, Jason Kolb, Heather Doyle, Todd Raney
5K, Half & Marathon
Kansas City, MO
Oct 15-16
Dogwood Canyon Trail Runs

15K, 25K, 50K
Lampe, MO
Oct 16
Rock 'n' Roll St. Louis
Half: Brandi Kincaid, Pete Leyva, Anita Leyva
5K (on Sat.), 10K & Half Marathon
St. Louis
Oct 16
Des Moines Marathon
Marathon/Half/5K
Des Moines, IA
Oct 21-22
Outback in the Ozarks

200-mile team relay
Eureka Springs, AR
Oct 23
Great GO! St. Louis Halloween Race
5K/10K, Half
St. Louis
Oct 30
Fayetteville Half Marathon
Half & 5K
Fayetteville, AR
Oct 30
Marine Corps Marathon
Todd Raney
Marathon
Arlington, VA
Nov 5
Ozark Trail 100
100 miles
Steelville, MO
Nov 5-6
The Skippo Trail Race
10K/20K/30K
St. Louis, MO
Nov 6
Kansas Half Marathon
Half Marathon & 5K
Lawrence, KS
Nov 6
Bass Pro Shops
Marathon: Angela Martin, April Leonard
Half: Megan Hendrickson (possible)
5K, Half & Marathon
Springfield, MO
Nov 6
St. Louis Half Marathon
Half: Ed Doney
5K, Half
St. Louis
Nov 6
New York City Marathon
Jesse Shields
Marathon
New York, NY
Nov 12
Team RWB Veterans Day Half Marathon & 4 Miler

(cancelled; will retry in spring 2017)

Half Marathon & 4-Miler
St. James, MO
Nov 12
Longview Half Marathon & 5K
Half Marathon & 5K
Kansas City, MO

Nov 12
Phoenix Summit Challenge
Gary Braman

10/15/17/25-mile trail hikes
Phoenix, AZ
Nov 13
Gobbler Grind Marathon
Marathon: Todd Raney, Ashley Pryor, Tara Grantham, Heather Doyle, John Sykes (first marathon), Marvin Bescheinen (first marathon)
Marathon/Half/5K
Overland Park, KS
Nov 19
Honoring Our Heroes


(inaugural race)

Marathon/Half/5K
Salem to Rolla, MO
Nov 19
AdventureMax Springfield Trail Run
Trevor and Aidan Dowdney
10K, Half
Highlandville, MO

Nov 19
White River Marathon for Kenya
Marathon/Half/5K
Cotter, AR
Nov 20
Route 66 Marathon
Marathon: Todd Raney
Half & Marathon
Tulsa, OK
Nov 20
Pilgrim Pacer Run
5K/10K, Half, Marathon
Shawnee, KS
Nov 30
AWS re:Invent 5K
Gary Braman
5K
Las Vegas, NV
Dec 3
Alternate Chili Trail Run
10 miles
Kansas City, KS
Dec 3
Cheese & Sauerkraut 10-Miler
10 miles
Columbia
Dec 3
You Don't Know Jack
100K/75K/50K/25K/15K & 50-mile
Carthage, MO
Dec 3
St. Jude Memphis Marathon Weekend
Marathon: Todd Raney, Scott Page, Rob Kucsik, Heather Miller
Half: Megan Hendrickson
Marathon/Half/5K
Memphis, TN
Dec 3
Panama City Beach Marathon
Marathon/Half/5K
Panama City Beach, FL
Dec 10
Hoover Dam Marathon
Todd Raney
Marathon/Half/10K/5K
Lake Mead National Park, NV
Dec 11
Half & Half / Double Half
Half & Marathon
Tulsa, OK
Dec 31
Run for the Ranch
Marathon, Marathon Relay, Half and 6-Hour Run
Springfield
Dec 31- Jan 1
The Pistol Ultra Run
50K relay, 50K, 50 miles, 100K, 100 miles
Alcoa, TN
Oct 1 2017
Mother Road Marathon
Marathon/Half/5K
Joplin, MO
* * * * *

TRIATHLONS AND DUATHLONS
IN MISSOURI AND VICINITY
2016

Date

Race Name

Distance(s)

Location

NOTE: HIGHLIGHTED DATES INDICATE THAT THE EVENT'S 2016 DATE HAS NOT YET BEEN ANNOUNCED AND/OR CONFIRMED
April 2
MaxTrax Duathlon
Short course: 1.5-mile run, 7.5-mile bike, 1.5-mile run
Long course: 1.5 mile run, 15-mile bike, 3-mile run
Columbia, MO
Apr 16
Neosho Sprint Triathlon & Duathlon


(Duathlon new for 2016)

Triathlon: 300-yard indoor pool swim, 12.5-mile bike, 3.1-mile run;
Duathlon: (distances not yet available)
Neosho, MO
Apr 24
The Chain of Rocks Bridge Duathlon
1.5-mile run, 12-mile bke, 1.5-mile run
St. Louis, MO
April 30
Trek for Trikes
Not a true duathlon (run/bike/run), but offers a 10K run or bike, or a 20K bike. Mostly on the Highline Trail. Event raises funds to provide adaptive tricycles to children with disabilities.
Bolivar, MO
May 1
Sprint triathlon: 400-meter pool swim, 14-mile bike, 3-mile run
Super sprint triathlon: 100-meter pool swim, 7-mile bike, 1-mile run
Duathlon: 1-mile run, 7-mile bike, 1-mile run
Columbia, MO
May 14
Shark Tank Triathlon

(inaugural race)

Sprint: 300-yard pool swim, 12.2-mile bike, 5K run
Super Sprint: 150-yard pool swim, 6.1-mile bike, 1.5-mile run
Seymour, MO
May 15
Kansas City Triathlon

Sprint: 500-meter swim, 20K bike, 5K run
Olympic: 1.5K swim, 40K bike, 10K run
Duathlon: 1.5-mile run, 20K bike, 5K run
Kansas City, MO
May 22
St. Louis Triathlon

(inaugural race)

Sprint: 750-meter swim, 12.4-mile bike, 5K run
Olympic: 1500-meter swim, 24.8-mile bike, 10K run
St. Louis, MO
May 22
Midwest Meltdown Triathlon & Duathlon
Short course triathlon: 750-meter swim, 10.4-mile bike, 5K run
Long course triathlon: 1.5K swim, 20.8-mile bike, 5.2-mile run
Duathlon: 1-mile run, 10.4-mile bike, 5K run
Paola, KS
June 5
Legend Free State Tri


Sprint: 500-yard swim, 12-mile bike, 5K run
Olympic: 1500-meter swim, 40K bike, 10K run
Legend 70: 1.2-mile swim, 56-mile bike, 13.1-mile run
Legend 100: 2-mile swim, 80-mile bike, 18-mile run

Lawrence, KS
June 12
Jefferson City Triathlon &
Duathlon
Triathlon: 400-meter pool swim, 12-mile bike, 3.1-mile run
Duathlon: 12-mile bike, 3.1-mile run
Jefferson City, MO
June 18
Tinman Triathlon
Short course: 400-meter swim, 13-mile bike, 3.1-mile run
Long course: 1,000-meter swim, 19-mile bike, 7-mile run
Topeka, KS
July 9
Big Shark New Town Kids Triathlon
0.62-mile swim, 20-mile bike, 4-mile run
New Town St. Charles, MO
July 10
Big Shark New Town Triathlon
0.62-mile swim, 20-mile bike, 4-mile run
New Town St. Charles, MO
July 10
Summer Roundup Triathlon
Sprint: 500-meter swim, 12.3-mile bike, 5K run
Olympic: 1500-meter swim, 40K bike, 10K run
Jasper, MO
July 10
Shawnee Mission Triathlon & Duathlon
Short course: 500-meter swim, 9-mile bike, 3.2-mile run
Long course: 1,000-meter swim, 18-mile bike, 4.5-mile run
Shawnee, KS
July 10
Lake Freebird Triathlon & Duathlon
Triathlon: 660-meter swim, 14-mile bike, 5K run
Beginners (non-competitive): 300-meter swim, 10-mile bike, 1.3-mile run
Duathlon: 14-mile bike, 5K run
Mountain Grove, MO
July 23
Mighty Max Kids Triathlon
Four age-appropriate distances for children up to age 14
Columbia, MO
July 24
Show-Me State Games Triathlon & Duathlon
Triathlon: 0.5-mile swim, 15-mile bike, 3-mile run
Duathlon: 15-mile bike, 3-mile run
Columbia, MO
July 30
WIN for KC Women's Triathlon
500-meter swim, 10-mile bike, 5K run
Smithville, MO
July 30
Route 66 Half Iron Triathlon
1.2-mile swim, 56-mile bike, 13.1-mile run
Springfield, IL
Aug 6
Warrensburg Triathlon
SuperKids Tri: (distances not available)
Trio-Tri: 3-person relay
"98.5 The Bar" Tri: 300-meter swim, 10-mile bike, 5K run
Warrensburg, MO
Aug 7
Stockton Lake Tri Wild-Life Challenge
Short course: 500-meter swim, 10.4-mile bike, 5K run
Long course: 1,000-meter swim, 20.8-mile bike, 10K run
Stockton, MO
Aug 7
Matt Mason Memorial Cowboy-UP! Triathlon
500-meter swim, 11-mile bike, 5K run
Kansas City, MO
Aug 7
Ironman Boulder Triathlon
2.4-mile swim, 112-mile bike, 26.2-mile run
Boulder, CO
Aug 12
Republic Youth Tigger Tri
Distances to be announced
Republic, MO
Aug13
Republic Tiger Tri
Super Sprint: 150-yard swim; 6.1-mile bike, 1.5-mile run
Classic Sprint: 300-yard swim, 12.2-mile bike, 5K run
Republic, MO
Aug 20
Lake St. Louis Triathlon
Short course: 0.25-mile swim, 12.3-mile bike, 2.5-mile run
Long course: 0.93-mile swim, 24-mile bike, 10K run
Lake St. Louis, MO
Aug 27
Cedar Creek Triathlon & Duathlon
Triathlon: 400-meter swim, 11-mile bike, 5K run
Duathlon: 1-mile run, 11-mile bike, 1-mile run
Olathe, KS
Sep 4
Des Moines Triathlon
(formerly the Hy-Vee Triathlon)
Sprint: 400-meter swim, 20K bike, 5K run
Olympic: 1.5K swim, 40K bike, 10K run
Des Moines, IA
Sep 11
Ironman Wisconsin

2.4-mile swim, 112-mile bike, 26.2-mile run
Madison, WI
Sep 11
Legend Ad Astra Triathlon
Sprint: 500-yard swim, 12-mile bike, 5K run
Olympic: 1500-meter swim, 40K bike, 10K run
Legend 70: 1.2-mile swim, 56-mile bike, 13.1-mile run
Lawrence, KS
Sep 17
Halfmax Championship & Quartermax Triathlons
Halfmax Championship: 1.2-mile swim, 56-mile bike, 13.1-mile run
QuarterMax: 0.6-mile swim, 28-mile bike, 10K run

Innsbrook, MO
Sep 25
Sedalia Duathlon
Short course: 2-mile run, 8-mile bike, 1-mile run
Long course: 5K run, 30K bike, 5K run
Sedalia, MO
Sep 25
Border Wars Triathlon
1.2-mile swim, 56-mile bike, 13.1-mile run
Alton, IL
Sep 25
Ironman Chattanooga Triathlon
2.4-mile swim, 112-mile bike, 26.2-mile run
Chattanooga, TN
Oct 9
Ironman Louisville Triathlon

2.4-mile swim, 112-mile bike, 26.2-mile run
Louisville, KY
Apr 22
2017
Ironman Texas Triathlon
Jim McDermott
2.4-mile swim, 112-mile bike, 26.2-mile run
The Woodlands, TX
* * * * *

CYCLING EVENTS
IN MISSOURI AND VICINITY
2016

Date

Race/Event Name

Distance(s)

Location

NOTE: HIGHLIGHTED DATES INDICATE THAT THE EVENT'S 2016 DATE HAS NOT YET BEEN ANNOUNCED AND/OR CONFIRMED
Jan 31
Rocheport Roubaix
20, 30, 55 and 70 miles
Rocheport, MO
April 11
MoBikeFed Ride with Legislators
Jefferson City, MO
April 30
The Epic (gravel road bike race)
The Epic: 150 miles
The Troll: 70-90 miles
Lake of the Ozarks
May 14
Vino Fondo
38, 58, 91 and 118 miles
Augusta, MO
May 22
The Hairy Hundred
100-mile gravel road race
Rocheport, MO
May 28-29
Pedaler's Jamboree
Music and cycling event on the Katy Trail
Columbia, MO
May 30
Tour of Kansas City Gran Fondo
20, 50, 60, 75 and 100 miles
Kansas City, MO
June 4
Dirty Kanza 200
200 miles
Emporia, KS
June 4
Tour de Cure
10, 30, 50 and 100 miles
Alton, IL
June 11
Cycle for Life
10, 25 and 50 miles
Ozark, MO
June 12
Down 'n Dirty
Varies by division
Warsaw, MO
June 18
Queen City Century
22, 45, 60, 82 and 100 miles
Springfield, MO
June 25
Tour de Lakes
10, 32, 55 and 65 miles
Lee's Summit, MO
July 16
World Naked Bike Ride--St. Louis
St. Louis, MO
July 23
Show-Me State Games Road Cycling Race
19 and 28 miles
Callaway County, MO
July 31
Show-Me State Games Mountain Bike Race
1, 1-1/2, and 3 hours
Columbia, MO
Aug 6
MO State Time Trial Championship
20K or 40K, depending on division
Centraiia, MO
Aug 20
Svitak Freedom Ride
10, 25, 40, 67 and 100 miles
Springfield, MO
Aug 20
Moonlight Ramble
10.5 and 18.5 miles
St. Louis, MO
Aug 27
Red Shoe Ride
35, 60 and 100 miles
Columbia, MO
Aug 27
BikeMO
30, 65 and 90 miles (24 and 50 miles for Katy Trail option)
Rocheport, MO
Sep 2-4
Singletrackmind Festival
Mountain biking, trail runs, etc. on the Two Rivers Bike Trail
Springfield, MO
Sep 10-11
Bike MS
Four distances offered
Godfrey, IL
Sep 18
Mountain Madness
Mountain bike races
Warsaw, MO
Sep 24
Tour de BBQ
15, 35 and 62 miles
Overland Park, KS
Sep 24-25
Pedal the Cause
15, 25, 37, 50, 75 & 100 miles
St. Louis, MO
Sep 26
Rhett's Run
Mountain bike race
Columbia, MO
Oct 1
Cystic Fibrosis Cycle for Life
25, 50 and 100 miles
St. Charles, MO
Oct 2
Tour de Wildwood
28 and 45 miles
Wildwood, MO
Oct 8-9
Hartsburg Pumpkin Festival Ride
9.5 miles from Jefferson City on the Katy Trail
Oct 9
Tour de Bass Bike Rides
25, 42, 77 and 102 miles
Springfield, MO
Oct 15
Cuban Gravel Crisis
20, 50 and 100 mile bike rides; 5K run
Cuba, MO
Oct 22
BT Epic
Mountain bike race on the Berryman Trail
Steelville, MO
Nov 5
Red Dog 100
Gravel road race
Jefferson City, MO
* * * * *

PADDLING EVENTS
IN MISSOURI AND VICINITY
2016

Date

Race Name & River

Distance(s) & Boat Type

Location

NOTE: HIGHLIGHTED DATES INDICATE THAT THE EVENT'S 2016 DATE HAS NOT YET BEEN ANNOUNCED AND/OR CONFIRMED
Aug 20
Firecracker Race
(Mississippi River -- Alton Pool)
Canoes & kayaks -- 12 miles
Paddlboards -- 3 miles
Alton, IL
Aug 27
Race for the Rivers
(Missouri River)
20 and 40 miles; canoes & kayaks
Washington, MO
Sep 10
Finger Lakes Adventure Challenge
(Finger Lakes State Park)
5K paddle, then 5K run
Columbia, MO
Sep 15


(cancelled for 2016)

Fall 36 Race
(Osage, Missouri and Gasconade Rivers)
36 miles
Canoes, kayaks & paddleboards
Starts near Loose Creek; ends at Gasconade
Sep 24-25
Two Dam Days
(Lake of the Ozarks)
92 miles (over two days), 16 miles and 1.5 miles
Lake of the Ozarks
Oct 8
Race to the Dome
(Missouri River)
Providence (26.6 miles) or Hartsburg (15.8 miles) to Jefferson City
Jefferson City, MO
Oct 22
Chattajack 31
(Tennessee River)
Trevor Dowdney

31 miles; paddleboard & kayaks
Chattanooga, TN