Weekend races:
It's not just running races that haven't fully bounced back from last year's numerous cancellations. Triathlons are suffering, too. Participation at this weekend's Republic Tiger Tri (see below) was 25% below 2019, and the WIN for KC TRYathlon was down 32% (282 versus 413).
* * * * *
REPUBLIC TIGER TRIATHLON (posted August 1st)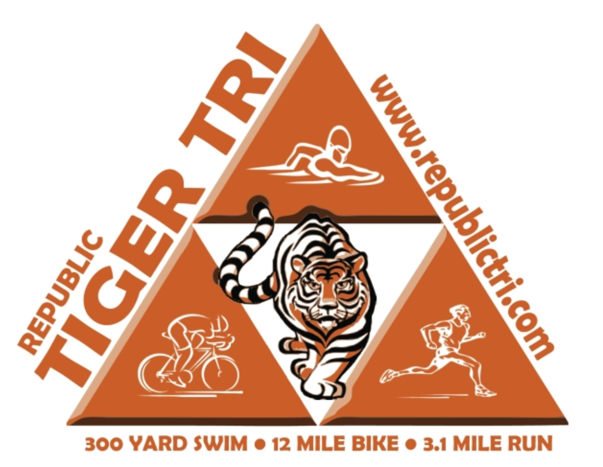 The Lake area had two competitors at the Republic Tiger Triathlon in Republic on Saturday.
Jim McDermott was there for the fifth time since 2012, and managed to beat his previous best (recorded in 2013) by 24 seconds. It was also Jim's fourth consecutive age-group victory at the race, this time over one other competitor in the 65-69 age group. Here are his splits:
Swim: 6:37 (2:13 per 100 yards)
T-1: 1:32
Bike: 36:45 (19.9 miles per hour)
T-2: 1:13
Run: 24:20 (7:51 per mile)
Finish: 1:10:24
In what's believed to be his very first triathlon, Pete Groce placed 5th (of 6) in the 55-59 age group. Here are Pete's splits, all of which are quite respectable:
Swim: 7:58 (2:40 per 100 yards)
T-1: 2:30
Bike: 41:59 (17.4 miles per hour)
T-2: 1:28
Run: 25:58 (8:23 per mile)
Finish: 1:19:50
Complete race results can be found here.
There were 83 and 77 finishers of the sprint and super sprint distances, respectively. By comparison, there were 150 and 62 in 2019, the last year the triathlon was held.
* * * * *

CHRISTMAS IN JULY 5K RUN/WALK (updated July 28th)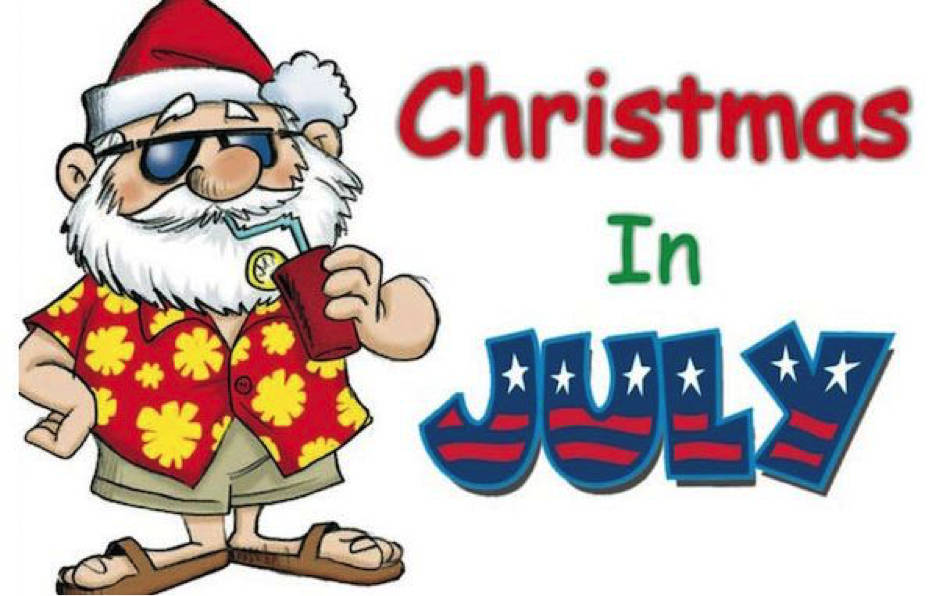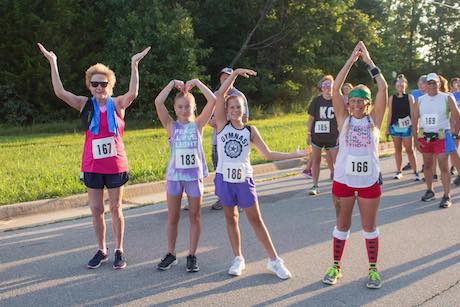 Spelling out "YMCA" at the starting line is a tradition for YMCA races. About half the field was standing in the shade on the other side of the street, trying to beat the heat from the rising sun.
Thirty-seven runners and walkers turned out Saturday morning for the Tri-County YMCA's fourth annual Christmas in July 5K, where they enjoyed an early Christmas present in the form of a wonderful, cooling breeze--something that definitely wasn't in NOAA's weather forecast. (Thank you, Santa!) Without the breeze, the race would have been just the latest in a series of brutally hot races we've had this summer, each one seemingly hotter than the previous one.
Tucker Seise made it four in a row for overall victories at YMCA 5Ks, winning in 17:42. (Tucker won this spring's Whobilation 5K in 17:10, and last year's Whobilation and Christmas in July races in 17:38 and 17:53, respectively.) Tucker handily beat Angel Aviles, a Puerto Rico native now stationed at Fort Leonard Wood, by over two minutes.
The women's race was won by 16 year-old Eva Heimsoth of Ottawa, Illinois, who was vacationing with her family at the Lake for the past week. She won in 23:26, two minutes ahead of her nearest rival. Eva is a cross country runner at Ottawa High School, and joins a long list of high school cross country runners from elsewhere who have claimed an overall victory at one of our local events.
Overall winners Tucker Seise (17:42) and Eva Heimsoth (23:26).
Here are the complete race results:
CHRISTMAS IN JULY 5K RUN/WALK
OSAGE BEACH, MISSOURI
JULY 24, 2021
RESULTS BY FINISH ORDER

Last Name

First Name

Seise

Tucker

Aviles

Angel

Heimsoth

Eva

Owens

Harley

Whitinger

Jayla

Whitinger

Jarvis

Windsand

Jim

Byrne

Zachary

Byrne

Kris

Vandiver

Renee

Walters

Ann

Davinroy

Carolyn

Kauten

Macy

Chancellor

Jessica

Glickert

Jim

Bartlett

Carla

Lebofsky

Melinda

Byrne

Steve

Byrne

Taylor

Heiser

Emma

Davis

Bridgid

Chancellor

Josey

Kauten

Michelle

Enoch

Harper

Reedy

Alyssa

Sherrill

Trinity

Windsand

Deborah

Lear

Janet

Sovcik

Samuel

Sovcik

Tomas

Shearer

Madison

Welty

Morgan

Gettler

Victoria

Cody

Jessie

Jackson

Caiden

Sovcik

Maverick

Hotop

Patty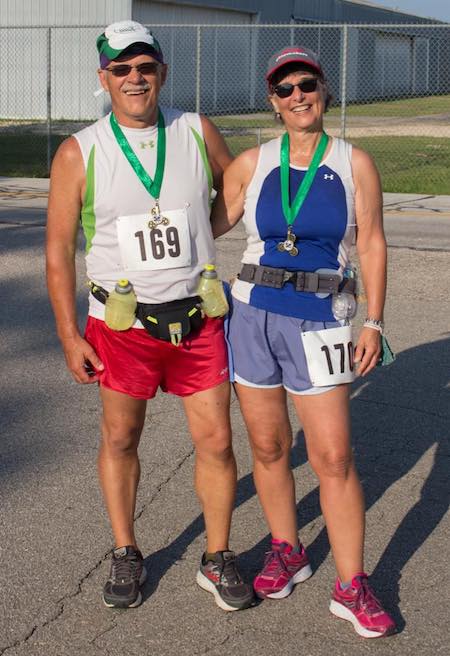 While vacationing for the first time at the Lake of the Ozarks, Michigan residents Jim and Debbie Windsand found out about the race and decided to kill two birds with one stone. They're on a mission to do a race in every state, and Debbie was able to check off Missouri. (Jim had already completed a Missouri race.)
Many more race photos can be found here.
* * * * *

2021 Archives
2020 Archives
2019 Archives
2018 Archives
2017 Archives
2016 Archives
2015 Archives
2014 Archives
2013 Archives
2012 Archives
2011 Archives
2010 Archives
2009 Archives
* * * * *

BEST DAM 5K FUN RUN/WALK (posted April 28th)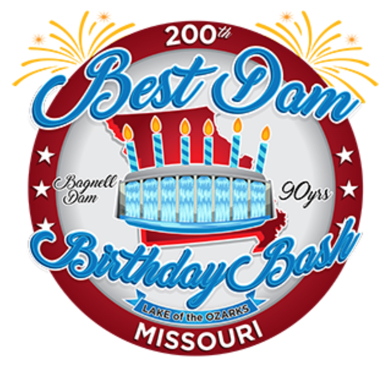 As part of the summer-long "Best Dam Birthday Bash" celebrating Bagnell Dam's 90th birthday (and Missouri's 200th), the Best Dam 5K Run/Walk will take place on Saturday, August 7th at Old Kinderhook.
The run/walk will start at 7:30 a.m. Registration that morning will open at 7:00 a.m. The entry fee is $25.00.
Note: This will not be a timed event.
* * * * *
PREGNANCY HELP CENTER'S 5K WALK/RUN FOR LIFE (posted June 26th)

'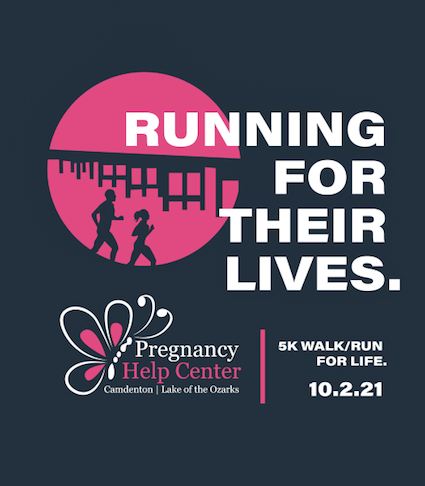 The Pregnancy Help Center of the Lake of the Ozarks (Facebook page) is holding its 5K Walk/Run for Life (Facebook page) on Saturday, October 2nd. The walk/run starts at 9:00 a.m., with race-day registration open from 7:00 to 8:30 a.m. The event has a new venue this year, at JJ Twigs Pizza & BBQ on Bagnell Dam Blvd. in Lake Ozark. (The course will still pass over the Community (toll) Bridge.) As in the past, the event will include the always popular raffle prize giveaways, childrens' activities, and food and drinks. A pre-race fun run for kids age 6 and younger is planned.
The entry fee for runners and walkers is $15 until 11:59 p.m. July 31st, and $20 thereafter. 5K participants age 11 and under are free unless they wish to be eligible for run prizes, in which case they pay the normal entry fee.
Click to register online or for all the event details. The online registration page also contains a fundraising option.
* * * * *
TRAIL OF FOUR WINDS ENDURANCE RUNS (posted May 15th)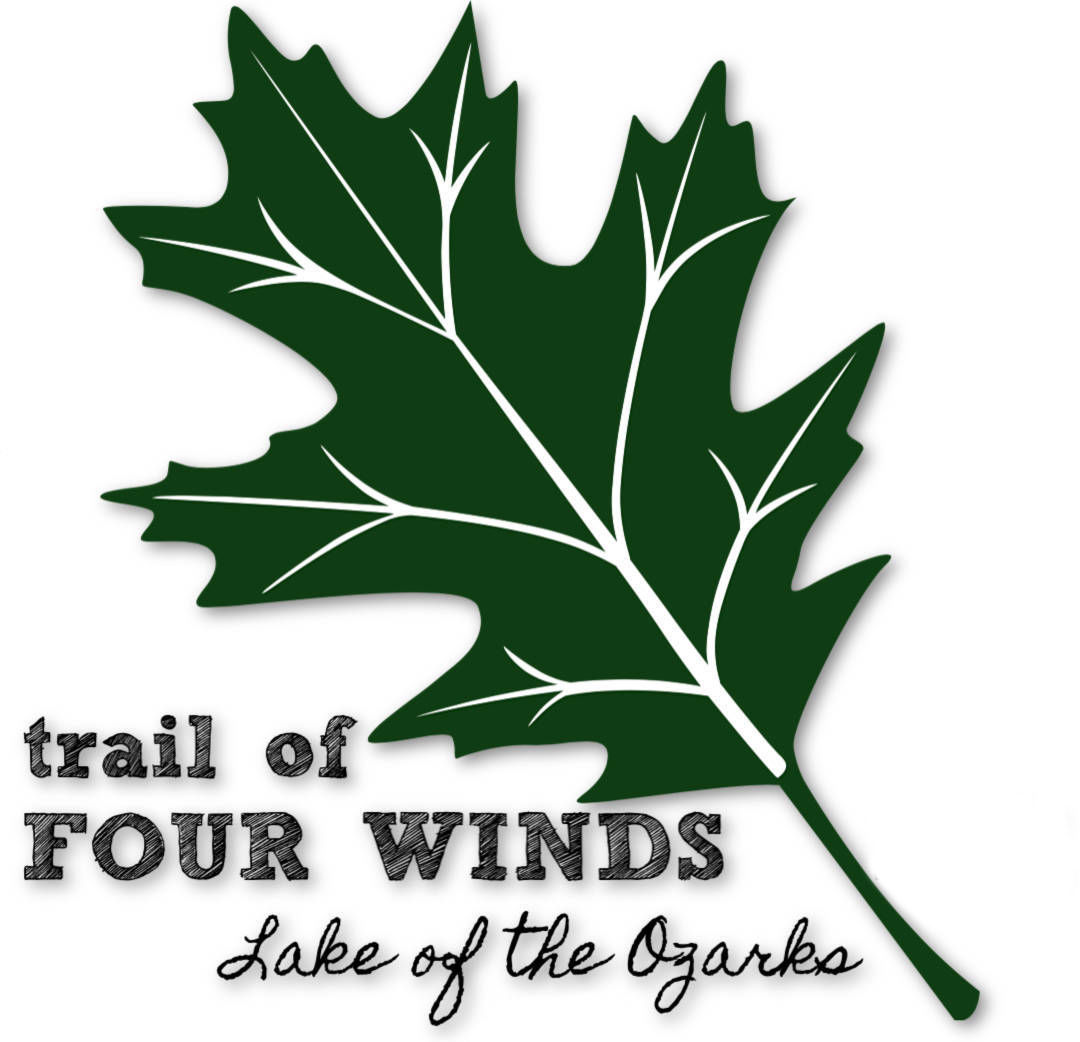 The Trail of Four Winds 25K is expanding in 2022. The expanded event, to be known as the Trail of Four Winds Endurance Runs (Facebook), will include the traditional 25K trail race, and a newly-added ultra distance race called the LOZ Traverse. The new race includes two running segments--totaling 33 miles--on two trails in the Lake of the Ozarks State Park. The running segments are separated by a four-mile (round-trip) paddling segment between the trails. (Participants must provide their own kayak/canoe/paddleboard.)
The event will take place on Saturday, May 7th.
Please visit the race's UltraSignup page for complete information, and to register.
* * * * *

Ultramarathons, Marathons & Half Marathons
(.xlsx)