WEEKEND EVENTS FOR SATURDAY & SUNDAY, NOVEMBER 25-26
If a turkey trot alone isn't enough to satisfy your racing appetite this long holiday weekend, you're in deep trouble. There are just two other events going on--both in the St. Louis area, and both on Saturday morning.
The Girl Scouts Go Run for the Cookies 5K starts at 8:00 a.m. in Maryland Heights, located near I-270 and Page Blvd. They had 224 finishers at last year's race.
Near Defiance, in southern St. Charles County, the Ride Run and Relay gives you three race options--solo bike/run, two-person relay bike/run, and duathlon (run/bike/run)--and two time options--90 and 180 minutes. (Please note that as of Monday (11/20), they only had five registered for the event, and unless they get 25 pre-registered by Wednesday evening, they plan to cancel it.) (Update: It's been cancelled.)
Don't forget to check out the Lake of the Ozarks Runners Facebook page to see if anyone will be sufficiently recovered from their turkey-induced tryptophan comas on Thursday to go out and run sometime later on this weekend.
* * * * *
THANKSGIVING DAY RACES (posted November 11th)
Thanksgiving Day is the single biggest race day of the year in the United States. One miilion people, including around 40,000 in Missouri alone, will be doing a "turkey trot" that morning.
In the Lake area, the Laker 5K Turkey Trot will start at 9:00 a.m. at Camdenton High School. Complete details can be found further down this column under "Upcoming Events".
Here's the list of races being held across Missouri on Thanksgiving Day, ranked from biggest to smallest:
THANKSGIVING DAY RACES IN MISSOURI
NUMBER OF FINISHERS
City
Race
2016
2015
2014
Springfield
2urkey Trot 5K Run

7,215

7,002

6,733

Kirkwood
Kirkwood Webster Turkey Day Run
(3 miles, 6 miles, and both distances)

4,863

4,504

4,047

Kansas City
Ward Parkway Thanksgiving Day 5K

3,860

3,151

2,689

St. Charles
Turkey Trot STL 5K

3,334

2,602

2,598

Kansas City
Thanksgiving Day 5K Run & Family Stroll

3,191

3.104

3,537

Chesterfield
Chesterfield Turkey Trot 5K

2,599

2,457

2,184

St. Louis
(Tower Grove Park)
St. Louis Turkey Trot 8K (held in Forest Park in 2016 and prior years)

2,160

1,020

NA

Arnold
Turkey Trot STL 5K

1,530

1,479

1,118

Parkville
Parkville Turkey Trail Trot

1,449

1,284

1,177

Joplin
Joplin Turkey Trot

1,293

859

622

Columbia
Turkey Trax 5K

1,289

1,173

912

Eureka
Turkey Trot STL 5K

1,127

1,207

1,143

Kansas City
Pilgrim Run 5K

1,085

894

886

Branson
Branson Turkey Trot 5K

928

775

544

Jefferson City
Thanksgiving Day Pie Run 5K/10K

758

723

813

Olivette
(St. Louis County)
Olivette Turkey Trot 5K

760

616

211

St. Louis (Downtown)
The Hungry Turkey 5K

702

785

868

Chesterfield
Gobble Wobble 5K

304

321

386

Sappington
(St. Louis County)
Run for Ryan 5K

260

288

NA

Mt. Vernon
Mountaineer Turkey Strut 5K

241

192

185

Ozark
Turkey Scramble 5K/10K

199

NA

204

Camdenton
Laker 5K Turkey Trot

180

166

145

Rolla
Galloping Gobbler for G.R.A.C.E. 5K/10K

150

147

58

Mexico
Turkey Trot 5K

NA

NA

98

Troy
Thanksgiving Day Turkey Trot 5K

NA

NA

NA

Lebanon
Turkey Trot 5K

NA

NA

NA

Festus
YMCA Thanksgiving Day Workout 5K

NA

NA

NA

Pierce City
Pilgrims Run 5K

56

NA

NA

Farmington
Tukey Trot 5K

NA

NA

NA

St. Louis (downtown)
Turkey Trot STL (inaugural)

NA

NA

NA

TOTAL

39,533

34,782

29,981
* * * * *
Lake of the Ozarks Runners 2018 T-Shirts and Tank Tops: Shirt requests are still being taken.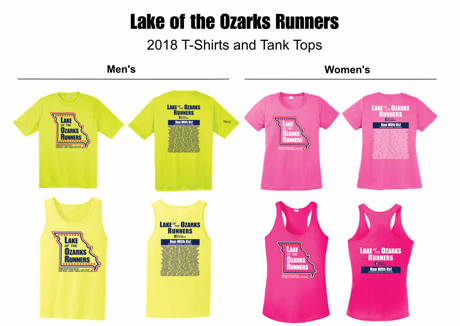 * * * * *

WILLIAMS ROUTE 66 MARATHON, MARATHON RELAY, HALF MARATHON & 5K (posted November 19th)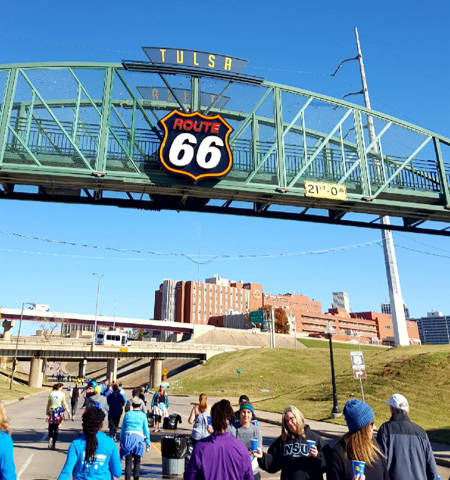 Photo provided by Scott Gray.
It was a beautiful, but a tad chilly, day in Tulsa for the unusually popular Williams Route 66 Marathon and Marathon. Tulsa's premier race draws more runners than St. Louis' and Kansas City's biggest full and half marathons, despite having only one-half to one-third of their metro-area populations. It's also become an annual Woodstock of sorts for the Marathon Maniacs, Half Fanatics and 50-staters, with about 800 of their members descending upon the race this year for a group sufferfest.
Two runners from the Lake area participated at Route 66 for the first time. Jayna and Scott Gray ran the half marathon side-by-side and finished in 3:26:57. That placed Jayna 454th (of 503) in the women's 35-39 age group, and Scott 212th (of 272) in same age group for the men.
Full results can be found here. Interestingly, the winner (from Argentina) of Sunday's marathon (in 2:34:10) also won Saturday's 5K (in 16:56).
Participation was down slightly from last year. Here are the total number of finishers, by race:
| | 2015 | 2016 | 2017 | % Change |
| --- | --- | --- | --- | --- |
| Marathon | 2,590 | 1,512 | 1,564 | 3% |
| Half Marathon | 6,240 | 4,939 | 4,728 | (4%) |
| 5K | 1,861 | 1,877 | 1,903 | 1% |
| Total | 10,691 | 8,328 | 8,195 | (2%) |
One of the nice features of Route 66 is that, even though course support closes after 6-1/2 hours and no official times are recorded after 7-1/2 hours, the finish line remains "up" for later finishers. The final finishers today crossed the line in 9:29:xx, with quite a few spectators cheering them on. You can see a video clip of it (and lots of other interesting items) on the Route 66 Facebook page.
* * * * *
RACE FOR HONOR 5K RUN/WALK (posted November 19th)
No matter how long you've been racing, you've done races that, had they been held one day earlier or later, the weather for it would have been much better, or much worse. At yesterday's second annual Race for Honor 5K in Lake Ozark, a difference of one hour, either way, would have made a big difference weatherwise.
About twenty runners stood at the starting line at 8:00 a.m. in breezy, but mild, 65° weather just as a cold front started moving in. By 9:00 a.m., when the last of the runners had crossed the finish line, the temperature had dropped to the upper 40s, and winds were gusting to 25 mph. (It could have been worse, actually--rain started falling minutes after the award ceremony ended and everyone headed off.)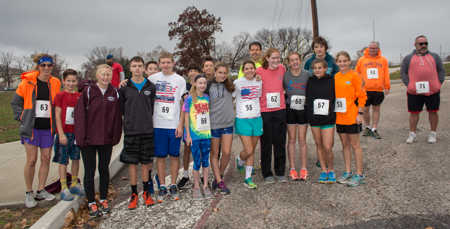 Compare the outfits at the start of the race (above) with those of some of the volunteers along the course a short time later (below).
Despite the crazy weather, everyone had a great time and helped support a wonderful cause, the Central Missouri Honor Flight, which sends World War II and other war-time veterans to Washington, D.C. to visit the memorials built to honor their service and sacrifices. The race was organized by the School of the Osage's Interact Club.
You snooze, you lose. That was the lesson of the day in the men's race, as last year's winner, Osage High School senior cross country runner Derrick Puckett, showed up late and tried valiantly--though unsuccessfully--to catch this year's winner, OHS sophomore Chase Grosvenor.
Another OHS sophomore cross country runner, Sarah Porter, was the overall female winner.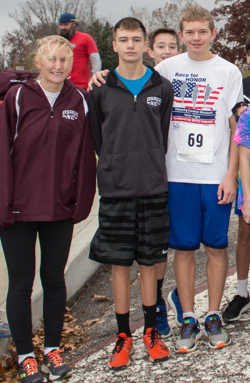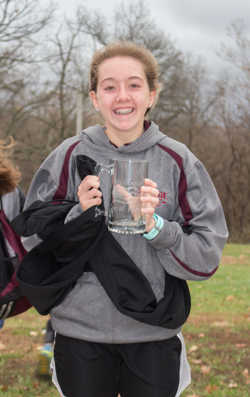 Left photo: Men's winner Chase Grosvenor (center), flanked by race director Micah Hill and Cooper Vickers. Right photo: First-time Lake-area 5K overall winner Sarah Porter.
More photos from the race, including those below, can be found here.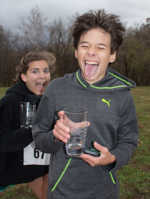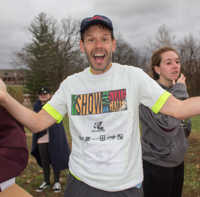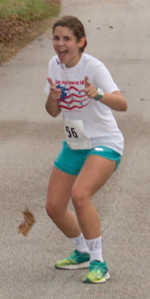 What's that old adage about nuts not falling far from the tree?
* * * * *
HONORING OUR HEROES MARATHON, MARATHON RELAY, HALF MARATHON & 5K (posted November 18th)

Pity those brave souls who participated in the second annual Honoring Our Heroes Marathon, Marathon Relay, Half Marathon & 5K on Saturday. The cold front that moved through central Missouri mid morning not only brought a 20-degree temperature drop and light rain during the race, but the full and half marathon runners also had to contend with strong, gusty headwinds for nearly their entire race. (Last year's inaugural race featured cold temperatures and subfreezing wind chills, as well.)
One of the marathon finishers was from the Lake area--Scott Baker of Osage Beach. Scott, who was wearing bib #1, finished in 5:46:03, and placed fourth (of four) in the men's 45-49 age group.
Our friend Meiissa Martinez of Crocker was the third woman to finish, crossing the line in 4:10:00. Melissa won the women's 45-49 age group over one other competitor, but by less than two minutes. (This made it three consecutive weekends with a long race for Melissa. She ran the Bass Pro Marathon two weeks ago, and the Dogwood Canyon 15K and 50K trail runs last weekend. Her biggest race is yet to come--the 100-mile You Don't Know Jack in Carthage on December 9th.)
The most notable finish of all has to belong to military veteran Bob Gravley of Salem, Missouri, who completed the marathon in 7:12:25--not bad for a guy in his 80s. (He finished last year in 6:41:59.)
Complete race results can be found here.
Participation was down slightly from last year. Here are the total number of finishers, by race:
2016 2017

Marathon - solo 32 46
Marathon - teams 3 0
Half marathon 108 68
5K 58 69
Total 201 183
* * * * *

2017 Archives
2016 Archives
2015 Archives
2014 Archives
2013 Archives
2012 Archives
2011 Archives
2010 Archives
2009 Archives
* * * * *

LAKER 5K TURKEY TROT (posted October 29th)
One of the Lake's five-largest running races, the Laker 5K Turkey Trot, will return for its eighth year on Thanksgiving Day. The race starts at 9:00 a.m. at Camdenton High School. Race-day registration opens at 7:30 a.m.
The entry fee for those who pre-register is $20. On race day, the fee rises to $25.. Only those who pre-register by November 10th will be guaranteed a t-shirt on race day.
All proceeds from the event go to Lake area food pantries. Runners are also encouraged to bring canned or boxed food items for the pantries.
Click for a flyer/registration form.
* * * * *
RUNNING OF THE ELVES 5K RUN/WALK (posted November 3rd)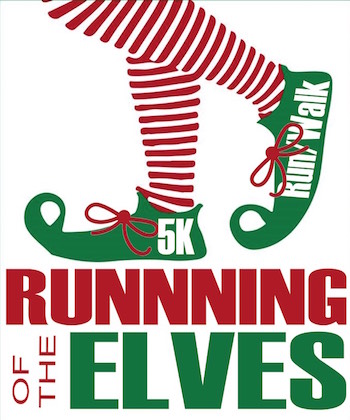 The second annual Running of the Elves 5K Run/Walk, sponsored by the Camdenton Area Chamber of Commerce, will be held on Saturday, December 2nd. It will start at the Camdenton Square at 8:30 a.m., with race-day registration opening at 7:30 a.m.
The entry fee is $25 for those who register by the pre-registration deadline of November 17th. T-shirts (sporting an Elf design) and Elf hats (with ears) will be guaranteed only to those who pre-register by the November 17th deadline. After that date, the entry fee is $30.
Click for a flyer/registration form.
* * * * *
ELDON ROCK ISLAND ROAD RACE (posted November 6th)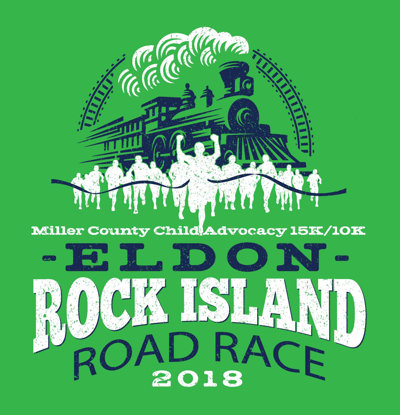 A brand-new race is coming to Eldon next June. The inaugural Eldon Rock Island Road Race will be held on Saturday, June 9th, and will feature 15K and 10K race distances. It will start at 7:00 a.m. at the Rock Island Park in the heart of Eldon. The race is organized by and benefits the Miller County Child Advocacy Council, which organized the former Run for the Children Half Marathon for five years.
Course information is not yet available.
Split-Second Timing will handle race timing and results.
Registration is already open. You can register online, or click here to download a mail-in registration form. Entry fees will rise on January 1st, May 16th, and on race day.
* * * * *

HALF MARATHON, MARATHON & LONGER RUNNING RACES
IN MISSOURI AND VICINITY
2017

Date

Race Name

Distances

Location

NOTE: HIGHLIGHTED DATES INDICATE THAT THE EVENT'S 2017 DATE HAS NOT YET BEEN ANNOUNCED AND/OR CONFIRMED
Dec 10, 2016
Hoover Dam Marathon
Todd Raney
Marathon/Half/10K/5K
Lake Mead National Park, NV
Dec 11, 2016
Half & Half / Double Half
Half & Marathon
Tulsa, OK
Dec 31, 2016
Run for the Ranch
Marathon, Marathon Relay, Half and 6-Hour Run
Springfield, MO
Dec 31- Jan 1
The Pistol Ultra Run
50K relay, 50K, 50 miles, 100K, 100 miles
Alcoa, TN
Jan 1
Hangover Half Marathon & 5K
Half Marathon & 5K
Leawood, KS
Jan 14
Runner's Choice 5K/10K


(cancelled)

5K & 10K
Columbia, MO
Jan 14
Cabin Reliever 20K &
Resolution 5K

(Postponed until Jan. 21)

20K & 5K
Rogersville, MO
Jan 15
Chevron Houston Marathon
Marathon & Half
Houston, TX
Jan 15
Rock 'n' Roll Arizona
Marathon: Todd Raney
Marathon & Half
Phoenix, AZ
Jan 21
Wildwood Frozen Feet 13.1M Trail Race
Half Marathon
Wildwood, MO
Jan 21
David's Trail Endurance Run
25K: Gary Braman, Chris Boyle, John Shelby
50K, 25K & 7K

Mountain Home, AR
Jan 28
St. Louis Track Club Frostbite Series
Half Marathon & 4-mile
St. Louis, MO
Feb 4
Chocolate Rush Half Marathon & 5K
Half Marathon & 5K
Olathe, KS
Feb 5
Surf City MarathonMarathon: Todd Raney
Marathon & Half
Huntington Beach, CA
Feb 11
Run with the Wind 25K
25K; solo and 3-team relay
Sarcoxie, MO
Feb 11
Heart of the Ozarks
Half Marathon, relay & 10K
West Plains, MO
Feb 11
Mississippi River Marathon
Todd Raney
Marathon & Half
Lake Village, AR to Greenville, MS
Feb 12
Fort Smith Marathon
Marathon/Half/relays
Fort Smith, AR
Feb 19
Austin Marathon
Marathon & Half
Austin, TX
Feb 19
Fort Lauderdale A1A Marathon
Todd Raney
Marathon & Half
Fort Lauderdale, FL
Feb 25
Clinton Historic Half Marathon & 5K


(inaugural race)

Half Marathon & 5K
Clinton, MO
Feb 25
Psycho Wyco Run Toto Run
50K, 20-mile & 10-mile trail runs
Kansas City, KS
March 4
Myrtle Beach Marathon
Todd Raney
Marathon & Half
Myrtle Beach, SC
March 4
Liberty Hospital Half


(inaugural race)

Half Marathon & 5K
Kansas City, MO
March 5
Little Rock Marathon
Marathon, Half & 10K
Little Rock, AR
March 11
Lucky 13.1 Half Marathon & 5K
Half Marathon & 5K
Peculiar, MO
March 11
Dublin's Pass ShamRox Run
15K & 5K
Springfield, MO
March 12
ShamRox Columbia
15K & 5K
Rocheport, MO
March 17,18,19
3 Days of Syllamo
Day 1: 50K
Day 2: 50 miles
Day 3: 20K
Blanchard Springs, AR
March 18
Sedalia Half Marathon
(Facebook page)
Half Marathon & 5K
Sedalia, MO
March 19
Relay & Run for 21K
Half Marathon, 7K & Relay
St. Louis, MO
March 25
Bridge & Dam Half Marathon & 5K/10K
Half Marathon/10K/5K
Lake Ozark, MO
March 25
Highline Run for Scouting
Half Marathon & 5K
Springfield, MO
March 26
Queens Marathon
Todd Raney
Marathon
New York, NY
April 1
Do or Die Half Marathon & 5K
Half Marathon & 5K
Rocheport to Boonville, MO
April 1
Badge of Honor Run
Half Marathon/10K/5K
Poplar Bluff, MO
April 1
Big Party Half Marathon
Half Marathon & 5K
Springfield, MO
April 1
Mission Run in the Ozarks
Marathon/Half/5K
Mountain Home, AR
April 2
Brew to Brew
43.5 miles--solo and relays
Kansas City to Lawrence, KS
April 8
Rock the Parkway
Half Marathon & 5K
Kansas City, MO
April 8
Hogeye Marathon & Relays

Marathon/Half/Relays
Fayetteville, AR
April 9
GO! St. Louis
Marathon: Gary Braman
Marathon/Relay/Half
St. Louis, MO
April 9
Vernonia Marathon
Todd Raney
Marathon & Half
Banks, OR
April 15
Double Chubb Trail Race
50K & 25K
Eureka, MO
April 15
Go Girl Run--Springfield
Half Marathon & 5K
Springfield, MO
April 22
Run for the Children Half Marathon & 10K
Half Marathon & 10K
Eldon, MO
April 22
Garmin Marathon
Marathon/Half//10K
Olathe, KS
April 22
Illinois Marathon

Marathon/Half/10K/5K
Champaign-Urbana, IL
April 23
Northland Half Marathon & 5K
Half Marathon & 5K
Riverside, MO (near KC)
April 23
Glass City Marathon
Todd Raney
Marathon & Half
Toledo, OH
April 29
Frisco Railroad Run
50 miles/50K/
Marathon/Half/10-mile & 8K
Willard, MO
April 29
Run for Their Lives


(cancelled)

Half Marathon & 5K
Owensville, MO
April 30
Oklahoma City Memorial Marathon
Marathon/Relay/Half/5K
Oklahoma City, OK
May 6
Trail to a Cure Ride/Run/Walk (final race--TTAC ceasing operations)
Half Marathon, 10K & 5K
Rocheport, MO
May 7
Half Marathon & 5K
Independence, MO
May 13
Running with the Cows
Half Marathon & 5K
Bucyrus, KS
May 13
RiverTownRun
Half Marathon & 5K
Washington, MO
May 20

Striker Life Half Marathon
Half Marathon, 10K & 5K
Whiteman AFB, Knob Noster, MO
May 20
Joplin Memorial Run
Marathon/Half & 5K

Joplin, MO
May 20
Berryman 50-Mile & Marathon
50-mile course sweepers: Chris Boyle, Gary Braman & John Shelby
50-Mile & Marathon
Steelville, MO
May 20
Great American Bacon Race
Half Marathon & 5K
Branson, MO
May 20
Fargo Marathon
Todd Raney
Marathon & Half
Fargo, ND
May 21
Race 13.1 St. Louis
Half Marathon & 5K
St. Charles, MO
June 3
Go Girl Run--Columbia
Half Marathon & 5K
Columbia, MO
June 3
GO! Missouri KT82 Trail Relay
82-mile Katy Trail relay race
St. Louis, MO
June 3
Half Marathon, 10K & 5K
Kansas City, MO
June 10
Run for a Vet
Half Marathon & 5K
Branson, MO
June 10
In2Action Trail Run
Half Marathon & 5K
Columbia, MO
June 17
Grandma's Marathon
Todd Raney
Marathon & Half
Duluth, MN
July 9
Mad Marathon
Todd Raney
Marathon & Half
Waitsfield, VT
July 15
Get Your Butt Kicked @ Route 66
6-hour run
Eureka, MO
July 22
Psycho Psummer Trail Run
50K, 20-mile, 10-mile
Kansas City, KS
July 22
Madison Marathon
Todd Raney
Marathon & Half
Montana
July 23
Big Sky Marathon
Todd Raney
Marathon & Half
Montana
July 24
Deseret News Marathon
Todd Raney
Marathon/Half/10K/5K
Salt Lake City, UT
Aug 19
Harder Than Hell Half Marathon
Half Marathon
Highlandville, MO
Aug 26
Nebraska State Fair Marathon
Todd Raney
Marathon, Half & 5K
Grand Island, NE
Aug 27
Corps of Discovery
Half Marathon & 5-Mile trail runs
St. Charles, MO
Sep 2
Forrest Gump Challenge
50K, Marathon, Half & 5K
Reeds Spring, MO
Sep 3
Flatlanders 6/12 Hour Run
6 or 12 hours
Fenton, MO
Sep 4
Heart of America Marathon

Marathon
Columbia
Sep 10
Sioux Falls Marathon
Todd Raney
Marathon, Half & 5K
Sioux Falls, SD
Sep 10
Go Girl Run--Kansas City
Half Marathon & 5K
Kansas City, MO
Sep 16-17
Mark Twain 50/100
Chris Boyle (50-mile)
50 & 100 miles
Mark Twain Forest
Sep 16
North Shore Trail Run
5K/10K, Half
Lawrence, KS
Sep 23
Pub 2 Pub Half Marathon
Half Marathon
Rolla, MO
Sep 23
Sundance to Spearfish Marathon
Todd Raney
Marathon
Wyoming to South Dakota
Sep 24
Broadway Bridge Run
5K/10K, Half
Kansas City, MO
Sep 24
Quad Cities Marathon
Marathon/Half/5K
Moline, IL
Sep 30
Roots 'n Blues 'n BBQ Festival

10K, Half
Columbia, MO
Sep 30
Run the Burg
5K/10K, Half
Warrensburg, MO
Sep 30
Pony Express Run
Half Marathon & 5K
St. Joseph, MO
Sep 30
Belleville Main Street Marathon
Marathon
Belleville, IL
Oct 1
Mother Road Marathon
Marathon/Half/5K
Joplin, MO
Oct 1

MO' Cowbell Marathon
Marathon: Ed Doney (first marathon)

5K, Half & Marathon
St. Charles, MO
Oct 1
Double Road Race
10K+5K
Overland Park, KS
Oct 1
Grand Country Half Marathon & 5K
Half Marathon & 5K
Branson, MO
Oct 1
Maine Marathon
Todd Raney
Marathon
Portland, ME
Oct 7
Frog Hill Half Marathon & 5K/10K
Half Marathon & 10K
(5K on Friday evening)
Waynesville, MO
Oct 7
Panther Run
5K/10K/15K
Springfield, MO
Oct 7
Rock Bridge Revenge
7 miles, 25K, 50K
Columbia, MO
Oct 8
Chicago Marathon
Marathon
Chicago, IL
Oct 14
Bear Creek Run
Half Marathon
Columbia, MO
Oct 14
AdventureMax Springfield Trail Run
10K, Half
Highlandville, MO

Oct 15
Rock 'n' Roll St. Louis
5K (on Sat.), 10K & Half Marathon
St. Louis
Oct 15
Des Moines Marathon
Marathon/Half/5K
Des Moines, IA
Oct 15
Green Mountain Marathon
Todd Raney
Marathon
South Hero, VT
Oct 21
Kansas City Marathon
5K, 10K, Half & Marathon
Kansas City, MO
Oct 22
Great GO! St. Louis Halloween Race
5K/10K, Half
St. Louis, MO
Oct 22
Atlantic City Marathon
Todd Raney
Marathon
Atlantic City, NJ
Oct 27-28
Outback in the Ozarks

200-mile team relay
Eureka Springs, AR
Oct 28
FLATS Trail Half Marathon
Half Marathon
Kirksville, MO
Oct. 29
Good Life Halfsy
Scott Gray
Half Marathon
Lincoln, NE
Oct 29
Spooky Sprint Half(aka "Halloween Hustle")
Half Maathon/10K/5K
Kansas City, MO
Nov 4
Ozark Trail 100
100 miles
Steelville, MO
Nov 4-5
The Skippo Trail Race
10K/20K/30K
St. Louis, MO
Nov 5
Kansas Half Marathon
Half Marathon & 5K
Lawrence, KS
Nov 5
Bass Pro Shops
Marathon: Jim McDermott, Josiah Peterson
5K, Half & Marathon
Springfield, MO
Nov 5
St. Louis Half Marathon
Half: Ed Doney
5K, Half
St. Louis
Nov 5
New York City Marathon
Jesse Shields
Marathon
New York, NY
Nov 11
Longview Half Marathon & 5K
Half Marathon & 5K
Kansas City, MO

Nov 11
Fayetteville Half Marathon
Half & 5K
Fayetteville, AR
Nov 11
Dogwood Canyon Trail Runs
15K
Lampe, MO
Nov 12
Dogwood Canyon Trail Runs
25K & 50K
Lampe, MO
Nov 12
Cotton Land Marathon
Todd Raney, Mark Kempf
Marathon
West Monroe, LA (home of "Duck Dynasty")
Nov 18
Honoring Our Heroes
Marathon/Half/5K
Salem to Rolla, MO
Nov 18
White River Marathon for Kenya
Marathon/Half/5K
Cotter, AR
Nov 19
Route 66 Marathon
Half: Scott Gray; Jayna Gray
Half & Marathon
Tulsa, OK
Nov 19
Pilgrim Pacer Run
5K/10K, Half, Marathon
Shawnee, KS
Dec 2
Alternate Chili Trail Run
10 miles
Kansas City, KS
Dec 2
Southernmost Marathon
Angela Martin
Marathon & Half


Rescheduled from Oct. 7th due to Hurricane Irma damage

Key West, FL
Dec 2
Cheese & Sauerkraut 10-Miler
10 miles
Columbia
Dec 2
St. Jude Memphis Marathon Weekend
Marathon/Half/5K
Memphis, TN
Dec 2
Panama City Beach Marathon
Aaron Koeppen, Gary Braman
Marathon/Half/5K
Panama City Beach, FL
Dec 9
You Don't Know Jack
100K: Scott Page, Alysia Maschino, Jen Wiethop (Curtis Wehmeyer possible)
50K: Payton Bartlett
200K/100K/75K/50K/25K/15K/5K & 100-mile
Carthage, MO
Dec 10
Half & Half / Double Half
Half & Marathon
Tulsa, OK
Dec 10
Honolulu Marathon
Todd Raney
Marathon
Honolulu, HI
Dec 16
Hawaii Bird Conservation Marathon
Todd Raney
Marathon (inaugural race)
Volcano to Hilo, Hawaii
Dec 16
Jacob Wells 3 Bridges Marathon
Marathon
Little Rock, AR
Dec 30
Run for the Ranch
Marathon: Scott Page possible
Marathon, Marathon Relay, Half and 6-Hour Run
Springfield

2018

Jan19-20
David's Trail Endurance Run
50K: Gary Braman
Friday night: 11K (new for 2018)
Saturday: 50K, 25K & 7K
Mountain Home, AR
March 4
Rock 'n' Roll New Orleans
Marathon & Half
New Orleans, LA
March 24
Bridge & Dam
Half Marathon, 10K, 5K; Double Down (half+10K) and All-In (half+10K+5K) Challenges
Lake Ozark, MO
May
Ha Ha Half Marathon
Trail half marathon
Ha Ha Tonka State Park
June 9
Eldon Rock Island Road Race
15K and 10K
Eldon, MO
* * * * *

TRIATHLONS AND DUATHLONS
IN MISSOURI AND VICINITY
2017

Date

Race Name

Distance(s)

Location

NOTE: HIGHLIGHTED DATES INDICATE THAT THE EVENT'S 2016 DATE HAS NOT YET BEEN ANNOUNCED AND/OR CONFIRMED
Apr 22

Ironman Texas Triathlon
Jim McDermott
2.4-mile swim, 112-mile bike, 26.2-mile run
The Woodlands, TX
Apr 23
The Chain of Rocks Bridge Duathlon
1.5-mile run, 12-mile bke, 1.5-mile run
St. Louis, MO
April 30
Trek for Trikes
Not a true duathlon (run/bike/run), but offers a 10K run or bike, or a 20K bike. Mostly on the Highline Trail. Event raises funds to provide adaptive tricycles to children with disabilities.
Bolivar, MO
May 7
Sprint triathlon: 400-meter pool swim, 14-mile bike, 3-mile run
Super sprint triathlon: 100-meter pool swim, 7-mile bike, 1-mile run
Duathlon: 1-mile run, 7-mile bike, 1-mile run
Columbia, MO
May 13
Trek for Trikes
Not a true duathlon (run/bike/run), but offers a 10K run or bike, or a 20K bike. Mostly on the Highline Trail. Event raises funds to provide adaptive tricycles to children with disabilities.
Bolivar, MO
May 14
Kansas City Triathlon

Sprint: 500-meter swim, 20K bike, 5K run
Olympic: 1.5K swim, 40K bike, 10K run
Duathlon: 1.5-mile run, 20K bike, 5K run
Kansas City, MO
May 21
St. Louis Triathlon
Sprint: 750-meter swim, 12.4-mile bike, 5K run
Olympic: 1500-meter swim, 24.8-mile bike, 10K run
St. Louis, MO
May 27
Iron Horse Duathlon
Duathlon: 5K run, 30K bike, 5K run
Parsons, KS
June 10
Halfmax Championship & Quartermax Triathlons
Halfmax Championship: 1.2-mile swim, 56-mile bike, 13.1-mile run
QuarterMax: 0.6-mile swim, 28-mile bike, 10K run

Innsbrook, MO
June 11
Jefferson City Triathlon &
Duathlon
Triathlon: 400-meter pool swim, 12-mile bike, 3.1-mile run
Duathlon: 12-mile bike, 3.1-mile run
Jefferson City, MO
June 17
Legend Free State Tri


Sprint: 500-yard swim, 12-mile bike, 5K run
Olympic: 1500-meter swim, 40K bike, 10K run
Legend 70: 1.2-mile swim, 56-mile bike, 13.1-mile run
Legend 100: 2-mile swim, 80-mile bike, 18-mile run

Lawrence, KS
June 17
Topeka Tinman Triathlon
Short course: 400-meter swim, 13-mile bike, 3.1-mile run
Long course: 1,000-meter swim, 19-mile bike, 7-mile run
Topeka, KS
Jun 24
Neosho Sprint Triathlon

Triathlon: 300-yard indoor pool swim, 12.5-mile bike, 3.1-mile run;

Neosho, MO
July 8
Big Shark New Town Kids Triathlon
0.62-mile swim, 20-mile bike, 4-mile run
New Town St. Charles, MO
July 9
Big Shark New Town Triathlon
0.62-mile swim, 20-mile bike, 4-mile run
New Town St. Charles, MO
July 9
Summer Roundup Triathlon
Sprint: 500-meter swim, 12.3-mile bike, 5K run
Olympic: 1500-meter swim, 40K bike, 10K run
Jasper, MO
July 9
Shawnee Mission Triathlon & Duathlon
Short course: 500-meter swim, 9-mile bike, 3.2-mile run
Long course: 1,000-meter swim, 18-mile bike, 4.5-mile run
Shawnee, KS
July 15
Mighty Max Kids Triathlon
Four age-appropriate distances for children up to age 14
Columbia, MO
July 23
Show-Me State Games Triathlon & Duathlon
Triathlon: 0.5-mile swim, 15-mile bike, 3-mile run
Duathlon: 15-mile bike, 3-mile run
Columbia, MO
July 29
WIN for KC Women's Triathlon & Duathlon
Triathlon: 500-meter swim, 10-mile bike, 5K run
Duathlon: 1.5-mile run, 10-mile bike, 5K run
Smithville, MO
July 29
Route 66 Half Iron Triathlon
1.2-mile swim, 56-mile bike, 13.1-mile run
Springfield, IL
July 30
Lake Freebird Triathlon & Duathlon
Triathlon: 660-meter swim, 14-mile bike, 5K run
Beginners (non-competitive): 300-meter swim, 10-mile bike, 1.3-mile run
Duathlon: 14-mile bike, 5K run
Mountain Grove, MO
Aug 6
Stockton Lake Tri Wild-Life Challenge
Short course: 500-meter swim, 10.4-mile bike, 5K run
Long course: 1,000-meter swim, 20.8-mile bike, 10K run
Stockton, MO
Aug 6
Matt Mason Memorial Cowboy-UP! Triathlon
500-meter swim, 11-mile bike, 5K run
Kansas City, MO
Aug 11
Republic Youth Tigger Tri
Distances to be announced
Republic, MO
Aug12
Republic Tiger Tri
Super Sprint: 150-yard swim; 6.1-mile bike, 1.5-mile run
Classic Sprint: 300-yard swim, 12.2-mile bike, 5K run
Republic, MO
Aug 12
Warrensburg Triathlon
SuperKids Tri: (distances not available)
Trio-Tri: 3-person relay
"98.5 The Bar" Tri: 300-meter swim, 10-mile bike, 5K run
Warrensburg, MO
Aug 19
Lake St. Louis Triathlon
Short course: 0.25-mile swim, 12.3-mile bike, 2.5-mile run
Long course: 0.93-mile swim, 24-mile bike, 10K run
Lake St. Louis, MO
Sep 10
Legend Ad Astra Triathlon
Sprint: 500-yard swim, 12-mile bike, 5K run
Olympic: 1500-meter swim, 40K bike, 10K run
Legend 70: 1.2-mile swim, 56-mile bike, 13.1-mile run
Lawrence, KS
Sep 16
Redman Triathlon
Full: 2.4-mile swim, 112-mile bike, 26.2-mile run
Half: 1.2-mile swim, 56-mile bike, 13.1-mile run
Oklahoma City, OK
Sep 24
Sedalia Duathlon
Short course: 2-mile run, 8-mile bike, 1-mile run
Long course: 5K run, 30K bike, 5K run
Sedalia, MO
Sep 24
Border Wars Triathlon

(Cancelled)

1.2-mile swim, 56-mile bike, 13.1-mile run
Alton, IL
Sep 24
Ironman Chattanooga Triathlon
2.4-mile swim, 112-mile bike, 26.2-mile run
Chattanooga, TN
Oct 15
Ironman Louisville Triathlon

2.4-mile swim, 112-mile bike, 26.2-mile run
Louisville, KY
* * * * *

CYCLING EVENTS
IN MISSOURI AND VICINITY
2017

Date

Race/Event Name

Distance(s)

Location

NOTE: HIGHLIGHTED DATES INDICATE THAT THE EVENT'S 2016 DATE HAS NOT YET BEEN ANNOUNCED AND/OR CONFIRMED
Jan 15
Rocheport Roubaix
30, 50 and 70 miles
Rocheport, MO
April 10
MoBikeFed Ride with Legislators
Jefferson City, MO
April 29
The Epic (gravel road bike races)
150 and 80 miles
Lake of the Ozarks
May 13
Vino Fondo
38, 58, 91 and 118 miles
Augusta, MO
May 21
The Hairy Hundred
100-mile gravel road race
Katy Trail near Columbia, MO
May 21
Down 'n Dirty
Varies by division
Warsaw, MO
May 27-28
Pedaler's Jamboree
Music and cycling event on the Katy Trail
Columbia, MO
May 29
Tour of Kansas City Gran Fondo
20, 50, 60, 75 and 100 miles
Kansas City, MO
June 3
Dirty Kanza 200
200 miles
Emporia, KS
June 3
Tour de Cure
10, 30, 50 and 100 miles
Alton, IL
Jun 10-16
Big BAM
Bicycle ride across Missouri
Weston to Louisiana, MO
June 10
Cycle for Life
10, 25 and 50 miles
Ozark, MO
June 17
Queen City Century
22, 45, 60, 82 and 100 miles
Springfield, MO
June 24
Tour de Lakes
10, 32, 55 and 65 miles
Lee's Summit, MO
July 9
Tour de Jeff
15-mile nighttime bike ride
Jefferson City, MO
July 15
World Naked Bike Ride--St. Louis
St. Louis, MO
July 22
Show-Me State Games Road Cycling Race
19 and 28 miles
Callaway County, MO
July 30
Show-Me State Games Mountain Bike Race
1, 1-1/2, and 3 hours
Columbia, MO
Aug 5
MO State Time Trial Championship
20K or 40K, depending on division
Centraiia, MO
Aug 5
Moonlight Ramble
10.5 and 18.5 miles
St. Louis, MO
Aug 19
Svitak Freedom Ride
10, 25, 40, 67 and 100 miles
Springfield, MO
Aug 26
Red Shoe Ride
35, 60 and 100 miles
Columbia, MO
Aug 26
BikeMO
30, 65 and 90 miles (24 and 50 miles for Katy Trail option)
Rocheport, MO
Sep 1-3
Singletrackmind Festival
Mountain biking, trail runs, etc. on the Two Rivers Bike Trail
Springfield, MO
Sep 9
Pony Express Dash
120- and 75-mile gravel road races
Maryville, KS
Sep 9-10
Bike MS
Four distances offered
Godfrey, IL
Sep 16

Moonlight Ramble
(reschdule date)
10.5 and 18.5 miles
St. Louis, MO
Sep 23-24
Pedal the Cause
15, 25, 37, 50, 75 & 100 miles
St. Louis, MO
Sep 24
Rhett's Run
Mountain bike race
Columbia, MO
Sep 30
Tour de BBQ
15, 35 and 62 miles
Overland Park, KS
Oct 1
Tour de Wildwood
28 and 45 miles
Wildwood, MO
Oct 7
Cystic Fibrosis Cycle for Life
25, 50 and 100 miles
St. Charles, MO
Oct 8
Tour de Bass Bike Rides
25, 42, 77 and 102 miles
Springfield, MO
Oct 14-15
Hartsburg Pumpkin Festival Ride
9.5 miles from Jefferson City on the Katy Trail
Oct 21
Cuban Gravel Crisis
20, 50 and 100 mile bike rides
Cuba, MO
Oct 21
BT Epic
Mountain bike race on the Berryman Trail
Steelville, MO
Nov 4
Red Dog 100
Gravel road race
Jefferson City, MO
* * * * *

PADDLING EVENTS
IN MISSOURI AND VICINITY
2017

Date

Race Name & River

Distance(s) & Boat Type

Location

NOTE: HIGHLIGHTED DATES INDICATE THAT THE EVENT'S 2016 DATE HAS NOT YET BEEN ANNOUNCED AND/OR CONFIRMED
May 31
Lake Race "Paddle Battle"
Paddleboard races
Lake of the Ozarks
June 10-11
Osage Howler
Trevor Dowdney (61 miles)
Race: 61 miles
Fun Run: 14 miles
Osage River
July 22
Firecracker Race
(Mississippi River -- Alton Pool)
Canoes & kayaks -- 12 miles
Paddlboards -- 3 miles
Alton, IL
Aug 27
Race for the Rivers
(Missouri River)
20 and 40 miles; canoes & kayaks
Washington, MO
Sep xx


(cancelled for 2017)

Fall 36 Race
(Osage, Missouri and Gasconade Rivers)
36 miles
Canoes, kayaks & paddleboards
Starts near Loose Creek; ends at Gasconade
Sep 30
Race to the Dome
(Missouri River)
Providence (26.6 miles) or Hartsburg (15.8 miles) to Jefferson City
Jefferson City, MO
Oct 28
Chattajack 31
(Tennessee River)
Trevor Dowdney
31 miles; paddleboard & kayaks
Chattanooga, TN