WEEKEND EVENTS FOR SEPTEMBER 18 - 19
Summer weather is hanging on for dear life, and should continue through the weekend. We don't have any local races this weekend, but next weekend offers the Eldon Turkey Trot 5K.
In high school cross country action, Camdenton and Osage go to Joplin for the Missouri Southern Stampede meet on Saturday. Versailles goes to Sedalia for the Smith-Cotton Invitational. Eldon and Osage Middle School will be at the Fulton Invitational.
California:
Ozark Ham & Turkey Festival 5K, Saturday
Rolla/St. James:
Pub 2 Pub Half Marathon & 5K, Saturday (half marathon starts in Rolla and ends in St. James; 5K is held in St. James
PRC of Rolla Walk/5K Run for Life, Saturday
Branson/Lake Taneycomo:
Landing to Landing (8-mile paddle race & 3-mile fun paddle), Saturday

Kansas City and vicinity:
Kansas City Zoo Run (4 miles), Saturday
Paulina Dot to Dot 5K/10K, Sunday
Seize the Day 5K/10K, Sunday

St. Louis and vicinity:

Run for the Hills 5K, Saturday
St. Louis 6K Run/Walk for Recovery, Creve Coeur Lake Park, Saturday
Rockin' Rockwoods Trail Race (53K & half marathon), Greensfelder Park, Saturday
Walter's Walk 5K, Creve Coeur Lake Park, Sunday
Cape Girardeau:
City of Roses Half Marathon & 5K, 5K on Saturday, half marathon on Sunday
* * * * *

GIVE BACK RUN (posted September 12th)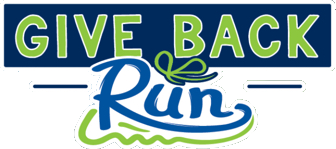 Formerly known as the Jay Dix Challenge to Cure, the Columbia Multisport Club's Give Back Run added a half marathon this year to the 5K/10K distances that had been offered since the race's inception in the mid 2000s.
Our own Dan Robertson was one of just ten finishers of the half marathon. Dan finished in 2:04:17. His chances of winning the men's 60-69 age group were dashed by the phenomenal Gerald Holtmeyer of Bonnots Mill, who finished in 1:32:29. Gerald was also the overall winner of the race. (In case you don't recall who he is, Gerald has been a multi-year winner at Bridge & Dam.)
Participation was disappointing, with only 60 total finishers among the three distances offered Here's how that compares to prior years. (The 2020 race was cancelled.)
Jay Dix Challenge

Give Back Run

Race distance

2018

2019

2021

5K

90

143

37

10K

141

70

13

Half Marathon

-

-

10

Total

231

213

60
* * * * *
HIGH SCHOOL CROSS COUNTRY MEET RESULTS FOR SEPTEMBER 11th (posted September 12th)

Camdenton, Osage and Macks Creek runners competed at the Lebanon Invitational cross country meet on Saturday. The top boys and girls finishers for Camdenton were Benjamin Hauck (18:50; 25th of 83) and Ellie Webb (23:01; 11th of 64). For Osage, the top runners were William Faulconer (18:13; 11th of 83) and Bayley Johnson (21:46; 3rd of 64). Caleb Phillips (18:26; 15 of 83) and Molly Phillips (24:04; 27th of 64) led the Macks Creek runners.
Complete results for that meet can be found here.
Eldon and Versailles runners competed at the Linn Invitational. This was Eldon's first meet of the season, and the team's sensational sophomores, Nathan Reynolds and Zoe Martonfi, both of whom went to the state championships last November as freshmen, started the season with outstanding performances. Zoe was the overall winner of the girls race, finishing in 19:09 and beating 107 others to the line. Nathan took third overall (of 114) in the boys race, finishing in 17:53. While the season is still young, Nathan and Zoe have the fastest boys and girls finish times of all Lake-area cross country runners this season.
The top runners for Versailles were Matthew Radefeld (21:11; 62nd of 114) and Alesha Garvey (33:24; 100th of 108).
Complete results for the Linn Invitational can be found here.
* * * * *

2021 Archives
2020 Archives
2019 Archives
2018 Archives
2017 Archives
2016 Archives
2015 Archives
2014 Archives
2013 Archives
2012 Archives
2011 Archives
2010 Archives
2009 Archives
* * * * *

ELDON TURKEY TROT 5K RUN/WALK (posted August 5th)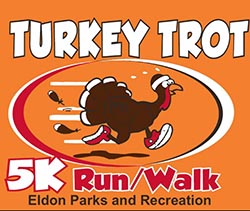 Eldon's Turkey Trot 5K Run/Walk will be held on Saturday, September 25th, at the Air Park (next to the aquatic center) on N. Franklin St. The run/walk will start at 7:30 a.m., with race-day registration opening at 6:45 a.m.
Register by the pre-registration deadline of September 7th to save on the registration fee ($15, versus $20 after the deadline). You must pre-register by September 7th to get a t-shirt.
Click to download a registration form.
* * * * *
PREGNANCY HELP CENTER'S 5K WALK/RUN FOR LIFE (posted June 26th)

'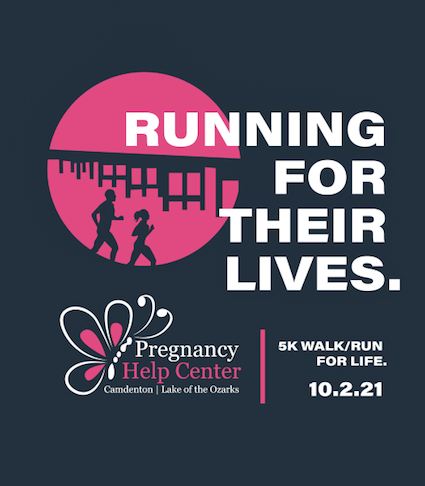 The Pregnancy Help Center of the Lake of the Ozarks (Facebook page) is holding its 5K Walk/Run for Life (Facebook page) on Saturday, October 2nd. The walk/run starts at 9:00 a.m., with race-day registration open from 7:00 to 8:30 a.m. The event has a new venue this year, at JJ Twigs Pizza & BBQ on Bagnell Dam Blvd. in Lake Ozark. (The course will still pass over the Community (toll) Bridge.) As in the past, the event will include the always popular raffle prize giveaways, childrens' activities, and food and drinks. A pre-race fun run for kids age 6 and younger is planned.
The entry fee for runners and walkers is $15 until 11:59 p.m. July 31st, and $20 thereafter. 5K participants age 11 and under are free unless they wish to be eligible for run prizes, in which case they pay the normal entry fee.
Click to register online or for all the event details. The online registration page also contains a fundraising option.
* * * * *
GIVE 'EM THE BIRD 5K RUN, 1-MILE WALK & KIDS RACE (posted August 5th)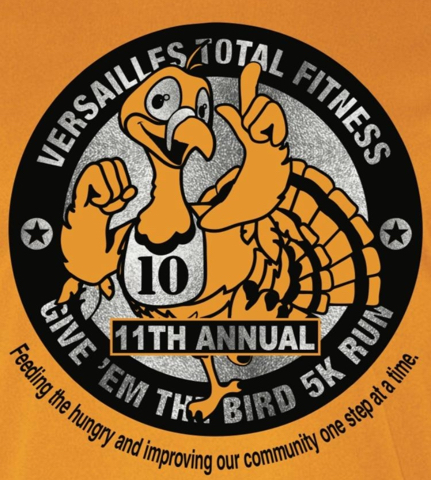 Versailles Total Fitness' eleventh annual Give 'Em The Bird (Facebook page) 5K run/walk and 1-mile walk, plus a quarter-mile race for kids, will be held on Saturday, October 30th. It will start at 9:00 a.m. at Versailles Total Fitness (map) at 131 N. Monroe in downtown Versailles.
Give 'Em The Bird has the biggest "wow" factor of any 5K in the Lake area, including a live radio broadcast and music by race co-sponsor KS95.1, a live singing of the national anthem, the Second Baptist Church choir singing on the church steps along the course route, plenty of course support from the police, firefighters, and volunteers along the closed course, chip timing, really nice technical t-shirts, and a fun race for kids. This race really is the Super Bowl of Lake-area 5Ks, and it perennially attracts a big field with some of the fastest runners in the Lake area and beyond. (Actually, a Lake-area runner has not been an overall male or female winner of this race since 2017.)
---
Very Important! To help minimize close contact to others at the race, there will be no race-day registration this year. If you want to participate, you'll have to sign up online, by mail, or in-person at Versailles Total Fitness prior to race day.
---
Registration is available online, or you can download a registration form to mail to or drop off at Versailles Total Fitness. The entry fee is $25 if you register on or before October 23rd. The fee rises to $35 from October 24th through 29th. Long-sleeved, technical t-shirts can only be guaranteed to those who register by October 7th.
The quarter-mile kids run will follow the 5K and 1-mile events. There's no entry fee, but also no t-shirt, for participants. They will, however, receive finishers ribbons.
* * * * *
TRAIL OF FOUR WINDS ENDURANCE RUNS (posted May 15th)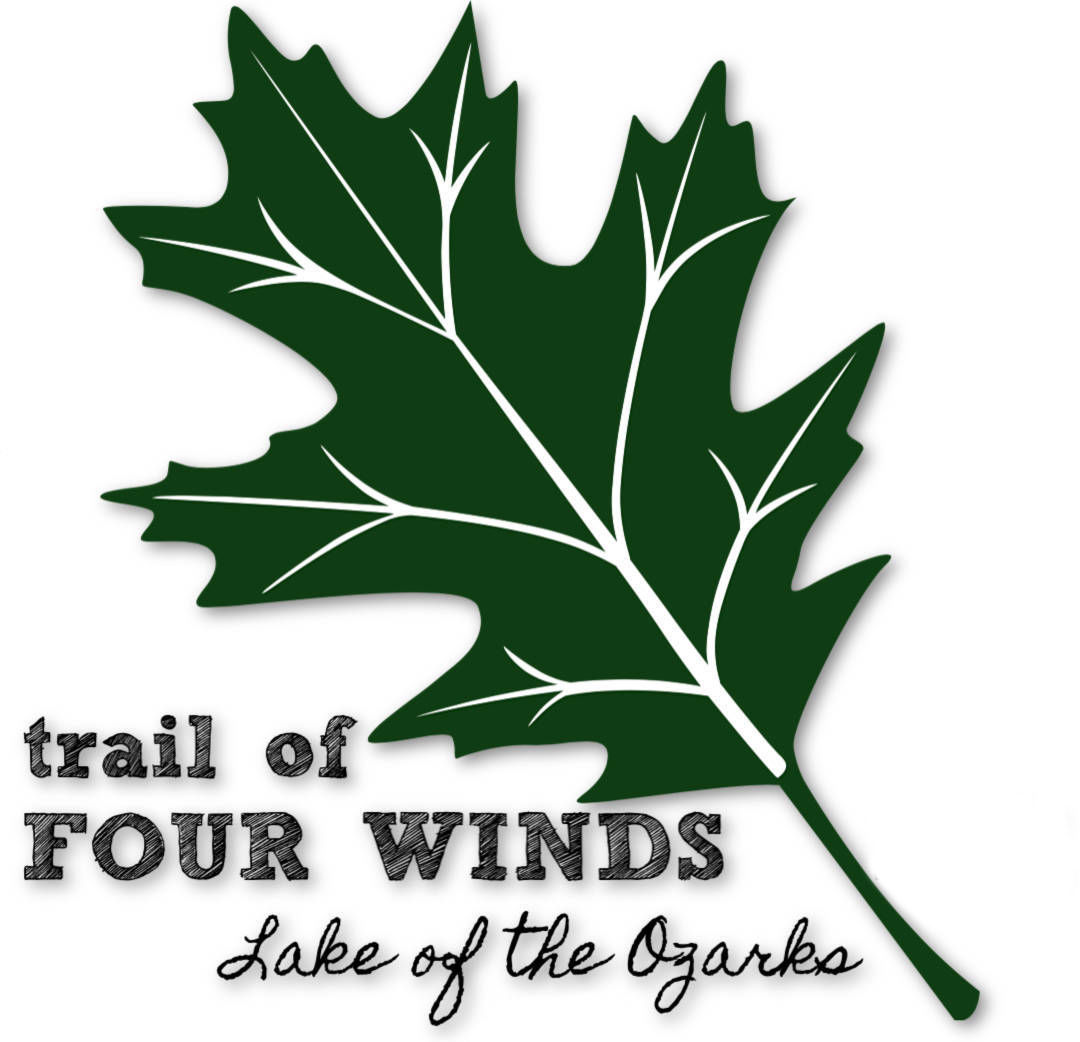 The Trail of Four Winds 25K is expanding in 2022. The expanded event, to be known as the Trail of Four Winds Endurance Runs (Facebook), will include the traditional 25K trail race, and a newly-added ultra distance race called the LOZ Traverse. The new race includes two running segments--totaling 33 miles--on two trails in the Lake of the Ozarks State Park. The running segments are separated by a four-mile (round-trip) paddling segment between the trails. (Participants must provide their own kayak/canoe/paddleboard.)
The event will take place on Saturday, May 7th.
Please visit the race's UltraSignup page for complete information, and to register.
* * * * *

Ultramarathons, Marathons & Half Marathons
(.xlsx)