WEEKEND EVENTS FOR JANUARY 28 - 29
This weekend offers your last chance to be the first Lake-area runner to finish a race in 2023. Is anybody looking for bragging rights? Not since 2012 have we gone the entire month of January without someone running a race of any distance. (Update: Well, the 10-year streak will be extended another year. We have a local group racing this weekend.)
There's a wide range of races being held this weekend. The trail runs are going to be sloppy, as temperatures near 50 are expected on Friday. Saturday's weather should be mild as well. There's a chance of rain and snow Saturday night with falling temperatures, so Sunday races are going to be nastier, unless you choose the Groundhog Run in Kansas City.
Columbia:
Runner's Choice Trail Run (10K/20K), Saturday
Springfield:
Fresh Start 5K/10K, Saturday
Bleak Midwinter Endurance Run (1/3/6/12 hour runs), Saturday (inaugural race)
Carthage:
Erick's Run (5K), Sunday
Kansas City:
Groundhog Run (5K/10K), Sunday (held underground at the Hunt Midwest SubTropolis)
Alternate Chili Ten Mile Trail Run, Sunday
St. Louis area:
Fleet Feet St. Louis Snowball Series 7K, Creve Coeur Park Soccer Complex, Saturday
Wildwood Frozen Feet 13.1 Mile Trail Race, Wildwood (west St. Louis County), Saturday
Nippy Niner Trail Run (9M/9K), Sunday
Gulf Shores, Alabama:
Big Beach Marathon, Half Marathon & 7K, 7K on Saturday, marathon and half on Sunday. LOTO participants:

7K only: Diana Matthews
7K + Half: Alysia Maschino, Mark Matthews, Scott Page, Katie Roberts and Stacy Roberts
7K + Marathon: Tucker Seise
* * * * *

Weekend race results:
For the first time since 2016, no one from the Lake area competed at David's Trail Endurance Run (50K/25K/7K) in Mountain Home, Arkansas. There was, however, one familiar name in the results. Zim Schwartze of Rocheport, who's finished every Polar Bear Strut 5K, except for one (due to illness), since it began in 2002, finished the 25K in 3:36:28. That placed Zim 17th among the 32 female finishers. She also knocked 16 minutes off of last year's finish time.
The St. Louis Track Club's Frostbite Series half marathon and 4-miler had over 800 participants on Saturday in Forest Park. That was up nearly 20% from last year, and joins a growing list of races that did much better, in terms of participation, this year than last.
(Added 1/24/23) There were 97 finishers at the ROC7K Trail Run (Facebook) in Columbia on Saturday. Andy Emerson was the only familiar name in the results. Andy finished 8th overall, in 37:39. Complete results are here. The race was timed by Wisconsin-based Prime Time Timing. They time 500 events--mostly collegiate events--nationwide each year, although they've timed the Missouri state high school cross country meets the past few years. It's strange, though, that they would time a 100-person race far from their headquarters.
* * * * *

2023 Archives
2022 Archives
2021 Archives
2020 Archives
2019 Archives
2018 Archives
2017 Archives
2016 Archives
2015 Archives
2014 Archives
2013 Archives
2012 Archives
2011 Archives
2010 Archives
2009 Archives
* * * * *

POLAR BEAR STRUT 5K RUN/WALK (posted January 6th)

The oldest running race in the Lake area, the Polar Bear Strut, returns for its 22nd year on Saturday, February 25th at Public Beach #2 in the Lake of the Ozarks State Park. The event is a benefit for Special Olympics Missouri and is hosted by the Osage Beach Police Department.
The online registration page can be found here.
* * * * *
TAME THE DRAGON (posted January 16th)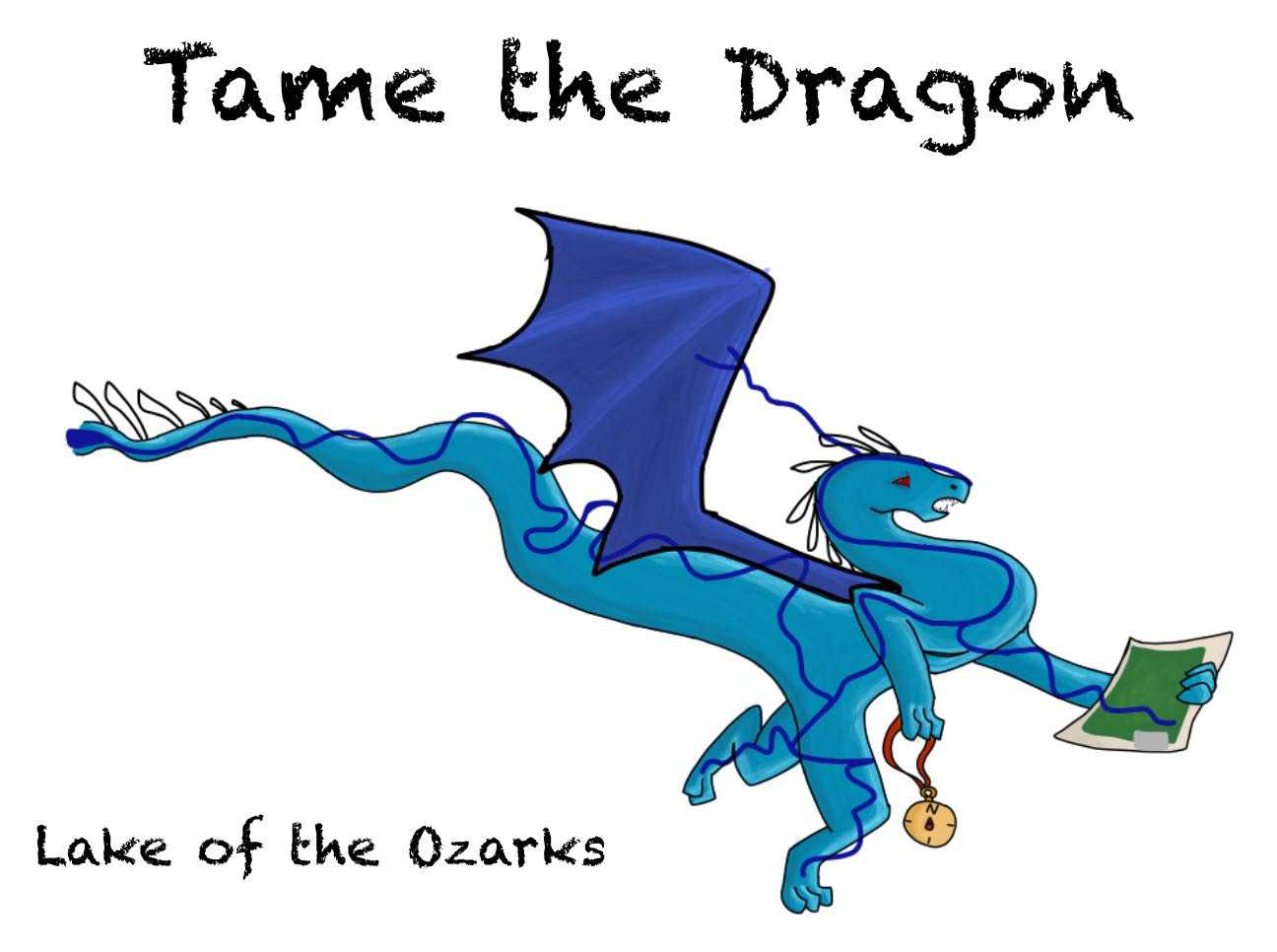 The St. Louis Orienteering Club is returning to the Lake of the Ozarks State Park on Saturday, February 25th for the fourth annual Tame the Dragon orienteering race.
The race format will be an 8-hour rogaine, and will start at 8:00 a.m. While teams of 2-5 are encouraged for safety reasons, solo participants are allowed, but they must have prior endurance and navigation experience.
A "rogaine" (it's name is derived from the first names of three Australians--Rod, Gall and Neil--who developed the idea decades ago) consists of solo competitors or teams navigating a large area to find as many checkpoints as possible within the allotted time. The winner is that solo competitor or team which finds all of the checkpoints and reaches the finish line first. If no one finds all of the checkpoints, the winner is the one that collects the most points. (Checkpoints have different point values, so focusing on the most valuable checkpoints is a possible winning strategy.)
Prior to the race, each competitor receives a map and a list of checkpoint coordinates. They then plot their own course route, and rely on their navigational skills and speed to collect as many points as possible, as quickly as possible. (Returning over the time limit results in significant points penalties. You're generally better off skipping a checkpoint if it means returning late.) Needless to say, GPS units aren't allowed.
Orienteering races are self-supporting. Competitors should be prepared to rely only on what they (or their teammates) bring or carry with them.
See the event's webpage for further details and registration information.
Note: In the race's three-year history, no one has managed to "clear" a course by reaching every checkpoint, although in 2021 one solo racer and one team each came tantalizingly close by collecting 35 of 36 checkpoints. This race is becoming a LOTO version of the nearly-impossible-to-finish Barkley Marathons, and Gary Thompson, who picks the checkpoints, is gradually becoming a local version of the diabolical Lazarus Lake.
* * * * *
WHOBILATION 5K RUN/WALK (posted January 6th)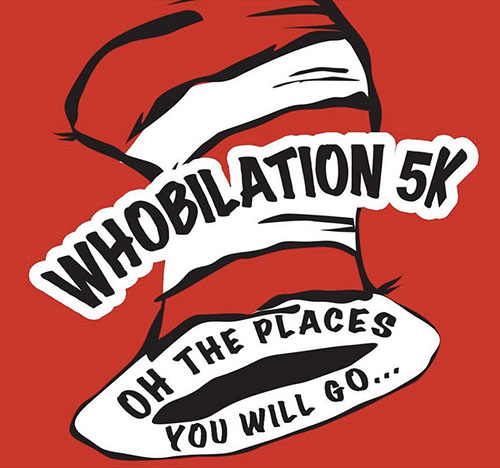 The Tri-County YMCA will hold its fifth annual Whobilation 5K Run/Walk on Saturday, March 4th, at the YMCA's facility on Airport Rd. in Osage Beach. The Dr. Suess-themed race will start at 9:00 a.m., with race-day registration opening at 7:30 a.m.
The entry fee is $30 through the end of January, and $35 thereafter.
To be guaranteed a t-shirt on race day, you need to register by February ??th.
A mail-in registration form can be downloaded here. Online registration is available here.
* * * * *
ST. PATRICK'S DAY 5K RUN/WALK (posted January 6th)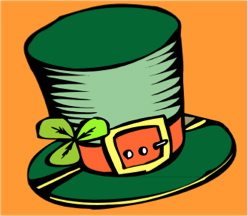 Details for Eldon Parks & Recreation Dept.'s St. Patrick's Day 5K Run/Walk haven't been announced as of January 6th.
It's very likely that the race will be held on Saturday, March 18th.
* * * * *
BRIDGE AND DAM 25K, HALF MARATHON, 10K & 5K (posted January 6th)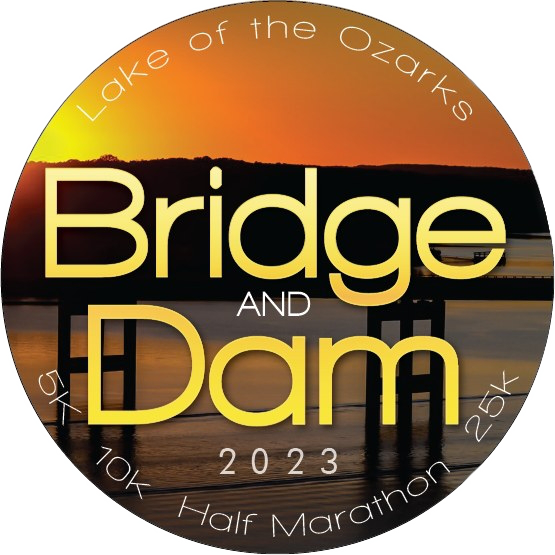 Registration is now open for the 2023 Bridge and Dam 25K, Half Marathon, 10K & 5K (Facebook page). It will be held on Saturday, March 25th, in Lake Ozark. The race starts at 7:30 a.m.
The event is organized by the Lake of the Ozarks chapter of the non-profit Missouri Fellowship of Christian Athletes (FCA).
Online registration is available here.
Refer to the race website for much more information.
* * * * *
LAKE REGIONAL 5K FUN RUN/WALK (posted January 6th)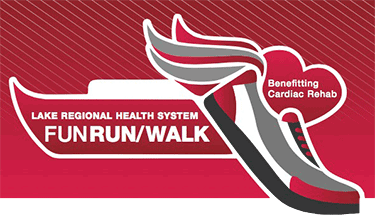 The Lake Regional 5K is normally held on the first Saturday in May. Details haven't been announced as of January 6th.
* * * * *
TRAIL OF FOUR WINDS 25K / LOZ TRAVERSE (updated January 9th)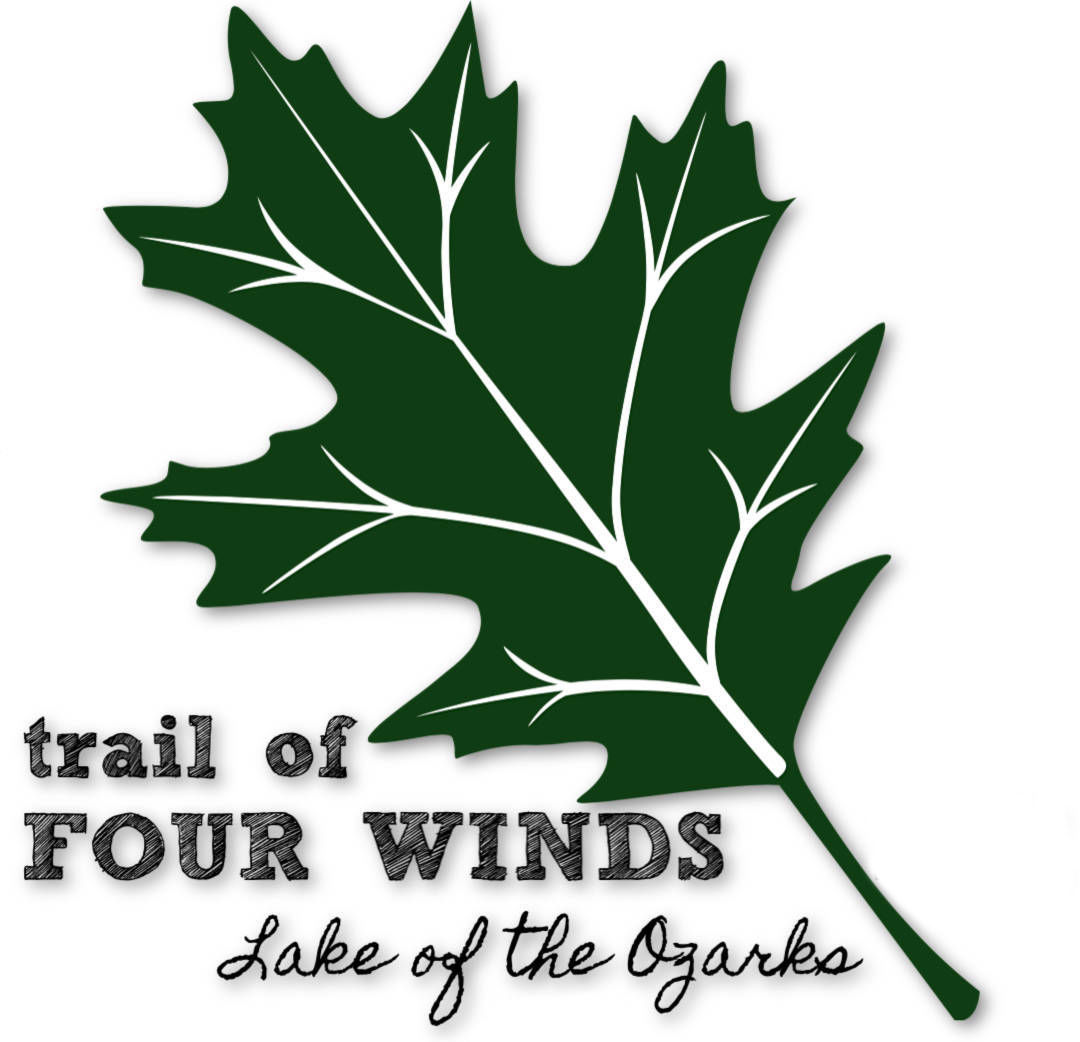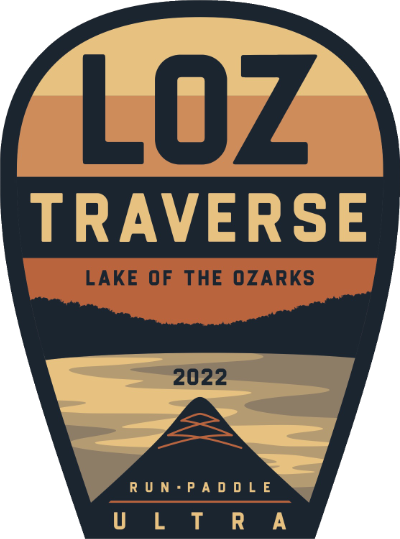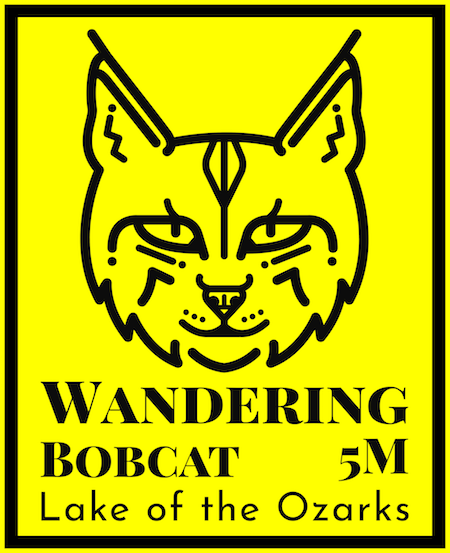 This year's Trail of Four Winds 25K trail run and LOZ Traverse trail run/paddling race will be joined by a new option, the Wandering Bobcat 5-mile trail race
The races will take place on Saturday, May 6th.
Please visit the event's UltraSignup page for complete information, and to register.
* * * * *
RUNSTOCK (posted January 6th)
A new event is coming to the Lake of the Ozarks State Park in mid May. RunStock will offer a 5K on the evening of Friday, May 19th, in addition to the start of a 48-hour race. A 10K and half marathon will be held on Saturday, followed by a marathon (and completion of the 48-hour race) on Sunday.
Online registration is available here. Refer to the event's Facebook page for additional information.
* * * * *
RUN WITH THE COPS, NOT FROM THE COPS 5K/10K (posted January 6th)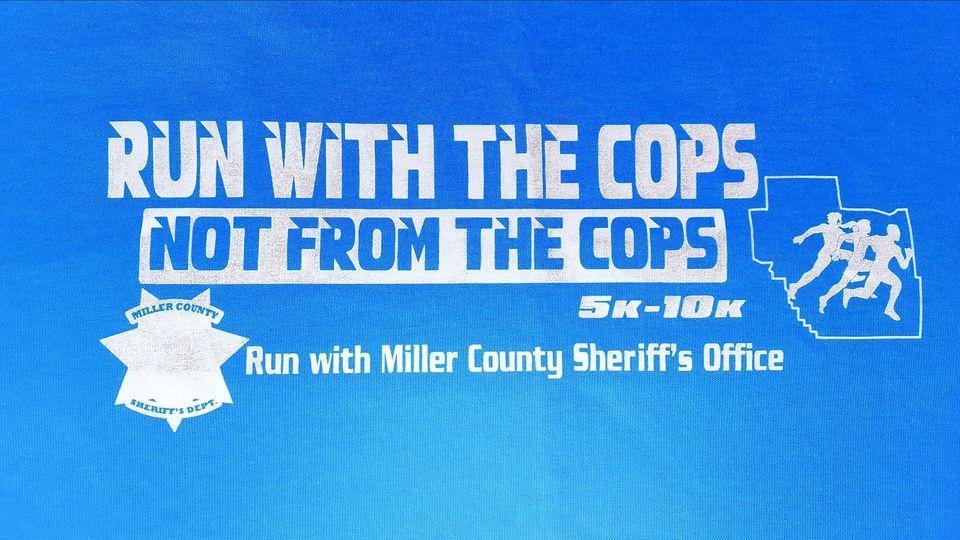 No details have been announced for the Miller County Sheriff's Office's Run with the Cops, Not from the Cops 5K/10K. Normally, the race is held on the first Saturday in June, which would be June 3rd this year.
* * * * *
ELDON ROCK ISLAND ROAD RACE (posted January 6th)
The announcement of this year's Eldon Rock Island Road Race will be coming near the end of January. Keep an eye on the event's Facebook page for the announcement.
* * * * *
NIANGUA DARTER (PADDLING) FUN RUN (posted January 20th)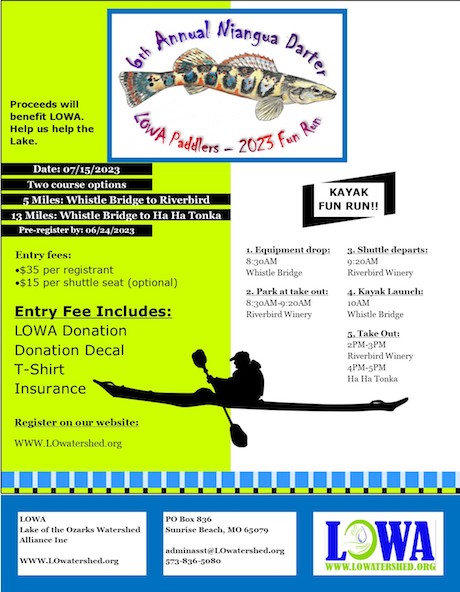 (click on above thumbnail for a larger image)
The Lake of the Ozarks Watershed Alliance will be holding its sixth annual Niangua Darter Fun Run on Saturday, July 15th. Paddlers can choose between 5- and 13-mile courses on the Niangua River. Online registration can be found here.
* * * * *