WEEKEND EVENTS FOR MARCH 6 - 7
We've reached a milestone of sorts. It was one year ago this weekend that the last races were held before the pandemic forced a cancellation or postponement of nearly everything for months to come. Even after a year, we're still a long way from normal, and some of the fallout will continue to be felt for years to come.
We're racing again locally this weekend after last weekend's season openers. The third annual, Dr. Seuss-themed Whobilation 5K Run/Walk takes place on Saturday at the YMCA in Osage Beach. The run starts at 9:00 a.m., with race-day registration opening at 8:00 a.m. Online registration is still open as of this writing. Scroll down this column to the race's listing under "Upcoming Events" for more information.
Elsewhere, the inaugural Queeny Backyard Ultra starts at noon on Friday at Queeny Park in suburban St. Louis. The sold-out field, which includes a few familiar names of those who've raced at the Lake, was limited to 60 participants. The race's Facebook page should be your best bet to follow the insanity. This is not a "golden ticket" race.
Out of town races:
Rolla:
Polar Bear Strut 5K/10K, Saturday
Festus:
The Endurance Trials (12/6/1-hour runs), Saturday (Cody Eubanks is registered for the 12-hour race)
Springfield:
Camp Barnabas Campfire 5K, Saturday
St. Louis and vicinity:
Queeny Backyard Ultra, starts Friday at noon
Quivering Quads Trail Race (Half marathon &15K), Troy, Sunday

Kansas City area:
Cookie Run 5K, Saturday

Norfork, Arkansas:
Ozark Highlands Endurance Run (50K & 21-mile), Saturday
* * * * *

LAKE OUACHITA VISTA ENDURANCE RUN (posted February 28th)

The Lake-area record for the most number of solo ultramarathons completed is now tied at 14. John Shelby tied Chris Boyle's record by finishing the very challenging Lake Ouachita Vista Endurance Run (100K/100M) near Hot Springs, Arkansas on Saturday. John completed the 100K race in 14:20:13, placing 22nd overall among the 31 finishers.
The winner of the 100K absolutely smashed the course record. The previous record was 9:35:00. It now stands at an incredible 8:12:15. (To put that in perspective, Chris Boyle was the 100K overall winner in 2019 in 11:13:54.)
The beautiful weather we had at the Lake on Saturday wasn't shared in Hot Springs. They had overcast skies with fog and mist much of the day, with temperatures not rising above the mid 50s.
* * * * *
POLAR BEAR STRUT 5K RUN/WALK (updated March 1st)

Fifty-three runners and walkers turned out for the 20th annual Polar Bear Strut 5K in Osage Beach on Saturday. Disappointingly, that represented the smallest turnout for the Strut in at least twelve years, despite the sunny, mild (50°) weather.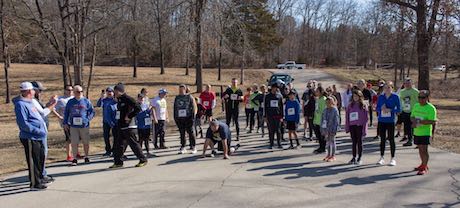 The starting line was moved this year due to the traffic in the public beach #2 area. The turnaround on the out-and-back course remained at the Osage Beach Parkway/Case Rd. intersection, shortening the course by about 0.3 miles.
With no current or former cross country runners in this year's field, Nigher Alfaro was able to claim his sixth overall victory--the most in Strut history. Nigher won in 19:24 on a noticeably shorter, 2.8-mile course. (He took third last year in 21:40.) The top female was a first-time Strut winner. Jacinda Espinosa crossed the line in 21:53.
Overall men's and women's winners Nigher Alfaro and Jacinda Espinosa.
The race photos can be found here.
Special Olympics Missouri hasn't posted the full race results as of Monday night.
* * * * *
TAME THE DRAGON (posted March 2nd)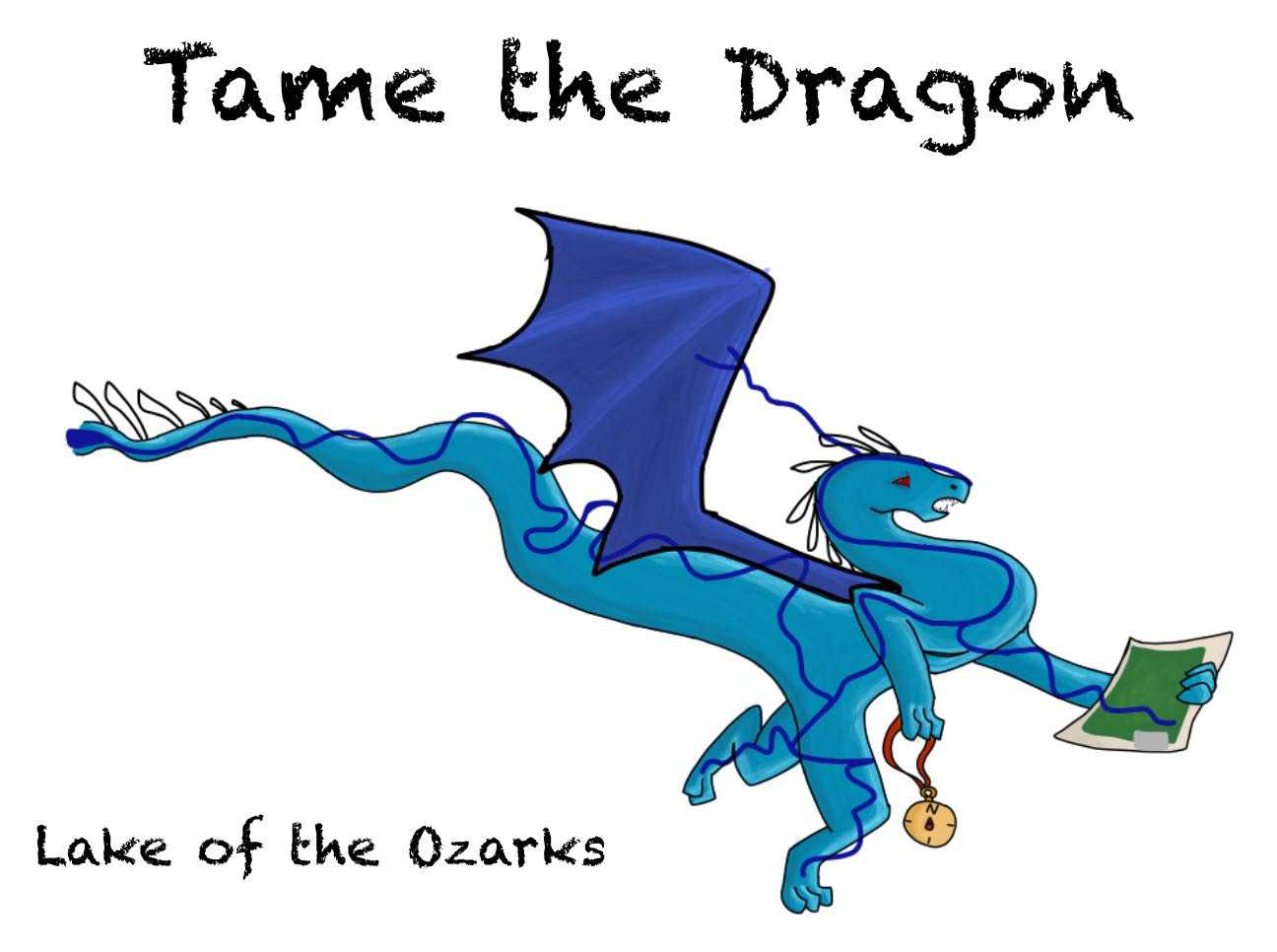 The St. Louis Orienteering Club held its second annual Tame the Dragon orienteering race at the Lake of the Ozarks State Park on Saturday. A total of 68 competitors turned out, including 17 competing solo, and 51 spread among 20 teams.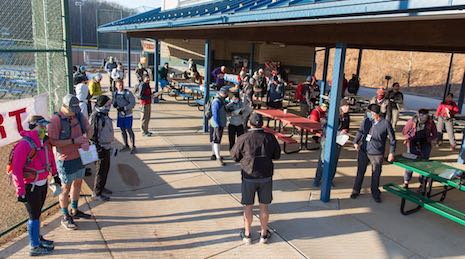 The race started and ended at the Osage Beach City Park softball pavilion. Pictured here is course designer and race director Gary Thompson giving final race instructions prior to the start. The weather was ideal, with sunny skies and temperatures ranging from the mid 40s at the 8:00 a.m. start to the low 60s by mid afternoon.
Competitors planned their own routes to collect as many of the 36 checkpoints as possible within the 8-hour time limit, so the distance that each covered will vary. Many, though, reported covering 20-25 miles. (The checkpoints have varying point values, so you can still finish ahead of a competitor if you collect more-valuable checkpoints.)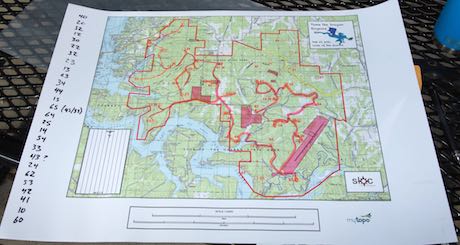 Armed with only a map and a compass, the competitors made their way through miles of endless hills throughout the state park.
Like last year, no one collected all of the checkpoints, although they did come tantalizingly close. Jason Bettis, the overall solo winner, and the top team--42 Down, consisting of Jeff Ryan, Josh Borgmeyer and Jason Noakes--were able to to collect 35 of the 36. On average, each solo/team competitor collected 18 checkpoints.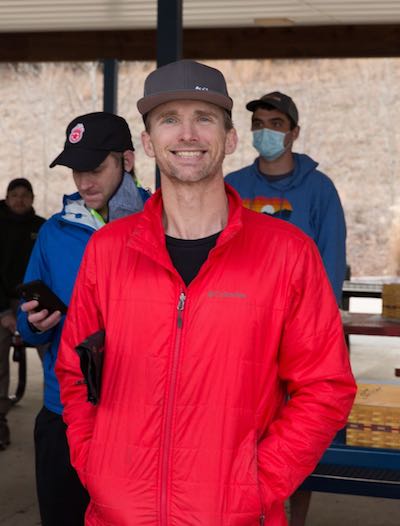 Overall winner Jason Bettis.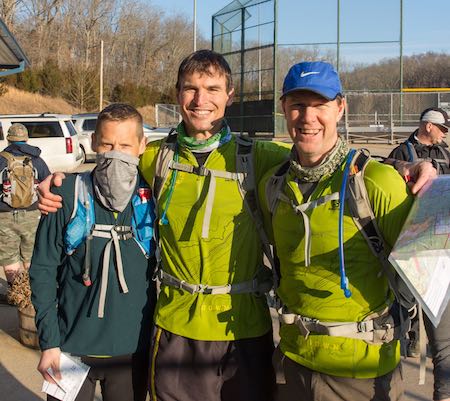 Top team--42 Down (from left): Jason Noakes, Josh Borgmeyer and Jeff Ryan.
Solo competitors generally placed higher in the overall standings than the teams. About two-thirds of the solos finished in the top half of the standings, versus only one-third of the teams. (In a race like this, where the team must physically stay together for the entire duration, the team's outcome is generally determined by the slowest team member.)
This year's race was the first foray into orienteering by seven Lake-area runners. The Might Survive team of Chris Boyle, Tucker Seise and Jefferson City's Cody Eubanks commendably placed 6th among the 20 teams. They collected 19 of the 36 checkpoints in 7:44:48.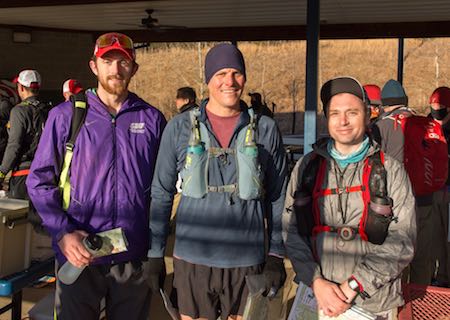 Might Survive team (from left): Tucker Seise, Chris Boyle and Cody Eubanks.
The Dragon Asses team of Scott Page, Gary Braman, Mark Matthews, Rob Kucsik and Stacy Roberts collected the 8th most points among the 20 teams, but the severe point penalty for finishing a mere 11 minutes over the 8-hour time limit dropped them all the way down to 14th place.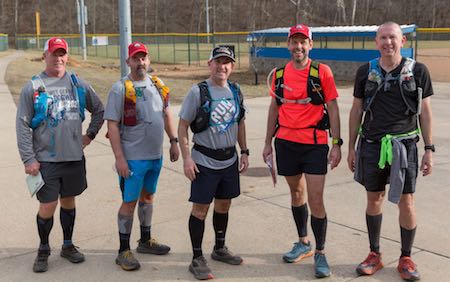 Dragon Asses team (from left): Mark Matthews, Stacy Roberts, Rob Kucsik, Scott Page and Gary Braman.
The complete race results can be found here.
Many more photos can be found here.
* * * * *

2021 Archives
2020 Archives
2019 Archives
2018 Archives
2017 Archives
2016 Archives
2015 Archives
2014 Archives
2013 Archives
2012 Archives
2011 Archives
2010 Archives
2009 Archives
* * * * *

WHOBILATION 5K RUN/WALK (updated February 25th)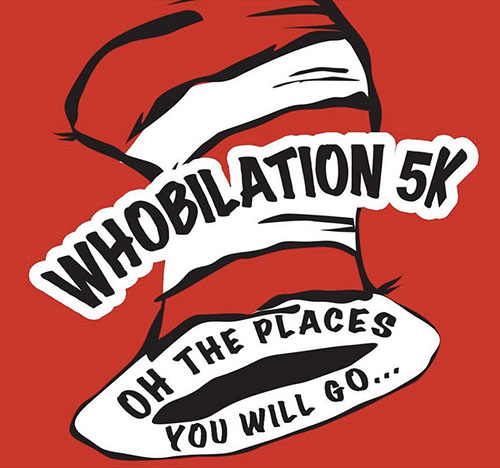 The Tri-County YMCA will hold its third annual Whobilation 5K Run/Walk on Saturday, March 6th, at the YMCA's facility on Airport Rd. in Osage Beach. The Dr. Suess-themed race will start at 9:00 a.m., with race-day registration opening at 8:00 a.m. Proceeds from the event will go to support activities and play equipment for the YMCA's childcare program.
The entry fee is $30 until January 31st, and $35 after. To be guaranteed a t-shirt on race day, you need to register by February 19th.
A mail-in registration form can be downloaded here. To register online, click here.
* * * * *
ST. PATRICK'S DAY 5K RUN/WALK (posted February 2nd)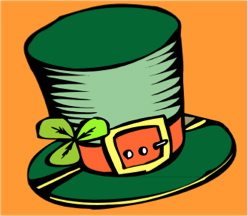 Eldon Parks & Recreation Department's St. Patrick's Day 5K Run/Walk will be held on Saturday, March 13th. The run/walk starts at 7:30 a.m. at the Department of Public Safety building on S. Oak Street. Race-day registration opens at 6:45 a.m.
The entry fee is $15 if you register by February 22nd, and $20 thereafter. You must pre-register by February 22nd to receive a t-shirt.
Click here for a downloadable registration form that can be completed and dropped off at Eldon City Hall or the Eldon Community Center.
* * * * *
BRIDGE AND DAM HALF MARATHON, 10K & 5K (posted December 30th)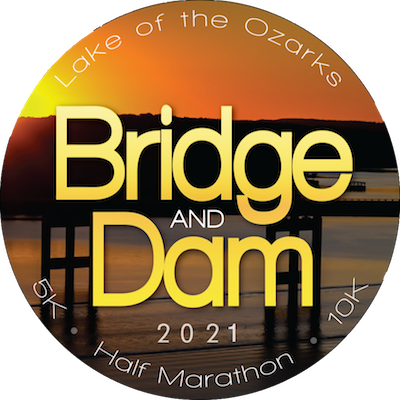 The Lake's biggest running race of the year, the Bridge and Dam Half Marathon, 10K & 5K (Facebook page)--returns for its seventh year on Saturday, March 27th, in Lake Ozark. Also returning will be the Double Down (13.1M + 10K) and All-In (13.1M + 10K + 5K) Challenges. The race starts at 7:30 a.m.
The event is organized by the Lake of the Ozarks chapter of the non-profit Missouri Fellowship of Christian Athletes (FCA).
Online registration is available through Wednesday, March 24th. Refer to the race website for much more information.
* * * * *
P.A.C.T. 5K WALK & RUN (posted February 28th)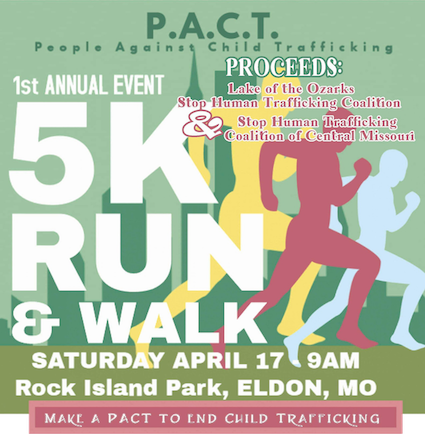 A new 5K is coming to Eldon on Saturday, April 17th. The People Against Child Trafficking, a recently-formed group in Eldon, is holding a 5K run/walk to raise funds for the Lake of the Ozarks Stop Human Trafficking Coalition and the Stop Human Trafficking Coalition of Central Missouri.
The event will be held at the Rock Island Park. The run/walk starts at 9:00 a.m. Race-day registration will open at 8:00 a.m., and opening ceremonies will begin at 8:30.
The entry fee is $20 for those who pre-register, and $25 on race day.
Online registration and additional event details are available here.
* * * * *
TRAIL OF FOUR WINDS 25K (posted September 19th)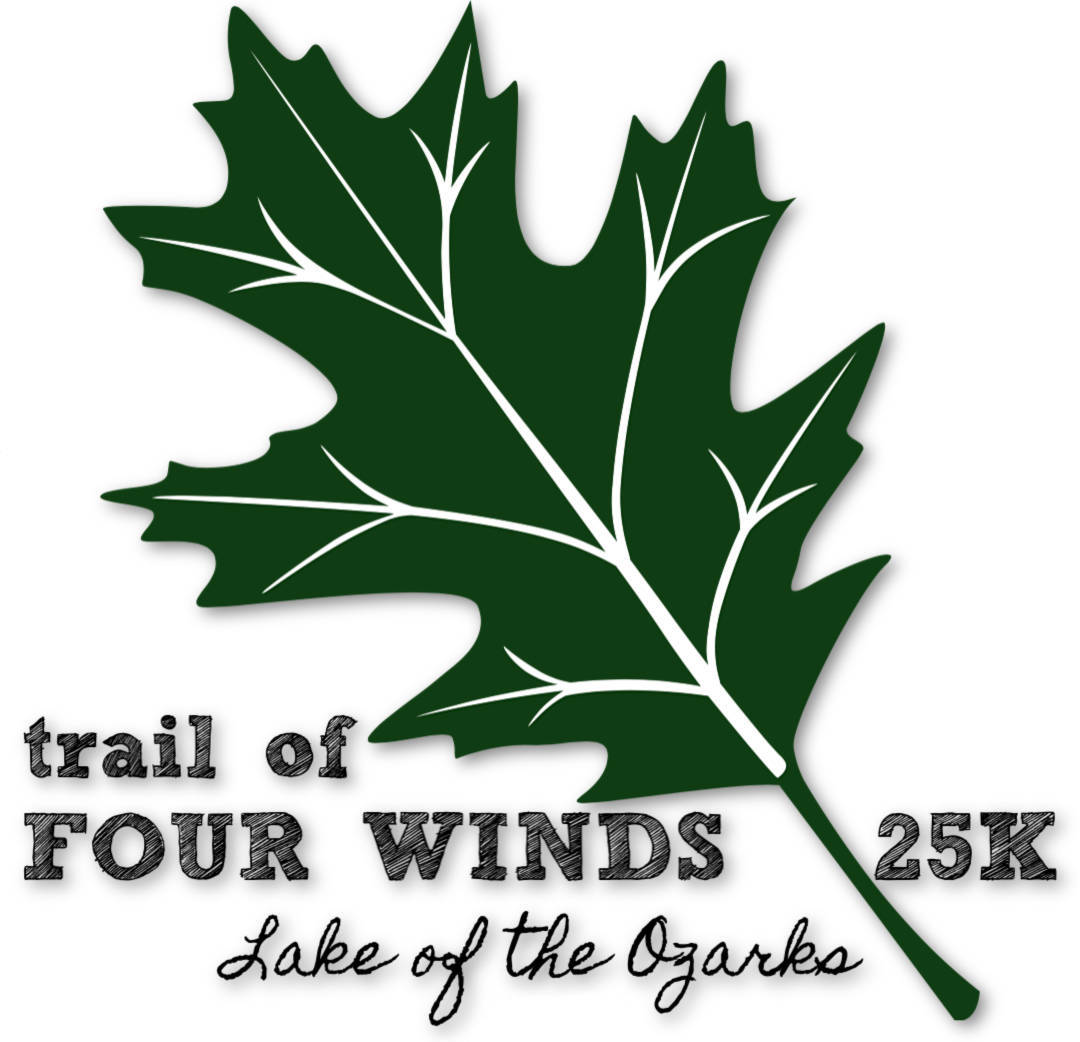 Registration is now open for the 2021 Trail of Four Winds 25K trail race (Facebook page). The race will be held on Saturday, May 1st, at the Lake of the Ozarks State Park.
Please visit the race's website and UltraSignup page for complete information, and to register.
* * * * *
ELDON ROCK ISLAND ROAD RACE (updated January 1st)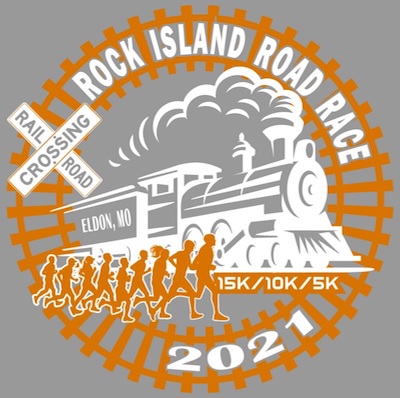 The fourth annual Eldon Rock Island Road Race will be held on Saturday, June 12th at the Rock Island Park in the heart of Eldon. The race is organized by and benefits the Miller County Child Advocacy Council.
The race will start at 7:15 a.m. Race-day registration will be available from 5:45 to 7:00 a.m.
Online registration is available here. Online registration will close at 11:59 p.m. on Wednesday, June 9th. A mail-in registration form is also available.
Entry fees will increase in steps on February 1st, April 1st and on race day. A discounted entry fee for the 5K is available to groups of three who register together.
T-shirts can only be guaranteed to those who register by May 16th.
Visit the race's Facebook page for more information.
A course map can be found here.
* * * * *
ROCKY TOP 5K (posted December 30th)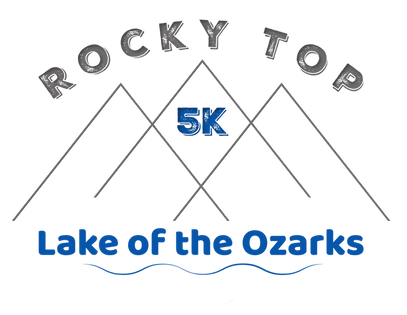 A brand-new trail race--one of three in the Lake of the Ozarks Trail Series (Facebook page)--is coming to the Lake of the Ozarks State Park in 2021. The Rocky Top 5K (Facebook) will be held on Saturday, July 10th on the Rocky Top Trail located near public beach #2 in Osage Beach.
Online registration and more race details are available through the race's UltraSignup.com page. The race will be limited to 125 participants.
The entry fee is $55 until May 8th, after which it rises to $65.
Links to additional information about the trail can be found here.
* * * * *

Ultramarathons, Marathons & Half Marathons
(.xlsx) (.docx) (.htm)
Cycling (coming)
Triathlons & Duathlons (coming)
Paddling (coming)
* * * * *