WEEKEND EVENTS FOR JANUARY 20 - 21
The race calendar is pretty short this weekend, with two events each in St. Louis and Kansas City. We're still five weeks away from our first Lake-area race of the year, the Polar Bear Strut 5K on February 24th.
Chris Boyle, Gary Braman and John Shelby may be the luckiest runners in the Lake area. The extreme cold and snow that we've had lately will be gone by Saturday when they'll be in northern Arkansas for the David's Trail Endurance Run for the second year in a row. Chris and Gary are stepping up to the 50K this year (up from 25K last year), while John--who's recovering from a sore knee--is sticking with the 25K. (Frequent Lake visitors Ryan and Jaime Maher will also be doing the 50K and 25K, respectively). The weather forecast currently calls for a morning low of 40, and an afternoon high of 60. Last year, they also lucked out with 60-degree weather on race day after much cooler temperatures earlier that week. It seems unnecessary to wish them good luck, but we will anyway.
The weather forecast looks pretty nice for the weekend (although there's a chance of showers on Sunday), so get out and take advantage of it. Colder--though not extremely cold--weather is expected to return later next week.
Springfield:
Kansas City and vicinity:
Battle of the Bean 5K, Saturday
Psychodelic 5K, Sunday
KC Running Company calendar
St. Louis and vicinity:

Wildwood Frozen Feet 13.1 Mile Trail Race, Saturday
Snowball Series Race (6K), Creve Coeur Lake Park
Big River Running calendar
Fleet Feet Sports St. Louis calendar
Mountain Home, Arkansas:
David's Trail Endurance Run (7K/25K/50K on Saturday, 11K on Friday night), LOTO participants: Gary Braman, Chris Boyle and John Shelby
Be sure to check out the Lake of the Ozarks Runners Facebook page to see if they'll be doing anything this weekend.
* * * * *

2017 YEAR IN REVIEW(posted January 14th)
(Sorry for the delay in writing and posting this. I had planned to do it nearly two weeks ago, but something unexpected came up suddenly and forced me to put just about everything else aside.)
There's some gloomy stuff to report, but let's start our review of 2017 with the good news.
First-Timers
We always like to herald those who step up to new or bigger challenges, and in 2017 we had quite a few who succeeded in achieving bigger things. (If I missed anyone's "first", please let me know.)
First 100K: Alysia Maschino
First 50-Mile: Chris Boyle, Gary Braman and John Shelby
First 50K: Payton Bartlett, Curtis Wehmeyer
First Marathon: Ed Doney and Gary Braman (Allison Walters and Brittany Ross may have been first-timers, as well)
First Half Marathon: Rosalie Dear, Harrison Adams, Gary Braman, Joe Register, Stacy Roberts, and Katie Roberts (Michelle Kennedy, Natalie Ness and Ariane O'Day may also have been first-time finishers)
First Triathlon: Colten Jones, Christine Head
Fastest finishers
Chris Boyle had the fastest marathon time among all Lake-area runners in 2017, finishing the GO! St. Louis Marathon in 3:26:35. Among the women, Bryna Edwards had the fastest finish--a 3:48:11 at the Prairie Fire Marathon in Wichita in October.
In the half marathon distance, our fastest men's and women's finishers were Payton Bartlett and Alysia Maschino in 1:31:19 and 1:52:00, respectively.
Two Osage High School cross country runners--Colten Jones and Micah Hill--ran the fastest men's and women's 10Ks in 2017. They finished in 44:40 and 43:41, respectively.
Most prolific racers
To no one's surprise, Todd Raney led our list of most prolific Lake-area racers for the fifth year in a row. Todd raced a total of 660.5 miles in 10K or longer races in 2017, down from his record of 793.8 miles in 2016. (Todd's streak will end at five since--now that he lives full-time in Kansas City--he won't be included in our 2018 standings.)
For the first time, Alysia Maschino topped the women's rankings, with 146.1 miles. Nearly half of Alysia's miles came in a single race at the end of the year--the 100K (i.e. 62-mile) race at 36 Hours of Jack in December.
Notable accomplishments
At the Honolulu Marathon in December, Todd Raney completed his three-year quest to complete a marathon in every state. He also grew closer to his other, more ambitious goal of finishing a marathon in under four hours in every state. He ended the year with just six more states to achieve that second goal.
It's not often--in fact, it's very rare--for a local runner to take an overall victory at an out-of-town race, but Chris Boyle managed to do just that in the 50-mile race at the beastly Mark Twain 50/100 Mile Endurance Run. Chris beat 25 other finishers (and 24 others who DNF'd) to win in 9:11:07.
In his very first ultramarathon, Payton Bartlett smashed the 50K state record for 17 year-olds at the 36 Hours of Jack. Payton broke the record by over two hours, finishing in 4:19:50, and becoming the youngest-ever ultramarathon finisher in the Lake area.
For the first time, the Lake area fielded a third team at the Outback in the Ozarks team relay races in Arkansas in October, and two of our teams won their respective divisions.
Miscellaneous records
Thanks to the addition of a 5K to its 2017 race, Bridge & Dam became the largest running race ever held in the Lake area, with 416 finishers among the various distances offered.
Ed Doney became the oldest Lake-area runner to finish a marathon. Ed finished the MO' Cowbell Marathon in St. Charles at the age of 65.
Luckiest runners
For three straight days prior to the race, the weather forecast for Bridge & Dam called for heavy rain on race day. It did rain at the very end of the event, but the weather was sunny and mild until almost all of the participants had crossed the finish line and headed home.
Race cancellations
The Run for the Children Half Marathon was held for the fifth and final time in April. (In 2018, it'll be replaced by the Eldon Rock Island Road Race 15K/10K.) Regrettably, it was the third half marathon that's come and gone in the Lake area.
The Rock 'n' Roll Marathon Series announced that its St. Louis half marathon and 10K would not be held in 2018. While years of declining participation reduced the race to a fraction of its original size in 2011, Rock 'n' Roll St. Louis is the largest race in the state to ever be cancelled.
Rest in Peace
On a sad note, we lost two Lake-area athletes in 2017.
Bethany Wall passed away at the age of 25 as a result of an automobile accident on December 14th.
Cyclist and Camdenton High School industrial arts teacher Larry Allman passed away after sustaining traumatic head injuries in a bicycle accident on June 29th.
The running "recession"
Over the last several years, we've been chronicling the "recession" in running and, to a lesser extent, triathlon. The situation worsened by almost every measure in 2017. Below you'll find discussions of the decline, both statewide and local.
Statewide races
There were 41,999 finishers at full and half marathons held across Missouri in 2017. That was down 12% from a total of 47,900 in 2016, and marked the third consecutive year of decline. Compared to the peak of 56,787 in 2014, 2017 was down a dramatic 26%. It's just a guess (since I don't have data prior to 2012), but we are probably down to levels not seen since around 2009.
Races both big and small felt the pinch. Of the 69 full and half marathons held statewide in 2017, 41 (or 60%) had declines in participation from the prior year, and some were substantial.
Despite the recession, more full and half marathons were held in 2017 than ever before. Seven new ones offset the six that were cancelled for 2017.
Click on the thumbnail below to view the complete data in .pdf format. Alternatively, you can download the .xlsx file here.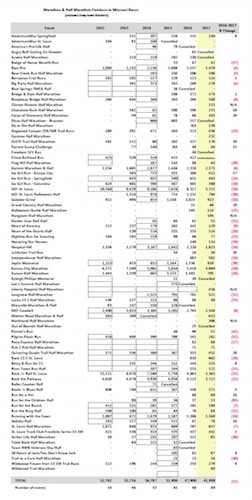 Total miles raced
The Lake area reflected the statewide declines. The number of miles raced by Lake-area runners at 10K or longer races in 2017 was 4,179. That was down 18% from 5,070 miles in 2016, and down 23% from the record of 5,407 miles set in 2015. We're essentially back to where we were in 2013.
Local 5Ks
Thirty-one 5Ks were held in the Lake area in 2017, down from thirty-six in 2016. (A record 48 events were held in 2014.) Not only were there fewer 5Ks, but the number of participants was down noticeably.
The decline in the number of race participants doesn't necessarily mean that fewer people are running. Not everyone who runs also participates in races, and some runners may have cut back on the number of races in which they enter. For those who do race, though, declining participation may eventually lead to fewer races available, less swag, higher entry fees (or smaller discounts), skimpier post-race food, cotton (versus technical) t-shirts, etc. If race sponsors ever start backing out due to declining numbers or other reasons, the effects are going to be magnified.
* * * * *

2018 Archives
2017 Archives
2016 Archives
2015 Archives
2014 Archives
2013 Archives
2012 Archives
2011 Archives
2010 Archives
2009 Archives
* * * * *

POLAR BEAR STRUT 5K RUN/WALK (posted December 1st)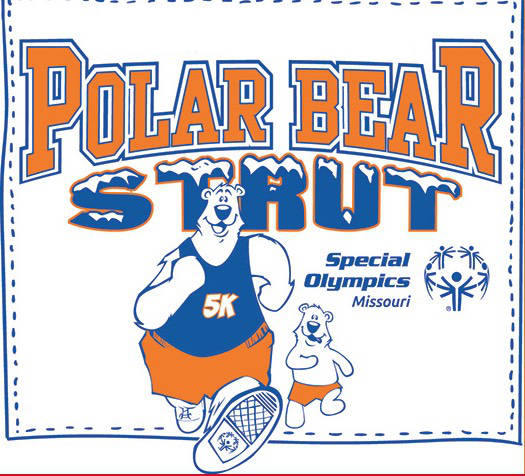 One of the granddaddies of all local 5Ks, the Polar Bear Strut, returns for its 17th year on Saturday, February 24, 2018. The event is a benefit for Special Olympics Missouri and is hosted by the Osage Beach Police Department.
The run/walk starts at the Osage Beach City Hall on Osage Beach Parkway. The website doesn't list a start time, but for 16 years in a row it's been at 10:00 a.m., with race-day registration open from 8:00 to 9:45 a.m.
The entry fee is a donation or fund-raising minimum of $50. Online registration and fundraising are available.
* * * * *
BRIDGE AND DAM HALF MARATHON, 10K & 5K (posted December 1st)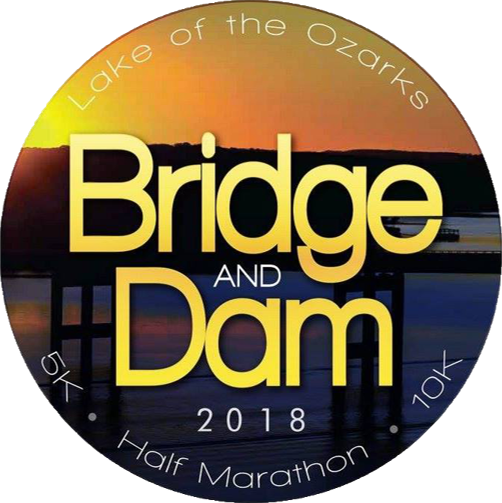 The biggest running race in the Lake area--the Bridge and Dam Half Marathon, 10K & 5K (Facebook page)--returns for its fourth year on Saturday, March 24th, in Lake Ozark. Also returning will be the Double Down (13.1M + 10K) and All-In (13.1M + 10K + 5K) Challenges. A new, more scenic starting line and other course changes are in store for 2018. (Course maps will be posted on the race website once the course distances are certified.) The race starts at 7:30 a.m., with race-day registration available beginning at 6:00 a.m.
The event is organized by the Lake of the Ozarks chapter of the non-profit Missouri Fellowship of Christian Athletes (FCA), and each year draws more out-of-town runners to the Lake area than any other race.
Online registration is open. Note that entry fees will rise on January 1st, and again after online registration closes on March 22nd.
* * * * *
HA HA HALF MARATHON (posted December 7th)

Details have been announced for the inaugural Ha Ha Half Marathon, a trail run to be held at Ha Ha Tonka State Park on Saturday, May 5, 2018. The run will start at 10:00 a.m.
The first thing to know is that the inaugural event will be a fun run, and not a race. (A full-fledged race, on a certified course, is planned for 2019.) Thus, there will be no t-shirts or medals, but also no entry fees. There will, however, be free food and drinks at the finish line.
Check out the event's Facebook page for additional details.
* * * * *
ELDON ROCK ISLAND ROAD RACE (posted November 6th)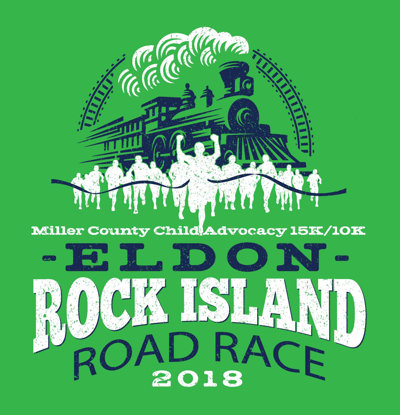 A brand-new race is coming to Eldon next June. The inaugural Eldon Rock Island Road Race will be held on Saturday, June 9th, and will feature 15K and 10K race distances. It will start at 7:00 a.m. at the Rock Island Park in the heart of Eldon. The race is organized by and benefits the Miller County Child Advocacy Council, which organized the former Run for the Children Half Marathon for five years.
Course information is not yet available.
Split-Second Timing will handle race timing and results.
Registration is already open. You can register online, or click here to download a mail-in registration form. Entry fees will rise on January 1st, May 16th, and on race day.
* * * * *
CAN-AM POLICE-FIRE GAMES (posted January 14th)
It's subject to change, but here's a quick look at the schedule for some of the Can-Am Police-Fire Games coming to the Lake of the Ozarks at the end of June. You can find a tentative schedule for all events here.
The events are open to police and fire personnel, as well as their spouses and adult children.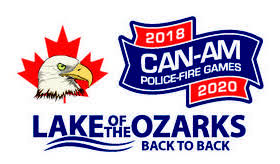 CAN-AM POLICE-FIRE GAMES
LAKE OF THE OZARKS
JUNE 25 - JULY 1, 2018
SCHEDULE OF SELECTED EVENTS

Sport/Event

Day

Date

Start Time

CROSS COUNTRY:
5K
Wednesday

June 27

8:00 a.m.

10K
Friday

June 29

8:00 a.m.

CYCLING:
Time Trial
Tuesday

June 26

8:00 a.m.

Road Race
Wednesday

June 27

8:00 a.m.

Criterium
Thursday

June 28

8:00 a.m.

KAYAKING:
Tuesday

June 26

8:00 a.m.

RUNNING:
5K
Tuesday

June 26

8:00 a.m.

10K
Thursday

June 28

8:00 a.m.

21K (half marathon)
Sunday

July 1

8:00 a.m.

SWIMMING:
Wednesday

June 27

9:00 a.m.

TRIATHLON:
Sprint
Sunday

July 1

8:00 a.m.
* * * * *
4 FORE 30 (posted December 4th)
A new and unconventional running race is coming to the Lake area in December 2018. The 4 Fore 30 (Facebook page) will be held at Lake Valley Golf & Country Club west of Camdenton, and will benefit Kids Harbor.
The race is much more a test of physical and mental endurance than speed. Beginning at 6:00 a.m. on December 1st, competitors will run a four-mile course on the golf club's cart paths, and have one hour in which to complete it. (Failure to complete a lap within sixty minutes will end your race.) Runners begin another lap at the top of each hour until either the last remaining runner stops, or 30 hours have elapsed, whichever comes first. Thus, runners could race as few as four miles, or as many as 120.
Registration will open in January, and will be limited to 100 participants.
* * * * *

HALF MARATHON, MARATHON & LONGER RUNNING RACES
IN MISSOURI AND VICINITY
2018

Date

Race Name

Distances

Location

NOTE: HIGHLIGHTED DATES INDICATE THAT THE EVENT'S 2017 DATE HAS NOT YET BEEN ANNOUNCED AND/OR CONFIRMED
Jan 7
Hangover Half Marathon & 5K
Half Marathon & 5K

(rescheduled from January 1st)

Overland Park, KS
Jan 14
Chevron Houston Marathon
Marathon & Half
Houston, TX
Jan19-20
David's Trail Endurance Run
50K: Gary Braman, Chris Boyle;
25K: John Shelby
Friday night: 11K (new for 2018)
Saturday: 50K, 25K & 7K
Mountain Home, AR
Jan 20
Wildwood Frozen Feet 13.1M Trail Race
Half Marathon
Wildwood, MO
Jan 27
Cabin Reliever 20K &
Resolution 5K
20K & 5K
Rogersville, MO
Jan 27
St. Louis Track Club Frostbite Series
Half Marathon & 4-mile
St. Louis, MO
Feb 3
Chocolate Rush Half Marathon & 5K
Half Marathon & 5K
Olathe, KS
Feb 10
Run with the Wind 25K
25K; solo and 3-team relay
Sarcoxie, MO
Feb 10
Heart of the Ozarks
Half Marathon, relay & 10K
West Plains, MO
Feb 11
Fort Smith Marathon
Marathon/Half/relays
Fort Smith, AR
Feb 24
Clinton Historic Half Marathon & 5K

Half Marathon & 5K
Clinton, MO
Feb 24
Psycho Wyco Run Toto Run
50K, 20-mile & 10-mile trail runs
Kansas City, KS
March 3
Liberty Hospital Half

Half Marathon & 5K
Kansas City, MO
March 4
Rock 'n' Roll New Orleans
Marathon: Curtis Wehmeyer
Marathon & Half
New Orleans, LA
March 4
Little Rock Marathon
Marathon, Half & 10K
Little Rock, AR
March 10
Racing for Daylight Ultra Event
See listing
Waynesville, MO
March 10
Lucky 13.1 Half Marathon & 5K
Half Marathon & 5K
Peculiar, MO
March 17
Dublin's Pass ShamRox Run
15K & 5K
Springfield, MO
March 17
ShamRox Columbia
15K & 5K
Rocheport, MO
March 16,17,18
3 Days of Syllamo
Day 1: 50K
Day 2: 50 miles
Day 3: 20K
Blanchard Springs, AR
March 17
Sedalia Half Marathon
(Facebook page)
Half Marathon & 5K
Sedalia, MO
March 24
Bridge & Dam
Half Marathon, 10K, 5K; Double Down (half+10K) and All-In (half+10K+5K) Challenges
Lake Ozark, MO
March 24
Highline Run for Scouting
Half Marathon & 5K
Springfield, MO
March 25
Relay & Run for 21K
Half Marathon, 7K & Relay
St. Louis, MO
April 1
Mission Run in the Ozarks
Marathon/Half/5K
Mountain Home, AR
April 7
Do or Die Half Marathon & 5K
Half Marathon & 5K
Rocheport to Boonville, MO
April 7
Big Party Half Marathon
Half Marathon & 5K
Springfield, MO
April 8
GO! St. Louis

Marathon/Relay/Half
St. Louis, MO
April 8
Brew to Brew
43.5 miles--solo and relays
Kansas City to Lawrence, KS
April 4-8
Super Awesome! MIssouri Edition
Choose among five races in five days (5K/10K, Half, 26.2K, Marathon, 50K)
Sikeston, MO
April 14
Badge of Honor Run
Half Marathon/10K/5K
Poplar Bluff, MO
April 14
Rock the Parkway
Half Marathon & 5K
Kansas City, MO
April 14
Hogeye Marathon & Relays

Marathon/Half/Relays
Fayetteville, AR
April 14
Double Chubb Trail Race
50K & 25K
Eureka, MO
April 14
Go Girl Run--Springfield
Half Marathon & 5K
Springfield, MO
April 21
Garmin Marathon
Marathon/Half//10K
Olathe, KS
April 22
Northland Half Marathon & 5K
Half Marathon & 5K
Riverside, MO (near KC)
April 28
Illinois Marathon

Marathon/Half/10K/5K
Champaign-Urbana, IL
April 28
Frisco Railroad Run
50 miles/50K/
Marathon/Half/10-mile & 8K
Willard, MO
April 29
Run for Their Lives

Half Marathon & 5K
Owensville, MO
April 29
Oklahoma City Memorial Marathon
Marathon/Relay/Half/5K
Oklahoma City, OK
May 5
Ha Ha Half Marathon
Half marathon trail run
Ha Ha Tonka State Park
May 7
Half Marathon & 5K
Independence, MO
May 12
Running with the Cows
Half Marathon & 5K
Bucyrus, KS
May 12
RiverTownRun
Half Marathon & 5K
Washington, MO
May 20

Striker Life Half Marathon
Half Marathon, 10K & 5K
Whiteman AFB, Knob Noster, MO
May 19
Joplin Memorial Run
Marathon/Half & 5K

Joplin, MO
May 19
Geist Half Marathon
Half: Scott Gray
Half Marathon, 10K & 5K
Fishers, IN
May 19
Berryman 50-Mile & Marathon

50-Mile & Marathon
Steelville, MO
May 20
Great American Bacon Race
Half Marathon & 5K
Branson, MO
May 21
Race 13.1 St. Louis
Half Marathon & 5K
St. Charles, MO
June 2
Go Girl Run--Columbia
Half Marathon & 5K
Columbia, MO
June 2
GO! Missouri KT82 Trail Relay
82-mile Katy Trail relay race
St. Louis to Hermann, MO
June 2
Half Marathon, 10K & 5K
Kansas City, MO
June 9
Eldon Rock Island Road Race
15K and 10K
Eldon, MO
June 10
Run for a Vet
Half Marathon & 5K
Branson, MO
June 10
In2Action Trail Run
Half Marathon & 5K
Columbia, MO
July 15
Get Your Butt Kicked @ Route 66
6-hour run
Eureka, MO
July 21
Psycho Psummer Trail Run
50K, 20-mile, 10-mile
Kansas City, KS
Aug 18
Harder Than Hell Half Marathon
Half Marathon
Highlandville, MO
Aug 27
Corps of Discovery
Half Marathon & 5-Mile trail runs
St. Charles, MO
Sep 2
Forrest Gump Challenge
50K, Marathon, Half & 5K
Reeds Spring, MO
Sep 3
Flatlanders 6/12 Hour Run
6 or 12 hours
Fenton, MO
Sep 3
Heart of America Marathon

Marathon
Columbia
Sep 16
Go Girl Run--Kansas City
Half Marathon & 5K
Kansas City, MO
Sep 16-17
Mark Twain 50/100

50 & 100 miles
Mark Twain Forest
Sep 15
North Shore Trail Run
5K/10K, Half
Lawrence, KS
Sep 23
Pub 2 Pub Half Marathon
Half Marathon
Rolla, MO
Sep 24
Broadway Bridge Run
5K/10K, Half
Kansas City, MO
Sep 23
Quad Cities Marathon
Marathon/Half/5K
Moline, IL
Sep 30
Roots 'n Blues 'n BBQ Festival

10K, Half
Columbia, MO
Sep 30
Run the Burg
5K/10K, Half
Warrensburg, MO
Sep 30
Pony Express Run
Half Marathon & 5K
St. Joseph, MO
Sep 29
Belleville Main Street Marathon
Marathon
Belleville, IL
Sep 30
Mother Road Marathon
Marathon/Half/5K
Joplin, MO
Oct 7
5K, Half & Marathon
St. Charles, MO
Oct 1
Double Road Race
10K+5K
Overland Park, KS
Oct 7
Grand Country Half Marathon & 5K
Half Marathon & 5K
Branson, MO
Oct 7
Frog Hill Half Marathon & 5K/10K
Half Marathon & 10K
(5K on Friday evening)
Waynesville, MO
Oct 7
Panther Run
5K/10K/15K
Springfield, MO
Oct 7
Rock Bridge Revenge
7 miles, 25K, 50K
Columbia, MO
Oct 7
Chicago Marathon
Marathon
Chicago, IL
Oct 14
Bear Creek Run
Half Marathon
Columbia, MO
Oct 14
AdventureMax Springfield Trail Run
10K, Half
Highlandville, MO

Oct 15
Rock 'n' Roll St. Louis
5K (on Sat.), 10K & Half Marathon
St. Louis
Oct 20
Kansas City Marathon
5K, 10K, Half & Marathon
Kansas City, MO
Oct 21
Des Moines Marathon
Marathon/Half/5K
Des Moines, IA
Oct 22
Great GO! St. Louis Halloween Race
5K/10K, Half
St. Louis, MO
Oct 27-28
Outback in the Ozarks

200-mile team relay
Eureka Springs, AR
Oct 28
FLATS Trail Half Marathon
Half Marathon
Kirksville, MO
Oct 29
Spooky Sprint Half(aka "Halloween Hustle")
Half Maathon/10K/5K
Kansas City, MO
Nov 3
Ozark Trail 100
100 miles
Steelville, MO
Nov 3
Fayetteville Half Marathon
Half & 5K
Fayetteville, AR
Nov 4-5
The Skippo Trail Race
10K/20K/30K
St. Louis, MO
Nov 4
Kansas Half Marathon
Half Marathon & 5K
Lawrence, KS
Nov 4
Bass Pro Shops

5K, Half & Marathon
Springfield, MO
Nov 4
St. Louis Half Marathon

5K, Half
St. Louis
Nov 4
New York City Marathon

Marathon
New York, NY
Nov 11
Longview Half Marathon & 5K
Half Marathon & 5K
Kansas City, MO

Nov 10
Dogwood Canyon Trail Runs
15K
Lampe, MO
Nov 11
Dogwood Canyon Trail Runs
25K & 50K
Lampe, MO
Nov 17
Honoring Our Heroes
Marathon/Half/5K
Salem to Rolla, MO
Nov 17
White River Marathon for Kenya
Marathon/Half/5K
Cotter, AR
Nov 18
Route 66 Marathon

Half & Marathon
Tulsa, OK
Nov 18
Pilgrim Pacer Run
5K/10K, Half, Marathon
Shawnee, KS
Dec 1
4 Fore 30
4-mile loops run hourly until last runner stops, or 30 hours have elpased, whichever comes first
Camdenton, MO
Dec 1
Alternate Chili Trail Run
10 miles
Kansas City, KS
Dec 1
Cheese & Sauerkraut 10-Miler
10 miles
Columbia, MO
Dec 1
St. Jude Memphis Marathon Weekend
Marathon/Half/5K
Memphis, TN
Dec 2
Wildwood Trail Marathon
Marathon
Wildwood, MO (west of St. Louis)
Dec 8
36 Hours of Jack

200K/100K/80K/50K/30K/15K/5K & 100-mile
Carthage, MO
Dec 9
Half & Half / Double Half
Half & Marathon
Tulsa, OK
Dec 15
Jacob Wells 3 Bridges Marathon
Marathon
Little Rock, AR
Dec 29
Run for the Ranch

Marathon, Marathon Relay, Half and 6-Hour Run
Springfield
* * * * *

TRIATHLONS AND DUATHLONS
IN MISSOURI AND VICINITY
2018

Date

Race Name

Distance(s)

Location

NOTE: HIGHLIGHTED DATES INDICATE THAT THE EVENT'S 2016 DATE HAS NOT YET BEEN ANNOUNCED AND/OR CONFIRMED
Apr 22
The Chain of Rocks Bridge Duathlon
1.5-mile run, 12-mile bke, 1.5-mile run
St. Louis, MO
May 6
Sprint triathlon: 400-meter pool swim, 14-mile bike, 3-mile run
Super sprint triathlon: 100-meter pool swim, 7-mile bike, 1-mile run
Duathlon: 1-mile run, 7-mile bike, 1-mile run
Columbia, MO
May 13
Trek for Trikes
Not a true duathlon (run/bike/run), but offers a 10K run or bike, or a 20K bike. Mostly on the Highline Trail. Event raises funds to provide adaptive tricycles to children with disabilities.
Bolivar, MO
May 13
Kansas City Triathlon

Sprint: 500-meter swim, 20K bike, 5K run
Olympic: 1.5K swim, 40K bike, 10K run
Duathlon: 1.5-mile run, 20K bike, 5K run
Kansas City, MO
May 20
St. Louis Triathlon
Sprint: 750-meter swim, 12.4-mile bike, 5K run
Olympic: 1500-meter swim, 24.8-mile bike, 10K run
St. Louis, MO
May 27
Iron Horse Duathlon
Duathlon: 5K run, 30K bike, 5K run
Parsons, KS
June 10
Halfmax Championship & Quartermax Triathlons
Halfmax Championship: 1.2-mile swim, 56-mile bike, 13.1-mile run
QuarterMax: 0.6-mile swim, 28-mile bike, 10K run

Innsbrook, MO
June 11
Jefferson City Triathlon &
Duathlon
Triathlon: 400-meter pool swim, 12-mile bike, 3.1-mile run
Duathlon: 12-mile bike, 3.1-mile run
Jefferson City, MO
June 3
Legend Free State Tri


Sprint: 500-yard swim, 12-mile bike, 5K run
Olympic: 1500-meter swim, 40K bike, 10K run
Legend 70: 1.2-mile swim, 56-mile bike, 13.1-mile run
Legend 100: 2-mile swim, 80-mile bike, 18-mile run

Lawrence, KS
June 17
Topeka Tinman Triathlon
Short course: 400-meter swim, 13-mile bike, 3.1-mile run
Long course: 1,000-meter swim, 19-mile bike, 7-mile run
Topeka, KS
Jun 24
Neosho Sprint Triathlon

Triathlon: 300-yard indoor pool swim, 12.5-mile bike, 3.1-mile run;

Neosho, MO
July 7
Big Shark New Town Kids Triathlon
0.62-mile swim, 20-mile bike, 4-mile run
New Town St. Charles, MO
July 8
Big Shark New Town Triathlon
0.62-mile swim, 20-mile bike, 4-mile run
New Town St. Charles, MO
July 9
Summer Roundup Triathlon
Sprint: 500-meter swim, 12.3-mile bike, 5K run
Olympic: 1500-meter swim, 40K bike, 10K run
Jasper, MO
July 8
Shawnee Mission Triathlon & Duathlon
Short course: 500-meter swim, 9-mile bike, 3.2-mile run
Long course: 1,000-meter swim, 18-mile bike, 4.5-mile run
Shawnee, KS
July 15
Mighty Max Kids Triathlon
Four age-appropriate distances for children up to age 14
Columbia, MO
July 23
Show-Me State Games Triathlon & Duathlon
Triathlon: 0.5-mile swim, 15-mile bike, 3-mile run
Duathlon: 15-mile bike, 3-mile run
Columbia, MO
July 28
WIN for KC Women's Triathlon & Duathlon
Triathlon: 500-meter swim, 10-mile bike, 5K run
Duathlon: 1.5-mile run, 10-mile bike, 5K run
Smithville, MO
July 28
Route 66 Half Iron Triathlon
1.2-mile swim, 56-mile bike, 13.1-mile run
Springfield, IL
July 30
Lake Freebird Triathlon & Duathlon
Triathlon: 660-meter swim, 14-mile bike, 5K run
Beginners (non-competitive): 300-meter swim, 10-mile bike, 1.3-mile run
Duathlon: 14-mile bike, 5K run
Mountain Grove, MO
Aug 6
Stockton Lake Tri Wild-Life Challenge
Short course: 500-meter swim, 10.4-mile bike, 5K run
Long course: 1,000-meter swim, 20.8-mile bike, 10K run
Stockton, MO
Aug 5
Matt Mason Memorial Cowboy-UP! Triathlon
500-meter swim, 11-mile bike, 5K run
Kansas City, MO
Aug 10
Republic Youth Tigger Tri
Distances to be announced
Republic, MO
Aug11
Republic Tiger Tri
Super Sprint: 150-yard swim; 6.1-mile bike, 1.5-mile run
Classic Sprint: 300-yard swim, 12.2-mile bike, 5K run
Republic, MO
Aug 12
Warrensburg Triathlon
SuperKids Tri: (distances not available)
Trio-Tri: 3-person relay
"98.5 The Bar" Tri: 300-meter swim, 10-mile bike, 5K run
Warrensburg, MO
Aug 19
Lake St. Louis Triathlon
Short course: 0.25-mile swim, 12.3-mile bike, 2.5-mile run
Long course: 0.93-mile swim, 24-mile bike, 10K run
Lake St. Louis, MO
Sep 10
Legend Ad Astra Triathlon
Sprint: 500-yard swim, 12-mile bike, 5K run
Olympic: 1500-meter swim, 40K bike, 10K run
Legend 70: 1.2-mile swim, 56-mile bike, 13.1-mile run
Lawrence, KS
Sep 16
Redman Triathlon
Full: 2.4-mile swim, 112-mile bike, 26.2-mile run
Half: 1.2-mile swim, 56-mile bike, 13.1-mile run
Oklahoma City, OK
Sep 24
Sedalia Duathlon
Short course: 2-mile run, 8-mile bike, 1-mile run
Long course: 5K run, 30K bike, 5K run
Sedalia, MO
* * * * *

CYCLING EVENTS
IN MISSOURI AND VICINITY
2018

Date

Race/Event Name

Distance(s)

Location

NOTE: HIGHLIGHTED DATES INDICATE THAT THE EVENT'S 2016 DATE HAS NOT YET BEEN ANNOUNCED AND/OR CONFIRMED
Feb 24
Rocheport Roubaix
20, 50 and 70 miles
Rocheport, MO
April 9
MoBikeFed Ride with Legislators
Jefferson City, MO
April 28
The Epic (gravel road bike races)
150 and 80 miles
Lake of the Ozarks
May 12
Vino Fondo
38, 58, 91 and 118 miles
Augusta, MO
May 21
The Hairy Hundred
100-mile gravel road race
Katy Trail near Columbia, MO
May 21
Down 'n Dirty
Varies by division
Warsaw, MO
May 27-28
Pedaler's Jamboree
Music and cycling event on the Katy Trail
Columbia, MO
May 29
Tour of Kansas City Gran Fondo
20, 50, 60, 75 and 100 miles
Kansas City, MO
June 2
Dirty Kanza 200
200 miles
Emporia, KS
June 3
Tour de Cure
10, 30, 50 and 100 miles
Alton, IL
Jun 10-16
Big BAM
Bicycle ride across Missouri
Weston to Louisiana, MO
June 10
Cycle for Life
10, 25 and 50 miles
Ozark, MO
June 17
Queen City Century
22, 45, 60, 82 and 100 miles
Springfield, MO
June 24
Tour de Lakes
10, 32, 55 and 65 miles
Lee's Summit, MO
July 9
Tour de Jeff
15-mile nighttime bike ride
Jefferson City, MO
July 15
World Naked Bike Ride--St. Louis
St. Louis, MO
July 22
Show-Me State Games Road Cycling Race
19 and 28 miles
Callaway County, MO
July 30
Show-Me State Games Mountain Bike Race
1, 1-1/2, and 3 hours
Columbia, MO
Aug 5
MO State Time Trial Championship
20K or 40K, depending on division
Centraiia, MO
Aug 5
Moonlight Ramble
10.5 and 18.5 miles
St. Louis, MO
Aug 19
Svitak Freedom Ride
10, 25, 40, 67 and 100 miles
Springfield, MO
Aug 26
Red Shoe Ride
35, 60 and 100 miles
Columbia, MO
Aug 26
BikeMO
30, 65 and 90 miles (24 and 50 miles for Katy Trail option)
Rocheport, MO
Sep 1-3
Singletrackmind Festival
Mountain biking, trail runs, etc. on the Two Rivers Bike Trail
Springfield, MO
Sep 9
Pony Express Dash
120- and 75-mile gravel road races
Maryville, KS
Sep 9-10
Bike MS
Four distances offered
Godfrey, IL
Sep 16

Moonlight Ramble
(reschdule date)
10.5 and 18.5 miles
St. Louis, MO
Sep 23-24
Pedal the Cause
15, 25, 37, 50, 75 & 100 miles
St. Louis, MO
Sep 24
Rhett's Run
Mountain bike race
Columbia, MO
Sep 30
Tour de BBQ
15, 35 and 62 miles
Overland Park, KS
Oct 1
Tour de Wildwood
28 and 45 miles
Wildwood, MO
Oct 7
Cystic Fibrosis Cycle for Life
25, 50 and 100 miles
St. Charles, MO
Oct 8
Tour de Bass Bike Rides
25, 42, 77 and 102 miles
Springfield, MO
Oct 14-15
Hartsburg Pumpkin Festival Ride
9.5 miles from Jefferson City on the Katy Trail
Oct 21
Cuban Gravel Crisis
20, 50 and 100 mile bike rides
Cuba, MO
Oct 21
BT Epic
Mountain bike race on the Berryman Trail
Steelville, MO
Nov 4
Red Dog 100
Gravel road race
Jefferson City, MO
* * * * *

PADDLING EVENTS
IN MISSOURI AND VICINITY
2018

Date

Race Name & River

Distance(s) & Boat Type

Location

NOTE: HIGHLIGHTED DATES INDICATE THAT THE EVENT'S 2016 DATE HAS NOT YET BEEN ANNOUNCED AND/OR CONFIRMED
May 31
Lake Race "Paddle Battle"
Paddleboard races
Lake of the Ozarks
June 10-11
Osage Howler
Trevor Dowdney (61 miles)
Race: 61 miles
Fun Run: 14 miles
Osage River
July 22
Firecracker Race
(Mississippi River -- Alton Pool)
Canoes & kayaks -- 12 miles
Paddlboards -- 3 miles
Alton, IL
Aug 27
Race for the Rivers
(Missouri River)
20 and 40 miles; canoes & kayaks
Washington, MO
Sep xx


(cancelled for 2017)

Fall 36 Race
(Osage, Missouri and Gasconade Rivers)
36 miles
Canoes, kayaks & paddleboards
Starts near Loose Creek; ends at Gasconade
Sep 30
Race to the Dome
(Missouri River)
Providence (26.6 miles) or Hartsburg (15.8 miles) to Jefferson City
Jefferson City, MO
Oct 28
Chattajack 31
(Tennessee River)
Trevor Dowdney
31 miles; paddleboard & kayaks
Chattanooga, TN