Attention all Facebook users: "Like" Denny Gillen's Rev3 Knoxville finish line photo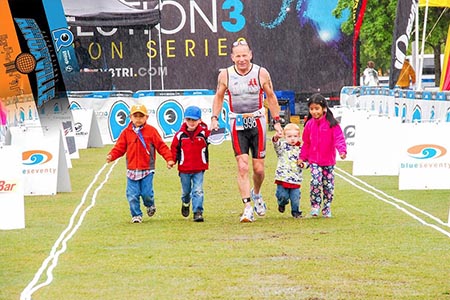 (Click on photo for a larger image)
The Revolution3 Knoxville Triathlon is offering a free entry into next year's race for the athlete who gets the most Facebook "likes" (by May 21st) of their family finish line photo at this year's race, which was held on May 5th. Above is Denny Gillen of Camdenton, running down the finish chute with his four grandchildren. With about a week to go, the photo currently has 173 "likes", versus 104 for the next-highest "like" getter. To add your "like" and send Denny back to Knoxville in 2014, go to this Facebook page. Thanks!
* * * * *
There are no Lake-area races this weekend. There are, however, quite a few events being held around the state, and since doing out-of-town events requires more advance notice, here's a quick look at some of the longer or more notable ones. (Note: All of the events, other than the Kansas City Triathlon and Ironman 5150 Kansas Triathlon, are on Saturday.)
If you're doing one of these races, e-mail me and I'll post your name next to the event to let others know who else will be there.
Jefferson City:
Hope for Hayden 5K Run/Walk
Lebanon:
Laclede Electric Cooperative Relay for Life 5K/10K
Sedalia:
Race 4 Reasons Half Marathon, 10K & 5K
Willard:
Ozark Greenways Adventure Race
Joplin:
Joplin Memorial Run (half marathon, 5K, kids run)
Kansas City:
Go Girl Run Half Marathon & 5K (women only)
Kansas City Corporate Challenge Half Marathon
Kansas City Triathlon
Berryman Trail:
The Berryman 50-Mile and Marathon are sold out.
Lawrence, Kansas:
Ironman 5150 Kansas Triathlon, Sunday
* * * * *
Three 5Ks have been announced just recently, and are listed below in order of their scheduled dates.
FUN 5K FOR OSTEOGENESIS IMPERFECTA (posted May 13th)
Osteogenesis Imperfecta (OI) is a rare, genetic disorder affecting the body's ability to make collagen--a protein that helps make bones and muscles strong. Those born with OI suffer from a variety of symptoms, the most common of which is weak bones that break easily.
A Fun 5K benefiting the OI Foundation's mission to find a cure and help those affected by OI will be held at 6:30 p.m. on Friday, May 31st, at the Linn Creek City Park (map).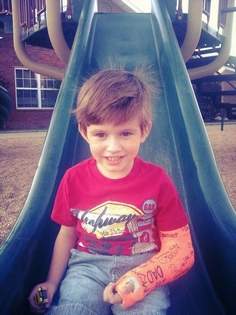 Noah Leiferman
(Photo provided to LakeNewsOnline)

Noah Leiferman, a five-year old from Camenton, and whose story was told in a LakeNewsOnline article several months ago, suffers from OI, and has experienced ten bone fractures in his young life. Noah's mother, Randi Phillips, is organizing the 5K in an effort to raise awareness of OI and funds to find a cure.
The entry fee is $25. Click here to download an entry form containing further details.
* * * * *
RUN FOR THE CLOVER RUN/WALK (posted May 13th)
The Laclede County 4-H Council is holding their first annual Run for the Clover 5K Run/Walk and 1-Mile Fun Walk to benefit their 4-H youth programs. The event will be held on Saturday, June 1st, at Atchley Park (map) in Lebanon.
Registration opens at 7:30 a.m., with the run/walk starting at 8:00 a.m. and the 1-mile fun walk at 8:15 a.m. Entry fees are $20 for the 5K and $10 for the 1-mile walk. Families of four or more can enter for $50. Pre-register on or before May 15th to get a t-shirt.
Click here to download a registration form.
* * * * *
RUN WITH THE COPS, NOT FROM THEM 5K/10K (updated May 14th)
The Miller County Sheriff's Department is organizing their first annual Run With The Cops, Not From Them 5K/10K on Saturday, June 15th. Proceeds from the event will be used to help the department obtain a new K-9 and purchase some much-needed equipment.
The event is being held at the Eldon Air Park, located on Franklin Street in Eldon, near the Aquatic Park. The 10K will start at 8:00 a.m.; the 5K at 8:30 a.m. Race-day registration opens at 7:00 a.m.
The entry fee is $30 for the 10K, and $20 for the 5K.
All participants will receive a t-shirt, although only those who pre-register on or before June 1st will be assured of receiving theirs on race day.
Click here to download a registration form, or go to the event's Facebook page. Please note: The registration form doesn't list a mailing address. Use this:
Miller County Sheriff's Department
1999 Highway 52
Tuscumbia, MO 65082
I'd suggest noting "Attn: Run with the Cops 5K/10K" on the envelope to help it get to the right person a little faster.
* * * * *
SMITHVILLE 8-HOUR ADVENTURE RACE (posted May 12th)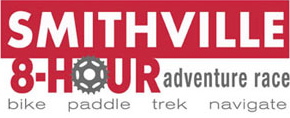 They may have finished 60th of 60 teams--a position sometimes referred to as "DFL"--but the 2 Hiking Hillbillies team of Tony and Renee Slack of Lake Ozark (they used to race as The Slackers) still deserve pats on the back for participating in Saturday's (May 11th) Smithville 8-Hour Adventure Race. They raced for seven hours, finding 24 of the 41 checkpoints. The race, organized by Bonk Hard Racing, was held at Smithville, Missouri--just north of Kansas City.
Tony and Renee, by the way, are the principals of Osage Middle School and Osage Beach Elementary, respectively.
* * * * *
TA-TA TROT 5K RUN/WALK (updated May 11th)

The second annual Ta-Ta-Trot 5K Run/Walk on Saturday (May 11th) set a new record for a Lake-area event. A total of 291 runners and walkers registered for this year's event, surpassing last year's record of 277. To anyone who's been participating in local 5Ks over the years, it's hard to believe that a Lake-area run/walk could attract nearly 300 participants. The credit belongs to the We Bleed Pink team of Jayna Gray, Kari Salsman, Holly Thomas (a cancer survivor herself), Jennifer Wrye, Christi Morris and Theresa Dennis. They organized the event to raise funds for the Susan G. Komen for the Cure Foundation, and will be participating in the Susan G. Komen 3-Day event--a 3-day, 60-mile walk--between August 16 and18th in Detroit.


The biggest group of runners and walkers in Lake-area history
(Click on photo for a larger image.)
After all the rainy, cloudy, and chilly weather in recent weeks, the weather for this race was absolutely perfect.
Nigher Alfaro was the overall male winner, in 19:21. (Nigher finished second overall in 2012.)
Sorry I didn't catch her name, but I believe runner #137, pictured below, was the overall female winner, in about 23 minutes. (Sorry also for the lousy image--it's a screen shot from the video footage.) I'll post her name and finish time when the results come in--or sooner, if someone knows.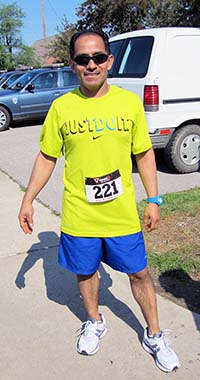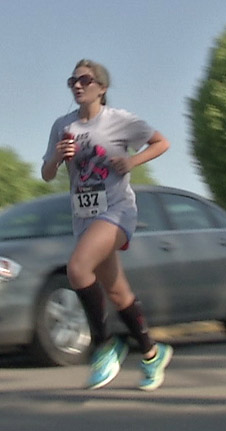 Overall winners: Nigher Alfaro and a not-yet-identified female.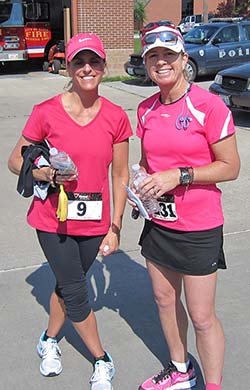 Terry Atteberry and April Leonard. Terry's been battling knee problems, and said before the race that she was just going to "take it easy". She was the second female finisher, in around 24 minutes. April came in not long thereafter.

I'll post results as soon as they're provided.
I'll also try to soon post some of the video taken at the race.
* * * * *
GO GIRL RUN HALF MARATHON & 5K (posted May 7th)

There were lots of outstanding results among Lake-area women at Saturday's (May 11th) Go Girl Run Half Marathon in Springfield.
Some especially noteworthy results are Miriam Hill's 1:42:00 finish time, which placed her second in the 45-49 age group, and Sue Barry's 1:55:37, good for third place in the 50-54 age group.
A former Lake-area runner, Kristen Glassmaker, finished in 1:39:01, which place her second of 104 competitors in the 25-29 age group.
GO GIRL RUN HALF MARATHON & 5K
SPRINGFIELD, MISSOURI
RESULTS FOR LAKE-AREA PARTICIPANTS


Name

Finish Time

Age Group

Age Group Place

Miriam Hill

1:42:00

F45-49

2 of 95

Tania Maschhoff

1:50:34

F35-39

15 of 184

Tammara Vitelli

1:52:19

F35-39

22 of 184

Sue Barry

1:55:37

F50-54

3 of 49

Karrie Denbow

1:55:59

F35-39

31 of 184

Angela Martin

1:59:57

F40-44

20 of 142

Erin Oswalt

2:02:12

F25-29

35 of 104

Denise Baker

2:02:12

F40-44

23 of 142

Karen Blevins

2:03:01

F45-49

19 of 95

Race Notes:
Finishers: 843 for half marathon; 317 for 5K
Weather: 48° at start; sunny; 3-7 mph winds
Link to full results
I feel certain I've missed some runners, since the results were quite long and couldn't be searched by city. Please let me know whose names I missed.
There are two more Go Girl Run Half Marathon & 5K events in coming weeks, including Kansas City and Columbia on May 18th and 25th, respectively.
Here are links to each event's homepage.
Springfield Kansas City Columbia
The events are intended for women. Men won't be turned away, but their participation is seriously discouraged--particularly for the half marathon.
* * * * *
RUNNING WITH THE COWS (posted May 11th)
At Saturday's (May 11th) Running with the Cows Half Marathon in Bucyrus, Kansas, Scott Hinkle of Osage Beach finish in 2:53:29, placing him 69th (of 70) in the male 40-44 age group.
Frequent Lake-area visitor Miki Schroeder finished in 2:03:16, placing 32nd (of 114) in the female 40-44 age group. With this finish, Miki completed the Heartland 39.3 Series of three half marathons over the past five weeks, finishing all within 4 minutes of one another.
* * * * *
DENNIS SCHEIDERER/ELDON KIWANIS 5K RUN/WALK (posted April 3rd)
The seventh annual Dennis Scheiderer 5K Run/Walk, put on by the Eldon Kiwanis, will be held on Saturday, June 1st at the Eldon Public Safety Building on S. Oak Street (map).
The entry fee is $15 for adults (15 and over) if your registration form is postmarked on or before May 18th. After that date, the entry free for adults is $20. The entry fee for children is $10.
Race-day registration opens at 6:30 a.m. Walkers will start at 7:10 a.m. Runners start at 7:45 a.m.
Click to download a registration form.
* * * * *
COLORPALOOZA 5K RUN/WALK (updated May 6th)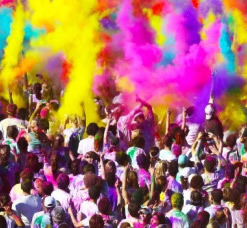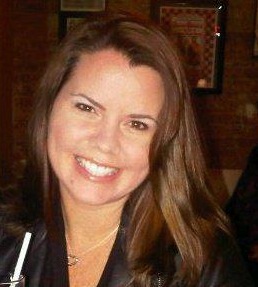 The first annual Colorpalooza 5K Run/Walk will be held at 9:00 a.m. on Saturday, June 15th, at the Jaycee Cole County Fairgrounds (map) in memory of Angie Capps-Tinnin, a 39 year-old mother of three who passed away in December after a year-long battle against colon cancer. Angie worked for Troop F of the Missouri State Highway Patrol. Her husband, Tim, still works for Troop F.
The entry fee is $25. T-shirts will be guaranteed only for those who register before June 1st. If you wear your own t-shirt to the event, be aware that it will get stained. (White t-shirts are recommended for the full color effect). Snacks and water will be provided.
Click for a registration form.
Proceeds from the event will go to Safety Net of Missouri, a non-profit organization formed in 2012 to provide needed support and financial assistance to the spouses and children of law enforcement officers, paramedics, EMT's, correction officers and firefighters who have lost their lives while performing their duties.
* * * * *
NIGHT STRIDE 5K RUN/WALK (posted May 8th)
The most family-oriented, child-friendly 5K run/walk in the Lake area returns on the evening of Friday, June 14th. The fifth annual Night Stride 5K Run/Walk, organized by and benefiting the Children's Learning Center, will be held at Camdenton High School (map). Child-friendly activities start at 6:15 p.m. The run/walk starts at 8:00 p.m.
For those who pre-register by the June 3rd deadline, the entry fee is $20 for individuals, or $40 for a family of three or more (children must be younger than 10). A group of four (of any ages) can pre-register for $15 per person. After the deadline, the fees rise to $25 for individuals, $45 for families, and $20 per person for groups of four. Pre-registering gets you a guaranteed t-shirt on race day.
Click here to download a flyer and registration form.
FORGET-ME-NOT TROT 5K/10K RUN/WALK (updated February 7th)
A brand new 5K/10K is coming to the Lake area this June. The first annual Forget-Me-Not Trot 5K/10K Run/Walk will be held on June 29th at the Linn Creek City Park. The event is a benefit for the Missouri Forget-Me-Not Horse Rescue and Sanctuary, a nonprofit organization based in Linn Creek.
We're all familiar with the small-animal shelters in the Lake area, but horses are also unfortunate victims of neglect and abuse, and the Forget-Me-Not Sanctuary comes to their aid by nurturing them back to health and finding homes for them.
Update: The needs of the Sanctuary have suddenly become significantly greater. A horse rescue facility elsewhere in Missouri has just closed its doors, leaving 57 horses in need of immediate care. Forget-Me-Not has agreed to accept the horses and care for them while awaiting adoption. (See the Lake Sun article.)
The entry fee is $20 for those who pre-register, and $25 on race day. Race-day registration will open at 6:30 a.m. Walkers will start at 7:30, and runners at 7:45. (I believe the 10K is for runners only.)
Participants donating $100 or more will be able to choose a photo of a rescue horse to sponsor for the month and be entered into a drawing for prizes. Each additional $50 will receive an additional photo and chance for the drawing.
Click for a registration form and flyer in .docx or .pdf format.
* * * * *
____________________________________
Looking for older postings? Check here:
____________________________________
HAVE SOMETHING TO POST?
Doing a race or event that others might also be interested in doing? Planning to do a training run/ride/swim/paddle and wanting to invite others along? Let me know and I'll post it.