VERMONT CITY MARATHON (posted May 29th)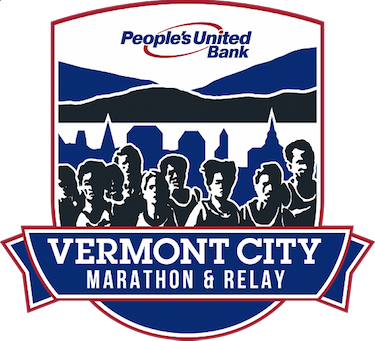 It was a very disappointing day for Todd Raney at Sunday's Vermont City Marathon in Burlington, Vermont. The race was stopped at noon--four hours after the race began--due to the combination of 88° temperatures and 46% relative humidity. (You can read the official press release regarding the stoppage here.) Anyone still on the course at that time was instructed to go to the nearest aid station for a ride to the finish line.
Official finish times were recorded for 933 runners--about half the starting field--who finished in under 4-1/2 hours. Unfortunately, that didn't include Todd, who finished in 4:52:15. (Todd will get full credit for the finish on this website.)
Race stoppages always generate some second-guessing and hard feelings, especially by those who weren't very far from the finish line at the time of the stoppage.
Race organizers started instituting heat policies in force after the disastrous 2007 Chicago Marathon. That race was stopped 3-1/2 hours after it began due to hot, humid weather that led to an embarrassing and inexcusable shortage of water on the course.
In 2011, the GO! St. Louis Marathon's heat policy resulted in the marathon course being closed at mile 9 at 9:00 a.m. Marathoners who hadn't yet reached that point were instructed to join the half marathoners in a turn toward the finish line.
* * * * *
CASEY O'CONNOR
I just discovered that an update on Casey's condition was posted at The Epic bicycle race's Facebook page on Wednesday, May 25th. The news is very encouraging.
Here's the text:
"Update: Casey O'Connor is awake, responding to requests, and doing some things on his own. He remembers starting the race, crossing the creek, his broken derailleur and someone giving him a chain tool to convert to a single speed. Communication is still slow and difficult. We wait to hear news of more recovery soon."


* * * * *

ROCKFORD MARATHON (posted May 23rd)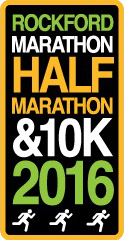 It was another nail-biter of a finish for Todd Raney this weekend. On Sunday (May 22nd), Todd finished the Rockford Marathon in 3:59:13, allowing him to check off Illinois in his quest to finish a marathon in under four hours in every state. Illinois marks state number 17. (His state total remains at 39 for marathon finishes regardless of finish time.)
At Rockford, Todd placed 11th (of 24) in the men's 45-49 age group. Full results are here.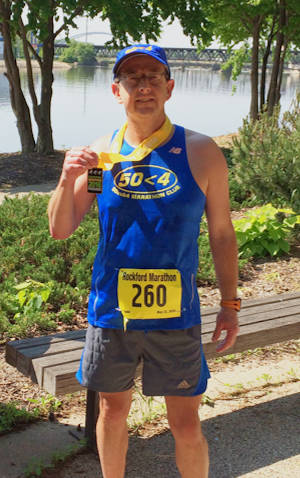 * * * * *
JOPLIN MEMORIAL MARATHON, HALF MARATHON & 5K (updated May 24th)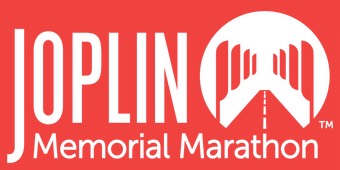 This year's Joplin Memorial Marathon, Half Marathon & 5K commemorated the fifth anniversary of the devastating tornado that ripped through the heart of the city, killing 161 people. Just over 2,500 runners--including five from the Lake area--participated in the event. The marathon was a new addition to the race this year, and attracted an impressive total of 343 finishers.
Three of those marathon finishers were from the Lake area: Jim McDermott, Jen Wiethop, and Alysia Maschino.
This was Jim McDermott's fifth consecutive appearance at the race. Jim finished in 4:12:55 and placed fifth (of nine) in the 60-64 age group.
Jen Wiethop crossed the line in 4:26:34, placing 15th (of 29) in the women's 30-34 age group, while Alysia Maschino finished in 4:53:48 and placed 15th (of 28) in the 40-44 age group. Jen's finish time was a new personal record by nearly 20 minutes.
Julie Moss was our lone half marathoner. She finished in 2:19:24, shaving three minutes off her time at the Bridge & Dam Half Marathon last month.
Scott Gray finished his first half marathon at this race last year, but opted for the 5K this year. He finished in 40:10.
He also passed along some photos from the race.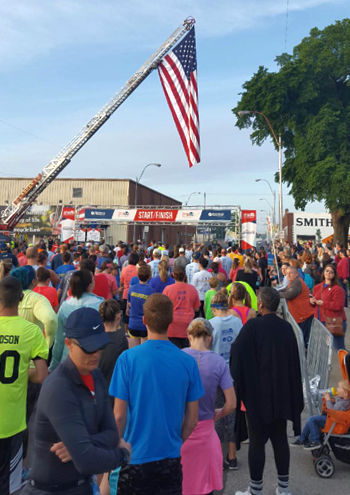 The starting line. A woman was called to the starting line for a "bib exchange". It turned out to be a ruse for a marriage proposal, to which she said "yes".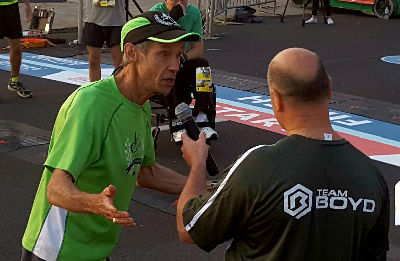 Famous running coach and author Jeff Galloway (in green shirt) spoke at this year's race banquet.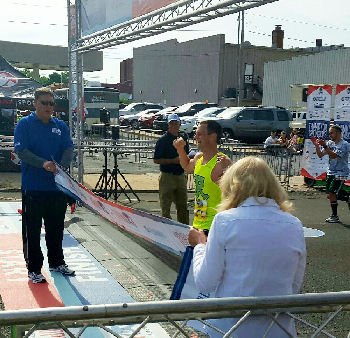 The men's marathon champion crosses the finish line.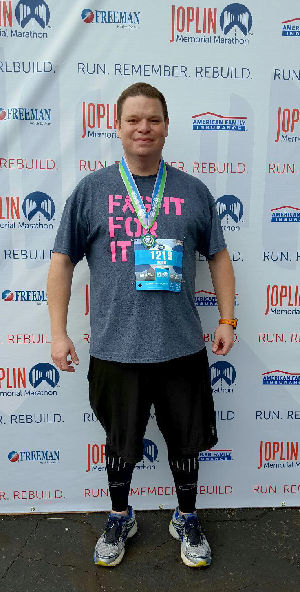 Scott Gray chose to race Joplin while Jayna Gray was running the women-only Go Girl Run Half Marathon in Columbia.
JOPLIN MEMORIAL MARATHON, HALF MARATHON & 5K
JOPLIN, MISSOURI
MAY 21, 2016
RESULTS FOR LAKE-AREA PARTICIPANTS

Name

City

Finish Time

Age Group

Age Group Place

MARATHON:
Jim McDermott
Camdenton

4:12:55

M60-64

5 of 9

Jen Wiethop
Montreal

4:26:34

F30-34

15 of 29

Alysia Maschino
Linn Creek

4:53:48

F40-44

15 of 28

HALF MARATHON:
Julie Moss
Lake Ozark

2:19:24

F35-39

46 of 112

5K:
Scott Gray
Eldon

40:10

M35-39

48 of 59

Race Notes:

Total finishers:
Marathon: 343 (distance not offered in prior years)
Half marathon: 993 (versus 1,164 in 2015 and 852 in 2014)
5K: 1,218 (versus 986 in 2015 and 897 in 2014)

Link to full results
* * * * *
STRIKER LIFE HALF MARATHON, 10K & 5K (posted May 22nd)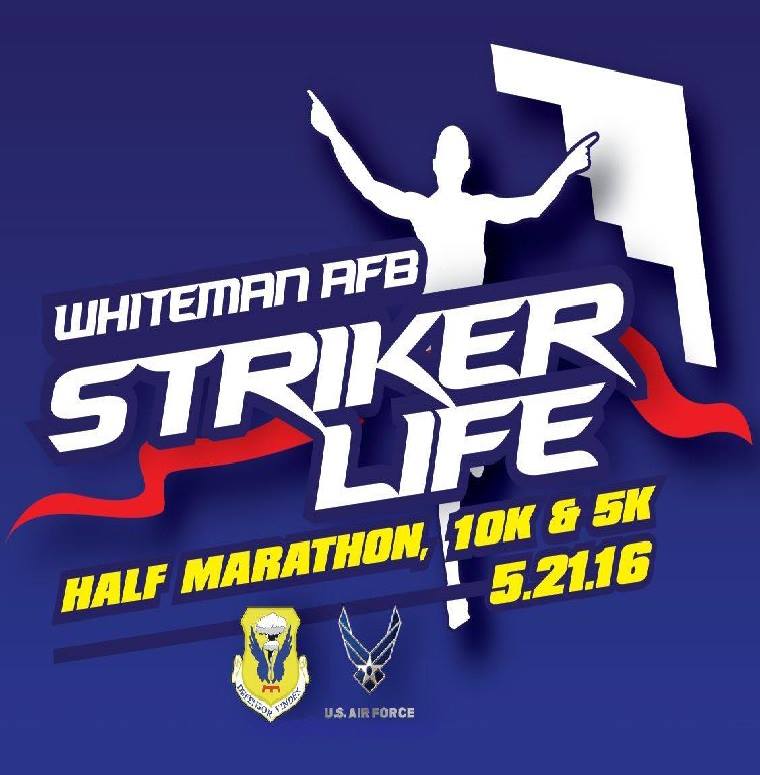 Congratulations to the Pages--Reagan and Scott--and Cooper Vickers for excellent runs at the Striker Life Half Marathon at Whiteman Air Force Base in Knob Noster on Saturday (May 21st).
Cooper, who at age 14 set the record for the youngest male half marathon finisher in the Lake area, ran a personal best 1:58:53 and finished second (of three) in the male 19-and-under age group. Reagan also finished second (of three) in her age group with a finish time of 2:07:56. This was her seventh half marathon finish.
Scott narrowly missed a sub two-hour finish, crossing the line in 2:00:09. He placed 7th (of 13) in the men's 40-49 age group. Scott reports that the course was long, at 13.4 miles. (Postings on the race's Facebook page indicate that the half marathon and 10K courses were indeed long.)
Complete race results can be found here.
There were 121, 71 and 148 finishers of the half marathon, 10K and 5K, respectively. The number of half finishers was down 42% from last year.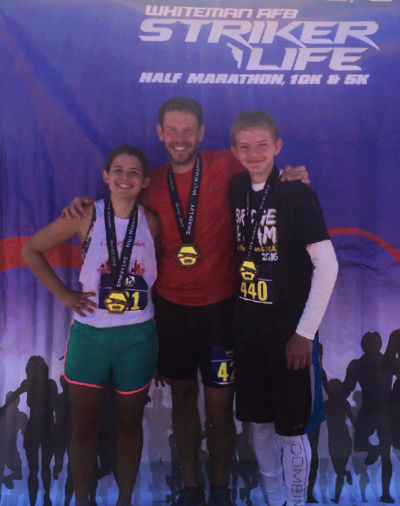 Reagan Page, Scott Page and Cooper Vickers showing off
their cool finishers medals.
(Photo provided.)
* * * * *
GO GIRL RUN COLUMBIA MARATHON, HALF MARATHON & 5K (posted May 22nd)


Congratulations to all seven Lake-area women who finished Saturday's (May 21st) Go Girl Run Marathon, Half Marathon & 5K in Columbia.
This was the first year that the race offered the marathon distance. Forty-nine runners, including our own April Leonard, participated in the inaugural race. April finished in 4:47:54, placing 4th (of 7) in the women's 45-49 age group.
In the half marathon, our fastest local finisher was Angela Martin, who took third place (of 34) in the 45-49 age group by finishing in 2:03:23--her fastest finish at this race since running 1:59:57 in 2013. Angela's sister-in-law, Cindy Martin, ran the 5K in 35:22, and Cindy's daughter, Jessica Rozier, ran the half in 2:28:55. They've made this race a family affair for the last three years.
Participation in the half marathon declined once again. It's now dropped every year since the inaugural race was held in 2012, when there were 621 half marathon finishers. There were 352 half finishers this year, and even adding to it the 49 finishers of the full marathon, the total is still 14% less than last year's 467 half marathon finishers. (It's purely a guess, but the marathon may not return next year. Ultramax Sports is quick to pull the plug on races that don't measure up, and keeping a marathon course open for 7 hours for just 49 runners doesn't make much sense.)
If I missed anyone, please let me know.
GO GIRL RUN HALF MARATHON & 5K
COLUMBIA, MISSOURI
MAY 21, 2016
RESULTS FOR LAKE-AREA PARTICIPANTS

Name

City

Finish Time

Age Group

Age Group Place

MARATHON:
April Leonard
Eldon

4:47:54

F45-49

4 of 7

HALF MARATHON:
Angela Martin
Osage Beach

2:03:23

F45-49

3 of 34

Vickey Clark
Camdenton

2:17:24

F45-49

14 of 34

Jessica Rozier
Osage Beach

2:28:55

F25-29

24 of 49

Jayna Gray
Eldon

2:42:24

F35-39

55 of 77

Stephanie Dixon
Osage Beach

2:49:37

F25-29

35 of 49

5K:
Cindy Martin
Osage Beach

35:22

F50-54

9 of 24

Race Notes:

Total finishers:
Marathon: 49 (distance not offered in prior years)
Half marathon: 352 (versus 467 in 2015, 596 in 2014 and 604 in 2013)
5K: 426 (versus 397 in 2015, 510 in 2014 and 517 in 2013)

Link to full results
* * * * *
LACLEDE ELECTRIC COOPERATIVE'S POWER RUN 5K/10K (posted May 21st)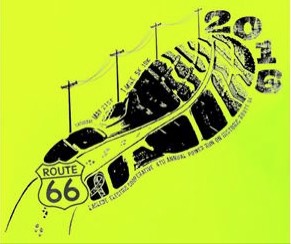 Just one Lake-area runner competed at Laclede Electric Cooperative's Power Run on Saturday (May 21st) in Lebanon. Jason Crockett of Camdenton finished the 10K in 52:13, and won the men's 41-50 age group by default.

A familiar name in the 10K results was Sherry Wilson of Waynesville. Sherry won the women's 41-50 age group--also by default--in 57:45.
* * * * *
FORT LEONARD WOOD'S VOLKSLAUF 10K MUD RUN (posted May 21st)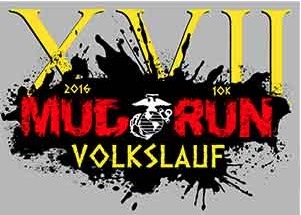 Two runners from Camdenton were among the 675 finishers of the 17th annual Volkslauf 10K Mud Run at Fort Leonard Wood on Saturday (May 21st).
Larry and Gavyn Quade--37 and 8 years old, respectively--ran together and finished in 1:24:41, placing 348th/349th of all finishers.
Full results can be found here.
Participation was down 28% from last year's total of 938.
* * * * *

* * * * *

LAKE RACE 5K RUN/WALK (posted March 20th)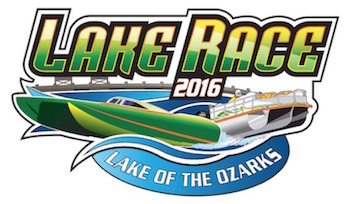 The second annual Lake Race 5K Run/Walk, one of a series of events held as part of the Lake Race powerboat races, will be held on Sunday, June 5th at 9:00 a.m. The race will take place at Beaver's at the Dam Bar & Grill just west of Bagnell Dam on the Lake Ozark strip. Race-day registration will be open from 7:00 to 8:30 a.m.
For those who pre-register on or before May 4th, the entry fee is $25 for adults and $20 for children 6-18 years of age. (Children five and under are free.) After May 4th, the fees rise to $30 for adults and $25 for children 6 to 18. Be sure to register early, as t-shirts are only guaranteed for those who pre-register; all others will receive a t-shirt while supplies last.
Online registration is available. A downloadable, mail-in registration form can be found here.
The race will be professionally timed by Split-Second Timing of Rolla. The raffle that proved so popular at last year's event will return this year. (Let's hope that the rains don't.)
* * * * *
9th ANNUAL SUMMER NIGHT GLOW 5K RUN/WALK (posted March 1st)

The Lake area's most kid-friendly and family-oriented run/walk of the year returns on the evening of Friday, June 10th. The non-profit Children's Learning Center's 9th annual Summer Night Glow 5K Run/Walk (Facebook page) will be held at Camdenton High School, with the run/walk starting at 8:00 p.m., and race registration and kids activities starting at 6:15 p.m.
A notable addition to this year's festivities will be an actual photo booth. Participants will be able to get in the booth, have their photo taken, and receive a four-photo strip to take home. And, to make it even more interesting (as well as consistent with the night glow theme), the booth will feature blacklighting, so the photos won't be of the usual (boring) shopping-mall photo booth variety.
For individual participants, the entry fee is a minimum contribution of $25 if you register by the pre-registration deadline of May 27th. The fee is $30 on race day.
Teams of four or more can pre-register for $20 per person through May 27th. On race day, the fee is $25 per person.
T-shirts can only be guaranteed for those who pre-register.
Check out the race flyer for additional details.
Online registration is now open.
* * * * *
JAMIE ZAK, WE GOT YOUR BACK! GLOW RUN (posted May 11th)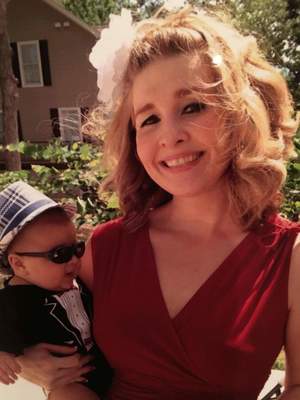 Jamie Zak is a young mother and nurse battling renal failure and cardiomyopathy. A fundraiser is being held on her behalf from 6:00 to 10:00 p.m. at the Eldon Aquatic Center on Saturday, June 25th. Included among the festivities is a glow run/walk that starts at 8:30 p.m.
The entry fee for the glow run is $35. The fee includes your entry into the pool area for swimming and activities that evening. (Entry into the pool is $5 for those not participating in the glow run.) Please register by June 1st to guarantee your t-shirt.
A silent auction is also planned from 6:00 to 8:00 p.m.
For more information or to register, visit the event website. (A Facebook page has also been created.)
The Lake Sun published a very nice article about Jamie and her medical condition. You can read it here.
* * * * *
CONCERNS OF POLICE SURVIVORS BLUE RIBBON 5K RUN/WALK (posted May 12th)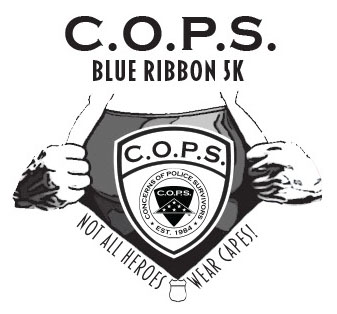 The third annual Blue Ribbon 5K Run/Walk benefiting Camdenton-based Concerns of Police Survivors (C.O.P.S), will be held on Saturday, August 20th, at the Linn Creek City Park (map). The run/walk will start at 8:00 a.m., with race-day registration opening at 6:30 a.m.
The theme for this year's event is "Not all heroes wear capes!" Come dressed as your favorite superhero, or come dressed all in blue. Prizes will be given out for best costume and "Blue-est."
The entry fee for those who pre-register is $20 for individuals and $15 per person for families of three or more. On race day, the entry fees for both individuals and family members are $5 higher.
A "Virtual Runner" option is available for those who live elsewhere and can't travel to the event. The entry fee is $25. Virtual Runners will get a t-shirt.
T-shirts can only be guaranteed to those who register by July 22nd.
Online registration, or details on paying by check, is available here. (You can also find online registration at Its Your Race here.)
Split-Second Timing will be handling race timing duties this year.
An event flyer can be downloaded here.
* * * * *

HALF MARATHON, MARATHON & LONGER RUNNING RACES
IN MISSOURI AND VICINITY
2016

Date

Race Name

Distances

Location

NOTE: HIGHLIGHTED DATES INDICATE THAT THE EVENT'S 2016 DATE HAS NOT YET BEEN ANNOUNCED AND/OR CONFIRMED
Jan 2-3
The Pistol Ultra Run
100K: Ashley Pryor, Scott Page & Todd Raney
50K: April Boicourt
50K relay, 50K, 50 miles, 100K, 100 miles
Alcoa, TN
Jan 16
Runner's Choice 5K/10K
5K & 10K
Columbia, MO
Jan 16
Cabin Reliever 20K &
Resolution 5K
20K & 5K
Rogersville, MO
Jan 16
David's Trail Endurance Run
40K, 25K & 7K


(40K cancelled due to flooding)

Mountain Home, AR
Jan 17
Houston Marathon
Marathon: Todd Raney
Marathon & Half
Houston, TX
Jan 23
St. Louis Track Club Frostbite Series
Half Marathon & 4-mile
St. Louis, MO
Jan 23
Wildwood Frozen Feet 13.1M Trail Race
Half Marathon
Wildwood, MO
Feb 6
Chocolate Rush Half Marathon & 5K
Half Marathon & 5K
Olathe, KS
Feb 13
Run with the Wind 25K
25K; solo and 3-team relay
Sarcoxie, MO
Feb 13
Heart of the Ozarks
Half Marathon, relay & 10K
West Plains, MO
Feb 14
Fort Smith Marathon
Half & Marathon
Fort Smith, AR
Feb 14
Austin Marathon
Kara O'Connor; Casey O'Connor (possible)
Marathon & Half
Austin, TX
Feb 14
Mercedes Marathon
Marathon: Todd Raney
Marathon, Half & 5K
Birmingham, AL
Feb 20
Psycho Wyco Run Toto Run
50K, 20-mile & 10-mile trail runs
Kansas City, KS
Feb 21
Shelby Forest Loop Marathon
Marathon: Todd Raney
Marathon & Half
Millington, TN
Feb 27
Soggy Bottom Endurance Run
100-mile, 100-mile relay, 40-mile, 40-mile relay; 4-mile (afternoon) and 10-mile on Feb 28
Sparta, MO
Feb 28
Rock 'n' Roll New Orleans
Marathon: Todd Raney & Amy Harrell
Half: Ashley Pryor, Heather Doyle & April Boicourt
Marathon & Half
New Orleans, LA
Feb 28
The Cowtown

50K/Marathon/
Half/10K/5K
Fort Worth, TX
March 6
Little Rock Marathon
Marathon: Jim McDermott
Marathon, Half & 10K
Little Rock, AR
March 12
Lucky 13.1 Half Marathon & 5K
Half Marathon & 5K
Peculiar, MO
March 12
Dublin's Pass ShamRox Run
15K & 5K
Springfield, MO
March 12
Rock 'n' Roll DC
Marathon: Todd Raney
Marathon, Half & 5K
Washington, DC
March 13
ShamRox Columbia
15K & 5K
Rocheport, MO
Mar 20
Bataan Memorial Death March
Rona Schaefer, Paul Schaefer, Ryan Lewis & Wayne Meckley
Marathon
White Sands Missile Range, NM
March 18,19,20
3 Days of Syllamo
Day 1: 50K
Day 2: 50 miles
Day 3: 20K
Blanchard Springs, AR
March 19
Sedalia Half Marathon
Half Marathon & 5K
Sedalia, MO
March 20
Relay & Run for 21K
Half Marathon & Relay
St. Louis, MO
March 26
Missouri Race Series
10 miles, 10K & 5K
Lee's Summit, MO
March 26
Highline Run for Scouting
Half Marathon & 5K
Springfield, MO

April 2

Do or Die Half Marathon & 5K
Half Marathon & 5K
New Franklin to Rocheport, MO
April 2
Badge of Honor Run
Half Marathon/10K/5K
Poplar Bluff, MO
April 2
Bridge & Dam Half Marathon & 10K
Half Marathon & 10K
Lake Ozark, MO
April 2
Big Party Half Marathon
Half Marathon & 5K
Springfield, MO
April 2
Charlottesville Marathon
Marathon: Todd Raney
Marathon & Half
Charlottesville, VA
April 3
Brew to Brew
43.5 miles--solo and relays
Kansas City to Lawrence, KS
April 9
Go Girl Run--Springfield
Half Marathon & 5K
Springfield, MO
April 9
Rock the Parkway
Half Marathon & 5K
Kansas City, MO
April 9
Mission Run in the Ozarks
Marathon/Half/5K
Mountain Home, AR
April 10
Rock 'n' Roll Raleigh
Marathon: Todd Raney
Marathon & Half
Raleigh, NC
April 10
Hogeye Marathon & Relays

Marathon/Half/Relays
Fayetteville, AR
April 10
GO! St. Louis
Marathon: Amy Harrell
Marathon/Relay/Half
St. Louis, MO
April 16
Missouri Race Series
10 miles,10K & 5K
Jefferson City, MO
April 16
Garmin Marathon
Marathon: Todd Raney
Marathon/Half//10K
Olathe, KS
April 23
Run for the Children Half Marathon
Half Marathon
Eldon, MO
April 23
Royal Running Series
10K/20K trail race
Lake of the Ozarks State Park
April 24
Big Sur International Marathon
Marathon: Todd Raney
Marathon
Big Sur, CA
April 24
Oklahoma City Memorial Marathon
Marathon/Relay/Half/5K
Oklahoma City, OK
April 30
Illinois Marathon

Marathon/Half/10K/5K
Champaign-Urbana, IL
April 30
Frisco Railroad Run
50 miles/50K/
Marathon/Half/10-mile & 8K
Willard, MO
April 30
Rock 'n' Roll Nashville
Marathon: Jim McDermott
Marathon & Half
Nashville, TN
May 1

Independence Half Marathon (inaugural race)

Half Marathon & 5K
Independence, MO
May 7
Trail to a Cure Ride/Run/Walk
Half Marathon, 10K & 5K
Rocheport, MO
May 7
Wisconsin Marathon
Marathon: Todd Raney
Marathon/Half/5K
Kenosha, WI
May 8
Kalamazoo Marathon
Marathon: Todd Raney
Marathon/Half/10K/5K
Kalamazoo, MI
May 14
Running with the Cows
Half: Willard Haley
Half Marathon & 5K
Bucyrus, KS
May 14
RiverTownRun
Half Marathon & 5K
Washington, MO
May 14
Missouri Race Series
10 miles, 10K & 5K
Joplin, MO
May 15
Divas Half Marathon & 5K
Half Marathon & 5K
Branson, MO
May 21
Go Girl Run--Columbia
Marathon/Half/5K
Columbia, MO
May 21

Striker Life Half Marathon
Half: Scott Page, Reagan Page & Cooper Vickers
Half Marathon, 10K & 5K
Whiteman AFB, Knob Noster, MO
May 21
Joplin Memorial Run
Marathon: Jim McDermott
Marathon/Half & 5K


Marathon added for 2016

Joplin, MO
May 21
Berryman 50-Mile & Marathon
50-Mile & Marathon
Steelville, MO
May 22
Race 13.1 St. Louis
Half Marathon & 5K
St. Charles, MO
May 22
Rockford Marathon
Marathon: Todd Raney
Marathon, Half & 10K
Rockford, IL
May 29
Vermont City Marathon
Marathon: Todd Raney
Marathon & relay
Burlington, VT
June 4
GO! Missouri KT82 Trail Relay
82-mile Katy Trail relay race
St. Louis, MO
June 4
Half Marathon, 10K & 5K
Kansas City, MO
June 11
Marathon to Marathon
Marathon, Relay, Half & 5K
Storm Lake, IA
June 12
Revel Rockies Marathon
Marathon: Todd Raney
Marathon & Half
Denver, CO
June 18
Missouri Race Series
10 miles, 10K & 5K
Columbia, MO
June 25
In2Action Trail Run
Half Marathon & 5K
Columbia, MO
July 10
MIssoula Marathon
Marathon: Todd Raney
Marathon/Half/5K
Missoula, MT
July 23
Psycho Psummer Trail Run
50K, 20-mile, 10-mile
Kansas City, KS
Aug 20
Harder Than Hell Half Marathon
Half Marathon
Nixa, MO
Aug 21
Anchorage RunFest
Marathon: Todd Raney
49K/Marathon/Half/5K
Anchorage, AK
Sep 3
Forrest Gump Challenge
50K, Marathon, Half & 5K
Reeds Spring, MO
Sept 3
Pocatello Marathon
Marathon: Todd Raney
Marathon/Half/10K/5K
Pocatello, ID
Sep 4
Flatlanders 6/12 Hour Run
6 or 12 hours
Fenton, MO
Sep 4
Go Girl Run--Kansas City
Half Marathon & 5K
Kansas City, MO
Sep 5
Run 2 Remember

Half Marathon (new in 2016),

10K & 5K
Willard, MO
Sep 5
Heart of America Marathon

Marathon
Columbia
Sep 10
Azalea Half Marathon
5K/10K, Half
Nixa, MO
Sep 17-18
Mark Twain 50/100
50 & 100 miles
Mark Twain Forest
Sep 17
North Shore Trail Run
5K/10K, Half
Lawrence, KS
Sep 18
Lee's Summit Half Marathon
Half
Lee's Summit, MO
Sep 18
Tunnel Light Marathon
Marathon: Todd Raney
Marathon
Hyak, Washington
Sep 18
Konquer the Konza Trail Races
25K & 10K
Manhattan, KS
Sep 24
Kyleigh Phillips Memorial 5K & Half Marathon
Half Marathon & 5K
Osage Beach, MO
Sep 25
Broadway Bridge Run
5K/10K, Half
Kansas City, MO
Sep 25
Quad Cities Marathon
Marathon/Half/5K
Moline, IL
Sep 25
Salt City Run for the Rock
Half
Hutchinson, KS
Sep 30
Frog Hill Half Marathon & 10K
Half Marathon & 10K
Waynesville, MO
Oct 1
Roots 'n Blues 'n BBQ Festival

10K, Half
Columbia, MO
Oct 1
Run the Burg
5K/10K, Half
Warrensburg, MO
Oct 1
Rock Bridge Revenge
7 miles, 25K, 50K
Columbia, MO
Oct 1
Panther Run
5K/10K/15K
Springfield, MO
Oct 1
Arkansas Traveller 100
100 miles
Perryville, AR
Oct 2
5K, Half & Marathon
St. Charles, MO
Oct 2
Haulin' Bass Trail Runs
8K & 15K
Stockton, MO
Oct 9
Chicago Marathon
Nigher Alfaro
Marathon
Chicago, IL
Oct 9
Double Road Race
10K+5K
Overland Park, KS
Oct 9
Prairie Fire Marathon
Marathon/Half/5K
Wichita, KS
Oct 15
Bear Creek Run
Half Marathon
Columbia, MO
Oct 15
Waddell & Reed Kansas City
5K, Half & Marathon
Kansas City, MO
Oct 15-16
Dogwood Canyon Trail Runs
15K, 25K, 50K
Lampe, MO
Oct 16
Rock 'n' Roll St. Louis
5K (on Sat.), 10K & Half Marathon
St. Louis
Oct 16
Des Moines Marathon
Marathon/Half/5K
Des Moines, IA
Oct 16
Lake Perry Rocks
5K, Half, 50K
Meriden, KS
Oct 21-22
Outback in the Ozarks

200-mile team relay
Eureka Springs, AR
Oct 22
America's Pro-Life Half Marathon & 5K
Half Marathon & 5K
Jefferson City, MO
Oct 22
The Bison 50
50-mile relay & solo
Topeka, KS
Oct 23
Great GO! St. Louis Halloween Race
5K/10K, Half
St. Louis
Oct 30
Fayetteville Half Marathon
Half & 5K
Fayetteville, AR
Oct 30
Marine Corps Marathon
Todd Raney
Marathon
Arlington, VA
Nov 5
Team RWB Veterans Day Half Marathon & 4 Miler
Half Marathon & 4-Miler
St. James, MO
Nov 5
Ozark Trail 100
100 miles
Steelville, MO
Nov 5-6
The Skippo Trail Race
10K/20K/30K
St. Louis, MO
Nov 6
Kansas Half Marathon
Half Marathon & 5K
Lawrence, KS
Nov 6
Bass Pro Shops
5K, Half & Marathon
Springfield, MO
Nov 6
St. Louis Half Marathon
5K, Half
St. Louis
Nov 6
New York City Marathon
Jesse Shields
Marathon
New York, NY
Nov 12
Longview Half Marathon
Half Marathon
Kansas City, MO

Nov 13
Gobbler Grind Marathon
Marathon/Half/5K
Overland Park, KS
Nov 19
Honoring Our Heroes


(inaugural race)

Marathon/Half/5K
Salem to Rolla, MO
Nov 19
AdventureMax Springfield Trail Run
10K, Half
Highlandville, MO

Nov 19
White River Marathon for Kenya
Marathon/Half/5K
Cotter, AR
Nov 20
Route 66 Marathon
Half & Marathon
Tulsa, OK
Nov 20
Pilgrim Pacer Run
5K/10K, Half, Marathon
Shawnee, KS
Dec 3
Alternate Chili Trail Run
10 miles
Kansas City, KS
Dec 3
Cheese & Sauerkraut 10-Miler
10 miles
Columbia
Dec 3
You Don't Know Jack
50K/Marathon/Half/25K/15K
Carthage, MO
Dec 3
St. Jude Memphis Marathon Weekend
Marathon/Half/5K
Memphis, TN
Dec 3
Panama City Beach Marathon
Marathon/Half/5K
Panama City Beach, FL
Dec 11
Half & Half / Double Half
Half & Marathon
Tulsa, OK
Dec 31
Run for the Ranch
Marathon, Marathon Relay, Half and 6-Hour Run
Springfield
Dec 31- Jan 1
The Pistol Ultra Run
50K relay, 50K, 50 miles, 100K, 100 miles
Alcoa, TN
* * * * *

TRIATHLONS AND DUATHLONS
IN MISSOURI AND VICINITY
2016

Date

Race Name

Distance(s)

Location

NOTE: HIGHLIGHTED DATES INDICATE THAT THE EVENT'S 2016 DATE HAS NOT YET BEEN ANNOUNCED AND/OR CONFIRMED
April 2
MaxTrax Duathlon
Short course: 1.5-mile run, 7.5-mile bike, 1.5-mile run
Long course: 1.5 mile run, 15-mile bike, 3-mile run
Columbia, MO
Apr 16
Neosho Sprint Triathlon & Duathlon


(Duathlon new for 2016)

Triathlon: 300-yard indoor pool swim, 12.5-mile bike, 3.1-mile run;
Duathlon: (distances not yet available)
Neosho, MO
Apr 24
The Chain of Rocks Bridge Duathlon
1.5-mile run, 12-mile bke, 1.5-mile run
St. Louis, MO
April 30
Trek for Trikes
Not a true duathlon (run/bike/run), but offers a 10K run or bike, or a 20K bike. Mostly on the Highline Trail. Event raises funds to provide adaptive tricycles to children with disabilities.
Bolivar, MO
May 1
Sprint triathlon: 400-meter pool swim, 14-mile bike, 3-mile run
Super sprint triathlon: 100-meter pool swim, 7-mile bike, 1-mile run
Duathlon: 1-mile run, 7-mile bike, 1-mile run
Columbia, MO
May 14
Shark Tank Triathlon

(inaugural race)

Sprint: 300-yard pool swim, 12.2-mile bike, 5K run
Super Sprint: 150-yard pool swim, 6.1-mile bike, 1.5-mile run
Seymour, MO
May 15
Kansas City Triathlon

Sprint: 500-meter swim, 20K bike, 5K run
Olympic: 1.5K swim, 40K bike, 10K run
Duathlon: 1.5-mile run, 20K bike, 5K run
Kansas City, MO
May 22
St. Louis Triathlon

(inaugural race)

Sprint: 750-meter swim, 12.4-mile bike, 5K run
Olympic: 1500-meter swim, 24.8-mile bike, 10K run
St. Louis, MO
May 22
Midwest Meltdown Triathlon & Duathlon
Short course triathlon: 750-meter swim, 10.4-mile bike, 5K run
Long course triathlon: 1.5K swim, 20.8-mile bike, 5.2-mile run
Duathlon: 1-mile run, 10.4-mile bike, 5K run
Paola, KS
Jun 5
Legend Free State Tri


Sprint: 500-yard swim, 12-mile bike, 5K run
Olympic: 1500-meter swim, 40K bike, 10K run
Legend 70: 1.2-mile swim, 56-mile bike, 13.1-mile run
Legend 100: 2-mile swim, 80-mile bike, 18-mile run

Lawrence, KS
June 18
Tinman Triathlon
Short course: 400-meter swim, 13-mile bike, 3.1-mile run
Long course: 1,000-meter swim, 19-mile bike, 7-mile run
Topeka, KS
June 18
Warsaw Area Kids Triathlon
Four age-appropriate distances for kids up to age 15
Warsaw, MO
June 19
Warsaw Area Sprint Triathlon
500-yard swim, 12-mile bike, 5K run
Warsaw, MO
July 9
Big Shark New Town Kids Triathlon
0.62-mile swim, 20-mile bike, 4-mile run
New Town St. Charles, MO
July 10
Big Shark New Town Triathlon
0.62-mile swim, 20-mile bike, 4-mile run
New Town St. Charles, MO
July 10
Summer Roundup Triathlon
Sprint: 500-meter swim, 12.3-mile bike, 5K run
Olympic: 1500-meter swim, 40K bike, 10K run
Jasper, MO
July 10
Shawnee Mission Triathlon & Duathlon
Short course: 500-meter swim, 9-mile bike, 3.2-mile run
Long course: 1,000-meter swim, 18-mile bike, 4.5-mile run
Shawnee, KS
July 10
Lake Freebird Triathlon
Triathlon: 660-meter swim, 14-mile bike, 5K run
Beginners (non-competitive): 300-meter swim, 10-mile bike, 1.3-mile run
Mountain Grove, MO
July 10
Mighty Max Kids Triathlon
Four age-appropriate distances for children up to age 14
Columbia, MO
July 17
Show-Me State Games Triathlon & Duathlon
Triathlon: 0.5-mile swim, 15-mile bike, 3-mile run
Duathlon: 15-mile bike, 3-mile run
Columbia, MO
July 23
Concreteman Triathlon
Short course: 500-meter swim, 12.5-mile bike, 2-mile run
Olympic: 1,500-meter swim, 25-mile bike, 10K run
Springfield, MO
July 30
WIN for KC Women's Triathlon
500-meter swim, 10-mile bike, 5K run
Smithville, MO
Aug 6
Warrensburg Triathlon
SuperKids Tri: (distances not available)
Trio-Tri: 3-person relay
"98.5 The Bar" Tri: 300-meter swim, 10-mile bike, 5K run
Warrensburg, MO
Aug 7
Stockton Lake Tri Wild-Life Challenge
Short course: 500-meter swim, 10.4-mile bike, 5K run
Long course: 1,000-meter swim, 20.8-mile bike, 10K run
Stockton, MO
Aug 7
Matt Mason Memorial Cowboy-UP! Triathlon
500-meter swim, 11-mile bike, 5K run
Kansas City, MO
Aug 7
Ironman Boulder Triathlon
2.4-mile swim, 112-mile bike, 26.2-mile run
Boulder, CO
Aug 12
Republic Youth Tigger Tri
Distances to be announced
Republic, MO
Aug13
Republic Tiger Tri
Super Sprint: 150-yard swim; 6.1-mile bike, 1.5-mile run
Classic Sprint: 300-yard swim, 12.2-mile bike, 5K run
Republic, MO
Aug 20
Frisco Runaway Triathlon
300-meter pool swim, 12-mile bike, 5K run
Willard, MO
Aug 20
Lake St. Louis Triathlon
Short course: 0.25-mile swim, 12.3-mile bike, 2.5-mile run
Long course: 0.93-mile swim, 24-mile bike, 10K run
Lake St. Louis, MO
Aug 21
Jackson County Triathlon
Short course: 750-meter swim, 11.75-mile bike, 3-mile run
Long course: 1.5K swim, 40K bike, 5-mile run
Lee's Summit, MO
Aug 27
Cedar Creek Triathlon & Duathlon
Triathlon: 400-meter swim, 11-mile bike, 5K run
Duathlon: 1-mile run, 11-mile bike, 1-mile run
Olathe, KS
Sep 4
Des Moines Triathlon
(formerly the Hy-Vee Triathlon)
Sprint: 400-meter swim, 20K bike, 5K run
Olympic: 1.5K swim, 40K bike, 10K run
Des Moines, IA
Sep 11
Ironman Wisconsin

2.4-mile swim, 112-mile bike, 26.2-mile run
Madison, WI
Sep 11
Legend Ad Astra Triathlon
Sprint: 500-yard swim, 12-mile bike, 5K run
Olympic: 1500-meter swim, 40K bike, 10K run
Legend 70: 1.2-mile swim, 56-mile bike, 13.1-mile run
Lawrence, KS
Sep 17
Halfmax Championship & Quartermax Triathlons
Halfmax Championship: 1.2-mile swim, 56-mile bike, 13.1-mile run
QuarterMax: 0.6-mile swim, 28-mile bike, 10K run

Innsbrook, MO
Sep 25
Sedalia Duathlon
Short course: 2-mile run, 8-mile bike, 1-mile run
Long course: 5K run, 30K bike, 5K run
Sedalia, MO
Sept 25
Border Wars Triathlon
1.2-mile swim, 56-mile bike, 13.1-mile run
Alton, IL
Oct 9
Ironman Louisville Triathlon

2.4-mile swim, 112-mile bike, 26.2-mile run
Louisville, KY
* * * * *

CYCLING EVENTS
IN MISSOURI AND VICINITY
2016

Date

Race/Event Name

Distance(s)

Location

NOTE: HIGHLIGHTED DATES INDICATE THAT THE EVENT'S 2016 DATE HAS NOT YET BEEN ANNOUNCED AND/OR CONFIRMED
Jan 31
Rocheport Roubaix
20, 30, 55 and 70 miles
Rocheport, MO
April 11
MoBikeFed Ride with Legislators
Jefferson City, MO
April 30
The Epic (gravel road bike race)
The Epic: 150 miles
The Troll: 70-90 miles
Lake of the Ozarks
May 14
Vino Fondo
38, 58, 91 and 118 miles
Augusta, MO
May 22
The Hairy Hundred
100-mile gravel road race
Rocheport, MO
May 28-29
Pedaler's Jamboree
Music and cycling event on the Katy Trail
Columbia, MO
May 30
Tour of Kansas City Gran Fondo
20, 50, 60, 75 and 100 miles
Kansas City, MO
June 4
Dirty Kanza 200
200 miles
Emporia, KS
June 4
Tour de Cure
10, 30, 50 and 100 miles
Alton, IL
June 11
Cycle for Life
10, 25 and 50 miles
Ozark, MO
June 12
Down 'n Dirty
Varies by division
Warsaw, MO
June 18
Queen City Century
22, 45, 60, 82 and 100 miles
Springfield, MO
June 25
Tour de Lakes
10, 32, 55 and 65 miles
Lee's Summit, MO
July 16
World Naked Bike Ride--St. Louis
St. Louis, MO
July 23
Show-Me State Games Road Cycling Race
19 and 28 miles
Auxvasse, MO
July 31
Show-Me State Games Mountain Bike Race
1, 1-1/2, and 3 hours
Columbia, MO
Aug 6
MO State Time Trial Championship
20K or 40K, depending on division
Centraiia, MO
Aug 20
Svitak Freedom Ride
10, 25, 40, 67 and 100 miles
Springfield, MO
Aug 27
Red Shoe Ride
35, 60 and 100 miles
Columbia, MO
Aug 27
Moonlight Ramble
10.5 and 18.5 miles
St. Louis, MO
Aug 27
BikeMO
30, 65 and 90 miles (24 and 50 miles for Katy Trail option)
Rocheport, MO
Sep 2-4
Singletrackmind Festival
Mountain biking, trail runs, etc. on the Two Rivers Bike Trail
Springfield, MO
Sep 10-11
Bike MS
Four distances offered
Godfrey, IL
Sep 24
Tour de BBQ
15, 35 and 62 miles
Overland Park, KS
Sep 24-25
Pedal the Cause
15, 25, 37, 50, 75 & 100 miles
St. Louis, MO
Sep 26
Rhett's Run
Mountain bike race
Columbia, MO
Oct 2
Tour de Wildwood
28 and 45 miles
Wildwood, MO
Oct 8-9
Hartsburg Pumpkin Festival Ride
9.5 miles from Jefferson City on the Katy Trail
Oct 9
Tour de Bass Bike Rides
25, 42, 77 and 102 miles
Springfield, MO
Oct 15
Cystic Fibrosis Cycle for Life
25, 50 and 100 miles
St. Charles, MO
Oct 15
Cuban Gravel Crisis
20, 50 and 100 mile bike rides; 5K run
Cuba, MO
Oct 22
BT Epic
Mountain bike race on the Berryman Trail
Steelville, MO
* * * * *

PADDLING EVENTS
IN MISSOURI AND VICINITY
2016

Date

Race Name & River

Distance(s) & Boat Type

Location

NOTE: HIGHLIGHTED DATES INDICATE THAT THE EVENT'S 2016 DATE HAS NOT YET BEEN ANNOUNCED AND/OR CONFIRMED
Aug 20
Firecracker Race
(Mississippi River -- Alton Pool)
Canoes & kayaks -- 12 miles
Paddlboards -- 3 miles
Alton, IL
Aug 27
Race for the Rivers
(Missouri River)
20 and 40 miles; canoes & kayaks
Washington, MO
Sep 10
Finger Lakes Adventure Challenge
(Finger Lakes State Park)
5K paddle, then 5K run
Columbia, MO
Sep 15


(cancelled for 2016)

Fall 36 Race
(Osage, Missouri and Gasconade Rivers)
36 miles
Canoes, kayaks & paddleboards
Starts near Loose Creek; ends at Gasconade
Sep 24-25
Two Dam Days
(Lake of the Ozarks)
92 miles (over two days), 16 miles and 1.5 miles
Lake of the Ozarks
Oct 15
Race to the Dome
(Missouri River)
Providence (26.6 miles) or Hartsburg (15.8 miles) to Jefferson City
Jefferson City, MO
Oct 22
Chattajack 31
(Tennessee River)

31 miles; paddleboard & kayaks
Chattanooga, TN