WEEKEND EVENTS FOR DECEMBER 9 - 10
We're done racing locally until the Polar Bear Strut 5K in February.
The weekend race calendar continues to get shorter week-by-week. This weekend offers only a couple races in Missouri, and a couple more across the state line.
The Springfield Santa Run is the closest to the Lake area. It isn't cheap ($50 for a 5K), but it does come with a free, five-piece Santa suit to wear during the race.
Elsewhere:
Springfield:
Springfield Santa Run (5K), Saturday
St. Louis and vicinity:

St. Louis Track Club Frostbite Series 3K/12K, Forest Park, Saturday

Grafton, Illinois:
Pere Marquette Endurance Trail Run (7.8 miles), Saturday
Fifty-Six, Arkansas:
Spirit of Syllamo (35/100 miles), Saturday
* * * * *
REHOBOTH BEACH SEASHORE MARATHON (posted December 4th)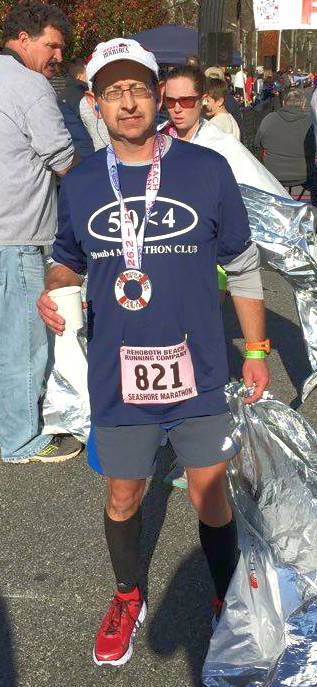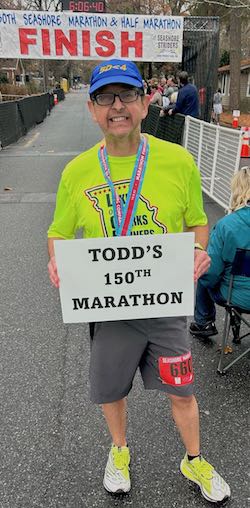 Todd Raney at the Rehoboth Beach Seashore Marathon
finish line in 2015 (left) and 2023.
Twenty-one years ago, former Lake-area runner Todd Raney, who now lives in Kansas City, struggled at his very first 5K--the long gone Abs & Glutes 5K in Linn Creek. He was so winded, he had to walk some of the race.
It wasn't until ten years later that Todd attempted his very first marathon. He finished the 2012 Rock n' Roll Las Vegas Marathon in 5:03:59, but he struggled. As he reported in an e-mail after the race, "It was a learning experience!! I hit the wall, legs started cramping, the wind, and I really wasn't ready. I will do better on the next one."
He did indeed do better on the next one, and went on to run a marathon in all 50 states--twice. He also completed at least one in every state in under 4 hours--a very rare achievement.
On Saturday, Todd completed his 150th marathon. He did so at the Rehoboth Beach Seashore Marathon in Delware, finishing in 5:28:10. This was his second time running this race; he finished it eight years ago, in 3:52:24.
At that first 5K, Todd probably never expected to run a marathon, much less 150 of them. It's a perfect example of not knowing what twists and turns your life will take.
* * * * *
4 FORE 30 INFINITY BACKYARD ULTRA (updated December 7th)
Cody Eubanks of Jefferson City was the last man standing at this year's 4 Fore 30 backyard ultra Cody needed 32 hours (133.3 miles) to dispatch last year's winner, Dena Carr, and become 4 Fore 30's second two-time winner. (Andy Emerson, who dropped out after 8 hours (33.3 miles) this year, won the 2018 and 2019 races.)
Thirty-two hours was the second-longest duration to determine a finisher in the race's six-year history. Only Chris Boyle's victory in 2020 took longer, at 38 hours. (Coincidentally, Cody was Chris' only challenger during the last seven hours of that race.)
This year's starting field of 77 competitors was the second-largest in the race's history. Here are the year-by-year totals:
2018 36
2019 59
2020 103
2021 61
2022 51
2023 77
For five years, 4 Fore 30 competitors lucked out with generally mild weather on race day. This year, that streak ended. Overcast skies, with steady temperatures around 40°, made for a chilly day, and late-afternoon rain made conditions miserable. Over the course of two hours, when rain and darkness set in, half the remaining field dropped out.
The complete race results are posted here.
Below is a chart showing this year's rate of attrition, with prior years' shown by comparison. In line with prior years, half the starting field was gone after the 10th hour (41.7 miles). Last year, it took 12 hours to lose half the field.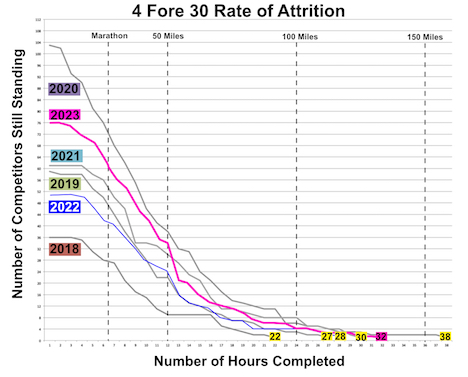 Twenty-seven, or 35%, of the 77 competitors in this year's field were from the Lake area. That's the highest percentage ever for this race. Here are their results:
Place

Name

City

Miles
Completed

8

Gunnar Rhoads
Camdenton

79.2

8

Jesus Garcia
Camdenton

79.2

14

Luke Webb
Linn Creek

62.5

17

Melissa Rhoads
Camdenton

58.3

22

Lauren Moriearty
Lake Ozark

50

22

Ava Canales
Linn Creek

50

22

Connor Boyle
Osage Beach

50

22

John Shelby
Osage Beach

50

43

Alex Hendon
Camdenton

37.5

47

Tucker Seise
Osage Beach

33.3

47

Rob Kucsik
Four Seasons

33.3

47

Lincoln Lilley
Roach

33.3

47

Chris Boyle
Osage Beach

33.3

55

Katie Roberts
Camdenton

29.2

57

Dan Beck
Lake Ozark

25

57

Michael Korst
Camdenton

25

57

Averie Hotle
Sunrise Beach

25

62

Maverick Sovcik
Linn Creek

20.8

62

Natasha Boettcher
Camdenton

20.8

62

Nigher Alfaro
Eldon

20.8

62

Ellie Webb
Linn Creek

20.8

62

Gary Thompson
Osage Beach

20.8

62

Mark Kempf
Four Seasons

20.8

73

Gary Braman
Camdenton

12.5

73

Charlie Boyle
Osage Beach

12.5

76

Stacy Roberts
Camdenton

8.3

77 (DNF)

Cara Gerdiman
Linn Creek

0
This year's competitors completed an average of 46.7 miles, just below last year's average of 47.2 miles. (You can blame the drop squarely on Stacy Roberts, who lasted a pathetic 2 hours. Had he just stayed home and spent those hours putting up more Christmas lights or something, this year's average would have been exactly the same as last year's, and poor, saintly Katie Roberts would have had less laundry to do.)
Expressed in terms of conventional race distances, exactly half the field ended up running between a 50K and 100K, as shown below. The most common distance at which competitors called it a day was 50 miles (12 hours). Thirteen decided to bow out at that point.
DISTRIBUTION OF COMPETITORS BY NUMBER OF MILES COMPLETED,
GROUPED ACCORDING TO CONVENTIONAL RACE DISTANCES

Conventional Race Distance

Number of
competitors
completing this distance

Half marathon or less (0 to 13.1 miles)

5

Half marathon to marathon (13.1 to 26.2 miles)

16

Marathon to 50K (26.2 to 31.0 miles)

2

50K to 100K (31.0 to 62 miles)

38

100K up to 100 miles

10

100 miles or more

6

Total

77
Four competitors extended their streak of having run in every 4 Fore 30. They are: Gavin Eubank (of Columbia), Rob Kucsik, Tucker Seise and John Shelby.
Mile 90 Photography's photos from the race can be found here.
* * * * *

LOTO TURKEY TROT (posted November 24th)
The 14th annual LOTO Turkey Trot 5K & 1-Mile Fun brought out nearly 200 participants to Camdenton High School on Thanksgiving Day. Among the participants were 27 who did the 1-mile fun walk that was added to this year's event.
As it's always been, the race was a battle among current and former cross country runners.
Tucker Seise became a three-time overall Turkey Trot winner, with a winning time of 17:18. The runner-up was former Camdenton High School, and now senior U.S. Coast Guard Academy, cross country runner Jake Thoenen, who finished in 17:34. This was almost the exact opposite of the 2021 results, when Jake won in 17:17 (his first and only Turkey Trot victory) and Tucker took second in 17:36. Former Laker Jeremy Ryan, who owns a record four Turkey Trot victories as well as the course record, didn't appear at this year's race.
In the women's race, former Laker--and now Truman State-- cross country runner Ellie Webb won her second consecutive Turkey Trot. Ellie won in 19:58 (versus 20:00 last year), easily beating her nearest rivals by over 2 minutes.
The 5K results can be viewed by finish order or by age group.
Interestingly, of the 164 5K finishers, 76 whose hometowns were listed in the results were not from the Lake area.
* * * * *

2023 Archives
2022 Archives
2021 Archives
2020 Archives
2019 Archives
2018 Archives
2017 Archives
2016 Archives
2015 Archives
2014 Archives
2013 Archives
2012 Archives
2011 Archives
2010 Archives
2009 Archives
* * * * *