SWEETHEART SHUFFLE 5K/10K (posted February 9th)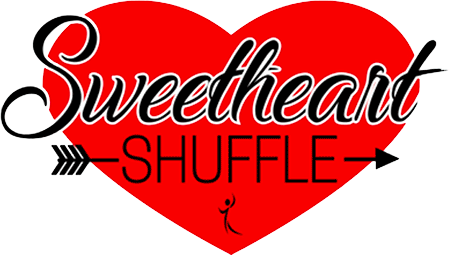 After skipping last year's race, Jade Fletcher returned to Independence to run the Sweetheart Shuffle 10K on Saturday. Jade finished in 52:54--about a minute faster than 2018--and took second in the women's 15-19 age group.
Finishing right behind Jade was Jeanne Pfetsch of Lexington, Missouri. Jeanne is one of just sixteen runners who has finished every Bridge & Dam Half Marathon.
Complete race results can be found here.
* * * * *
GROUNDHOG RUN 5K/10K (posted January 29th)

Willard Haley was our sole Lake-area runner who toed a starting line last weekend. Willard was among nearly 3,000 runners who ran on Sunday at the Ability KC's 38th annual Groundhog Run. The race, which includes 5K and 10K distance races, was held at the Hunt Midwest SubTropolis in comfortable 65-70 degree temperatures.
Willard finished the 10K in 1:07:24, just a shade slower than last year's 1:06:09. That placed him 22nd (of 38) in the 55-59 age group.
Click to view the full results.
There were 2,091 and 879 solo finishers of the 5K and 10K, respectively. The total of 2,970 was down from 3,294 last year.
* * * * *
NHL ALL-STAR 5K (posted January 26th)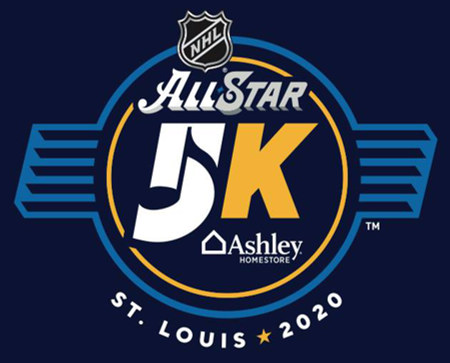 The biggest race of the weekend--in fact, the biggest race in the state since Thanksgiving Day--took place in St. Louis on Saturday morning. Over 2,800 runners participated in the All-Star 5K, which was one of the festivities celebrating the National Hockey League's All-Star Game hosted this weekend by the St. Louis Blues.
Former Camdenton High School and Drury University cross country runner and Boston Marathon finisher Jeremy Ryan, who lives in St. Louis, placed fourth overall, finishing in 16:38.
There were two photo finishes in the race. The top two finishers are listed with identical 15:45 finish times. The third place finisher was only one second ahead of Jeremy, and the fifth place finisher had the same finish time as Jeremy. (Obviously, more decimal places were used in determining the exact finish order.)
The complete race results can be found here.
* * * * *
ARGO 13.1 HALF MARATHON (updated January 25th)
It was a bitterly cold--but at least, sunny--day for the winter edition of the semi-annual Argo 13.1 Half Marathon in Kansas City last Sunday. The air temperature was near 10°, with a wind chill near zero.
Two regulars at the small, always sold-out race returned for more misery. Jade Fletcher finished in 2:37:37, placing 32nd (of 51 competitors). Our friend from Grandview, Greg Linhart, took fourth overall with a 1:48:14 finish.
Results can be found at the race's Facebook page.
* * * * *
DAVID'S TRAIL ENDURANCE RUN (posted January 19th)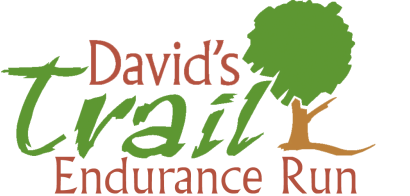 Thirteen of our Lake-area runners traveled to Mountain Home, Arkansas on Saturday for the fifth annual David's Trail Endurance Run (Facebook page). They faced much milder weather conditions than those at last year's race, although still far from ideal. Temperatures hovered around 50°, but breezy winds (with gusts up to 25 mph) and overcast skies made it feel colder.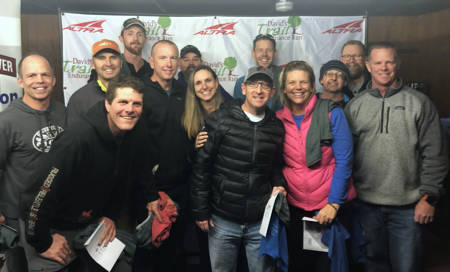 The Lake-area entourage: John Shelby, Chris Boyle, Aaron Koeppen, Tucker Seise, Gary Braman, Katie Roberts, Stacy Roberts, Rob Kucsik, Scott Page, Alysia Maschino, Todd Raney, Mark Kempf and Mark Matthews. (Photo provided by Scott Page.)
Scott Page took home local bragging rights in the 50K, finishing in 6:27:26--13 minutes ahead of last year. In the 25K, Tucker Seise took third overall (of 102 competitors), finishing in 2:07:25.
Katie Roberts and John Shelby earned podium spots in their age groups in the 25K and 50K, respectively.
Here are results for our Lake-area runners, plus a few runners familiar to us:
DAVID'S TRAIL ENDURANCE RUN
MOUNTAIN HOME, ARKANSAS
JANUARY 18, 2020
RESULTS FOR LAKE-AREA RUNNERS AND OTHERS


Name

Finish Time

Age Group

Age Group Place

50K:

Scott Page

Chris Boyle

Aaron Koeppen

Gary Braman

Rob Kucsik

John Shelby

Runners we know:

Ryan Maher

Karolina Zavisiute

Steph Pendegraft

25K:

Tucker Seise

Mark Matthews

Katie Roberts

Mark Kempf

Stacy Roberts

Todd Raney

Alysia Maschino
Complete results can be found here. They should soon appear here on UltraSignup.com.
There were 225 finishers at this year's race, including 60 for the 50K, 102 for the 25K and 63 for the 7K. The total is twice the 112 finishers last year.
* * * * *
BIG NEWS AT ULTRAMAX SPORTS (posted January 15th)
The big decline in participation at running and triathlon events in the last five years continues to claim victims.
A few weeks ago, when I was updating the long list of 2020 events that appears at the bottom of this column, I noticed that Ultramax Sports hadn't yet posted on its website the 2020 dates of a number of its company-owned events. In years past, they always did this around the beginning of the year, so I didn't think much of it.
Now that we're midway into January, and with the 2020 event dates still not posted, I was getting curious as to what might be going on. Today, I discovered that they posted a major announcement on their Facebook page on January 3rd. You can read the announcement for yourself here.
In short, they've cancelled a number of events, including Go Girl Run Kansas City and Springfield (Go Girl Run Columbia survives), ShamRox Columbia (ShamRox Springfield survives), and the TriZou and Halfmax Triathlons. The loss of TriZou and Halfmax are especially sad. Halfmax has been around since 2003 (and on a personal note, it was my very first triathlon), and TriZou goes back even further. For years, they were the biggest triathlons in the state.
The announcement didn't specifically mention the Rocheport Roubaix bicycle race or AdventureMax trail run, but those are gone, too. The Kansas City Triathlon will continue, although under new owners.
Ultramax at one time had the largest offering of events in the state. They also owned and operated retail stores in Columbia and Springfield that were closed in the early 2010s, when Internet retailers started killing off brick-and-mortar stores. Now, they're basically an event timing and services company.
Mark and Amy Livesay started Ultramax Sports in the mid 2000s. About five years ago, they moved their family from Columbia to Montana, but kept Ultramax's headquarters in Columbia. That obviously made it difficult to manage an event-organizing business from so far away. The separation may explain part of Mark and Amy's decision to restructure and downsize the business, but there's no doubt that the major, years-long decline in participation in running and triathlon was a major impetus for it. Most of their events were a fraction of the size they once were.
Joplin-based TwelveOne Group is another for-profit company that has transitioned from race organization to race timing and services. (You may recall that in 2019 they cancelled the 36 Hours of Jack and Angry Bull Sizzling Six Shooter races to focus on race services.) With the for-profit organizers cutting back, the only races that seem to have a future are those that: (1) have the support of a major sponsor (e.g. Bass Pro); (2) are put on by or for non-profit organizations; or (3) are trail-based races, which are generally less costly and easier to organize than road races.
* * * * *
ACROSS THE YEARS MULTI-DAY RUNNING FESTIVAL (updated January 7th)

The Across the Years Multi-Day Running Festival (UltraSignup page) started on Saturday, December 28th in Phoenix. (It's organized by the same group that put on the Desert Solstice 24-Hour and 100-Mile track event two weeks ago). In this race, runners circle a 1-mile course for their choice of 6 hours, 12 hours, 24 hours, 2 days, 3 days, 6 days, 10 days (newly-added this year; 46 crazies are in for it), 100 miles, 200 miles, a last person standing race, or various relays.
The overall winner of the 10-day race was 47 year-old Annabel Hepworth of Sydney, Australia. She completed a phenomenal 740 miles. Philip Eberts, the top male competitor, logged 660 miles.
Pete Kostelnick won the 6-day race, completing 444 miles.
Complete results can be found here.
Here are the miles completed by the men's and women's winners in each race:
| | | |
| --- | --- | --- |
| Race | Top Male | Top Female |
| 24 Hours (ended) | 141 miles | 117 miles |
| 48 Hours (ended) | 175 miles | 158 miles |
| 3 Days (ended) | 221 miles | 235 miles |
| 6 Days (ended) | 444 miles | 342 miles |
| 10 Days (in progress) | 660 miles | 740 miles |
The record for the 6-day race is 555 miles. For the 3-day race, a mere 329 miles.
* * * * *
UPDATE ON THE RUNNING "RECESSION"
2019 marked the fifth consecutive year of declining participation in full and half marathons in Missouri. There were 35,464 finishers at the 72 events held last year, a decrease of 8% from 2018. Participation was 38% below the peak of 57,242 in 2014.
For the first time, the number of events declined from the prior year--from 76 in 2018 to 72 in 2019. All four that were cancelled had experienced declining attendance in recent years. (One race has already been cancelled for 2020--the Sedalia Half Marathon. A few others are in jeopardy.)
I don't have data prior to 2012, but my guess is that we're now down to participation levels not seen since the mid 2000s, meaning that most of the growth in running that occurred during its boom years between 2005 and 2014 has now been erased.
Here's the summary data for the last eight years:
Year

# of Full and Half Marathons held
in Missouri

# of Finishers

# of Finishers --
Change from previous year

2012

36

52,870

2013

50

56,065

6%

2014

57

57,242

2%

2015

66

52,803

(7%)

2016

73

48,421

(8%)

2017

76

42,619

(12%)

2018

76

38,703

(9%)

2019

72

35,464

(8%)
* * * * *
WEEKEND RACE RESULTS FOR JANUARY 4 - 5
At the Fresh Start 5K/10K in Springfield on Saturday, Jade Fletcher finished the 10K in 57:23 and won the women's 15 & under age group over one other competitor.
In St. Louis, Scott Hinkle of Lake Ozark ran the Snowball Series 5-Mile and finished in 56:33. He placed 81st (of 115) in the men's 50-59 age group.
* * * * *
LOTO RUNNERS' NEW YEAR'S DAY RUN (posted January 1st)
A beautiful New Year's morning brought out a baker's dozen of our Lake of the Ozarks Runners to the Lake of the Ozarks State Park to run the Rocky Top Trail (and points beyond). The die-hards ran a symbolic 20.20 miles; the mere mortals ran substantially less. Check out some photos of the runners and the trail scenery here.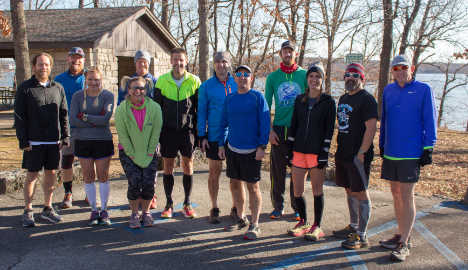 At the start (pictured, from left): Mark Mallahan, Mark Kempf, Elaine Mallahan, Alysia Maschino (front), Mark Matthews (back), Scott Page, Aaron Koeppen, Rob Kucsik, Tucker Seise, Katie Roberts, Stacy Roberts and Gary Braman.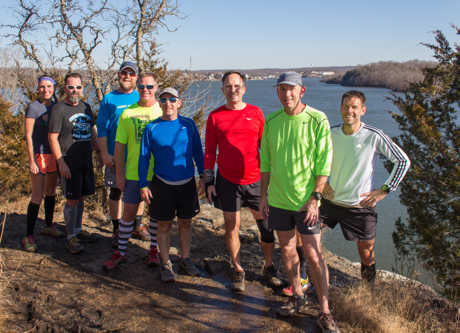 At the Rocky Top Trail scenic overlook (pictured, from left): Katie Roberts, Stacy Roberts, Mark Kempf, Mark Matthews, Rob Kucsik, Aaron Koeppen, Gary Braman and Scott Page.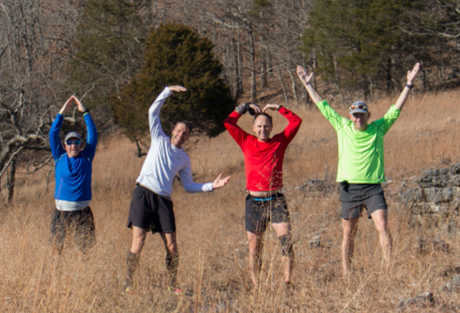 Not to be confused with the Village People: Rob Kucsik, Scott Page, Aaron Koeppen and Gary Braman spell out "ACMY".

* * * * *
2020'S FIRST FINISHER (posted January 1st)
Roughly thirteen minutes kept Margie Gunter from repeating as the Lake area's first race finisher of the year. Margie earned that distinction last year when she finished the Chilly 5K in Joplin on New Year's Day--indeed, she was the only Lake-area runner to race that day.
Margie returned to Joplin for Wednesday's Chilly 5K, but Cheyenne Fish of Camdenton spoiled Margie's party by finishing the 5K in 42:40, versus Margie's 55:46.
* * * * *