BOSTON MARATHON 2020 - LAKE OF THE OZARKS VIRTUAL EDITION (updated September 18th)

The postponement and subsequent cancellation of this year's Boston Marathon due to the coronavirus pandemic was a terrible blow to our three Lake-area runners—Bryna Edwards, Chris Boyle and Ashley Pryor—who qualified for the race, all for the first time. The Boston Marathon is the most prestigious running race in the world, and participating in it is a great honor that most runners can only dream about.
While not nearly as meaningful as running the actual race, the Boston Marathon organizers allowed registered participants to receive their official finishers medals, bibs and t-shirts if they submitted proof of running a marathon in under six hours during a limited window of opportunity.
On Sunday morning, the Lake of the Ozarks Runners organized a low-key "virtual" Boston Marathon morning to give our local qualifiers a chance to run their marathon in front of a familiar, supportive crowd. Two of our qualifiers, Bryna Edwards and Chris Boyle, were able to attend, and they were accompanied on course by 14 others. Here's a list of those who participated in the run, along with the distances they covered, and the finish times for those who ran the full marathon. (Marathon finish times were calculated from the time stamps on the photos taken at the start/finish line.) For those whose distance is either missing or incorrect, if you wish, you can e-mail your mileage to me and I'll add it both to the table below and to the miles raced tabulation in our Lake Area Scoreboard.
Many more photos from the event can be found here.
* * * * *
HIGH SCHOOL CROSS COUNTRY MEET RESULTS FOR SEPTEMBER 12th (posted September 13th)

These were the top runners for each of our local high school cross country teams at the September 12th meets:
Linn Invitational (complete results):
Lebanon Invitational (complete results):
* * * * *
HIGH SCHOOL CROSS COUNTRY MEET RESULTS FOR SEPTEMBER 5th (updated September 8th)

Lots of new names on this year's Lake area's high school cross country teams, with a notable abundance of freshmen and sophomores.
Here are results for Osage and Versailles runners at the Jim Marshall Cross Country Invite in Jefferson City:
Here are results for Camdenton and Macks Creek runners at the SWCCCA Richard Clark Invitational hosted by Bolivar High School:
* * * * *
TRAIL OF FOUR WINDS 25K (posted September 7th)
Results for the virtual edition of this year's cancelled race can be found here.
* * * * *
TRIFEST FOR MS (posted September 7th)
For the second year in a row, Jim McDermott won his 65-69 age group (this time, over three others) at the TriFest for MS sprint triathlon on Saturday in Bentonville, Arkansas.
Jim finished the 400-meter pool swim, 15.6-mile bike and 5K run in 1:23:25, over a minute faster than last year's 1:24:54. Here are his splits:
Swim: 10:35 (2:39 per 100 meters)
T-1: 1:45
Bike: 44:10 (21.2 miles per hour)
T-2: 1:51
Run: 25:07 (8:06 per mile)
Finish: 1:23:25
On Sunday, Jim competed in the Olympic distance race, consisting of an 800-meter pool swim, a 5K run, and then a repeat of the swim and 5K. Jim won his age group over one other competitor in a time of 3:04:35. Here are his splits:
Swim 1: 21:52 (2:44 per 100 meters)
Run 1: 26:39
Transition: 1:59
Swim 2: 24:39
Run 2: 28:12
Finish: 3:04:35
Complete results can be found here.
* * * * *
THE MISSOURI AMERICAN WATER 340 (posted August 8th)
The Missouri American Water 340, the 340-mile paddling race from Kansas City to St. Charles on the Missouri River, started on Tuesday morning (August 4th). The race officially ended on Friday night at midnight.
Final report:

Of the 357 boats registered for this year's race:

257 finished
75 started, but failed to finish
25 failed to start
A 3-person team was the first to finish the race, in 35:42:14, an average speed of 9.5 mph.
Bob Meyer of Camdenton became a three-time MR340 finisher, finishing this year in 63:02:26.
Complete results can be found here.
The race's Facebook page is always an excellent source of information and photos, as well as interesting stories. Perhaps the most interesting was that of the final official finisher. It was his first MR340 finish, after failing to finish in his first three attempts. He cut it close--he finished in just over 84 hours, giving him only four hours to spare.
* * * * *
CHRISTMAS IN JULY 5K RUN/WALK (updated July 26th)

The YMCA's Christmas in July 5K on Saturday was like picking up where we left off five months ago. The YMCA's Whobilation 5K on March 7th was the last local race before the coronavirus shut down all racing--and much of the world's economy--for months. What a difference those five months have made.
There was no difference, though, in the outcome for the men in the two YMCA races: Tucker Seise was again the overall winner, in 17:53 (versus 17:38 in March), with Aaron Koeppen again taking second, in 20:25 (versus 20:58).
The women's race was won by Cierra Hiland, in 20:37. Cierra, a frequent Lake visitor from western Illinois, has more victories at Lake-area 5Ks over the years than any other visitor. Fifteen year-old Lilly Blaufuss took second, in 21:56.
More photos from the race can be viewed here.
* * * * *
SUMMER ROUNDUP TRIATHLON (posted July 12th)
Congratulations to Jim McDermott for an easy age-group victory at Sunday's Summer Roundup Triathlon in Jasper, Missouri.
Jim did the Oympic distance race, completing the 1000-meter swim (shortened from 1500 meters last year), 40K bike and 10K run in 2:33:27--nearly 50 minutes ahead of his only competitor in the men's 65-69 age group. Here are his splits:
Swim: 26:52 (2:42 per 100 meters)
T-1: 3:10
Bike: 1:09:08 (21.6 miles per hour)
T-2: 2:02
Run: 52:19
Finish: 2:33:27
Full results can be found here.
* * * * *
VOL STATE 500K (updated July 19th)
On Thursday morning (7/9), LOTO runner Scott Page and 65 others will board a ferry at the tiny town of Dorena, Missouri and cross the Mississippi River to Hickman, Kentucky. From there, they will begin a 314-mile running adventure across Tennessee, with a final destination of "The Rock" in the Sand Mountain region of northwestern Georgia. The Last Annual Vol State 500K is one of "Lazarus Lake's" races, and gives competitors up to 10 days to complete the course, although there are intermediate cutoffs. (The course record is just over 79 hours.)
Here are some links to follow the race and Scott's progress:
Race tracking links (This is the best one)
Here's a very brief summary of the race:
-- Francesca Muccini was the overall winner, finishing in 3 days, 10 hours and 49 minutes, smashing the women's course record by over 20 hours. She's now a two-time overall winner, having won in 2017 in 4 days and 4 hours.
-- The men's winner, Bob Hearn, finished one hour and fifteen minutes behind Francesca.
-- Scott dropped out at the 60-hour mark, after completing 125 miles.
-- Of the 66 starters, 50 finished, and 16 failed to do so.
Here are the final results.
* * * * *
HANNIBAL CANNIBAL 5K/10K/15K (posted July 6th)
A couple runners from the Lake area were in Hannibal on Saturday for the Hannibal Cannibal 5K/10K/15K.
Joyce Ryerson, who participated at last year's race, finished the 5K in 37:27, placing 16th (of 35) in the women's 45-49 age group. Amy Hadfield of Camdenton, whom we haven't seen listed in any race results the past few years, took 7th in the 45-49 age group with a 31:42 finish in the 5K.
A former Lake-area runner, Julio Juarez, who now lives in Hannibal, took second overall (of 108 competitors) in the 15K, finishing in 1:00:57. Julio was the overall winner (in 17:59) of the 2017 Give 'Em The Bird 5K.
Complete race results can be found here.
There were 894 total finishers at this year's race, about 10% below last year's total of 989. That makes Hannibal Cannibal the biggest race held in Missouri since the start of the pandemic. It will likely hold that distinction until the fall racing season arrives.
* * * * *
ELDON ROCK ISLAND ROAD RACE (updated June 17th)
Coronavirus lockdown-weary runners from everywhere showed up in Eldon on Saturday to compete in the first real (i.e. not virtual) race of size to be held in the state of Missouri in nearly three months. The pent-up itch to race resulted in a record field for Eldon's third annual Rock Island Road Race (Facebook). The race was organized by the Miller County Child Advocacy Council and benefits its various childrens' programs.
There were a record 184 finishers at this year's race, up 40% from last year's 130, and almost quadruple the 50 finishers at the inaugural race in 2018. (There were 222 registered participants for this year's event.) Here's a breakdown of those finishers, by distance.
Of the 184 finishers, only 66, or 36%, were from the Lake area. Jefferson City and vicinity, combined with the Waynesvillle/Crocker/St. Robert region, accounted for about half of the 118 out-of-town runners.
Interestingly, all six of this year's overall race winners were not only first-time winners at Rock Island, but were competing at the race for the very first time.
The complete race results can be found here.
15K:
Caleb Martonfi, a graduating senior and cross country runner at Eldon High School, won the men's 15K in 1:02:22, with about a one-minute margin of victory. He missed setting a new 15K course record by 15 seconds. In the women's race, Sadie Smith of St. Louis cruised to victory in 1:08:44, almost four minutes ahead of her nearest rival.
10K:
Nigher Alfaro, who won the Rock Island 10K in both 2018 and 2019, got skunked in this attempt for a three-peat. Alex Dukes of Mexico, Missouri, who's in his 20s (versus Nigher's 40s), took advantage of the age difference and walloped everyone, winning in a blistering 35:33--a pace of 5:44 per mile. That smashed Nigher's course record by a whopping seven minutes. Payton Kirchhoff (pictured in the green jersey in the center of the above photo) of Jefferson City placed second, in 39:07, followed by Nigher, in 45:38.
In the women's 10K, Nicole Reynolds, who stepped into a race slot vacated by her brother--last year's 5K winner Nathan Reynolds--kept the family's winning streak alive by winning in 51:53. That, too, was a new 10K course record, by over four minutes.
5K:
Tony Rigdon of Columbia won the men's 5K in 20:26, breaking Nathan Reynold's course record of 20:35. Making it all the more impressive is that Tony is about 30 years older than Nathan. Rachel Shadrick knocked an impressive seven minutes off the women's 5K course record, winning in 20:52. She helped the Lake area end up with an even split of the six overall victories at this year's race. (Last year, Lake-area runners took home just two overall victories.)
Race director Scott Gray gives plenty of well-deserved credit to the many people who help organize this event, but Scott deserves a big round of accolades as well. He's done a remarkable job these last three years in taking a race (the Run for the Children Half Marathon) that was likely headed for extinction, and spearheading its reinvention and growth into what is now one of the biggest running races in the Lake area, and the preeminent race in the city of Eldon. It wasn't that many years ago when Scott was just a spectator at Eldon's races, cheering on his wife, Jayna Gray. Since then, he became a walker, then a runner, and now a respected race director. Kudos to Scott and all of the staff and volunteers for a great race. Their hard work has been rewarded by a long list of local sponsors now supporting the event.
Photos: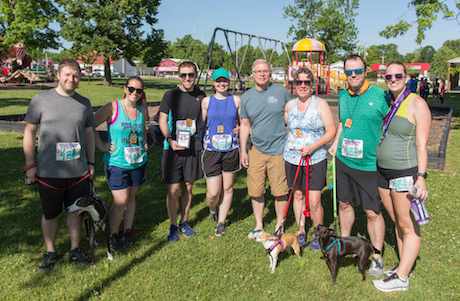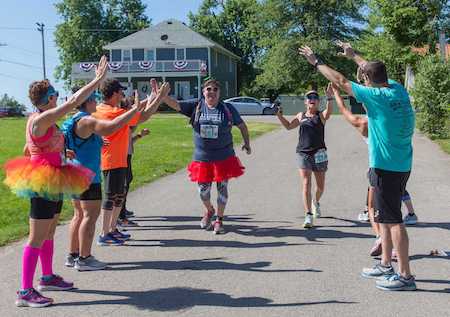 You'll find 690 more photos here.
* * * * *
WHOBILATION 5K RUN/WALK (posted March 8th)

Thirty runners and walkers showed up on a sunny Saturday morning for the second annual, Dr. Seuss-themed Whobilation 5K put on by the Tri-County YMCA in Osage Beach. It was one of those runs where the wind made all the difference--it was downright cold in the headwind on the way out, but comparatively tropical with a tailwind on the way back.
After winning last week's Polar Bear Strut 5K, Tucker Seise made it two overall victories in a row. He finished in 17:38, beating second-place finisher Aaron Koeppen by over three minutes. The women's race was also a rout, with Cindy Ford (29:28) finishing more than two minutes ahead of Abby Sloan (31:42).
Here are the complete race results:
Many more race photos can be found here.
* * * * *
OZARK HIGHLANDS ENDURANCE RUN (posted March 8th)

Two years ago, Chris Boyle claimed an overall victory--by a dominating margin of 30 minutes over his nearest competitor--in the 50K at the Ozark Highlands Endurance Run in the Ozark-St. Francis National Forest in north-central Arkansas. But, with three times as many competitors in this year's 50K compared to 2018 (39 versus 13), Chris was only able to come up with a fourth-place finish on Saturday. He crossed the line in 5:24:14--23 minutes behind his 2018 pace, and 30 minutes behind this year's winner.
Frequent Lake visitor Ryan Maher and two other St. Louisans finished the 50K side-by-side, in 5:50:42, taking 9th, 10th and 11th places.
In the 21-mile race, John Shelby took third overall (of 27 competitors), finishing in 3:42:13.
Complete race results can be found here.
* * * * *
WEEKEND RACE RESULTS FOR MARCH 7 - 8
Here are some additional results and notes from this past weekend:
Scott Hinkle of Lake Ozark ran the Creve Coeur St. Paddy's Day Half Marathon in St. Louis, finishing in 2:44:58, and placing 25th (of 25) in the men's 50-54 age group. This three year-old race has bucked the trend of declining interest in running by posting increases in participation in both its second and third years--from 268 in the inaugural race in 2018 to 420 last year and 528 this year.
Dan Ralston of Rocky Mount ran the Liberty Hospital Half Marathon (Facebook page) near Kansas City on Saturday. He finished in 2:15:22, placing 31st in the men's 50-54 age group. The Sedalia duo of Kim Ream and Lori Hurt, both five-year finishers at Bridge & Dam, ran the half, as well, presumably tuning up for March 28th.
There were no Lake-area runners at the Quivering Quads Trail Race at Cuivre River State Park in Troy, Missouri on Sunday, but one name very familiar to us at the Lake was the overall winner of the 50K. Andy Emerson of Columbia finished ahead of 44 others, in 4:41:31. Worthy of note is that the first 15 runners who finished behind the 51 year-old Andy were all younger than him.
* * * * *
PUBLIX GEORGIA MARATHON (posted March 1st)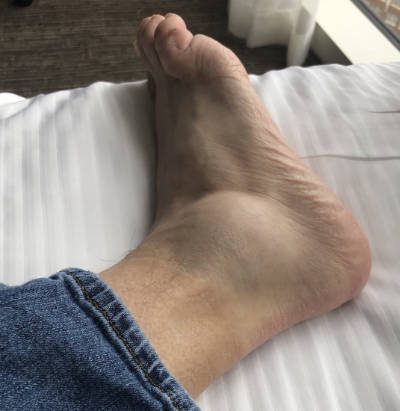 Yee-OUCH!! That's Todd Raney's ankle pictured above, a day after rolling his ankle while walking from the Publix Georgia Marathon's race expo. Todd gritted out the marathon on Sunday and finished in 4:36:42, placing 77th (of 138) in the men's 50-54 age group.
The overall marathon winner was Ben Kopecky from St. Louis. He won in 2:29:49. Meb Keflezighi paced the 1:40:00 half marathon group, finishing in 1:39:37.
* * * * *
LITTLE ROCK MARATHON, HALF MARATHON, 10K & 5K (posted March 1st)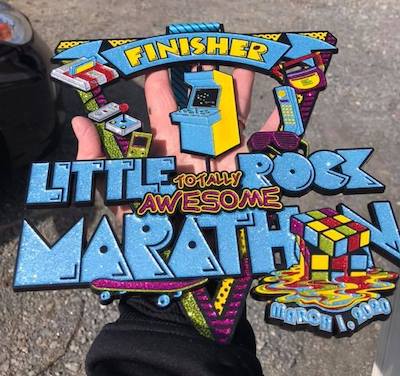 Apparently, the ginormous finishers medals weren't enough to draw any Lake-area runners to Sunday's Little Rock Marathon & Half Marathon.
Randy Acklin of Marshfield was there, though, presumably to pace a marathon group to the finish line, as he's done (at least) the last three years. Randy finished this year in 4:46:46.
Participation in the marathon and half marathon was down 7% from last year, and just over a third less than the peak in 2013-2014.
* * * * *
TAME THE DRAGON (updated March 1st)

Perfect weather brought 43 competitors from Missouri and surrounding states--though none from the Lake area--to the inaugural Tame the Dragon orienteering race at the Lake of the Ozarks State Park on Saturday. The top points finishers covered about 26 miles on their treks around the rogaine course. None were able to reach all of the checkpoints within the alloted 8 hours.
Nothing but rave reviews about the race were heard from the competitors at the finish line.
Check out the race photos here.
* * * * *
CASTLEWOOD CUP 15K (posted March 1st)

For the third year in a row, the Castlewood Cup 15K Trail Race at Castlewood State Park in west St. Louis County was shortened due to wet trail conditions. This year's race, like last year's, was only 11K (7 miles) long. Two years ago, it was only a 13K race (8 miles).
Mark Matthews was our lone Lake-area runner in the race. Mark finished in 1:10:06, placing 31st (of 51) in the men's 45-49 age group.
There were 478 finishers at this year's race. That ties the 2016 total, and reverses a three-year decline that fell to 380 finishers last year.
Complete results can be found here.
* * * * *
U.S. OLYMPIC MARATHON TRIALS (updated March 1st)

The Olympic Marathon Trials were held in Atlanta on Saturday to determine the runners who will represent the U.S. at the Tokyo Olympics this summer. Here are those runners:
Men
1. Galen Rupp — 2:09:20
2. Jacob Riley — 2:10:02
3. Abdi Abdirahman — 2:10:03

Women
1. Aliphine Tuliamuk — 2:27:23
2. Molly Seidel — 2:27:31
3. Sally Kipyego — 2:28:52
2018 Boston Marathon winner Des Linden, who represented the U.S. in the 2012 and 2016 Olympics marathons, missed the third spot on the women's team by 11 seconds.

The top Missouri finisher, Julia Kohnen of St. Louis, ran 2:30:43 and placed 10th (of 390) in the women's race. Kimi Reed of Springfield finished 62nd, in 2:42:04. Jamie Vest of Lebanon qualified for the Trials but didn't compete.
You can read more about Saturday's race here.
For a closer look at the Missourians in the race, read this: Missourians Compete Well At Olympic Marathon Trials
Searchable results are available here.

Todd Raney is in Atlanta, and passed along a photo:
* * * * *
POLAR BEAR STRUT 5K RUN/WALK (updated March 1st)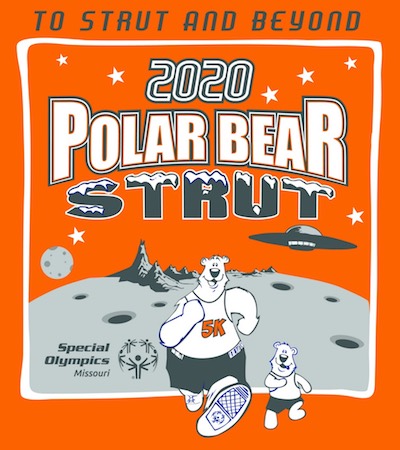 Seventy-four runners and walkers turned out for the nineteenth annual Polar Bear Strut 5K on Saturday. That was about the same number who turned out for last year's race, which was marred by chilly and rainy weather. In stark contrast to last year's weather, this year's weather was ideal for running, with sunny skies and little wind making the chilly temperatures in the upper 30s still quite comfortable.
Tucker Seise's overall winning time of 18:46 came within one second of tying the fastest Strut finish in the last eleven years. (Casey O'Connor's 18:45 in 2011 came on the previous Strut course. I don't have the data to confirm it, but Casey's 18:45 may also be the fastest finish in Strut history.) Camdenton High School cross country runner Jake Thoenen came in a distant second (20:59), followed by five-time Strut winner Nigher Alfaro (21:40).
The women's winner, for the second year in a row, was Brooke Zeigler. Brooke finished in 23:42, one minute slower than last year. Finishing about a minute behind Brooke was Cierra Hiland from the Quincy, Illinois area. Cierra has more overall women's victories at Lake-area 5Ks than any other out-of-town runner.
Complete race results can be found here.
About 200 more photos from the race can be viewed here.
* * * * *
PSYCHO WYCO RUN TOTO RUN (posted February 23rd)
It's been six years since the Lake area has been represented at the popular, mid-winter Psycho Wyco Run Toto Run trail race in the Kansas City area. Jamy and Abby Sloan of Linn Creek broke that long dry spell by competing in the 10-mile race this past Saturday. Jamy finished in 2:20:36, placing 32nd (of 46) in the men's 40-49 age group, while Abby finished in 2:33:12, placing 15th (of 21) in the women's 30-39 age group.
Complete results can be found here.
* * * * *
POLAR BEAR RUN (posted February 23rd)
Jade Fletcher finished in 1:00:36 and placed second (behind a Bolivar High School cross country runner) in the women's 15-19 age group at the Polar Bear Run 10K in Bolivar on Saturday. The overall winner was a Bolivar High School sophomore who finished in a speedy 35:02.
Complete results can be found here.
* * * * *
POST OAK LODGE CHALLENGE (posted February 21st)
Here are our local runners' results at the Post Oak Lodge Challenge (Facebook page) in Tulsa over the weekend:
Complete results can be found here.
Scott Page passed along a photo taken before Saturday's races:
* * * * *
HEART OF THE OZARKS HALF MARATHON & 10K (posted February 15th)
Congratulations to Pete Groce for his age-group victory at the Heart of the Ozarks Half Marathon in West Plains on Saturday. Pete finished ahead of five others in the 50-59 age group, in 1:46:18.
Full race results can be found here.
Heart of the Ozarks is very unusual in that it has a much younger than average field. (Dixon Camps, which holds running-focused camps for young athletes, is a race sponsor.) Of the 121 half marathon finishers, 35 were 19 years old or younger. They're not just young, but fast, too. In the half marathon, they took nine of the top ten places. For a school located in a community of just 11,000, West Plains High School is a cross country powerhouse.
Slightly over half the field finished the half marathon in under two hours. That compares to only 30% of the field at the Bass Pro and Kansas City half marathons.
* * * * *
MISSOURI LOTTERY RUN FOR YOUR BEADS 5K (posted February 15th)
Former Camdenton High School cross country runner Jeremy Ryan did us proud once again. Three weeks after finishing fourth (among 2,800 runners) at the NHL All-Star 5K, Jeremy took second overall (among 1,110) at the Missouri Lottery Run for Your Beads 5K. The race was held in the Soulard neighborhood south of downtown St. Louis, and was part of the neighborhood's Mardi Gras festivities.
Complete results can be found here.
* * * * *
SWEETHEART SHUFFLE 5K/10K (posted February 9th)

After skipping last year's race, Jade Fletcher returned to Independence to run the Sweetheart Shuffle 10K on Saturday. Jade finished in 52:54--about a minute faster than 2018--and took second in the women's 15-19 age group.
Finishing right behind Jade was Jeanne Pfetsch of Lexington, Missouri. Jeanne is one of just sixteen runners who has finished every Bridge & Dam Half Marathon.
Complete race results can be found here.
* * * * *
GROUNDHOG RUN 5K/10K (posted January 29th)

Willard Haley was our sole Lake-area runner who toed a starting line last weekend. Willard was among nearly 3,000 runners who ran on Sunday at the Ability KC's 38th annual Groundhog Run. The race, which includes 5K and 10K distance races, was held at the Hunt Midwest SubTropolis in comfortable 65-70 degree temperatures.
Willard finished the 10K in 1:07:24, just a shade slower than last year's 1:06:09. That placed him 22nd (of 38) in the 55-59 age group.
Click to view the full results.
There were 2,091 and 879 solo finishers of the 5K and 10K, respectively. The total of 2,970 was down from 3,294 last year.
* * * * *
NHL ALL-STAR 5K (posted January 26th)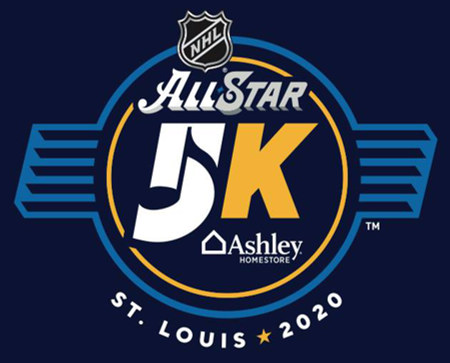 The biggest race of the weekend--in fact, the biggest race in the state since Thanksgiving Day--took place in St. Louis on Saturday morning. Over 2,800 runners participated in the All-Star 5K, which was one of the festivities celebrating the National Hockey League's All-Star Game hosted this weekend by the St. Louis Blues.
Former Camdenton High School and Drury University cross country runner and Boston Marathon finisher Jeremy Ryan, who lives in St. Louis, placed fourth overall, finishing in 16:38.
There were two photo finishes in the race. The top two finishers are listed with identical 15:45 finish times. The third place finisher was only one second ahead of Jeremy, and the fifth place finisher had the same finish time as Jeremy. (Obviously, more decimal places were used in determining the exact finish order.)
The complete race results can be found here.
* * * * *
ARGO 13.1 HALF MARATHON (updated January 25th)
It was a bitterly cold--but at least, sunny--day for the winter edition of the semi-annual Argo 13.1 Half Marathon in Kansas City last Sunday. The air temperature was near 10°, with a wind chill near zero.
Two regulars at the small, always sold-out race returned for more misery. Jade Fletcher finished in 2:37:37, placing 32nd (of 51 competitors). Our friend from Grandview, Greg Linhart, took fourth overall with a 1:48:14 finish.
Results can be found at the race's Facebook page.
* * * * *
DAVID'S TRAIL ENDURANCE RUN (posted January 19th)

Thirteen of our Lake-area runners traveled to Mountain Home, Arkansas on Saturday for the fifth annual David's Trail Endurance Run (Facebook page). They faced much milder weather conditions than those at last year's race, although still far from ideal. Temperatures hovered around 50°, but breezy winds (with gusts up to 25 mph) and overcast skies made it feel colder.
Scott Page took home local bragging rights in the 50K, finishing in 6:27:26--13 minutes ahead of last year. In the 25K, Tucker Seise took third overall (of 102 competitors), finishing in 2:07:25.
Katie Roberts and John Shelby earned podium spots in their age groups in the 25K and 50K, respectively.
Here are results for our Lake-area runners, plus a few runners familiar to us:
Complete results can be found here. They should soon appear here on UltraSignup.com.
There were 225 finishers at this year's race, including 60 for the 50K, 102 for the 25K and 63 for the 7K. The total is twice the 112 finishers last year.
* * * * *
BIG NEWS AT ULTRAMAX SPORTS (posted January 15th)
The big decline in participation at running and triathlon events in the last five years continues to claim victims.
A few weeks ago, when I was updating the long list of 2020 events that appears at the bottom of this column, I noticed that Ultramax Sports hadn't yet posted on its website the 2020 dates of a number of its company-owned events. In years past, they always did this around the beginning of the year, so I didn't think much of it.
Now that we're midway into January, and with the 2020 event dates still not posted, I was getting curious as to what might be going on. Today, I discovered that they posted a major announcement on their Facebook page on January 3rd. You can read the announcement for yourself here.
In short, they've cancelled a number of events, including Go Girl Run Kansas City and Springfield (Go Girl Run Columbia survives), ShamRox Columbia (ShamRox Springfield survives), and the TriZou and Halfmax Triathlons. The loss of TriZou and Halfmax are especially sad. Halfmax has been around since 2003 (and on a personal note, it was my very first triathlon), and TriZou goes back even further. For years, they were the biggest triathlons in the state.
The announcement didn't specifically mention the Rocheport Roubaix bicycle race or AdventureMax trail run, but those are gone, too. The Kansas City Triathlon will continue, although under new owners.
Ultramax at one time had the largest offering of events in the state. They also owned and operated retail stores in Columbia and Springfield that were closed in the early 2010s, when Internet retailers started killing off brick-and-mortar stores. Now, they're basically an event timing and services company.
Mark and Amy Livesay started Ultramax Sports in the mid 2000s. About five years ago, they moved their family from Columbia to Montana, but kept Ultramax's headquarters in Columbia. That obviously made it difficult to manage an event-organizing business from so far away. The separation may explain part of Mark and Amy's decision to restructure and downsize the business, but there's no doubt that the major, years-long decline in participation in running and triathlon was a major impetus for it. Most of their events were a fraction of the size they once were.
Joplin-based TwelveOne Group is another for-profit company that has transitioned from race organization to race timing and services. (You may recall that in 2019 they cancelled the 36 Hours of Jack and Angry Bull Sizzling Six Shooter races to focus on race services.) With the for-profit organizers cutting back, the only races that seem to have a future are those that: (1) have the support of a major sponsor (e.g. Bass Pro); (2) are put on by or for non-profit organizations; or (3) are trail-based races, which are generally less costly and easier to organize than road races.
* * * * *
ACROSS THE YEARS MULTI-DAY RUNNING FESTIVAL (updated January 7th)

The Across the Years Multi-Day Running Festival (UltraSignup page) started on Saturday, December 28th in Phoenix. (It's organized by the same group that put on the Desert Solstice 24-Hour and 100-Mile track event two weeks ago). In this race, runners circle a 1-mile course for their choice of 6 hours, 12 hours, 24 hours, 2 days, 3 days, 6 days, 10 days (newly-added this year; 46 crazies are in for it), 100 miles, 200 miles, a last person standing race, or various relays.
The overall winner of the 10-day race was 47 year-old Annabel Hepworth of Sydney, Australia. She completed a phenomenal 740 miles. Philip Eberts, the top male competitor, logged 660 miles.
Pete Kostelnick won the 6-day race, completing 444 miles.
Complete results can be found here.
Here are the miles completed by the men's and women's winners in each race:
| | | |
| --- | --- | --- |
| Race | Top Male | Top Female |
| 24 Hours (ended) | 141 miles | 117 miles |
| 48 Hours (ended) | 175 miles | 158 miles |
| 3 Days (ended) | 221 miles | 235 miles |
| 6 Days (ended) | 444 miles | 342 miles |
| 10 Days (in progress) | 660 miles | 740 miles |
The record for the 6-day race is 555 miles. For the 3-day race, a mere 329 miles.
* * * * *
UPDATE ON THE RUNNING "RECESSION"
2019 marked the fifth consecutive year of declining participation in full and half marathons in Missouri. There were 35,464 finishers at the 72 events held last year, a decrease of 8% from 2018. Participation was 38% below the peak of 57,242 in 2014.
For the first time, the number of events declined from the prior year--from 76 in 2018 to 72 in 2019. All four that were cancelled had experienced declining attendance in recent years. (One race has already been cancelled for 2020--the Sedalia Half Marathon. A few others are in jeopardy.)
I don't have data prior to 2012, but my guess is that we're now down to participation levels not seen since the mid 2000s, meaning that most of the growth in running that occurred during its boom years between 2005 and 2014 has now been erased.
Here's the summary data for the last eight years:
* * * * *
WEEKEND RACE RESULTS FOR JANUARY 4 - 5
At the Fresh Start 5K/10K in Springfield on Saturday, Jade Fletcher finished the 10K in 57:23 and won the women's 15 & under age group over one other competitor.
In St. Louis, Scott Hinkle of Lake Ozark ran the Snowball Series 5-Mile and finished in 56:33. He placed 81st (of 115) in the men's 50-59 age group.
* * * * *
LOTO RUNNERS' NEW YEAR'S DAY RUN (posted January 1st)
A beautiful New Year's morning brought out a baker's dozen of our Lake of the Ozarks Runners to the Lake of the Ozarks State Park to run the Rocky Top Trail (and points beyond). The die-hards ran a symbolic 20.20 miles; the mere mortals ran substantially less. Check out some photos of the runners and the trail scenery here.
* * * * *
2020'S FIRST FINISHER (posted January 1st)
Roughly thirteen minutes kept Margie Gunter from repeating as the Lake area's first race finisher of the year. Margie earned that distinction last year when she finished the Chilly 5K in Joplin on New Year's Day--indeed, she was the only Lake-area runner to race that day.
Margie returned to Joplin for Wednesday's Chilly 5K, but Cheyenne Fish of Camdenton spoiled Margie's party by finishing the 5K in 42:40, versus Margie's 55:46.
* * * * *