DECEMBER 31, 2009
A sincere thanks to all who visited this website this past year. According the web host, there were 7,000 unique visitors to the website, visiting a total of 9,600 times, viewing 29,000 pages, and using 72 gigabytes of bandwith in perusing the pages, videos, etc., on the website. Not too shabby for an obscure, purely noncommercial website that doesn't advertise its existence other than by word-of-mouth and is solely operated by a non-professional webmaster. Hopefully, the website has been a source of information and entertainment to all who visited.
Bear with me as I start to populate the 2010 events calendar on the left. It takes quite a bit of time to search out events and post them here.
To clean out the old in order to make room for the new, all of the news and stuff for 2009 has been moved to the 2009 Archives page, which you can find at the link below.
CASTLEWOOD 8-HOUR ADVENTURE RACE (posted December 9th)
Congratulations to Gary Thompson, whose Mid Rivers Adventure/Time Bandits team finished sixth (just one minute behind the fifth-place team) in the 4-person co-ed division at the Castlewood 8-Hour Adventure Race held on December 5th. They finished the course in 6:03. Alpine Shop, a nearly unbeatable team at the Bonk Hard Chill race held at the Lake of the Ozarks, finished first in a time of 4:39.
FLOATIN' FOOLS (posted December 6th)

The second annual Floatin' Fools paddling event on the Osage River on November 29th received some nice publicity in the Lake Sun and its online edition, lakenewsonline.com. Twenty people paddled, and the event raised about $4,500 for the Ozark Coast Kiwanis Club's drive to provide Christmas gifts for local children. Photos can be found at lakenewsonline.com.
IRONMAN 70.3 BRANSON (posted December 6th)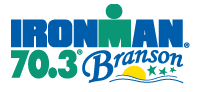 The bike course for the inaugural Ironman 70.3 Branson on September 19, 2010, has been set, although it doesn't yet appear on the race website. Shown below is a small map of the course. You can view a larger map at this link at mapmyride.com. The 56-mile course has nearly 2,800 feet of climbing, so it will be fairly challenging.
About 375 participants have already registered, with Dennis Gillen of Camdenton the only local one so far.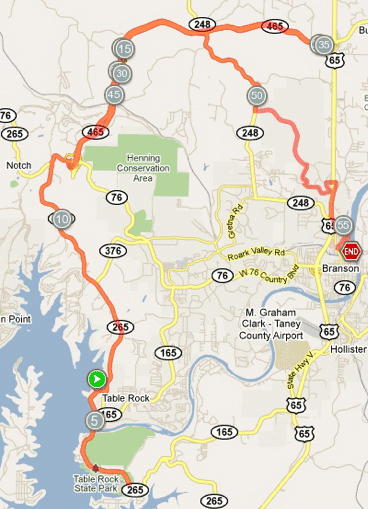 HOPE HOUSE 5K RUN/WALK (posted November 22nd)
Thanks go to Claudette Taylor and the Country Club Hotel & Spa for putting on a nice benefit run/walk for Hope House this past Saturday morning. A carload (or more) of non-perishable food was donated by the participants for distribution by Hope House to local families in desperate need. This has been an especially tough year for many, many people, and it feels good to be part of an event designed to help them.
LAKE-AREA RESIDENT TO BICYCLE ACROSS AMERICA (posted November 19th)
Dennis Dorman of Sunrise Beach plans to bicycle 3,200 miles across the United States early next year. He plans to start March 1st in San Diego, California, and hopes to finish in St. Augustine, Florida, by early May.
The ride is a fundraiser for Rotary International (Dennis is a member of the Laurie-Sunrise Beach Rotary Club) to support its continuing efforts to eradicate polio around the world. His goal is to raise $100,000.
Dennis was interviewed on KRMS-1150AM on November 16th. Click here to listen to the 18-minute interview (MP3 format; 10.1 MB).
You can find out more about the ride and how to contribute by going to Dennis' Facebook page. Alternatively, his home telephone number and e-mail address were given out near the end of the radio interview.
HAPPY BIRTHDAY, TREVOR DOWDNEY (posted November 17th)
and congratulations on becoming the youngest member (for a day, at least) of the male 45-49 age group!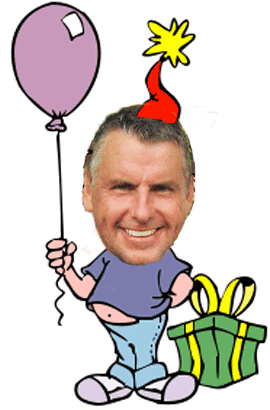 FLOATIN' FOOLS (posted November 15th)
According to the latest edition of Lake Lifestyles, the second annual Floatin' Fools two-mile paddle down the Osage River will be on Sunday, November 29th, starting at noon at the boat ramp access below Bagnell Dam (on the east side of the river). It's a fundraiser for the Ozark Coast Kiwanis Club's Christmas for Kids, and the cost is $100. For more information, contact the organizers, Jay English and Troy Atkisson, or the Kiwanis Club. Dan Dougan at Ozark Outdoors & Cyclery may know more as well.
OZARK TRAIL 100 (posted November 15th)
Results were posted in the last few days for the Ozark Trail 100-mile trail run that was held on November 7th. The winner, Jeff Browning, completed the course--which included 15,000 feet of climbing--in an astonishing 18:38:59. His nearest competitor, Ben Creehan (a perennial Bonk Hard Chill participant), was over four hours behind. Of the 142 registered participants, only 56 managed to cross the finish line within the 32-hour time limit, and 42 of them did so with less than two hours to spare.
CAMDEN COUNTY MASTER PLAN (posted November 11th)
Camden County has posted on its website the preliminary draft of its master plan for guiding development in the county for the next 20 years. The good news is that bicycling, walking, multi-use trails, sidewalks, etc., received (to my surprise) quite a bit of coverage in discussion of future transportation plans. After wasting lots of time and effort a few years ago to get Osage Beach interested in building walking and biking paths in that city, I'm skeptical that the discussion in this master plan will amount to anything more than just words. Judge for yourself by checking out what was said in the draft.
The County is interested in receiving comments on the draft, so please provide any you may have by November 17th.
JJ TWIG'S SPOOKY 5K WALK/RUN (updated November 2nd)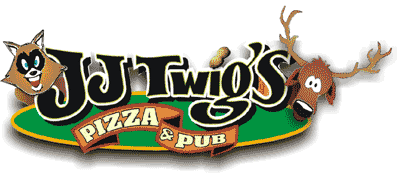 The first JJ Twig's Spooky 5K Walk/Run, benefiting the Lake Area Big Brothers/Big Sisters, was an outstanding success. Approximately 163 participants--believed to be the largest field for any 5K in the Lake area this year--turned out on a sunny, cool, and slightly breezy Saturday morning. Thanks to all who participated, and to Jill Wedig and her assistants in putting on a successful, fun event. We had lots and lots of kids participating, which always adds to the fun.
Trevor Dowdney battled a sore back and won the race in 19:xx (the course was a bit short), making it two local 5K wins in two weeks.
Click here to view some photos taken at the event.
BASS PRO SHOPS/MAYNARD COHICK HALF MARATHON (posted November 1st)
Three locals participated in today's Maynard Cohick Half Marathon, which was part of the Bass Pro Shops Outdoor Fitness Festival in Springfield. Congratulations to all for finishing in the upper half of their female 35-39 age group.
| | | | |
| --- | --- | --- | --- |
| Name | City | Finish time | Division place |
| Christine Hamb | Roach | 2:00:54 | 23 of 96 |
| Victoria Waiter | Osage Beach | 2:07:10 | 34 of 96 |
| Jackie Bruce | Roach | 2:10:11 | 40 of 96 |
MARINE CORPS MARATHON (posted October 25th)

Congratulations to John Tucker--publisher of the Lake Sun and an Ironman finisher--who completed the Marine Corps Marathon in Washington, D.C. on October 25th. John finished in 4:17:47, placing him 889th out of 1,999 finishers in the male 40-44 age group. There were just under 21,000 finishers in total (nearly twelve times the number of finishers at the GO! St. Louis Marathon), making this one of the largest marathons in the United States.
BIKE MS: EXPRESS SCRIPTS GATEWAY GETAWAY RIDE (posted October 22nd)
The local Oz Cycles team that raised $5,000 in the September 12-13 bike ride benefiting Multiple Sclerosis received some press the other day when a photo of about half the team appeared in several Lake-area publications. Here's the photo, in case you missed it: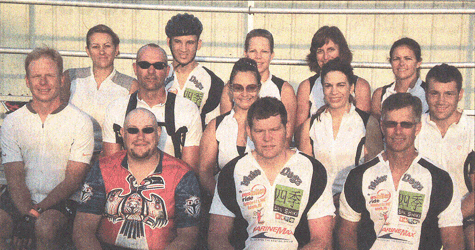 The full team consisted of: Larry Bush and Dan Dougan (team captains), Steve Adams, Larry Allman, Karen Blevins, Ann Brown, Terry Bush, Josh Clark, Sarah Clark, Lexi Dougherty, Todd Elliott, Jenni Glendenning, Cody Gremminger, Daniel Hoover, Jim Jackson, Missy Jackson, J.J. Jones, Beverly Kincade, Traci LaFata, Jeff Morton, Jackie Rasmussen and Josh Schrock.
ABS & GLUTES FITNESS CENTER 5K RUN/WALK (posted October 17th)
Temperatures in the upper 40s and sunny skies--the first we've seen in a week--greeted about 40 runners and walkers to the starting line at today's Abs & Glutes 5K in Linn Creek. Kudos to Paul and Rona Schaefer for putting on another great event. Congratulations to the top male and female finishers, Trevor Dowdney and Paula O'Connor, who crossed the line in 22:10 and 25:49, respectively.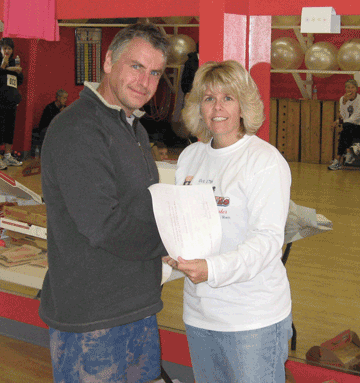 Trevor Dowdney with Rona Schaefer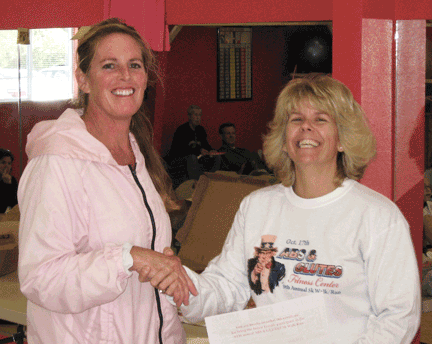 Paula O'Connor with Rona Schaefer
Click here to view a few more photos. (Sorry, but I wish I had taken more.) Click here to view the race results.
WADDELL & REED KANSAS CITY MARATHON, HALF MARATHON & 5K (posted October 17th)
Congratulations to the five local runners, all from Camdenton, who raced in Kansas City today. Nearly all of them placed high in their respective age divisions.
Finish time

Division

Divison Place

MARATHON:
Laura Davis

3:50:59

F 40-44

9th of 83

HALF MARATHON:
Dennis Gillen

1:49:02

M 55-59

12th of 83

Amy Manes

1:52:33

F 35-39

33rd of 443

5K:
Suzan Carey

30:04

F 60-64

3rd of 12

Ray Carey

46:24

M 65-69

9th of 11
REDMAN TRIATHLON (posted October 17th)
If you're suffering from insomnia and looking for a quick, cheap remedy, read my Redman race report. I finished it Friday night and posted it on the Race Reports page, or just click here to find it. It's 22 pages long, with lots of photos, and 3.6 MB in size (.pdf format).
HARTSBURG PUMPKIN FESTIVAL BIKE RIDE (updated October 11th)
Everyone had a great time at the Hartsburg Pumpkin Festival, and the weather, while a bit cool at times, was nearly perfect. Thanks to all who came along and made it so much fun to be a part of.
Check out the photos here.

ELDON TURKEY TROT & GOBBLE WOBBLE 5K (updated September 28th)
Congratulations to Gary Lile and Jana Haley, the top male and female finishers at the Turkey Trot & Gobble Wobble 5K on Saturday, in 18:24 and 23:55, respectively. A total of 55 runners and walkers toed the line.
Full race results have been posted at the Eldon Parks and Recreation Department's website.
ROOTS 'n BOOTS 'n BBQ FESTIVAL HALF MARATHON AND 10K (posted September 28th)
A bunch of locals traveled to Columbia on Saturday to race. Here are their results:
Name

City

Time

Division Place

HALF MARATHON:

Shane Moriarity

Osage Beach

1:37:40

6 of 43

Peter Rao

Osage Beach

2:13:57

16 of 22

Christopher Herriman

Eldon

2:14:30

34 of 44

Amanda Herriman

Eldon

2:14:30

34 of 57

Clare Herriman

Eldon

2:14:30

3 of 19

Shelby Thomas

Camdenton

2:31:56

5 of 6

Lori Sullivan

Camdenton

2:35:51

58 of 69

Theresa Christensen

Lake Ozark

2:36:32

59 of 69

Patty Thomas

Camdenton

2:45:52

19 of 24

10K:

Steven Naught

Osage Beach

1:14:38

11 of 18
OSAGE BEACH FALL FESTIVAL 5K RUN/WALK (updated September 12th)
Nineteen runners and walkers toed the line at the Fall Festival 5K sponsored by the Tri-County YMCA. The weather was perfect for racing on arguably the Lake area's toughest 5K course. Thanks go to Shelly and Scott Leffingwell of the YMCA and a host of volunteers for a fun event.
The results can be found here.
The age group winners are pictured below: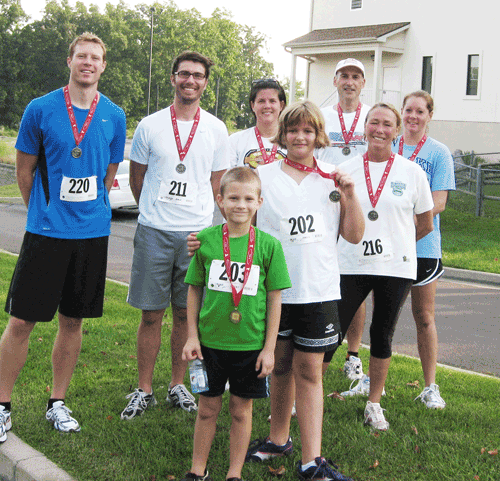 Front row (left to right): Casey Reed, Alexis Reed, Deb Anderson, Christy Lorenzen
Back row: Scott Angelo, Zack Atchley, Jennifer Dowdney, Jim Glickert
TOUR OF MISSOURI (updated September 12th)
Here's a photo of the top three to cross the finish line in Jefferson City at the end of Stage 4 of the Tour of Missouri.
Pictured, left to right, and order of finish:
Thor Hushovd (Cervelo Test Team) -- second
Juan Jose ("J.J.") Haedo (Team Saxo Bank) -- first
Dario Cataldo (Quick Step) -- third
LOCAL TRIATHLETE IN THE NEWS (updated September 1st)
The Lake Sun ran an article about Kris Williams of Camdenton, who won her 45-49 age group (that included nine other competitors) at the Republic Tiger Triathlon (300-yard swim, 12-mile bike, 3.1-mile run) on August 15th in Republic. Her swim pace was 2:20 per 100 yards, her bike pace was 14.8 mph, and her run pace was 9:13 per mile, for an overall finish time of 1:27:11. Congratulations, Kris!
THE GREAT BAGNELL DAM DUCK DROP 5K RUN AND WADDLE WALK (updated August 18th)
(A few photos from the event have been posted. Click here to view.)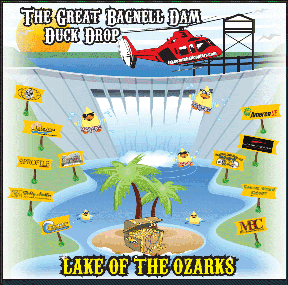 Thanks go to the Lake Area Chamber of Commerce, the Bagnell Dam Strip Association and the Kiwanis Club of Ozark Coast for putting on a great 5K run/walk to kick off the day's activities at the inaugural Great Bagnell Dam Duck Drop. We had 115 participants toe the starting line at the campground just below Bagnell Dam. The first half-mile was as flat as flat can be, but we were soon gasping for air while climbing the hills that would take us to the top of the Bagnell Dam Strip. Shortly after the turnaround at JJ Twigg's, we began a much deserved mile-long descent to the finish line. Congratulations go to everyone who participated. It was a lot of fun, and we look forward to doing it again next year.
Casey O'Connor, an outstanding runner who won his age group at the GO! St. Louis Half Marathon in April, was the first to cross the finish line in 18:57 (6:07 pace), with the phenomenal over-50 Gary Lile just 22 seconds behind. Heather Johnston was the first female finisher, in 23:58 (7:44 pace).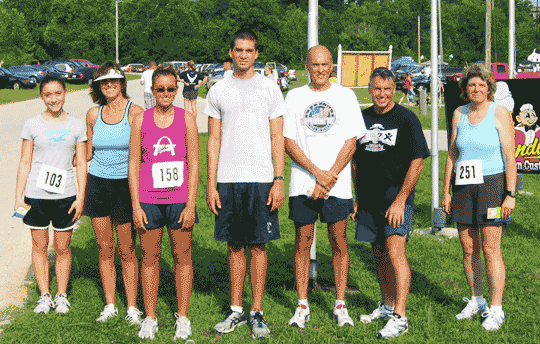 2009 Duck Drop 5K age group winners (pictured left to right):
Morgan Brooks (female under 17) 26:31
Jackie Rasmussen (female 30-49) 24:45
Heather Johnston (female 18-29) 23:58
Casey O'Connor (male 18-29) 18:57
Gary Lile (male 50+) 19:19
Trevor Dowdney (male 30-49) 21:54
Susan Buckingham (female 50+) 32:21
Jerad Shields (male under 17) 21:12 (not pictured)

GARY THOMPSON HIKES THE APPALACHIAN TRAIL (posted August 12th)
Local athlete Gary Thompson (you may have seen him in the 2006, 2007 and 2008 Bonk Hard Chill videos) is nearing completion of a five-month-long, 2000-mile hike of the Appalachian Trail. An interesting article about his journey appeared in today's Lake Sun. Gary's wife, Ellen, has been chronicling Gary's hike on a website.
MISSOURI RIVER 340 (updated August 6th)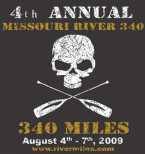 One of the state's most grueling events is back for a fourth year. The Missouri River 340 is a 340-mile paddling race from Kansas City to St. Charles on the Missouri River, and it's billed as the world's longest non-stop river race. This year, including both solo and team divisions, there are about 500 racers participating on the 275 boats registered.
The race begins at 8:00 a.m. on Tuesday, August 4th. Racers have an overall time limit of 88 hours (i.e. Friday 11:59 p.m.) to be official finishers (an average speed of 3.85 miles per hour), but there are intermediate cutoffs at the nine checkpoints along the way.
This year, the Lake area will be represented by the three-person team of Team Oz Cycles, consisting of Kevin Sellers, Jared Jellison and Louis Niewald. Kevin finished last year's race (teamed with Ozark Outdoors & Cyclery owner Dan Dougan) in 59:35, and Jared finished solo in 62:12. This will be Louis' first venture. Good luck, guys!
Update: Team Oz Cycles reached Miami, Missouri (105 miles from the start), about 14 hours after the race started, and stopped. I heard that Jared was having a problem with a hand, and they decided to abandon the race. They were in second place (of nine teams) in their division when they arrived at Miami, a bit less than two hours behind the leading team.
The race website can be found at www.rivermiles.com
Race updates are posted on one of the pages at the website's forum for the first several days, and on the home page thereafter.
If you would like to see the racers, one of the checkpoints is located at Jefferson City, at the Noren boat access ramp just below the Missouri River bridge on the north side of the river. If you're not familiar with where it's located, let me know and I'll send you a map. At a minimum, racers are required to stop and sign in at the checkpoints before continuing.
Another checkpoint is located at Cooper's Landing which, for those of you familiar with the Katy Trail, is located between the 163- and 164-mile marks of the Trail--20 miles from the North Jefferson City trailhead. It's an easy ride in case you want to catch more of the activity. Mike Cooper owns the marina and general store; Dale cooks the barbeque.
OSAGE BEACH CITY PARK TRAIL (posted August 2nd)
After an unsuccessful attempt last year, the City of Osage Beach will try again to obtain state funding through the Recreational Trails Program to help build a trail connecting the new city park on Hatchery Road to the park on Highway 42 near School of the Osage. The proposed six-foot-wide trail is three miles long, and is expected to cost $234,000. The city is applying for $100,000 in funding, and should know if its request is approved by the end of the year.
IRONMAN 70.3 BRANSON (posted July 29th)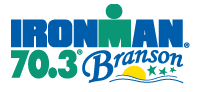 It's official. The inaugural Ironman 70.3 Branson Triathlon (1.2-mile swim, 56-mile bike, 13.1-mile run--i.e. "half iron" distance) will be held on September 19, 2010. Registration has opened for the race, and the field is limited to 2,000 participants. For those not familiar with Ironman-brand events, securing this race is a huge coup for the Branson Lakes Area Chamber of Commerce and CVB. These races are exceptionally well-organized, extremely popular among triathletes, typically sell out long in advance, and bring in a substantial amount of revenue to the host cities. Click here to read a press release posted at Active.com.
Unfortunately, this race is certain to harm another great race, the Redman Triathlon, which offers both iron- and half-iron distances on the same September weekend in Oklahoma City. It also makes it exceedingly unlikely that any triathlon will ever be held at the Lake of the Ozarks in the fall.
SHOW ME STATE GAMES (updated July 26th)
At the Show Me State Games, Debbie Beckett of Eldon won the women's 45-49 age group in the road cycling competition held on Saturday, July 18th. Then, on Sunday, she went unchallenged in her age group and finished the Games' duathlon.
TOUR OF MISSOURI (posted July 12th)
Update (July 14th): As predicted, the funds have been released and the Tour will go on.
A firestorm of controversy was stirred up late last week when Governor Nixon froze the spending of $1.5 million in state tourism funds set aside for the Tour of Missouri. Unless the funds are unfrozen, the race will be cancelled--just two months before it's scheduled to begin. An e-mail campaign is underway to get the Governor to reconsider.
My guess is that the funds will be unfrozen and the race will go on. The Governor is playing politics, and is using this issue to show a concern for fiscal responsibility. He'll cave, and look for him to get in on the media coverage at each stage of the race. Not to be cynical, but the chance to be seen by thousands of spectators (read: voters) across the state is too tempting for a politician, especially when only $1.5 million of taxpayers' money is involved. Also, if the Tour gets cancelled, the Governor knows that race enthusiasts will remember that come re-election day.
RACE ACROSS AMERICA (posted July 9th)
Race Across America sent an e-mail today that was fascinating to read. As followers of this year's race know, four-time winner Jure Robic and one-time winner Dani Wyss were battling the entire way, making it one of the closest contests in years. The two racers were essentially side-by-side by the time they reached Time Station 51, which is just 60 miles from the finish line in Annapolis, Maryland. It's at this time station that racers are required to stop and serve any time penalties. Since Jure Robic had one hour of penalties and Dani Wyss had none, it was going to be nearly impossible for Robic to catch Wyss before the finish line.
As we followed the conclusion of the race, we saw that Robic never advanced beyond the time station, giving Wyss the victory. However, we never knew why Robic stopped. (My own guess was that he suffered a physical or mental breakdown.) Actually, it turns out that a major controversy had been developing over penalties and officiating, and Robic and his crew--made up of Slovenian Army soldiers--simply quit the race at that point. Here are some excerpts from today's e-mail:
"Dissatisfied with penalties that Robic and his crew felt should have been assessed to Dani Wyss; they became convinced Robic stood no chance of winning. The rules and their enforcement became the priority focus for Robic and crew and even though he was on pace to record his fastest ever RAAM, they decided to leave the course.
Robic's crew , having made several navigational errors which cost Robic 30 minutes in penalties and additional time re-riding the correct course, was apparently trying to make amends for their racer. They decided to spend valuable time trying to convince officials that Wyss was violating rules. The crew provided video that they recorded of Wyss apparently committing a violation at a red light. The tape was reviewed by a veteran RAAM official and RAAM race headquarters and was determined to be an unintentional incident and a warning was issued to Wyss. A second video clip was reviewed by 3 RAAM officials (one who is a video analyst by trade) who determined that the footage was inconclusive.
RAAM had 12 crews of officials on the course this year covering 200 racers, at times spread out over 800 miles. It is all but impossible to cover every racer all the time. Nevertheless, we believe our officials did an outstanding job of maximizing coverage and enforcing the rules fairly and uniformly."
We had a chance to talk to some of the race officials when they stopped at Time Station 31 in Camdenton. Some of Robic's penalties were quite flagrant, such as illegally passing another racer at night (you have to follow certain rules to do so legally) in full view of an official.
In past years, some officials have quietly expressed displeasure with the tactics of Robic's crew, particularly spying (for lack of a better word) on officials' whereabouts. The e-mail's mention of video surveillance of Wyss by Robic's crew this year isn't surprising.
It's a shame that this year's race was tarnished by this incident. I guess we shouldn't be surprised, though. Complaints over officiating occur in football, baseball, NASCAR, etc., so why should RAAM be any different?
One thing seems certain: We're probably not going to see Jure Robic in RAAM again.
LINN CREEK FIRECRACKER 5K RUN/WALK &
BEAT THE CHIEF CHALLENGE (for kids) (updated July 6th)

The first annual Firecracker 5K Run/Walk and Beat the Chief Challenge exceeded everyone's expectations today. The event brought out dozens of runners and walkers, both young and not-so-young, and raised a little over $500 for the Camden County Child Advocacy Council. Thanks to all who participated in the event in any capacity. The weather was unseasonably cool and a bit misty, but that drew not a single complaint from anyone, knowing how unmercifully hot a July day can be.
The Beat the Chief Challenge, which gave the kids a chance to race against a handcuffed and leg-shackled Linn Creek Police Chief Trevor Dowdney, was hilarious. Well, maybe not for Trevor. It was probably the first time in his life that he learned what it's like to finish a race dead last. We'll post a video of the race (give me a week or so) for all to enjoy. Below is a photo of the Beat the Chief Challenge participants just prior to the start.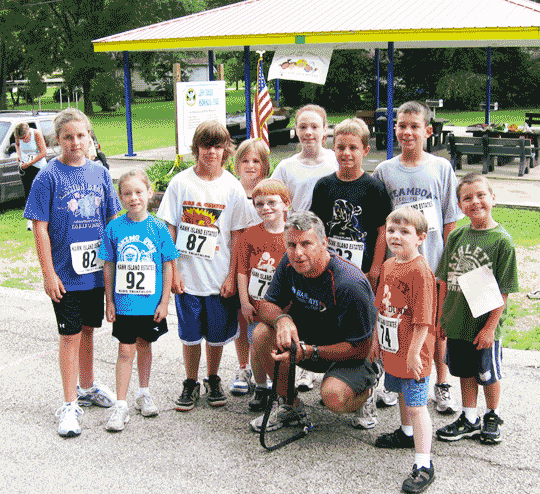 Click here for more photos, and here for race results.
ELDON INDEPENDENCE DAY 5K RUN/WALK (updated July 7rd)
The results have been posted, and you can find them here. A news story with results and photos from the event appeared on the front page of the Lake Sun and in its online edition. Interestingly, they had 95 finishers in the event, making it one of the largest 5Ks we've ever had locally, exceeded only by the Polar Bear Strut.
BRANSON PURSUING AN IRONMAN 70.3 TRIATHLON (posted June 14th)
According to the Branson Daily News, the Branson Lakes Area Chamber of Commerce is in discussions with World Triathlon Corporation to bring an Ironman 70.3 (i.e. half iron-distance) triathlon to Branson in September 2010. There are only a dozen or so Ironman 70.3 races in the continental United States each year, and they are hugely popular among triathletes. Branson would be scoring a big win if it succeeds in attracting one.
ROAD CYCLING ON THE NEW HIGHWAY 5 (updated June 17th)
Update: The new highway is planned to be opened on June 29th. A ribbon-cutting ceremony will be held in the morning, and a public open-house of sorts will be held in the early evening. Thus, for all practical purposes, the last day for safe use of the highway by cyclists and runners/walkers will be Sunday, June 28th.
The construction of Highway 5 through Camdenton has given us an extremely rare, fleeting opportunity--a chance to ride on new, smooth asphalt for miles on a major local highway that's not yet open to traffic. This opportunity will probably only last a few more weeks (if that), since construction is definitely winding down--striping is to begin shortly, and signs and guardrails are currently being installed.
I rode the new highway tonight, and it was neat to be able to get in 26 miles of riding with zero traffic to contend with. I parked at the new high school and carried my bike through the grass on the right-of-way to get on the highway. (I rode on a Sunday night, when there was no chance that any construction work would be going on and I'd be asked to leave.) The new highway section stretches 6.5 miles. None of it, and I really mean NONE, is flat. It consists mostly of long, gradual ascents and descents about a half-mile long. By the time you reach the summit of some of the longer climbs, chances are you'll be suffering.
Take advantage of it while it lasts!

DAVID GOGGINS OUT OF RACE ACROSS AMERICA (posted May 20th)
There's terribly unfortunate news for David Goggins (the subject of a promo on the right side of this page) and Race Across America. He's out of the race due to the recent discovery of a serious heart defect. The defect has been surgically repaired, and the recovery period will be months long. To help explain it further, here's what was posted by his family on his blog on May 19th:
"Hey Everyone,

This is David's family. We wanted to give you an update on David and what he has been up to. I believe we now know why David hates what he does so much.... He really is suffering out there. About 10 days ago we received some bad news. David went in to the Doctor for a check up and they found a birth defect in his heart. It is known as ASD (Atrial Septum Defect). To explain it briefly, this means he has a hole in his heart. He has had it since birth and no one was able to detect it on routine check ups. It is very dangerous in scuba diving, high altitude and extreme athletics. It can cause the heart to go into heart failure without warning. So, to make a long story short, for 34 years David has been working with about 3/4 of his heart. The right side of his heart was receiving too much oxygenated blood and it wasn't going to the rest of his body like it should.

On Thursday of last week David went in for surgery. They were able to repair the hole and he is now in the process of recovering. It will be a long 6 month road back to his normal self, but trust me when we say, he will be back to his normal self. :)

Thank you all for your support of David. It means a lot to him and to us as well."
It's almost miraculous that David's been able to endure SEAL training and ultra endurance racing without tragic consequences.

Here's hoping for his full and speedy recovery.
His blog, by the way, is great reading.


David Goggins is a U.S. Navy SEAL and ultra endurance athlete. He was scheduled to race in the 2009 Race Across America (to raise funds for the Special Operations Warrior Foundation, which helps children of soldiers killed in combat), but had to drop out for medical reasons. Watch the video below to learn more about this extraordinary soldier and athlete.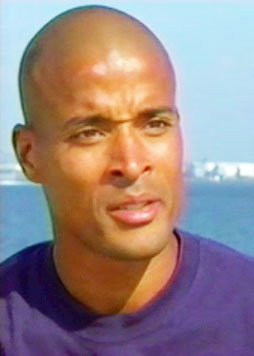 Click for more information about David Goggins and the Special Operations Warrior Foundation at their respective websites.

ELDON KIWANIS THIRD ANNUAL DENNIS SCHEIDERER 5K WALK/RUN (updated June 8th)
Thanks and congratulations go to Alecia Fike and the Eldon Kiwanis for putting on yet another great 5K event yesterday. We had a large turnout, and the weather for it was ideal. The results can be found by clicking here. A large number of photos taken at the event can be found using the link on the Photos page.
SUMMER STRIDE & FAMILY STROLL (updated June 11th)
The Lake Today reported that the top male and female finishers in last Saturday's Summer Stride 5K were Camdenton's Casey O'Connor (18:45) and Cedar Hill's Heather Johnston (23:35) (If anyone knows of a link to the full results, I'll be happy to pass it on.) Casey distinguished himself back in April by winning his 19-and-under age group at the Go! St. Louis Half Marathon, beating 87 other competitors.
TICK WARNING (posted May 17th)

If you plan to hike or bike the trails in the state park, take precautions against a serious infestation of ticks. The recent rains have caused the grass on the sunny parts of the trails to grow tall enough to make contact with it unavoidable. The ticks posit themselves on the tips of the grass, and they easily latch onto you as you brush against it. In a few hours of hiking, you'll likely pick up dozens of ticks, no matter how careful you are.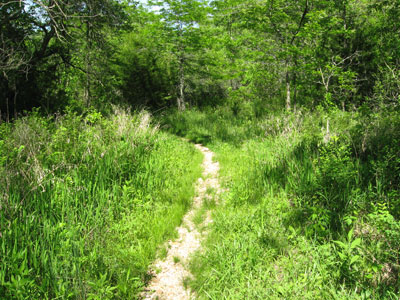 Honey Run Trail: Be wary of the grass (May 17th photo)
BERRYMAN MARATHON AND 50-MILE (updated May 17th)
Congratulations to a former local, Louis Niewald, who finished the Berryman 50-mile trail run on Saturday in an outstanding 10:10. Making it even more impressive is that there was a lot of mud on the trail, as well as lots of downed trees that had to be climbed over or stepped around. Louis tells me he was exhausted as he reached the 30-mile mark but managed to hang on--adjusting his strategy and pace accordingly--and beat his goal time of 11:00 by a substantial margin. He now has his sights on some even more ambitious ultrarunning events, and on the Missouri River 340 paddling race this August with local teammates Dan Dougan, Kevin Sellers and Jarrod Jeleson. Great job, Louis!
OSAGE BEACH CITY PARK TRAIL CANCELLED (posted May 24th)
According to a news item on KRMS's websiter, plans for the trail that the City of Osage Beach was going to build through the state park to connect the new city park on Hatchery Road to the other park on Highway 42 have been scrapped. The city didn't get the state grant it was hoping for to help build the trail, so the funds it set aside for its share of the cost will instead go to purchase scoreboards for the athletic fields in the parks.
MoDOT NEWS (posted May 9th)
First it was "on", then "off", and now it's back "on" again. Route C in Miller County will be getting not only a new asphalt overlay, but also shoulders on the side of the highway. Route C is a major connector between the west side of the Lake area and Jefferson City, and is also the most precarious section of our so-called "Amish bicycle ride" route north of Eldon. The addition of shoulders will make this section much safer for cycling, although the shoulders will only be two feet wide. I don't know when the work is to begin or end, but since it's being funded by the federal stimulus plan, it probably won't be long.
TOUR OF MISSOURI (posted May 8th)
Yet another of the top pro cycling teams in the world will be represented in the Tour of Missouri this September. Team Quick Step has just signed on. This latest addition is further evidence that the Tour of Missouri is now one of the premier pro cycling races in the country.
MS LIFE RIDE (updated May 8th)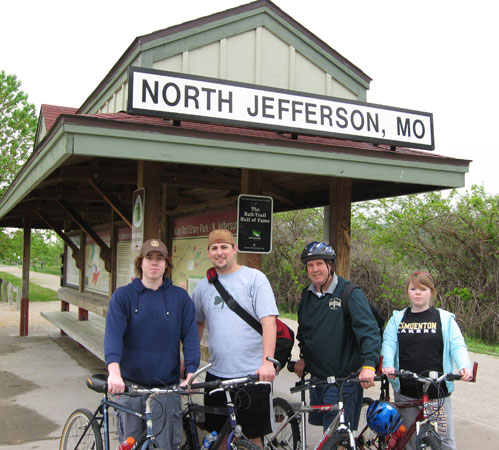 Four of the five riders: Riley, Josh, James, Sarah
Five bike riders set off from Jefferson City on the Katy Trail on Wednesday, May 6th, to help raise money for the National Multiple Sclerosis Society. Despite nice weather, it proved to be challenging. Most of the riders managed to make it to Rocheport, Missouri, 35 miles to the west. Kudos to James Hodshon for organizing the event.
A few more photos from the ride can be found here.
LAW ENFORCEMENT TORCH RUN (posted May 24th)
Good luck to Osage Beach police officer Pete Leyva and other officers running from Osage Beach to Camdenton on Wednesday, May 27th, in one of the thirty-three Torch Runs being held around the state. The runs benefit Missouri Special Olympics, which will be conducting its summer games on May 28-30th. The local run is scheduled to start at 9:00 a.m., so if you're traveling on Highway 54 about that time, exercise caution and give the runners a friendly honk.
WEEKEND EVENTS (posted May 19th)
The holiday weekend offers only one event (of which I'm aware) in central Missouri to break a sweat. Thanks to Baub Eis for the heads-up.
Pedaler's Jamboree: "Missouri's first bike-powered music and camping festival". It's a slow-paced, family-friendly bicycle ride from Columbia to Boonville on the Katy Trail (a distance of 30 miles) on Saturday, with the return trip on Sunday. There will be music and overnight camping at Boonville's Kemper Park (hotel accommodations are also available), and music at various stops along the Katy Trail. Complete information is available here.
TRIZOU TRIATHLON (posted May 3rd)
Congratulations to Dennis Gillen of Camdenton for finishing 9th (of 24) in his age group at today's TriZou Triathlon in Columbia. He finished the 440-yard swim, 14-mile bike and 3-mile run in 1:20:03. Over 700 athletes participated in the triathlon and DuZou duathlon. The events' organizer, Ultramax Events, apparently had to scramble over the last few days to recover from a storm that damaged vehicles, trailers and race equipment.
LAKE REGIONAL 2ND ANNUAL CARDIAC REHAB FUN RUN/WALK (updated May 3rd)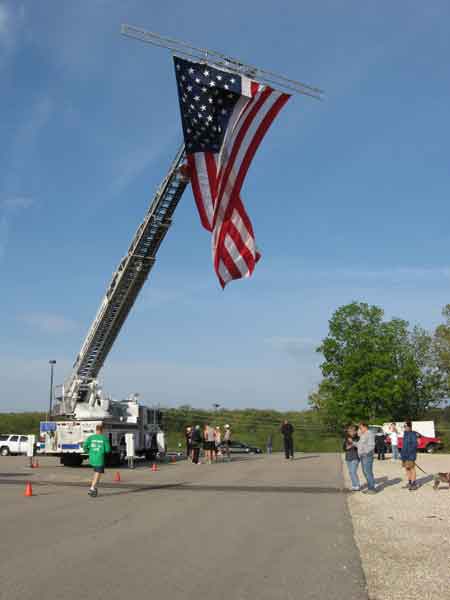 Despite a gloomy forecast, the weather was perfect for this morning's 5K run and 1-mile walk benefiting Lake Regional Health System's cardiac rehab department. The 5K run gave the participants a rare opportunity to run on the cart paths at Sycamore Creek Golf Club (it's normally prohibited), and some of the hills on the course were absolutely brutal. The walk was held separately, and confined to the much flatter hospital grounds. Everyone had a great time, and thanks go to everyone at Lake Regional who organized the event. (The American flag flying from an OBFPD ladder truck at the start/finish line was a cool sight, usually seen only at big-city races.)
Here are the 5K run results:
PLACE

NAME

FINISH TIME

FEMALE DIVISION:

1

Laura Davis

22:22

2

Amy Manes

22:36

3

Andrea Anderson

24:56

4

Michele Brown

25:24

5

Courtney Phillips

25:36

6

Lori Jefferies

26:23

7

JJ Jones

26:24

8

Becca Casey

27:07

9

Sharlene Seeley

27:07

10

Brandi Kincaid

29:19

11

Kathleen Lutke

29:24

12

Tracey Dymond

29:27

13

Andrea Shaw

29:34

14

Angela Goutley

35:03

15

Deanna Coffey

39:06

MALE DIVISION:

1

Todd Elliott

22:21

2

Pete Leyva

22:31

3

Jim Glickert

23:37

4

Nate Steingrubey

25:19

5

Brian Martin

25:36

6

Jered Shields*

25:58*

7

Peter Rad

26:24

8

Lawson Barclay

28:07
*We'll never know for certain, but it's likely that Jered would have won the race overall if not for a wrong turn on the course. He was far ahead of the rest of us at the time of the error, and ended up running a mile or so farther than everybody else. He showed class and sportsmanship by not making an issue of it after finishing. Great job, Jered, and everybody else!
A few photos from the event can be found here.
TOUR OF MISSOURI (posted April 30th)
The lineup for this year's Tour of Missouri keeps getting stronger. The Saxo Bank team announced that they will be entering the race, which runs from September 7-13. They're one of the top teams in the world, with some of the world's best riders. It's great to see the Tour of Missouri gain so much in stature in its three-year history.
GO! ST. LOUIS MARATHON AND HALF MARATHON (4/19)
The five-year string of mild, sunny weather for the GO! St. Louis Marathon and Half Marathon was broken this year. A steady rain moved in about an hour before the 7:00 a.m. start, and continued almost nonstop until the last of the marathoners crossed the finish line. The rain also greatly reduced the number of spectators to the smallest since the miserably cold, windy and rainy event in 2003. The Lake area was represented with its largest contingent in the event's history. We also had a number of athletes placing high in their age groups--especially Laura Davis, Casey O'Connor (who won his age group) and Dennis Gillen. Congratulations to all who toed the line ...... and dodged the puddles. Here are the results from Active.com.
Finish Time
Division Place
HALF MARATHON (8,530 finishers; 3,299 male; 5,231 female):
Tina Cordia

30

Linn Creek

2:27:54

488/803

Laura Davis

41

Camdenton

1:46:16

12/568

Karrie Denbow

33

Osage Beach

2:10:55

280/803

Scott Griswold

40

Eldon

2:12:55

282/404

Trever Griswold

17

Eldon

2:12:55

69/88

Casey O'Connor

18

Camdenton

1:26:51

1/88

Kara O'Connor

15

Camdenton

2:22:47

112/176

Paula O'Connor

45

Camdenton

2:04:04

47/401

Tara O'Connor

21

Camdenton

2:23:42

538/806

Kris Rajanna

36

Osage Beach

1:59:08

224/512

Catherine Standley
Osage Beach
2:04:xx (lost timing tag)
Dawn Standley

43

Osage Beach

2:20:31

270/803

Erika Tournear

22

Camdenton

1:53:54

76/806

MARATHON (1,791 finishers; 1,165 male; 626 female):
Jeffrey Basler

28

Osage Beach

5:02:21

161/183

Mark Cribb

49

Camdenton

5:10:02

100/120

Heather Frelin

35

Osage Beach

4:15:35

26/104

Dennis Gillen

56

Camdenton

3:43:01

8/68

Jim Glickert

54

Osage Beach

4:53:16

82/104

Eric Lundquist

37

Linn Creek

4:33:29

137/192

Angela Martin

39

Osage Beach

5:03:21

80/104

Mark Shen

38

Osage Beach

4:35:54

145/192
SHRINERS HOSPITALS ACKNOWLEDGE TREVOR DOWDNEY'S 20-MILE SWIM (posted April 15th)
The latest newsletter of the Shriners Hospital for Children in St. Louis included a well-written article about Trevor Dowdney's 20-mile swim on October 1, 2008, benefiting the Shriners. Here's the article. The swim was the subject of a documentary video entitled "Twenty 20" that can be found on the Videos page of this website.
SHAKESPEARE'S MAX TRAX DUATHLON (updated April12th)
Congratulations to Dennis Gillen for his podium finish at the Max Trax Duathlon in Columbia this past Saturday. He finished the 2.5-mile run, 14-mile bike and 2.5-mile run course in 1:31:31, placing him second of eight in his age group. Congrats also go to Tina and Charley Cordia, who crossed the finish line together in their very first duathlon, in a time of 2:52:26.