2018 YEAR IN REVIEW (updated January 1st)
It had its highs and lows, but 2018 was generally a good year for our local runners. For some, it was an outstanding year. Let's start our review with the good news.
First-Timers
We always like to herald those who step up to new or bigger challenges, and in 2018 we had quite a few who succeeded in achieving bigger things. (I'm sure I missed a bunch of "firsts", so if I missed yours, please let me know.)
First 100-Mile: Chris Boyle
First 80K: Jason Crockett
First 50K: Gary Braman, Jason Crockett, John Shelby
Personal distance records (beyond marathon): Nigher Alfaro, Mike Korst, Rob Kucsik, Elaine Mallahan, Katie Roberts, Stacy Roberts, Tucker Seise, John Shelby
First Marathon: Lauren Moriearty, Josiah Peterson, Jade Fletcher, Payton Bartlett
First Half Marathon: Tesa Taylor, Jade Fletcher, Ryan Page, Nancy Koeppen, Lauren Moriearty, Juli-Anne Manes
Fastest finishers
Former Osage High School cross country runner Payton Bartlett, who now attends the University of Wyoming, ran the fastest marathon among all Lake-area runners in 2018, finishing the California International Marathon in 3:14:43. For the second year in a row, Bryna Edwards had the women's fastest women's marathon--a 3:24:36 at the Prairie Fire Marathon in Wichita in October.
Chris Boyle and Heather Oddo owned the fastest half marathons of the year, with both being run at Bridge & Dam. Chris finished in 1:28:42; Heather in 1:35:19.
The year's fastest 10Ks belonged to Nigher Alfaro (44:42) and Alisha Eldridge (44:40).
We don't closely track 5K results, but it looks like Garrett Mason, a Camdenton High School senior cross country runner, and Heather Oddo had the fastest 5Ks among local runners this year.
Boston Marathon qualifiers

Each year, we usually have one Lake-area runner run a qualifying time for the Boston Marathon, but this year we had an unprecedented three runners do it:
Jim McDermott (4:01:05; 2019 qualifier)
Mike Korst (3:48:41; 2019 qualifier)
Bryna Edwards (3:24:36; 2020 qualifier)

Former Camdenton High School and Drury University cross country runner Jeremy Ryan, who now lives in St. Louis, ran qualifying times for the 2019 and 2020 Boston Marathons after exceptional, top-ten overall finishes at this year's GO! St. Louis Marathon (2:38:39) and Bass Pro Conservation Marathon (2:49:55), respectively.
Most prolific racers
In the six years we've been tallying "most miles raced", we've had a different woman atop the list every year. This year's leader was Jade Fletcher, who ran a record-breaking total of 329.5 miles in races that were 10K or longer. To get to her record total, Jade completed one marathon, 17 half marathons, and 13 10Ks in 2018. (Her 31 races of 10K or longer is most likely an area record, as well.) By finishing the MO' Cowbell Marathon in October, she also became the youngest-ever marathon finisher in the Lake area, and laid claim to the Missouri state running record for 14 year-old female marathon finishers.
Todd Raney's five-year reign atop the men's list ended this year due to his relocation to Kansas City. With Todd no longer in contention, Chris Boyle took the top spot this year, with 317.4 miles. Just two races --the No Business 100 and 4 Fore 30--accounted for more than half of Chris' yearly total.
Stacy and Katie Roberts broke the record for most miles raced by a married couple. They raced a combined 287.6 miles, with each contributing almost equally to the total.
Notable accomplishments
If it's possible to have a "career year" at the age of 14, Jade Fletcher had one--and 2018 was only her first full year of running. As mentioned above, Jade set several Lake-area and state records, but she also set records for the number of age-group and overall female race victories in a single year that will probably stand for many, many years to come. In 2018, Jade earned, according my tally, an astounding 26 age-group and 10 overall female victories. It's going to be hard even for Jade to top that.
Chris Boyle had an exceptional year as well. While he didn't race often, he made up for it by going long. Very long. And fast. Chris ran four ultramarathons, totaling 265 miles, in 2018:
Ozark Highlands 50K (first overall; 5:01:13)
Ouachita Trail 50-Mile (second overall; 8:39:33)
No Business 100-Mile (seventh overall; 26:08:33)
4 Fore 30 (second overall; 21 hours; 84 miles)
The most impressive performance of the year may have been that of four-legged runner "Moose" Linhart, who put 175 runners of the two-legged variety--including some of the Lake area's fastest--to shame at the Bridge & Dam Half Marathon. Moose finished in 1:31:45, alongside his pacer and sidekick, Greg Linhart.
Luckiest runners
It's a toss-up as to who were this year's luckiest runners--those who ran Bass Pro, or those who started 4 Fore 30. In both cases, heavy rain--mixed with lightning in the case of 4 Fore 30--fell overnight, but moved out in time for the start of both races, making way for some nice running weather. Those who lasted beyond seven or eight hours at 4 Fore 30, though, weren't so lucky, as very windy, cloudy and much colder weather moved in.
Bad news
We had two runners--Jade Fletcher and Osage cross country runner James Sparks--get hit by automobiles this year while on training runs. It's very fortunate that their accidents didn't turn out tragic.
Sadly, Casey Shoemate, a Miller County sheriff's deputy who organized the Eldon Police Officers Association's Donut 5K Run in 2017, died in a traffic accident on his way to a 9-1-1 call in April. He was a very nice fellow, and highly respected in the community. Rest in peace, Casey.
Losing four-legged friends is very hard, too. Dan and Diane Robertson lost dear old "Sage" in June.
The running "recession"
Over the last several years, we've been chronicling the "recession" in running. Despite hopes that this might be the year it would end, the recession continued in 2018, with the number of finishers at full and half marathons in Missouri (our bellwether measure) declining for the fourth year in a row.
There were 38,341 such finishers in 2018. That was down 10% from a total of 42,482 in 2017, and down 33% from the peak of 57,112 in 2014. It's just a guess (since I don't have data prior to 2012), but we are probably down to levels not seen since around 2008-9.
The decline from 2017 to 2018 would have been just 2% if you exclude the now-defunct Rock 'n' Roll St. Louis from the 2017 data, but chances are good that many of those who would have done Rock 'n' Roll St. Louis in 2018 simply did other races in its stead.
Click on the thumbnail below to view the complete data in .pdf format. Alternatively, you can download the .xlsx file here.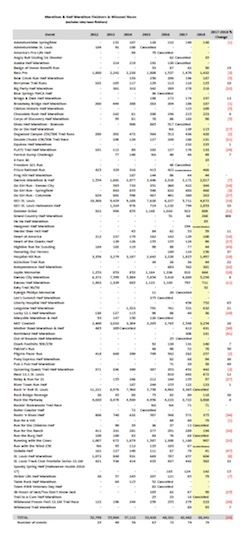 The decline in participation was pretty widespread. Of the 65 races that were held in both 2017 and 2018, 39 (60%) had lower attendance in 2018, while only 26 (40%) saw increases.
After years of increases, the number of full and half marathons across the state remained unchanged. There were 74 such races in both 2017 and 2018. Four races were cancelled for 2018, but were replaced by new or resurrected races.
Total miles raced
As a group, Lake-area runners raced more in 2018 than in 2017. At 10K or longer races, they logged a total of 4,699 miles, up 12% from last year's 4,179. The all-time yearly record was 5,407 miles in 2015, which included 619 miles attributed to Todd Raney.
Local races
Bridge & Dam was, once again, the biggest race of the year in the Lake area. And, with a race-record 486 total finishers in 2018 (versus 417 in 2017), Bridge & Dam built upon its distinction as the largest running race ever held at the Lake of the Ozarks.
Thirty-two 5Ks were held in the Lake area in 2017. That was up one race from 2017. (A record 48 events were held in 2014.) The largest 5Ks, and their number of 2018 finishers, were:
Lake Regional 201
Summer Night Glow 186
Give 'Em The Bird 173
Bridge & Dam 166
Laker 5K Turkey Trot 137
Three new long races--the Eldon Rock Island Road Race, the Ha Ha Half Marathon and the 4 Fore 30 endurance challenge--debuted in 2018. All three events were successful, and will thankfully return in 2019. (The Ha Ha Half, though, moves to the Lake of the Ozarks State Park and takes on a new name--the Trail of Four Winds 25K.)
Epic adventures
Via the Internet, we bore witness to two amazing and inspiring feats of endurance this year--Pete Kostelnick's 5,300-mile, unsupported run from Alaska to Florida, and geezer Lazarus Lake's (real name: Gary Cantrell) slow and painful, but fascinating, hike across the United States. They demonstrated that all of us are capable of doing far more than what we think we can.
Kudos
No year-end wrap-up would be complete without acknowledging the best cheerleader, supporter and volunteer in the Lake area, Margie Gunter. Margie was seemingly everywhere this year, including being on duty for the duration of 4 Fore 30. Thanks for all you do, Margie. Events are always more fun when you're around.
* * * * *
LARGEST MARATHONS & HALF MARATHONS IN MISSOURI IN 2018 (posted January 2nd)
Here's a look at the final 2018 rankings of the largest full and half marathons in Missouri. (A couple half marathons across the border in Kansas were included because they draw lots of Missouri runners.)
* * * * *
RUN FOR THE RANCH MARATHON, MARATHON RELAY, HALF MARATHON & 6-HOUR RUN (updated December 30th)

Congratulations to our local runners who braved temperatures in the 20s and overcast skies for the 19th annual Run for the Ranch Marathon, Marathon Relay, Half Marathon & 6-Hour Run (Facebook page) in Springfield on Saturday. The weather was warmer than in 2017, when wind chills in the low teens made for a brutally cold race, but not nearly as nice as that in 2015 and 2016, when runners lucked out with unseasonably warm weather. Such are the vagaries of racing in Missouri in late December.
Our local entourage was led by a group of ringers from Camdenton High School. Math teacher and cross country team assistant coach Lauren Moriearty, a former CHS cross country runner herself, ran a new personal best in the half marathon, finishing in 1:57:58 and placing third (of four) in the women's 20-29 age group.
Four Camdenton cross country runners banded together as the L is for Lakers team to run the marathon relay, and ended up winning the co-ed team division over six others. They finished in 3:26:54--the third-fastest of all thirteen relay teams in the race.
Heather Doyle, who ran the half marathon solo in 2015 and 2016, ran the marathon relay this year on the Girls Gone Miles team. The team won the women's relay team division (over two others), finishing in 3:18:28. They were the second-fastest of all thirteen relay teams.
Listed below are results for our local runners, plus some of our more distant running friends (Randy Acklin and Ed Green) and a couple of 4 Fore 30 participants (Amy Frederick and Shannon Briscoe).
Complete race results can be found here. They're also available in .pdf format by finish order and age group.
There were 194 solo finishers this year. That was down one-third from last year, and the lowest total this decade.
Race photos: The official race photographer posted lots of photos taken at the start/finish line area, and at mid-course.

* * * * *
UGLY SWEATER 5K & EGG NOG MILE (posted December 15th)
The fashion disaster known as the Ugly Sweater 5K & Egg Nog Mile took place in Joplin on Saturday, and three runners from the Lake area were among the fashion offenders.
Margie Gunter made it three years in a row at the race, finishing this time in 53:28 and placing 12th (of 14) in the women's 50-54 age group. You can view a video clip of the race start and, despite the poor quality of the video, you can still find Margie in the crowd if you look very, very closely.
Jamy Sloan was the fastest of our local finishers, crossing the line in 27:48 and placing 5th (of 9) in the men's 45-49 age group. Next up was Abby Sloan, who placed 11th (of 37) in the women's 35-39 age group by finishing in 33:44.
Complete results can be found here.
* * * * *
HOT CHOCOLATE 15K/5K ST. LOUIS (posted December 9th)
Three chocoholics from the Lake area were in St. Louis on a chilly Sunday morning to run in the popular Hot Chocolate 15K/5K. St. Louis is one of nearly twenty stops in the Hot Chocolate series of events held around the country.
Angela Martin finished the 15K in 1:25:54, placing 16th (of 230) in the women's 45-49 age group. Further back in the same age group was Laura Barnhart, who placed 197th with a 2:09:21 finish time.
Pete Groce was the first of our locals to finish the 15K, crossing the line in 1:21:34 and placing 18th (of 74) in the men's 50-54 age group.
Complete race results can be found here. (Note: Race results were not searchable by city, so it was impractical to look through nearly 7,800 finishers to find just those from the Lake area. If I missed anyone, you know the drill.)
Total participation was down 7% from last year, and down 30% from 2016's inaugural race.
* * * * *
THE SKIPPO (posted December 9th)
Congratulations to John Shelby for an age-group victory at The Skippo Trail Race on Saturday at Castlewood State Park in west St. Louis County. John topped 9 others in the men's 50-54 age group with a 10K winning time of 54:28.
Complete results can be found here.
* * * * *
SANTA CAUSE 5K (posted December 9th)
While in Peoria, Illinois this weekend to visit her sister, Jade Fletcher ran in a race-issued Santa Claus suit (it was mandatory for all runners) at the Santa Cause 5K. The suit slowed her down a bit, and Jade finished in 23:51, placing 4th (of 19) in the women's 11-20 age group.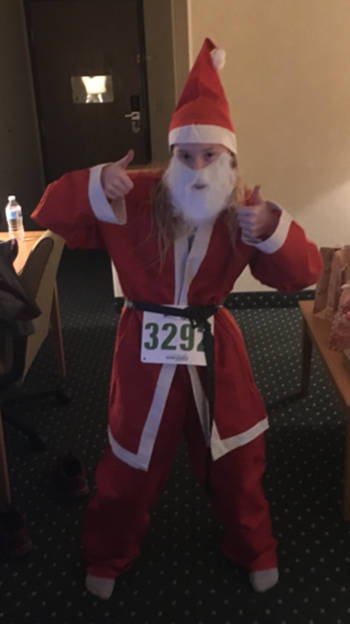 Complete race results are here. Hopefully, photos from the event will be posted at its Facebook page.
* * * * *
36 HOURS OF JACK (posted December 9th)
Three Lake-area runners and a couple of our more distant friends competed at the 36 Hours of Jack (Facebook page) in Carthage this weekend. Here are their results:
Complete results can be found here.
The biggest news coming out of the race is that, for the first time in its history, the race has a 200K finisher. Shane Sundermann of Lincoln, Nebraska finished in 32:02:04, a pace of 15:28 per mile.
Shown below are the number of finishers, by distance, in the four-year history of the race. (It was known as "You Don't Know Jack" in 2015 and 2016.)
* * * * *
4 FORE 30 (updated December 2nd)
The inaugural 4 Fore 30 (Facebook page) held this past weekend at Lake Valley Golf Club was, by a huge margin, the longest footrace ever held in the Lake area in terms of both distance and duration. In fact, had the race gone to its limit of 30 hours (i.e. 120 miles), it would also have been, to the best of my knowledge, the second longest footrace ever completed in the state of Missouri, just four miles shy of the longest—the 36 Hours of Jack 200K held in Carthage. (Any takers for a 4 Fore 32?)
The race was a "last man standing" type race, where physical and mental endurance mostly trump speed. At the top of each hour, competitors take off on a four-mile course, and get one hour in which to complete it. Those who fail to do so are eliminated from the race, while the others line up to do it again, and again, and again, until 30 hours have elapse or just one runner remains, whichever comes first. (If it comes down to a 30th hour, the first person to finish that final hour is the winner.)
Proceeds from the race benefit Kids' Harbor, a Lake-area based nonprofit that assists victims of child abuse.
Thirty-six competitors, including 21 from outside the Lake area, and split 26 men to 10 women, toed the starting line. The two oldest were in their 60s, and two youngest were under 17.
Of the 36 who started, one-third completed a race distance equivalent to somewhere between a 50K and 100K. Nine did more than that, while 15 did less. The table below shows the number of competitors who, based on the miles they completed, would have finished a conventiona race distance.
Perhaps it was the favorable weather conditions, or maybe they got caught up in the excitement or inspiration of their fellow competitors, but many of our local runners ran longer than their pre-race expectations or plans. A number even set new personal distance records. Listed below are some of the new records known to us (please let me know of any corrections or additions):
Ryan Page - 16 miles (previous high: 13.1)
Katie Roberts - 28 miles (previous high: 13.1)
Stacy Roberts - 28 miles (previous high: 13.1)
Rob Kucsik - 32 miles (previous high: 26.2)
Nigher Alfaro - 36 miles (previous high: 26.2)
Tucker Seise - 44 miles (previous high: 13.1)
John Shelby - 64 miles (previous high: 50)
Joel Reed - 64 miles (previous high not known)
We suspect that Elaine Mallahan (40 miles), Michael Korst (40 miles), and Colin Cronin (64 miles) may have set new personal distance records, as well.
A group photo of those just about to start hour #8. Everyone in this group, plus a few who showed up too late for the photo, would finish with at least 32 miles, and some would go on for many more.
It's a bit sad that, in a race of this type, there can be only one winner. The second-place, third-place, etc., finishers cover extraordinary distances and push themselves to their personal limits, but to do that and come up short must be more than a little disheartening.
The overall winner of the race was Andy Emerson of Columbia. Andy is no stranger to "last man standing" races, after competing in Lazarus Lake's Big Backyard Ultra in Tennessee in four of the last five years. (He completed 104 miles in 2014, 91.6 in 2016, 100 in 2017, and a personal best of 112.5 miles in 27 hours this past October.) Andy's experience and fitness for this type of race obviously worked to his advantage, and he completed 88 miles in winning the inaugural 4 Fore 30. Chris Boyle completed 84, and lined up alongside Andy for the start of the 22nd hour, but soon thereafter decided not to continue. (It's mind-boggling to think that Andy's 88 miles/22 hours is only one-third of the 283 miles/68 hours that it took to win this year's Big Backyard Ultra.)
The top female was Gabrie Burriss, a 24 year-old from Stilwell, Kansas. Gabrie completed 68 miles. It appears that she, too, set a personal distance record--a 50-miler in September looks to be her longest prior race.
Complete race results can be found here.
Congratulations to everyone who raced. It was inspiring to see people continually push themselves to achieve personal goals, despite their obvious pain and suffering.
A big "thanks" goes to Alysia Maschino and Scott Pagefor creating the race and running it flawlessly, to Margie Gunter and the other volunteers who help support the event, and to Lake Valley Golf Club for indulging a bunch of crazy people who will run in circles for hours in December for a golf ball and a t-shirt.
Over 400 more photos from the race can be found here. Here's a list participants, sorted by bib number, in case you wish to learn the name of someone appearing in a photo.
4 Fore 30 made the front page of the Lake Sun.
* * * * *
CALIFORNIA INTERNATIONAL MARATHON (posted December 2nd)
Almost exactly one year after running his very first ultramarathon, Payton Bartlett decided to run his first marathon. Most runners go through a steady progression of longer distances, but 18 year-olds don't pay much attention to conventional wisdom.
On Sunday, Payton finished the California International Marathon in Sacramento in an outstanding 3:14:43, taking fifth (of 29) in the men's 19-and-under age group. That's the fastest marathon of any Lake-area runner this year. (Payton is from Lake Ozark, and is a freshman at the University of Wyoming.) Payton was three minutes shy of breaking Casey O'Connor's record of 3:11:22 for males 19 and under in the Lake area.
The California International Marathon is popular among fast runners, due in part to its net downhill course. Over 8,000 runners participated in this year's event, with fourteen finishing in under 2:15:00.
Complete race results can be found here.
* * * * *
NEW LAKE AREA RECORD-HOLDERS (posted December 1st)
Congratulations to Katie and Stacy Roberts, who on Saturday set a new Lake-area record for the most miles raced in a year by a married couple. At 4 Fore 30, Katie and Stacy each ran 28 miles--a personal distance record for both--bringing their combined mileage for the year (at races 10K or longer) to 287.6 miles, and smashing the previous record of 248.5 miles set by Jayna and Scott Gray in 2015.
* * * * *
ST. JUDE MEMPHIS MARATHON WEEKEND (posted December 1st)
Jayna and Scott Gray were apparently the only Lake-area runners among the 25,000 who participated in this year's St. Jude Memphis Marathon Weekend. Despite the start of the race being delayed 30 minutes due to a thunderstorm in the area, Scott reports that they still ended up getting soaked not long after the gun finally went off, although the weather gradually improved after that.
Jayna and Scott ran the 10K together, and finished in 1:52:46. That placed Jayna 302nd (of 318) in the women's 35-39 age group. An age-group place wasn't shown for Scott.
Complete race results can be found here.
* * * * *
RUNNING OF THE ELVES 5K RUN/WALK (posted December 1st)
Twenty-five runners and walkers--about half the number from last year--came out to the Camdenton Square on a beautiful, mild December morning on Saturday for the third annual Running of the Elves 5K.
After taking her very first overall victory at this same race one year ago, Jade Fletcher made it two in a row, winning this year in 24:08. (Jade competed in the youth division; Jodi Wolfe was the first female behind Jade, finishing in 28:26.) For the men, Jamy Sloan of Osage Beach took the top spot with a 28:53 finish.
Additional photos from the race can be found here.
* * * * *
CINCINNATI HUNGRY TURKEY HALF MARATHON & 5K (posted November 25th)
After running her first 15K at the Rock Island Road Race in June, Tesa Taylor of Eldon set a personal goal to run her very first half marathon--plus two more halfs--before the end of the year. Tesa achieved her goal by running three half marathons in the month of November, the third being the Hungry Turkey Half Marathon in Cincinnati this past Saturday. She finished in 2:23:26, placing 17th (of 30) in the women's 25-29 age group. It was the fastest of her three half marathons finishes.
Tesa is one of many younger runners that have joined our Lake-area running community this past year. It's worth noting that these younger runners are quickly pursuing their first half and/or full marathon, and not letting it become a bucket-list item for their future middle-age crisis.
* * * * *
IDIOTS RUNNING CLUB SKUNK RUN (posted November 24th)
Imagine the "biggest non-event in all of running"; in a place deep in the Ozarks where you're warned "there will probably be a lot of gunfire"; where getting sprayed by a skunk confers upon you a special title; and which is organized by a group that calls itself the Idiots Running Club. It's known as the Skunk Run. It's an 8-hour, make-your-own-distance run near Wasola, Missouri, with "crappy" awards for the most and least miles covered, as well as for the most idiotic injury. All of this is yours... at no entry fee!
The run is open to all idiots, whether Club members or not, which explains why Scott Page and Gary Braman were there for Saturday's non-event. They ran 50K (second overall), but unfortunately failed to get sprayed by a skunk and be named the "Skunk Masters".
They passed along a few photos of their adventure.
What, no banjos?
Who's afraid of a little gunfire?
Close, but no cigar, boys. A possum, not a skunk.
* * * * *
LAKER 5K TURKEY TROT (updated November 24th)
Perfect running weather greeted the 137 runners and walkers who showed up at Camdenton High School on Thanksgiving Day for the Laker 5K Turkey Trot. Clear skies, temperatures in the 40s, and calm winds made for perhaps the best weather in the race's nine-year history.
Heather Oddo easily won the women's race for the third time in four years. (Heather would most likely have won last year, too, if not for the fact that she was just about two weeks away from delivering her second child.) She won in 19:51, nearly two minutes ahead of second-place female Elaine Mallahan (21:42). (Elaine was the women's runner-up last year, as well.) This was Heather's slowest winning time: Her previous victories were in 19:26 in 2015 and 18:50 in 2016. (She holds the record of 18:31 for this course, set at the 2016 Night Glow 5K.)
Cross country runners have always dominated the Laker 5K Turkey Trot's men's race, and this year was no exception. However, this time it wasn't a current or former Camdenton High School runner. Tucker Seise, a former Southwest Baptist University cross country runner (and now the recreation manager for the Windermere Baptist Conference Center in Roach), cruised to victory in 18:15, nearly a minute faster than Jake Thoenen, a Camdenton junior cross country runner. Jake finished second overall last year behind former Camdenton and Drury University runner Jeremy Ryan, and third overall in 2016 behind Blake Jesse (yet another Camdenton runner) and Heather Oddo.
The complete race results are available by finish order (.pdf or .xlsx) and by age group (.pdf or .xlsx).
What makes the Laker 5K Turkey Trot so special, when compared to all of our other local 5Ks each year, is the large number of families who start their Thanksgiving Day celebration by coming out to run or walk. Shown below are just three of the many families seen at this year's race.
Two past winners of the much anticipated post-race pie-eating contest decided not to compete in this year's contest, giving lots of first-time competitors a shot at eternal fame and glory. In a near photo finish, Jim Rouse took the crown by downing his piece of pumpkin pie in 57 seconds. That was the slowest winning time in the race's nine-year history.
Hundreds of additional photos from the race can be found here.
Once again, big thank-yous go to coach David Weber for a wonderful, fun event, and to Gary and Ellen Thompson for their always reliable race timing and results posting.
* * * * *
THANKSGIVING DAY RACE RESULTS (updated December 1st)

Here are the race results for Lake-area runners at non-local events around the state. If I missed anyone, or if you have a race photo you'd like to pass along, please let me know.