THE 24 HOUR LIONS ROAR (updated April 27th)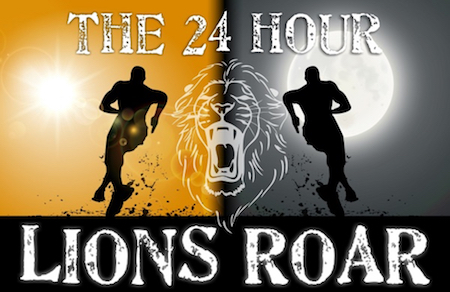 The 24 Hour Lions Roar (Facebook page) results have been posted at the race's Ultrasignup.com page. Here are some results of particular interest:
THE 24 HOUR LIONS ROAR
COLUMBIA, MISSOURI
APRIL 23-24, 2021
RESULTS FOR LAKE-AREA PARTICIPANTS AND OTHERS WE KNOW

Name

City

Miles

Place

24-HOUR (33 total participants):
Scott Page
Four Season

80

10th of 21 men

Alysia Maschino
Roach

62.5
(new personal record)

6th of 12 women

4 Fore 30 past participants:
Cody Eubanks
Columbia

120
(new race record)

1st of 21 men

David Johnston
Warrenton

107.5

3rd of 21 men

Andy Emerson
Columbia

90

8th of 21 men

Justin Reed
Prairie Village, KS

62.5

16th of 21 men

Jamie Szabo
Columbia

50

10th of 12 women

12-HOUR (15 total participants):
Jen Wiethop
Montreal

45
(new personal record)

2nd of 6 women

Trail of Four Winds 25K past participants:
Allan Benjamin
Columbia

47.5

3rd of 9 men

6-HOUR (16 total participants):
Lots of photos from the race have been posted here.
* * * * *
FRISCO RAILROAD RUN (updated May 4th)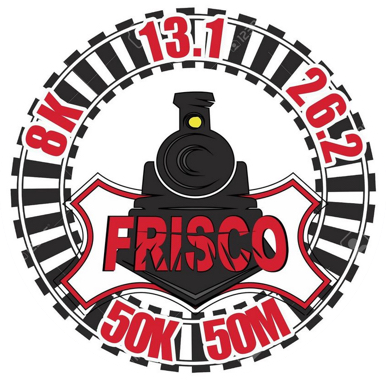 The resurgence from COVID-19 continues. The 13th annual Frisco Railroad Run (50M/50K/marathon/half/8K) held on Saturday in Willard had 596 total finishers, up 39% from the 2019 total of 430. (Last year's race was cancelled due to COVID-19.) It was the second largest turnout in the race's history, topped only by the 611 finishers in 2018.
Three runners from the Lake area were among this year's finishers, all in the half marathon:
Versailles High School cross country runner Carmen Lemell finished in 2:21:40, placing third (of six) in the women's 19-&-under age group.
Tim Malen of Osage Beach crossed the line in 2:26:05, placing 9th (of 16) in the men's 60-69 age group. Minutes later, Paul Burris, also of Osage Beach, finished in 2:28:13, placing 26th (of 32) in the 40-49 age group.
Complete results can be found here.
Here are the number of race finishers each year since 2014:
FRISCO RAILROAD RUN
WILLARD, MISSOURI
NUMBER OF FINISHERS, BY DISTANCE

Distance

2014

2015

2016

2017

2018

2019

2020

2021

8K

79

70

100

Cancelled
due to weather

145

132

Cancelled
due to
COVID-19

145

Half marathon

203

228

217

247

162

234

Marathon

72

97

91

109

61

137

50K

25

61

77

74

61

52

50-Mile

16

29

37

36

14

28

Total

395

485

522

611

430

596
* * * * *
OZARK FOOTHILLS (posted April 12th)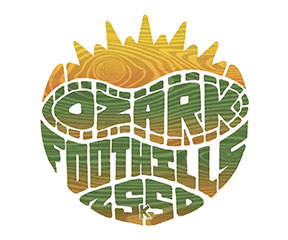 While GO! St. Louis had a less-than-stellar return after last year's cancellation (see below), the Ozark Foothills 100-mile, 50-mile, 50K, marathon and 25K trail race, held at Greensfelder Park in far west St. Louis County, had a record turnout. There were 241 finishers across the five race distances at this year's race, up from 181 in 2019 and 140 in 2018.
No one from the Lake area was at the race, but some familiar names spotted in the results will be at the Trail of Four Winds 25K on May 1st--Craig Calkins (50M; 6th overall), Andy Emerson (50M; 17th overall), Allan Benjamin (50M, 37th overall), and a few others in the shorter distance races.
* * * * *
GO! ST. LOUIS MARATHON, HALF MARATHON & 10K (posted April 12th)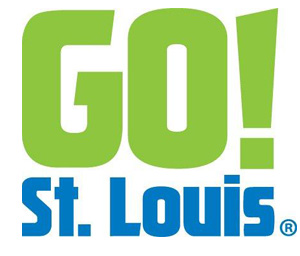 This weekend's GO! St. Louis provided the year's first test of how well one of the biggest races in the state would bounce back after being cancelled last year due to COVID-19. As the table below shows, in terms of number of finishers, the marathon and 10K were only half the size of the 2019 race; the half marathon was down a hefty 70%. Granted, this year's race still wasn't a normal GO! St. Louis event, what with all the changes and limitations imposed on it.
If there's any good news, it's that the race was actually allowed to take place. The City of St. Louis basically shut down all racing inside the city limits at around this time last year. Only a few, scaled-down races were allowed to proceed. (A few others picked up and moved to more amenable pastures in St. Charles County.)
The only familiar name found in the results was that of Robert Bruns of St. Louis. (Robert will be returning to the Trail of Four Winds 25K in three weeks. He finished only 15 seconds behind the race winner, Michael McCulloch, in 2019.) He took 24th overall in the marathon, finishing in 3:08:47.
GO! ST. LOUIS MARATHON WEEKEND
ST. LOUIS, MISSOURI
NUMBER OF FINISHERS

Race

2015

2016

2017

2018

2019

2020

2021

Marathon

1,373

1,335

1,171

1,078

1,001

Cancelled

474

Half Marathon

6,253

4,992

4,540

3,594

3,562

1,048

7K

-

780

1,519

1,051

-

-

10K

-

-

-

-

1,168

559

Marathon Relay teams

450

318

295

202

187

-
* * * * *
BRONCOBUSTER LAST MAN STANDING (posted April 5th)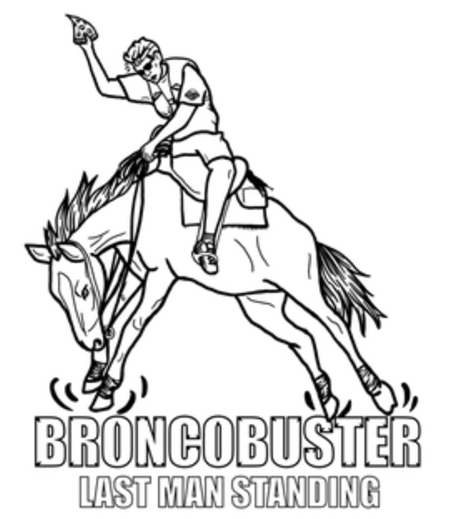 A small field of eleven competitors, including our own Tucker Seise, started the inaugural BroncoBuster Last Man Standing race at the Sac River Mountain Bike Trail in northwest Springfield on Saturday morning. (Alysia Maschino was registered, but had to skip the race.)
The race had a 24-hour time limit, but it took just 18 hours (74.1 miles) for Jonathan Murphy of Long Lane, Missouri to put away the last of his competitors. Tucker placed third in the standings, completing 14 hours (57.6 miles). That was one hour longer than he completed at last December's 4 Fore 30, but it fell shy of his personal best of 17 hours (70.9 miles) at the 2019 4 Fore 30.
For the very first time, Tucker leads in our "most miles raced" standings. He's now at 111.2 miles so far this year.
The complete results can be found at the race's Ultrasignup.com page.
* * * * *
BRIDGE AND DAM HALF MARATHON, 10K & 5K (posted March 28th)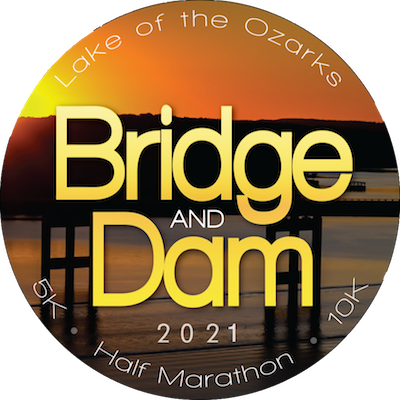 Bridge & Dam: It just keeps getting bigger and better.
Over the last seven years, this page has chronicled the declining participation at running races throughout this state and beyond. Many races, including some very large ones (e.g. Rock & Roll St. Louis), have disappeared entirely. The vast majority of those that have survived have suffered declines in attendance--some quite substantial, in fact. Even factoring out the devastating effect of COVID-19 on running races these past twelve months, it's virtually unheard of for a race to have actually thrived over these past seven years. Bridge & Dam is one of those very rare exceptions.
Bridge & Dam's success is a testament to the people in the Lake of the Ozarks community who, in many different ways, have supported this race organized by the Lake of the Ozarks chapter of the non-profit Missouri Fellowship of Christian Athletes (FCA).
This year's race set another new record for size, with 551 total finishers. Every single race distance saw an increase in participation. Shown below are the number of finishers, by distance, since the race's inception in 2015. (The 2019 race was on pace for a record based on registrations, but the worst weather in race history kept many from participating on race day.)
BRIDGE & DAM
NUMBER OF FINISHERS

Distance

2015

2016

2017

2018

2019

2020

2021

All-In

-

-

7

10

7

COVID

9

Double-Down

-

-

11

8

7

10

Half Marathon

198

172

155

179

186

231

10K

75

90

119

123

105

139

5K

-

-

124

166

134

162

Total

273

262

416

486

439

551
At 551 finishers, Bridge & Dam is one of the largest running races in Missouri held outside of a large metropolitan area. (Only the Hannibal Cannibal is known to be larger.) Interestingly, by a slim margin, this year's Bridge & Dam ranks as the largest, in-person running race held in the state so far this year, thanks to COVID-related field limits imposed on several large St. Louis-area races. (That distinction, though, should only last several more weeks.)
What has always set Bridge & Dam apart from all other races in the state is the percentage of runners who come from distant cities to do this race. The running community at the Lake of the Ozarks isn't big enough to field a 500-person race (even a 5K would be a big stretch), so the need to attract runners from elsewhere is critical. As the table below shows, fully 79% of the participants at this year's race were from outside the Lake area. (That beats the previous record of 74% set in 2016, despite the susequent addition of the 5K and 10K options that tend to have higher percentages of local runners.) Some of the increase is almost certainly a result of the widespread COVID-related race cancellations and restrictions elsewhere that encouraged runners to seek out races in more "open" locations like the Lake of the Ozarks.
BRIDGE & DAM
BREAKDOWN OF PARTICIPANTS BY LOCATION

Distance

Lake area

Outside Lake area

Total

% from outside the Lake area

All-In

1

8

9

89

Double-Down

0

10

10

100

Half Marathon

28

203

231

88

10K

37

102

139

73

5K

49

113

162

70

Total

115

436

551

79
Race Results
Complete race results can be found here.
All-In Challenge
Nine runners competed in the All-In Challenge, which consisted of a half marathon followed by both a 10K and a 5K. (Added together, the three distances are 3.8 miles short of a full marathon.) Jill Wagner of Sullivan, Missouri, was the overall winner, for the second time. A Boston Marathon qualifier and finisher, Jill managed to break her own women's All-In course record of 2:56:18 (set in 2017) by less than a minute, finishing this year in 2:55:32.
The top male was Bridge & Dam first-timer Matt Chinn of Jefferson City. Matt finished in 3:04:13--less than two minutes ahead of three-time Bridge & Dam finisher Kennen Hootman of Addison, Illinois. The age-defying, local phenomenon Jim McDermott took fifth, in 3:23:32. Even at the age of 67, Jim is still setting personal records--he finished the 2018 All-In in 3:30:14. (It's high time we demand Jim provide a certified birth certificate to show his true age. He's making us real geezers look pathetic.)
All-In overall winner Jill Wagner and men's winner Matt Chinn.
Double-Down Challenge
There were ten competitors in the Double-Down Challenge, which consisted of a half marathon and 10K.
The top two finishers were both first-timers at Bridge & Dam--Kenny Miller of St. Joseph and Dawn Forbes of St. Charles. Kenny won in 2:30:25, while Dawn broke the women's course record (previously held by Kim Ream of Sedalia) by 11 minutes, finishing in 2:35:16.
Double-Down winners Kenny Miller and Dawn Forbes.
Half Marathon
Anthony Wells of Amboy, Illinois set a new course record in his overall victory in the half marathon. Anthony finished in 1:21:26, breaking Colin Cronin's record of 1:22:11 set in 2018. Lisa Sauter of Fayette, Missouri was the overall women's winner, in 1:25:52. That was the second-fastest women's finish since Lizzy Handschy's race-winning--and still course record--time of 1:23:20 at the inaugural Bridge & Dam in 2015. (Lizzy's is one of the very few 2015 records that has yet to be broken.)
Two past half marathon winners, Greg Linhart (2019) from Grandview, Missouri, and the incredible 61 year-old Gerald Holtmeyer (2015) from Bonnots Mill, Missouri, were among the top 12 finishers. Greg finished 7th overall, in 1:27:10, and Gerald 12th, in 1:30:02.
Half marathon winners Anthony Wells and Lisa Sauter.
10K
The 10K victories were snatched up by teenagers.
Sixteen year-old Osage High School cross country runner William Faulconer of Lake Ozark saved the local running community from a complete shutout by giving us our only overall victory at this year's race. William won the 10K in 38:48. That's a new course record, and it broke Will's previous 11-19 age-group record of 48:25 set in 2018.
Among the women, 14 year-old Lauren Mathews of Jefferson City took the overall 10K crown in a winning time of 46:50.
5K
Cierra Hiland of Augusta, Illinois remains the only one to have ever won the Bridge & Dam's 5K women's race. (2020 is disregarded due to being virtual only.) Cierra claimed her fourth victory (the 5K was introduced in 2017) by finishing in 21:21. She also broke her longstanding women's course record of 22:52 set in 2017.
Robert Saunders of nearby Richland, Missouri was the only runner to beat Cierra to the finish line, taking the overall victory in 21:03.
Not surprisingly, the 5K included lots of participants at both ends of the age spectrum. Notable among them was Carol Cange of Lake Ozark, who now owns the record for the oldest female finisher, at age 81. (The men's record is 82.) Carol finished in a leisurely 55:53.
Records
Twenty-three course, age-group or age records were either broken or established this year. (That, too, may be a record.) Here's the list of new Bridge & Dam records:
BRIDGE & DAM
NEW RECORDS IN 2021

Name

Finish Time

Record Set

All-In:
Jill Wagner

2:55:32

Women's course record
Double-Down:
Dawn Forbes

2:35:16

Women's course record
Half Marathon:
Anthony Wells

1:21:26

Men's course record
Brian Duffie

2:07:41

Tie - youngest male finisher
Nicole Reynolds

1:48:03

Female 14-19 age group
Rachael Leslie

1:39:25

Female 40-49 age group
Rebecca Bradley

1:47:27

Female 50-59 age group
Zy'Shone Cowans

1:25:48

Male 14-19 age group
Tucker Seise

1:28:13

Male 20-29 age group
Ernie Craig

1:25:40

Male 40-49 age group
Gerald Holtmeyer

1:30:02

Male 60-69 age group
10K:
Will Faulconer

38:48

Men's course record;
Male 11-19 age group
Christian Reed

39:30

Male 50-59 age group
Michael Faulconer

50:19

Male 60-69 age group
Cindy Wismer

1:03:11

Female 60-69 age group
5K:
Cierra Hiland

21:21

Women's course record
Carol Cange

55:53

Oldest female finisher (81)
Addison Fowler

23:17

Female 14-19 age group
Merilee Thoenen

51:37

Female 70-79 age group
Xavier Fowler

25:55

Male 10-11 age group
Michael Maschino

23:11

Male 12-13 age group
Larry Chinski

24:28

Male 50-59 age group
Legacy Half Finishers
Only nine runners can still lay claim to having finished Bridge & Dam's half marathon every year since its debut in 2015. (2020 is excluded from the tally since the race was virtual only.) Here's the list of the remaining legacy runners:
Russell Burkett (O'Fallon, MO)
Jeanette Pfetsch (Kansas City)
Alisha Eldridge (Eldon)
Ryan Garlock (Lincoln, NE)
Lindsay Garlock (Lincoln, NE)
Lori Hurt (Sedalia)
Doug Kueker (Lake Ozark)
Kim Ream (Sedalia)
Heather Skouby (Eldon)

And, just for the record, here's the list of the seven whose streaks ended this year:
Nigher Alfaro (Montreal)
Karen Backes (Jefferson City)
Tobby Eldridge (Eldon)
Jason Kolb (Tipton)
Angela Martin (Osage Beach)
Sherri Mundwiller (Washington, MO)
Janet Weber (Dittmer, MO)
Weather
Bridge & Dam finally got the perfect weather that always eluded it--no snow flurries (2015), no chilly monsoons (2019), and no dry-but-threatening weather (almost every year in between). This year's race was blessed with beautiful, clear skies, light winds and mild temperatures that ranged from 50° at the start to 65° at the finish. To top it off, the full moon provided a special visual treat as it set over the lake soon before the race started.
Special message to the out-of-town participants
First, thank you for coming to the Lake of the Ozarks to race with us and to support the Fellowship of Christian Athletes. Those of us lucky enough to live at the Lake love this place, and we're happy to have our fellow runners from elsewhere come here and enjoy what we get to enjoy every day of the year.
There's one thing about this race that you may not know, but really need to. What makes this race so outstanding and special is that it's put on by our local running community, with the support of the Lake-area community in general. You probably already know that the co-race directors, Alysia Maschino and Scott Page are longtime, accomplished runners (and, in more recent years, the greatest race directors ever!), but among all of those volunteers you saw on Saturday--and some you didn't see--was the bulk of our core group of runners in this area. They've all done this race before, and they would probably have preferred to run it rather than to man a street corner, set out traffic cones, etc. But, they stepped up and pitched in to help make this the best event possible. Personally, I've never been more proud of our local running community than I was on Saturday. You won't find a better group of people. Anywhere.
We hope to see you again next year, and many more years after that!
Photos
1,077 photos have been posted here. Note that these are photos of just the half marathon, All-In and Double-Down runners.
As always, feel free to use or post the photos as you wish, and no photo credit is necessary. Also, if you would like a photo deleted from the gallery for any reason, please let me know which one(s).
Results for Lake-area runners
Here are the results for our Lake-area runners, by race distance and finish order:
BRIDGE & DAM
RESULTS FOR LAKE-AREA PARTICIPANTS

ALL-IN:

Jim McDermott

Camdenton

HALF MARATHON:

Tucker Seise

Osage Beach

Aaron Koeppen

Lake Ozark

Mike Malone

Four Seasons

Michael Walsh

Lake Ozark

Nicole Reynolds

Eldon

Alisha Eldridge

Eldon

Doug Kueker

Lake Ozark

Steven Tharp

Camdenton

Mark Matthews

Kaiser

Sondra Ellis

Richland

Tim McNeil

Lake Ozark

Aaron Berendzen

Eldon

Lauren Moriearty

Lake Ozark

Curtis Wehmeyer

Camdenton

Mallory Walsh

Lake Ozark

Tim Malen

Osage Beach

Chris Reynolds

Eldon

Charles Pitts

Roach

Erica Adkins

Lake Ozark

Kristi Schrimpf

Lake Ozark

Nathanael Moe

Eldon

Paul Burris

Osage Beach

Sarah Hudson

Osage Beach

Paula O'Connor

Camdenton

Willard Haley

Eldon

Heather Skouby

Eldon

Kendra Moe

Eldon

Alexis Olson

Eldon

Kayla Little

Eldon

10K:

William Faulconer

Lake Ozark

Sam Casella

Sunrise Beach

Craig Charles

Osage Beach

Brittney DeFrates

Lake Ozark

Mark Stombaugh

Lake Ozark

Gary Thompson

Osage Beach

Gregory Sherman

Osage Beach

Kelly Sherman

Osage Beach

Jill Wedig

Eldon

Amy Fowler

Lake Ozark

Rosalie Dear

Versailles

Nicole O'Neill

Barnett

Brittany Engelbrecht

Lake Ozark

Marvin Bescheinen

Versailles

Eric Faes

Camdenton

Meagan Hardwick

Sunrise Beach

Dylan Davis

Eldon

Cindy Wismer

Camdenton

Brittany Cotner

Lake Ozark

Michael Kelly

Osage Beach

Angie Fousie

Lake Ozark

Jordyn Blaha

Camdenton

Terri Blaha

Camdenton

Matthew Lee

Sunrise Beach

Mary Wagemann

Osage Beach

Tiffany Ash

Lake Ozark

Molly Vernon

Eldon

Beth Bashore

Eldon

Michelle Waters

Camdenton

Sherrie Hamner

Osage Beach

Jo Nicklas

Camdenton

Kathleen Robbins

Sunrise Beach

Tom Wismer

Camdenton

Megan Hendrickson

Lake Ozark

Kaitlyn O'Haro

Camdenton

Kristen O'Haro

Sunrise Beach

Margie Gunter

Osage Beach

5K:

Michael Maschino

Roach

Harley Owens

Eldon

Addison Fowler

Lake Ozark

Larry Chinski

Rocky Mount

Lonny Cook

Four Seasons

Xavier Fowler

Lake Ozark

Tobby Eldridge

Eldon

R.J. Matthews

Osage Beach

Teresa O'Loughlin

Lake Ozark

Jennifer Griffin

Lake Ozark

Curtis Nicklas

Camdenton

Kayla McNabb

Osage Beach

Alicia Carper

Sunrise Beach

Diana Matthews

Osage Beach

Creed Krulatz

Linn Creek

Eric D'Antonio

Sunrise Beach

Brenda Parry

Lake Ozark

Steve Brennaman

Camdenton

Danny Stoelting

Linn Creek

Shawn Fowler

Lake Ozark

Isabella Hamner

Osage Beach

Carter Smith

Camdenton

Sirenia Thoenen

Sunrise Beach

Aala Jamieson

Eldon

John Brody

Eldon

Sherri Hankins

Lake Ozark

Casey Richards

Montreal

Layla Thurman

Osage Beach

Tami Wehmeyer

Camdenton

Brooke Chenoweth

Eldon

Spencer Dixon

Lake Ozark

Kathleen West

Camdenton

Christina Wilson

Osage Beach

Kimberly Sovcik

Linn Creek

Zoey Dixon

Lake Ozark

Jaylee Myers

Lake Ozark

Lauren Adkins

Lake Ozark

Lisa Sutter

Lake Ozark

Linda West

Camdenton

Cindy Page

Lake Ozark

Pam Bess

Rocky Mount

Carol Cange

Lake Ozark

Patty Dieckhaus

Lake Ozark

Bob Scarlett

Roach

Mary Scarlett

Roach

Ron Ferguson

Lake Ozark

Deborah Ferguson

Lake Ozark

Gail Carlock

Lake Ozark

Rachel King

Eldon
* * * * *
WHOBILATION 5K RUN/WALK (updated March 7th)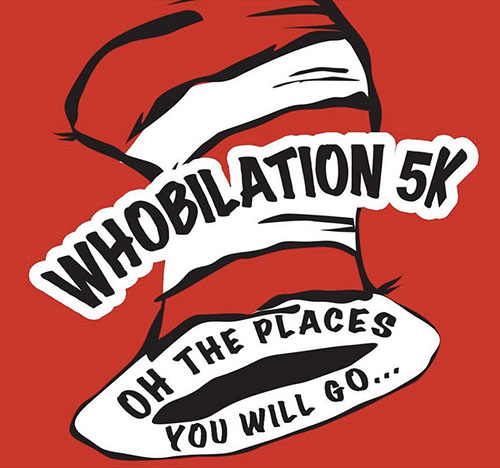 The photos can be viewed here.
Here are the results:
| | | |
| --- | --- | --- |
| Place | Name | |
| | Tucker Seise (top overall male) | |
| | Harley Owens | |
| | Sondra Ellis (top overall female) | |
| | Kelsie Pirrie | |
| | Carolyn Bandy | |
| | Ethan McDonnell | |
| | Ashley McDonnell | |
| | Maverick Sovcik | |
| | Renee Vandiver | |
| | Abby Sloan | |
| | Jim Glickert | |
| | Leo Hermes | |
| | Paul Bernabe | |
| | Jamy Sloan | |
| | Ann Walters | |
| | Katie Preist | |
| | Madison Shearer | |
| | Colton Doner | |
| | Jeremy Bernabe | |
| | Ian Avellanosa | |
| | Pinky Smith | |
| | Ivan Avellanosa | |
| | Josef Bernabe | |
| | Tracy Mercer | |
| | Deborah Dunbar | |
| | Andrea Morrison | |
| | Christina Wilson | |
| | Anna Avellanosa | |
| | Maria Bernabe | |
| | Gerrie Henze | |
| | Morgan Welty | |
| | Vickie Gettler | |
| | Jessie Cody | |
| | Patricia Hotop | |
| | Patty Hermes | |
* * * * *
QUEENY BACKYARD ULTRA (updated March 7th)

The inaugural Queeny Backyard Ultra at Queeny Park in suburban St. Louis started at noon on Friday with 57 hopefuls aiming to outlast all others.
Tim Barbee of Columbia, Illinois needed 25 hours (104.17 miles) to shake off the last of his competitors to become the race's last man standing. Along the way, Angela McKnight of St. Louis was the last of the women to bow out, after 14 hours (58.83 miles).
Photos and video clips can be found at the race's Facebook page, as well as that of Janzow Photography.
Full results can be found at the race's Ultrasignup page.
* * * * *
LAKE OUACHITA VISTA ENDURANCE RUN (posted February 28th)

The Lake-area record for the most number of solo ultramarathons completed is now tied at 14. John Shelby tied Chris Boyle's record by finishing the very challenging Lake Ouachita Vista Endurance Run (100K/100M) near Hot Springs, Arkansas on Saturday. John completed the 100K race in 14:20:13, placing 22nd overall among the 31 finishers.
The winner of the 100K absolutely smashed the course record. The previous record was 9:35:00. It now stands at an incredible 8:12:15. (To put that in perspective, Chris Boyle was the 100K overall winner in 2019 in 11:13:54.)
The beautiful weather we had at the Lake on Saturday wasn't shared in Hot Springs. They had overcast skies with fog and mist much of the day, with temperatures not rising above the mid 50s.
* * * * *
POLAR BEAR STRUT 5K RUN/WALK (updated March 5th)

Fifty-three runners and walkers turned out for the 20th annual Polar Bear Strut 5K in Osage Beach on Saturday. Disappointingly, that represented the smallest turnout for the Strut in at least twelve years, despite the sunny, mild (50°) weather.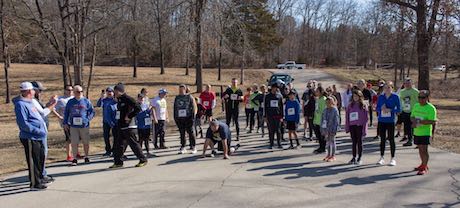 The starting line was moved this year due to the traffic in the public beach #2 area. The turnaround on the out-and-back course remained at the Osage Beach Parkway/Case Rd. intersection, shortening the course by about 0.3 miles.
With no current or former cross country runners in this year's field, Nigher Alfaro was able to claim his sixth overall victory--the most in Strut history. Nigher won in 19:20 on a noticeably shorter, 2.8-mile course. (He took third last year in 21:40.) The top female was a first-time Strut winner. Jacinda Espinosa crossed the line in 21:53.
Overall men's and women's winners Nigher Alfaro and Jacinda Espinosa.
The race photos can be found here.
The complete race results can be found here.
* * * * *
TAME THE DRAGON (posted March 2nd)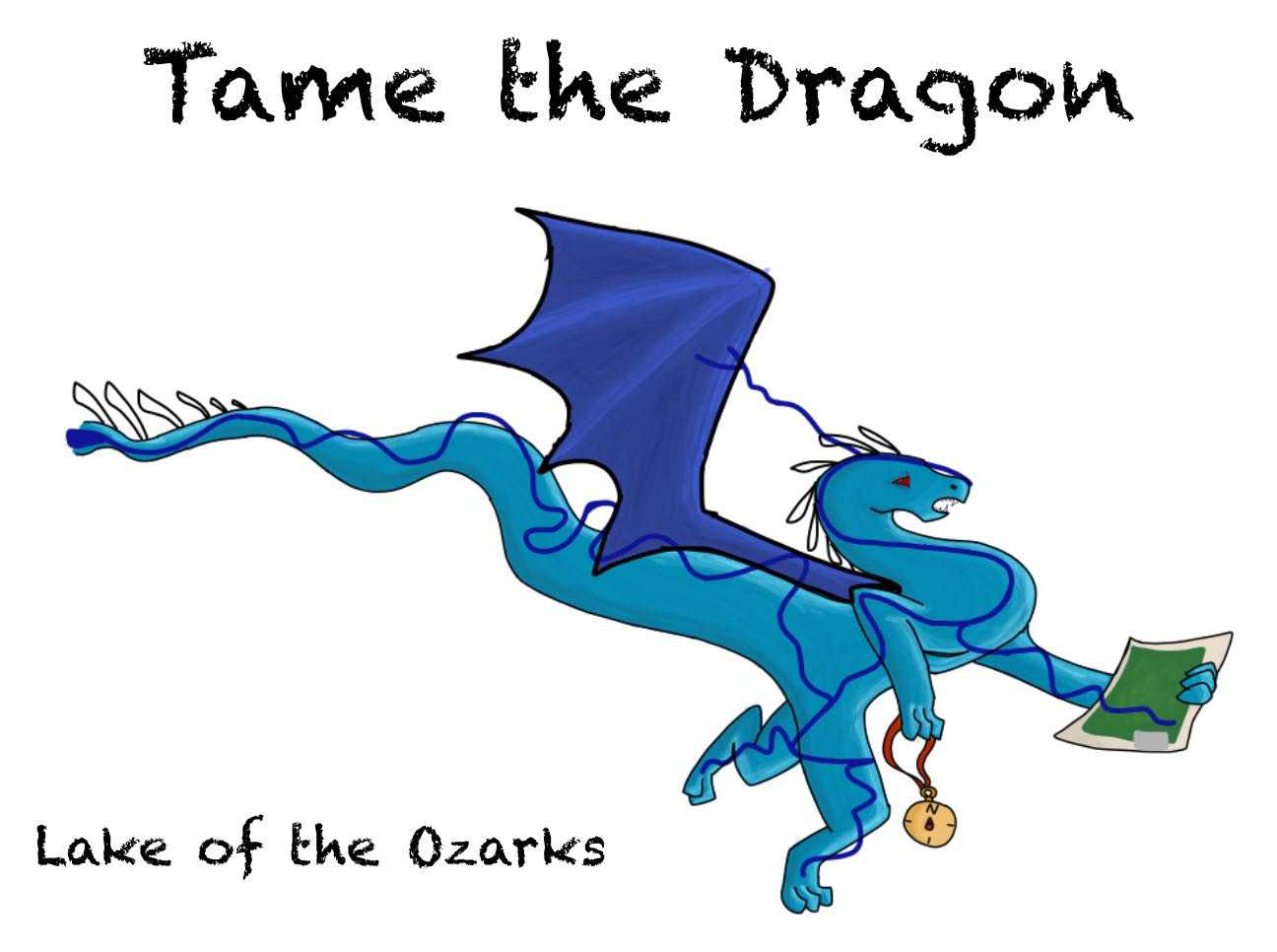 The St. Louis Orienteering Club held its second annual Tame the Dragon orienteering race at the Lake of the Ozarks State Park on Saturday. A total of 68 competitors turned out, including 17 competing solo, and 51 spread among 20 teams.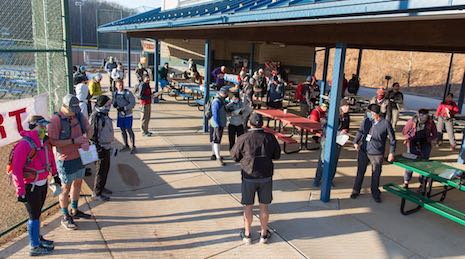 The race started and ended at the Osage Beach City Park softball pavilion. Pictured here is course designer and race director Gary Thompson giving final race instructions prior to the start. The weather was ideal, with sunny skies and temperatures ranging from the mid 40s at the 8:00 a.m. start to the low 60s by mid afternoon.
Competitors planned their own routes to collect as many of the 36 checkpoints as possible within the 8-hour time limit, so the distance that each covered will vary. Many, though, reported covering 20-25 miles. (The checkpoints have varying point values, so you can still finish ahead of a competitor if you collect more-valuable checkpoints.)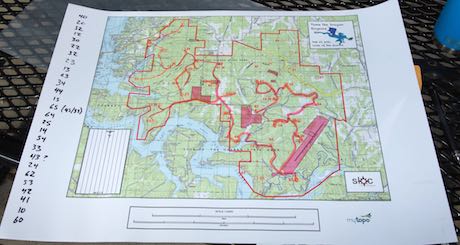 Armed with only a map and a compass, the competitors made their way through miles of endless hills throughout the state park.
Like last year, no one collected all of the checkpoints, although they did come tantalizingly close. Jason Bettis, the overall solo winner, and the top team--42 Down, consisting of Jeff Ryan, Josh Borgmeyer and Jason Noakes--were able to to collect 35 of the 36. On average, each solo/team competitor collected 18 checkpoints.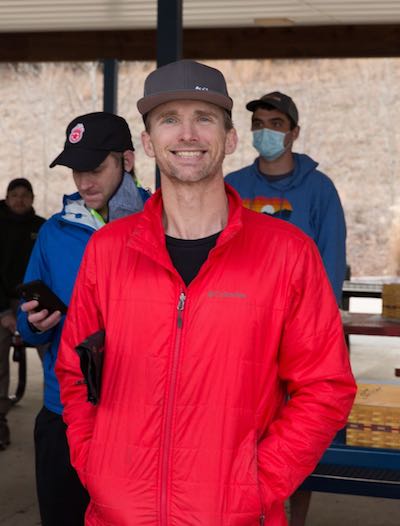 Overall winner Jason Bettis.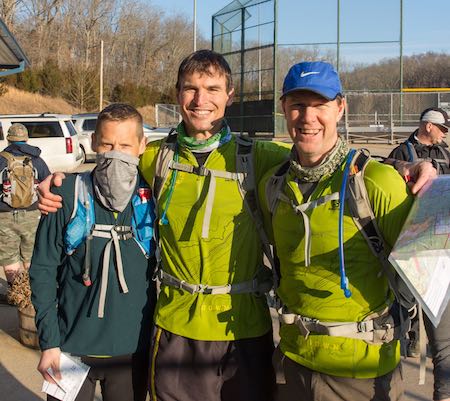 Top team--42 Down (from left): Jason Noakes, Josh Borgmeyer and Jeff Ryan.
Solo competitors generally placed higher in the overall standings than the teams. About two-thirds of the solos finished in the top half of the standings, versus only one-third of the teams. (In a race like this, where the team must physically stay together for the entire duration, the team's outcome is generally determined by the slowest team member.)
This year's race was the first foray into orienteering by seven Lake-area runners. The Might Survive team of Chris Boyle, Tucker Seise and Jefferson City's Cody Eubanks commendably placed 6th among the 20 teams. They collected 19 of the 36 checkpoints in 7:44:48.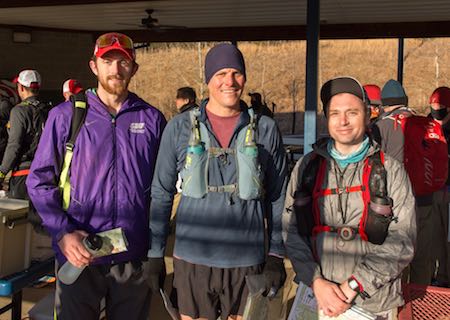 Might Survive team (from left): Tucker Seise, Chris Boyle and Cody Eubanks.
The Dragon Asses team of Scott Page, Gary Braman, Mark Matthews, Rob Kucsik and Stacy Roberts collected the 8th most points among the 20 teams, but the severe point penalty for finishing a mere 11 minutes over the 8-hour time limit dropped them all the way down to 14th place.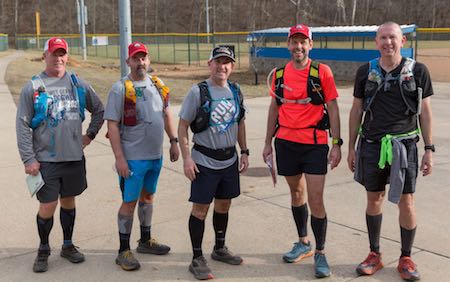 Dragon Asses team (from left): Mark Matthews, Stacy Roberts, Rob Kucsik, Scott Page and Gary Braman.
The complete race results can be found here.
Many more photos can be found here.
* * * * *
CABIN FEVER RELIEVER 5K/10K/20K (posted February 7th)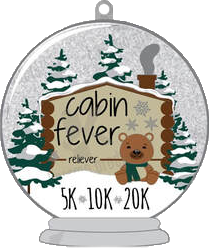 Matt Weatherford of Eldon was the only Lake-area runner to toe a starting line on this cold, dreary and snowy weekend. Matt was in Rogersville (10 miles east of Springfield) on Saturday for the Ozark Mountain Ridge Runners' 6th annual Cabin Fever Reliever. He finished the 10K in 1:11:08. He placed second in the men's 20-29 age group, missing out on a victory in his age group by a miniscule 0.35 seconds.
There were 268 finishers on the day, including 111 in the 5K, 79 in the 10K, and 78 in the 20K. Our former LOTO running buddy Andy Goessman took 4th overall (and first in men's 30-39 age group) in the 10K, finishing in 42:27. Randy Acklin of Marshfield placed 6th in the 40-49 age group in the 20K with a 1:41:11 finish.
Complete results can be found here.
* * * * *
ROC7K TRAIL RUN (posted January 24th)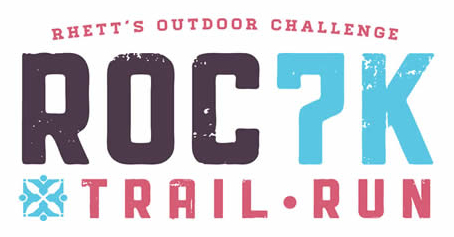 Three Lake-area runners were in Columbia on Saturday vying to become the very first local runner to cross a finish line in 2021. Sarah Wood of Eldon won those bragging rights by finishing the ROC7K Trail Run at Cosmo Park in 42:21. Sarah won the women's 30-39 age group over 21 others.
Brian Frederick of Kaiser finished in 49:31, taking 7th (of 13) in the men's 50-59 age group. Another Eldon runner, John Brody, finished in 58:23, placing 15th (of 16) in the 40-44 age group.
Our Columbia running friend Andy Emerson finished 5th overall among the 128 total competitors, in 35:35.
Less than two seconds separated the top two finishers. Complete results can be found here.
* * * * *
DAVID'S TRAIL ENDURANCE RUN (posted January 24th)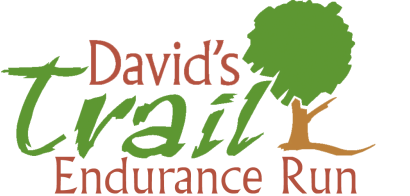 Thirteen of our Lake-area runners traveled to Mountain Home, Arkansas on Saturday for the sixth annual David's Trail Endurance Run (Facebook page). Five managed to pull off podium finishes.
In the 50K, Chris Boyle won the 40-49 age group, with a 5:38:41 finish that also placed him 4th overall (of 52 finishers). John Shelby and Gary Braman took 2nd and 3rd, respectively, in the 50-59 age group.
In the 25K, Tucker Seise knocked 13 minutes off of last year's 3rd-place overall finish time, but his 1:54:19 was still only good enough for another 3rd-place overall. (It should be noted that the second-place finisher was also credited with a 1:54:19 finish time, so Tucker apparently missed out on that spot by a fraction of a second.) Rob Kucsik, who aged up to the 50-59 group this year, took 3rd place with a 2:45:22 finish time.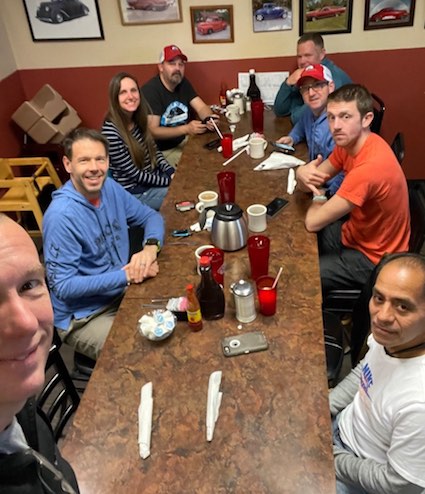 Some of the Lake-area entourage (clockwise, from lower left): Gary Braman, Scott Page, Katie Roberts, Stacy Roberts, Mark Matthews, Rob Kucsik, Tucker Seise and Nigher Alfaro. (Photo provided.)
Here are results for our Lake-area runners, plus a few runners familiar to us:
DAVID'S TRAIL ENDURANCE RUN
MOUNTAIN HOME, ARKANSAS
JANUARY 23, 2021
RESULTS FOR LAKE-AREA RUNNERS


Name

Finish Time

Age Group

Age Group Place

50K:

Chris Boyle

5:38:41

John Shelby

6:38:08

Aaron Koeppen

6:49:20

Gary Braman

3 of 4

25K:

Tucker Seise

1:54:19

-

Scott Page

2:43:05

5 of 20

Rob Kucsik

2:45:22

Mark Matthews

2:56:59

Doug Kueker

3:00:02

8 of 20

Nigher Alfaro

3:19:26

11 of 20

Stacy Roberts

Katie Roberts

Alysia Maschino
Complete results can be found here.
Lots of photos have been posted on the race's Facebook page.
There were 241 finishers at this year's race (versus 225 last year), including 52 for the 50K, 126 for the 25K and 63 for the 7K.
* * * * *