How to Request a 2018 Lake of the Ozarks Runner T-Shirt or Tank Top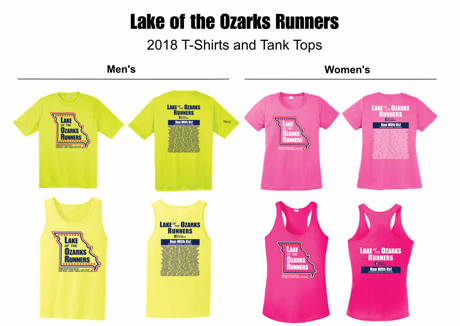 Click on above image for a larger view.
We're pleased to offer you our 2018 Lake of the Ozarks Runners T-shirts and tank tops. All are available at no charge.
If you would like a shirt, you should request one right away. While we ordered a total of 155 shirts--just about the same number as our 2013 and 2014 shirt orders combined--some shirts in certain sizes are in limited supply, and at his point we're not certain we'll order any more once supplies run out. Also, it's been three years since we last offered shirts, so it's indeed possible you may have to wait that long for another opportunity like this.
We're going to start accepting requests on Thursday, November 2nd.
We'll fulfill requests in the order they're received. HOWEVER, to be fair to everyone, all requests received on November 2nd will be treated as having been received at the very same moment. That's being done (1) to avoid any need to wake up early (or stay up late the night before) to be first in line for a shirt; and (2) to give those who can't be online early in the day a chance to submit their request sometime later that day without fear of being left behind. If, on November 2nd, we receive more requests of a certain style and size shirt than we have available, we'll conduct a lottery to determine who gets the available shirts.
OK, here's what you need to know and do:
Step 1: Check to see what shirts are still available, according to the table shown below. The table will be updated as changes occur, although it may take a day or two to make those changes.
SHIRTS STILL AVAILABLE (as of August 5, 2018)

SIZE

Small

0

0

7

2

Medium

5

0

18

13

Large

2

0

2

4

XL

0

2

1

0

Total

7

2

28

19
Note: At last report, Scott Page had the following shirts, which are not included above::
(1) Men's medium t-shirt
(4) Men's large t-shirts
(2) Women's small t-shirts
(2) Women's medium t-shirts
(2) Women's large t-shrts
If you do not see a shirt available in your size, you can still submit a request for one. In fact, we recommend that you do so since, if we decide to order more shirts, it will give us a better idea as to how many to order, and your request will be honored first. (Your unfulfilled request will be listed in a separate table in Step 3 below.)
Step 2. Submit your request by doing one of the following:
(1) Click here to go to a page set up at JotForm to specifically take requests very quickly and easily (and without having to disclose your e-mail address or personal information to either JotForm or me); or
(2) E-mail me directly (jim@gojim.tv) and tell me what you want (men's or women's t-shirt and/or tank top) and in what size.
Step 3: Revisit this page in a day or two to make sure your request was received and that it's listed in the table below. (If it's not shown after a couple days, e-mail me.) If your request appears below, rest assured that your shirt is in an envelope with your name on it, waiting to be picked up.
Request
Date
Picked
Up
Name
Shirt(s) Requested

Men's
T-Shirt

Men's
Tank Top

Women's
T-Shirt

Women's
Tank Top

Nov 2

✔

Dan Robertson

Nov 2

✔

Diane Robertson

Nov 2

✔

Willard Haley

Nov 2
Angela Martin

Small

Nov 2
Randy Acklin

Large

Nov 2
✔
Scott Gray

XL

Nov 2
✔
Jayna Gray

Medium

Nov 2
✔
Katie Roberts

Small

Small

Nov 2
✔
Stacy Roberts

Large

Nov 2
✔︎
Michael Korst

Large

Nov 2
✔︎
Debbie Korst

Large

Nov 2
✔
Maria Alfaro

Small

Nov 2
✔
Karen Bowen

Medium

Nov 2
✔
Tammara Vitelli

Med + Lg

Nov 2
✔
Stephanie Weaver

Small

Nov 2
✔
Nigher Alfaro

Medium

Nov 2
Bryna Edwards

Small

Nov 3
✔︎
Ed Doney

Large

Nov 3
✔︎
Elizabeth Doney

XL

Nov 3
✔︎
Lee Steveson

Large

Nov 3
✔︎
April Boicourt

Medium

Large

Nov 3
✔
Margie Gunter

XL

Nov 4
Ed Ciambrone

XL

Nov 5
Brandi Kincaid

Medium

Nov 6
Nichole Stephens

Small

Small

Nov 6
Jordan Fox

Medium

Medium

Nov 7
Stacy Anstine

Medium

Nov 9
✔
Ron Bentch

XL

Nov 12
✔
April Leonard

Small

Nov 17
✔︎
Steve Flectcher

Large

Small + Med.

Nov 20
✔
Megan Hendrickson

Medium

Dec 2
Heather Oddo

Small

May 9
Cindy Martin

Large

May 28
✔
Jade Fletcher

Small

Small

June 7
✔
Jayna Gray
June 7
✔
Mark Matthews
August 1
✔
Christina Wilson
Medium
August 4
Kim Sovcik
Small
Step 4: The much-preferred way to pick up your shirt(s) is to catch me before or after one of our upcoming races. (If you want someone else who's coming to the race to pick up your shirt for you, that's fine.) I expect to be at the following races (and perhaps a few others) in coming months, and will be bringing all of the requested shirts with me:

Polar Bear 5K Strut (Osage Beach, February)
Eldon St. Patrick's Day 5K (Eldon, March)
Lake Regional 5K (Osage Beach, May)
Eldon Rock Island Road Race (Eldon, June)
Summer Night Glow 5K (Camdenton High School, June)
Eldon Independence Day 5K (Eldon, July)
I don't want to mail the shirts, but will agree do so in unusual situations. With the sheer volume of shirts involved, mailing all of them would take a huge amount of additional time. Frankly, after all the time and effort that has already gone into producing these shirts, I don't think asking the recipients to pick them up in person is too much to ask.
Finally, we can't hold requested shirts indefinitely. Any shirts that haven't been picked up by July 31, 2018, or haven't previously been agreed to be held beyond that date, will be forfeited and become available for distribution to others.
---
If you have any questions, problems, suggestions, etc., feel free to e-mail me.