4 FORE 30 INFINITY BACKYARD ULTRA (updated December 6th)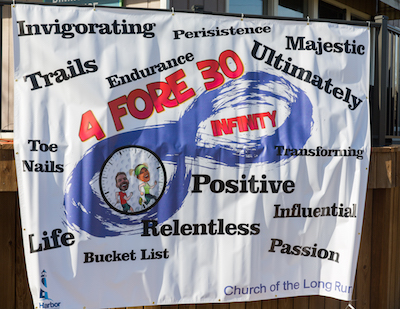 Cody Eubanks was simply not going to be denied. After being the last competitor to drop out (at 37 hours, or 154.2 miles) and concede victory to Chris Boyle at last year's 4 Fore 30 Infinity Backyard Ultra, he was not going home empty-handed this year.
Cody outlasted 60 other competitors this weekend, winning this year's 4 Fore 30 in 30 hours, or 125 miles. Garett Carolus of Leesburg, Indiana, was Cody's last remaining contender. Cody decided age advantage (he's 38; Garett is 56) and sheer determination to win were apparently too much for Garett to overcome.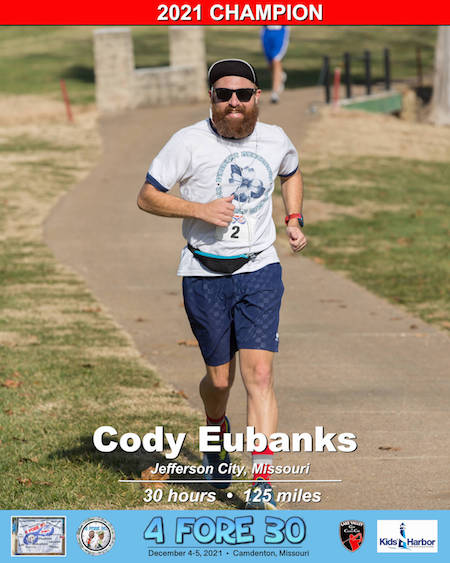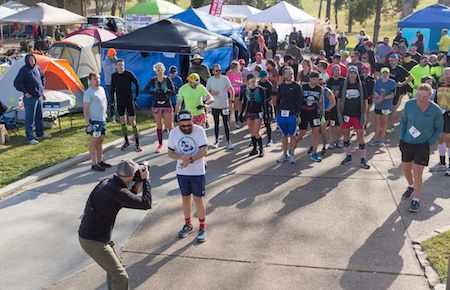 This photo says it all. If you look at last year's race photos, Cody always positiioned himself near the front, but not
at
the front, at the start of each hour during the early part of the race. (Here's one
example
.) This year, though, he positioned himself front row, dead center, at the start of each hour. The above photo was taken just before the 11:00 a.m. start. (
Here
he is again, at the 2:00 p.m. start.) He was clearly a man on a mission.
The complete race results can be found here.
You can find Rick Mayo's (of Mile 90 Photography) photos here.
Below is a chart showing this year's rate of attrition, with prior years' shown by comparison. The sharpest dropoff this year occurred right after the 8th hour (33.36 miles), when 12 competitors chose not to continue. Half the field was gone by the 12th hour (50 miles).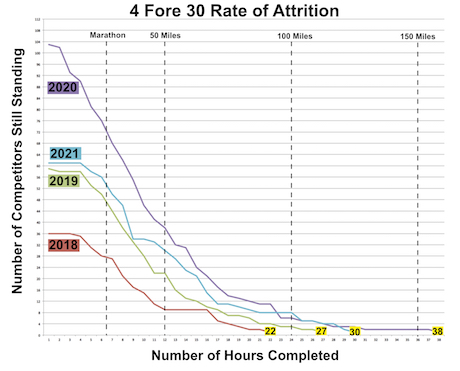 Twenty of the 61 competitors in this year's field were from the Lake area. Here are their results, plus those for a few others:
Place

Name

City

Miles
Completed

6 (tie)

Aaron Koeppen
Four Seasons

100.0

11

Tucker Seise
Osage Beach

75.0

16 (tie)

Chris Boyle
Osage Beach

62.6

16 (tie)

John Shelby
Osage Beach

62.6

16 (tie)

Ellie Webb
Linn Creek

62.6

24 (tie)

Katie Roberts
Camdenton

54.2

24 (tie)

Blake Roettgen
Linn Creek

54.2

31 (tie)

Alysia Maschino
Roach

45.9

34

Rob Kucsik
Four Seasons

41.7

35 (tie)

Charlie Boyle
Osage Beach

33.4

35 (tie)

Georgi Carolus
Macks Creek

33.4

35 (tie)

Payten Luaders
Montreal

33.4

35 (tie)

Mark Matthews
Kaiser

33.4

35 (tie)

Jim McDermott
Camdenton

33.4

47 (tie)

Gary Thompson
Osage Beach

29.2

51 (tie)

Connor Boyle
Osage Beach

25.0

51 (tie)

Kendra Moe
Eldon

25.0

51 (tie)

Nate Moe
Eldon

25.0

57 (tie)

Brad Seidt
Linn Creek

20.8

59 (tie)

Cora Lowary
Montreal

20.8

Other runners of interest:

12 (tie)

Chelsea Krause
Ankeny (IA)

66.7

31 (tie)

Ryan Maher
Fenton (MO)

45.9

35 (tie)

Shea Boyle
Kirkwood (MO)_

33.4
Notable results:
To the best of my knowledge, Aaron Koeppen, Tucker Seise, Ellie Webb, Blake Roettgen, Charlie Boyle, Georgi Carolus, Payten Luaders, Jim McDermott and Connor Boyle all set personal distance records. (Send any additions or corrections here.) Aaron Koeppen topped his previous record of 70.8 miles (set last year at this race) by a whopping 30 miles. The youngest competitors at this year's race, Charlie Boyle, age 12, and Connor Boyle, age 10, beat their 2020 records by 8.3 and 4.2 miles, respectively.
The field of 61 completed an average of 52.2 miles. That was up from last year's 47.4, 2019's 44.2, and 2018's 39.4.
Expressed in terms of conventional race distances, the biggest percentage of the field (about 41%) ended up running between a 50K and 100K, as shown below:
DISTRIBUTION OF COMPETITORS BY NUMBER OF MILES COMPLETED,
GROUPED ACCORDING TO CONVENTIONAL RACE DISTANCES

Conventional Race Distance

Number of
competitors
completing this distance

Half marathon or less (0 to 13.1 miles)

-

Half marathon to marathon (13.1 to 26.2 miles)

11

Marathon to 50K (26.2 to 31.0 miles)

4

50K to 100K (31.0 to 62 miles)

25

100K up to 100 miles

13

100 miles or more

8

Total

61
* * * * *

LAKER TURKEY TROT 5K (updated November 27th)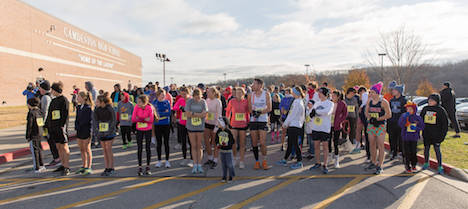 The starting field of 149 runners and walkers braved temperatures in the 30s with steady winds of 5-10 mph.
Despite the chilliest race-day weather in years, the Laker Turkey Trot 5K drew its largest crowd (of 149 finishers) since 2016, and the fourth-largest in the race's 12-year history. It was also one of just four turkey trots among the twenty that were held across the state that reported higher participation this year than in the pre-COVID year of 2019.
Since the very first race in 2010, the Laker Turkey Trot has always been dominated by current and former high school and collegiate cross country runners. Of this year's top 10 finishers, at least nine fell into one of those categories, including five current or former Camdenton High School runners (Jake Thoenen, Michael Vitelli, Clare Holmes, Ellie Webb and Georgi Carolus), Charlie and Tad Gray from St. Louis University High School (the fourth-ranked team at this month's Class 5 state championships), and Caleb Phillips, a Class 1 state championship qualifier for Macks Creek.
Persistence finally paid off for Jake Thoenen. After finishing second overall (twice to both Jeremy Ryan and Tucker Seise) in each of the last four years, he finally claimed an overall victory, winning in 17:17. Last year's winner, Tucker Seise, held the lead for the first mile, but Jake overtook him by mile 2 and held on for the win. Jake's winning time was the third-fastest in race history, surpassed only by Jeremy Ryan's record of 16:57 set in 2019 and Tucker's 17:15 finish last year.
The women's race was won by now three-time winner Clare Holmes, a former Laker cross country runner currently running for Missouri S&T. (She's now tied with four other Turkey Trot competitors--Jeremy Ryan, David Prather, Chelsey Van Hook and Heather Oddo--with three overall victories.) Clare crossed the line in 20:42--her fastest winning time--with an 8-second margin of victory over Ellie Webb, a Laker junior cross country runner who ran in the state championships earlier this month.
The complete race results can be found here.
Jim McDermott took home a frozen turkey for the seventh time for winning his age group. Pete Groce skipped the chance of winning a pie at the Jefferson City Thanksgiving Day Pie Run (no big deal, he won one at last month's GO! St. Louis Halloween Half Marathon) to try his luck at the Laker Turkey Trot, and took home a turkey for winning the 50-59 age group.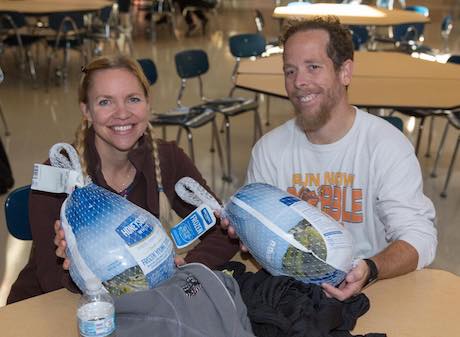 Elaine and Mark Mallahan brought home hers-and-his turkeys for their respective age-group victories.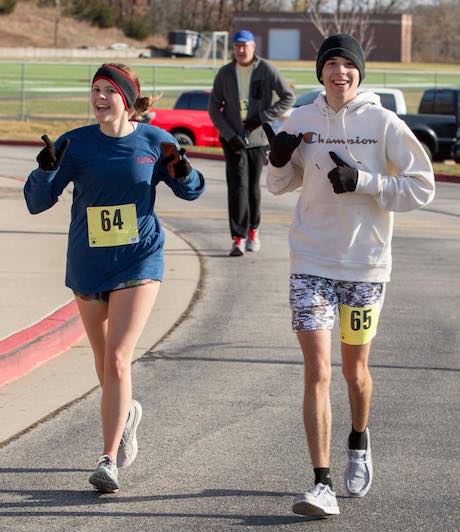 After being MIA for several years, former Osage High School cross country runners Reagan and Ryan Page brushed the cobwebs off their running shoes and ran and finished together in a very pokey 39:40, good for 93rd and 94th place.
Many more photos can be found here.
* * * * *
THANKSGIVING DAY RACES (posted November 23rd)
The biggest race day of the year in the United States is going to be a lot bigger this year than last, with every race that was cancelled or which went virtual last year due to COVID returning to in-person status this year, with one, notable exception--Springfield's Turkey Trot 5K--normally the largest turkey trot in the state.
Locally, the 12th annual Laker Turkey Trot 5K starts at 9:00 a.m. at Camdenton High School. Complete information can be found further down this column under "Upcoming Events".
The following table shows what races are being held across the state.
THANKSGIVING DAY RACES IN MISSOURI
NUMBER OF FINISHERS

City

Race

2019
2020
2021
Springfield
Turkey Trot 5K Run

5,055

Virtual

Virtual

Kirkwood
Kirkwood Webster Turkey Day Run
(3 miles, 6 miles, and both distances)

4,380

Virtual

4,043

St. Charles
Turkey Trot STL 5K

3,840

395

2,665

Kansas City
Ward Parkway Thanksgiving Day 5K/10K

3,590

Virtual

3,081

Kansas City
Thanksgiving Day 5K Run & Family Stroll

2,110

Virtual

2,093

Kansas City
Turkey Tracks 5K

-

434

227

Chesterfield
Chesterfield Turkey Trot 5K

2,210

Virtual

1,878

Arnold
Arnold Gobble Gobble Run 5K
(Turkey Trot STL - Arnold prior to 2020)

1,799

Cancelled

891

St. Louis (downtown)
Turkey Trot STL

2,164

Cancelled

1,463

Eureka
Turkey Trot STL 5K

1,596

Cancelled

-

Kansas Ctiy
Thanksgiving Day Turkey Trot 5K/8K

1,479

Virtual

870

Columbia
Turkey Trax 5K

1,023

Virtual

936

Joplin
Joplin Turkey Trot

1,000

Cancelled

1,036

Olivette
(St. Louis County)
Olivette Turkey Trot 5K

1,366

Virtual

1,139

St. Louis

St. Louis Turkey Trot 5K/8K

978

Virtual

1,278

Parkville
Parkville Turkey Trail Trot

1,072

Virtual

993

Kansas City
Pilgrim Run 5K

881

Virtual

648

Branson
Branson Turkey Trot 5K

609

Virtual

599

Jefferson City
Thanksgiving Day Pie Run 5K/10K


548

376

584

Chesterfield
Gobble Wobble 5K

333

246

270

Aurora
Mountaineer Turkey Strut 5K

186

Cancelled

?

Ozark
Turkey Scramble 5K/10K

174

234

?

Rolla
Galloping Gobbler 5K/10K

160

120

103

Camdenton
Laker Turkey Trot 5K

108

60

149

Pierce City
Pilgrims Run 5K

61

?

-

Boonville
Boonslick Heartland YMCA Turkey Trot 5K/10K

NA

Yes

?

Mexico
Turkey Trot 5K

NA

Virtual

?

Troy
Thanksgiving Day Turkey Trot 5K

NA

Yes

?

Lebanon
Turkey Trot 5K

NA

80 (est.)

100 (est.)

Washington
Turkey Day 5K/10K

NA

?

-

Farmington
Turkey Trot 5K

NA

Yes

?

St. Louis (Forest Park)
The Hungry Turkey 5K

-

165

-

Strafford
Strafford Turkey Trot 5K

?

Willard
Willard Turkey Trot

?

TOTAL

36,722

2,500 (est.)

25,000
(approx.)
* * * * *

2021 Archives
2020 Archives
2019 Archives
2018 Archives
2017 Archives
2016 Archives
2015 Archives
2014 Archives
2013 Archives
2012 Archives
2011 Archives
2010 Archives
2009 Archives
* * * * *

JINGLE BELL 5K (posted November 5th)
The Camdenton High School Pride of the Lake Marching Band (Facebook page) is holding its second annual Jingle Bell 5K Run/Walk on Saturday, December 11th. The run/walk starts at 8:00 a.m. at Bob Shore Stadium.
The entry fee is $25 through December 10th, and $30 on the day of the event. Race-day registration opens at 7:30 a.m. Only those who pre-register by November 28th will be guaranteed a t-shirt on race day.
Visit the event's RunSignup.com page for more information and to register.
* * * * *
WHOBILATION 5K RUN/WALK (posted November 8th)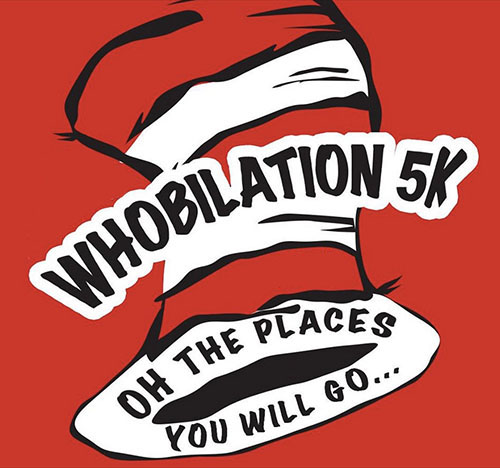 The Tri-County YMCA will hold its fourth annual Whobilation 5K Run/Walk on Saturday, March 5th, at the YMCA's facility on Airport Rd. in Osage Beach. The Dr. Suess-themed race will start at 9:00 a.m., with race-day registration opening at 7:30 a.m. Proceeds from the event will go to support the YMCA's childcare program.
The entry fee is $30 until February 28th, and $35 after. To be guaranteed a t-shirt on race day, you need to register by February 18th.
A mail-in registration form can be downloaded here. Online registration isn't available at this time.
* * * * *
BRIDGE AND DAM 25K, HALF MARATHON, 10K & 5K (posted October 27th)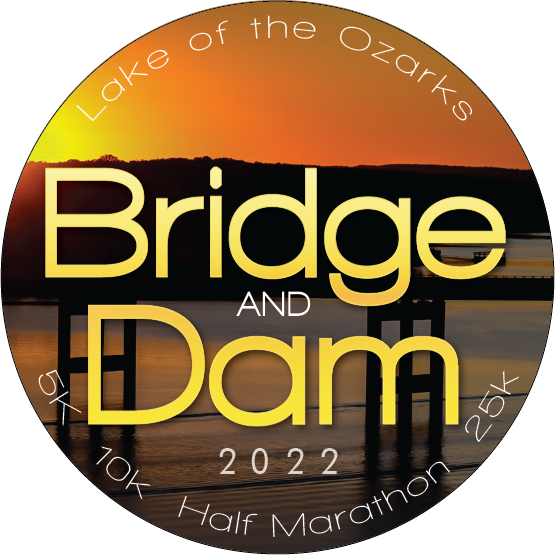 Registration is now open for the 2022 Bridge and Dam 25K, Half Marathon, 10K & 5K (Facebook page). It will be held on Saturday, March 26th, in Lake Ozark. The race starts at 7:30 a.m.
The 25K option is new for 2022. (The Double Down and All-In Challenges have been dropped.)
The event is organized by the Lake of the Ozarks chapter of the non-profit Missouri Fellowship of Christian Athletes (FCA).
Online registration is available through Wednesday, March 23rd. Refer to the race website for much more information.
* * * * *
TRAIL OF FOUR WINDS ENDURANCE RUNS (posted May 15th)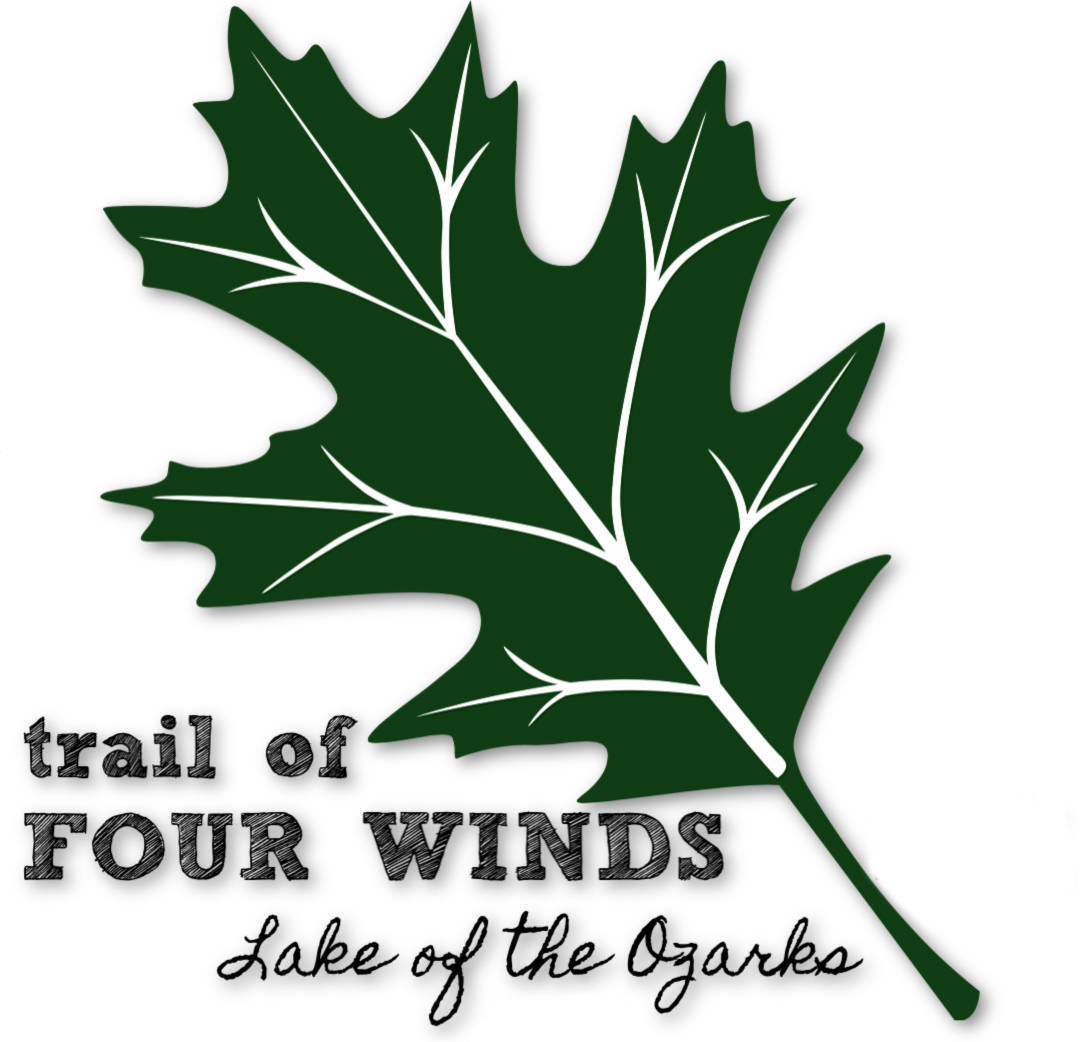 The Trail of Four Winds 25K is expanding in 2022. The expanded event, to be known as the Trail of Four Winds Endurance Runs (Facebook), will include the traditional 25K trail race, and a newly-added ultra distance race called the LOZ Traverse. The new race includes two running segments--totaling 33 miles--on two trails in the Lake of the Ozarks State Park. The running segments are separated by a four-mile (round-trip) paddling segment between the trails. (Participants must provide their own kayak/canoe/paddleboard.)
The event will take place on Saturday, May 7th.
Please visit the race's UltraSignup page for complete information, and to register.
* * * * *
LAKE AREA MAGICAL ADVENTURE (posted November 5th)

Many of the details have yet to be worked out, but a new endurance race is coming to the Lake of the Ozarks next October.
The Lake Area Magical Adventure (Facebook page)--LLAMA, for short--is a 200-mile team relay race planned for October 22-23. Teams of up to 12 runners will race with a 36-hour time limit to complete the course.
Registration isn't yet open.
* * * * *

Ultramarathons, Marathons & Half Marathons
(.xlsx)