Other weekend race results:
Greg Linhart, who's no stranger to several of our Lake-area races, finished in 39:25 and took second overall at the Great Plains 10K at Longview Lake in Kansas City on Sunday. There were 333 finishers in total.
No results yet for Dr. Scott Hofer at the One-Eyed Dog mountain bike race at Belleview. This was Scott's warm-up for the BT (as in Berryman Trail) Epic coming up on October 15th. With nearly 700 entrants, the BT Epic is the biggest mountain bike race in the state. (Tim Murphy of Camdenton will also be racing.)
* * * * *
BMW BERLIN MARATHON (posted September 25th)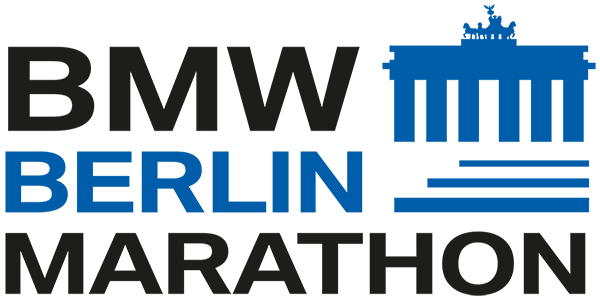 Make that nine times since 2002 that the men's world marathon record has been broken at the BMW Berlin Marathon. On Sunday, the greatest marathoner in history, Eliud Kipchoge of Kenya, broke his own record (set in Berlin in 2018) by 30 seconds to set a new world record of 2:01:09. He crossed the finish line about five minutes ahead of the second-place finisher. His per-mile pace was an unbelievable 4:37. Read more about it here.
* * * * *
IRONMAN 70.3 AUGUSTA (posted September 25th)
It was a victory of sorts for Jim McDermott just for finishing the Ironman 70.3 Augusta Triathlon in Georgia on Sunday. Jim has been battling a hamstring injury for months, even to the point of forgoing some races in order to be ready to do Augusta, his "A" race of the year.
Jim finished the 1.2-mile swim, 56-mile bike and 13.1-mile run in 6:26:49. He placed 10th (of 24) in the men's 65-69 age group.
Here are his splits:
Swim: 35:31 (1:50 per 100 meters)
T-1: 7:50
Bike: 3:02:46 (18.3 mph)
T-2: 6:51
Run: 2:32:54 (11:44 per mile)
Finish: 6:26:49
* * * * *
URBAN ADVENTURE RUN (posted September 25th)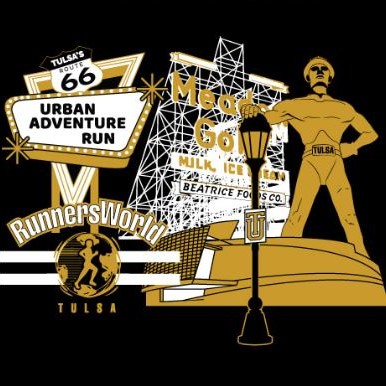 The 25-mile (per lap) tour of Tulsa known as the Urban Adventure Run included two Lake-area runners at this year's race. Scott Page, who did this race in 2020, and Alysia Maschino took the 50-mile tour, running and finishing together in 13:13:32. Alysia was the overall women's winner (over three others), while Scott was the fifth of seven male finishers.
Complete results can be found here.
* * * * *
HIGH SCHOOL CROSS COUNTRY MEET RESULTS FOR SEPTEMBER 24th (posted September 24th)

All of our local high school cross country teams participated in the Hermitage Dam Invitational on Saturday, giving us a chance to see who are the fastest boy and girl high school runners in the Lake area. Nathan Reynolds and Zoe Martonfi, both juniors at Eldon High School, now lay claim to those titles.
Here are results for each area high school's top finisher at Hermitage:
Name

School

VARSITY BOYS:
Nathan Reynolds
Eldon

11

17:34

7 of 117

Brody Ingold
Camdenton

10

17:44

8 oif 117

C

olin Misenheimer

15 of 117

Caleb Phillips

18:43

11 of 168

William Taylor
Versailles

12

20:13

58 of 117

VARSITY GIRLS:
Zoe Martonfi
Eldon

11

19:11

1 of 95

Ellie Webb

Camdenton

Bayley Johnson

6 of 95

Addison Ratliff
Macks Creek

10

24:59

22 of 99

Fenia Christiansen
Versailles

10

29:57

90 of 95
Note: Macks Creek competed in a division composed of smaller schools.
Complete meet results can be found here.
* * * * *
BRANSON MOUNTAIN MAN OFF-ROAD TRIATHLON (posted September 24th)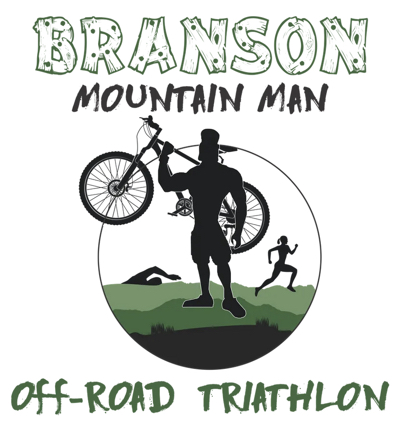 Mark Matthews competed at the Branson Mountain Man Off-Road Triathlon at Table Rock Lake State Park on Saturday. The triathlon offered two distances. The sprint race included a 500-meter swim in Table Rock Lake, followed by a 6.2-mile mountain bike segment and 3.5-mile trail run in the park's White River Valley Trail System. The Burly Course race was approximately double the sprint distance.
Mark finished 34th overall (of 54). Here are his splits:
Swim: 22:06
T-1: 4:44
Bike: 1:01:54
T-2: 1:11
Run: 37:20 (12:01 per mile)
Finish: 2:07:13
Complete race results are here.
* * * * *

HIGH SCHOOL CROSS COUNTRY MEET RESULTS FOR SEPTEMBER 17th (posted September 17th)

Here are our local high school cross country teams' top performers on Saturday.
At the Missouri Southern Stampede meet in Joplin, the top Camdenton runners were Brody Ingold (17:25; 91st of 350) and Ellie Webb (20:15; 51st of 320). Complete meet results can be found here.
Versailles runners competed at the Smith-Cotton Invitational in Sedalia. Matthew Radefeld was their top finisher, in 20:38, and placing 17th of 68. Results are here.
Eldon High School's Zoe Martonfi and Nathan Reynolds had podium finishes for the second week in a row. At the Fulton Invitational, Zoe took second overall (among 128 competitors) with a 19:29 finish. Four seconds faster, and she would have an undefeated season thus far. In the boys' race, Nathan Reynolds was third overall (of 142) with a 17:33 finish.
Osage high schoolers had the weekend off, but the middle schoolers also raced in Fulton. Top finishers among them were Ben Koeppen (13:20; 11th of 147) for the boys, and Avery Sperling (14:16; 3rd of 114) for the girls. (The middle school races were 3.2K in length.) In team scoring, the girls took first, over 11 others teams. The boys team took second (of 15).
Complete results at Fulton can be found here.
* * * * *

2022 Archives
2021 Archives
2020 Archives
2019 Archives
2018 Archives
2017 Archives
2016 Archives
2015 Archives
2014 Archives
2013 Archives
2012 Archives
2011 Archives
2010 Archives
2009 Archives
* * * * *

ELDON TURKEY TROT 5K RUN/WALK (posted September 8th)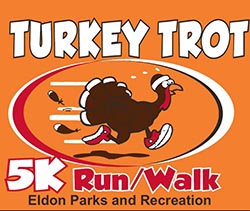 Eldon's Turkey Trot 5K Run/Walk will be held on Saturday, September 24th, at the Air Park (next to the aquatic center) on N. Franklin St. The run/walk will start at 7:30 a.m., with race-day registration opening at 6:45 a.m.
The pre-registration deadline is Friday, September 16th. You can register at city hall.
* * * * *
PREGNANCY HELP CENTER'S 5K WALK/RUN FOR LIFE (posted March 30th)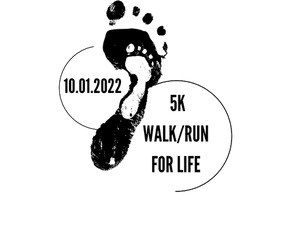 The Pregnancy Help Center of the Lake of the Ozarks (Facebook page) is holding its 5K Walk/Run for Life (Facebook page) on Saturday, October 1st. The walk/run starts at 9:00 a.m., with race-day registration open from 7:00 to 8:00 a.m. The event will again be held at JJ Twigs Pizza & BBQ on Bagnell Dam Blvd. in Lake Ozark. As in the past, the event will include the always popular raffle prize giveaways, childrens' activities, and food and drinks. A pre-race fun run for kids age 6 and younger starts at 8:30 a.m.
The entry fee for runners and walkers is $15 until 11:59 p.m. March 31st, $20 from April 1st to June 30th, $25 from July 1st to September 30th, and $30 on race day. 5K participants age 11 and under are free unless they wish to be eligible for run prizes, in which case they pay the normal entry fee.
Click to register online or for all the event details. The online registration page also contains a fundraising option.
* * * * *
CRUSH PANCREATIC CANCER 5K FUN RUN/WALK & CHILI COOK-OFF (posted July 31st)
The Crush Pancreatic Cancer 5K Fun Run/Walk & Chili Cook-Off will be held on Saturday, October 8th at the Camdenton City Park.
Details haven't yet been announced.
* * * * *
LAKE AREA MAGICAL ADVENTURE (posted November 5th)

A new endurance race is coming to the Lake of the Ozarks in October.
The Lake Area Magical Adventure (Facebook page)--LLAMA, for short--is a 200-mile team relay race to be held on October 22-23. Teams of up to 12 runners will race with a 36-hour time limit to complete the course.
Registration is available here.
* * * * *
4 FORE 30 INFINITY (posted February 2nd)
The fifth annual 4 Fore 30 Infinity last man standing race will be held December 3rd at Lake Valley Club west of Camdenton. Kids' Harbor will again being the race's nonprofit beneficiary.
Registration and complete details about the race can be found here.
* * * * *