HANNIBAL CANNIBAL 5K/10K/15K (posted July 2nd)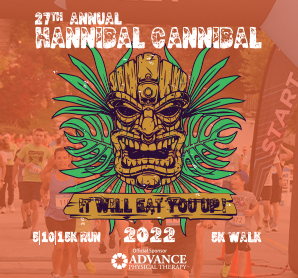 A few Lake-area runners were in Hannibal on Saturday for the Hannibal Cannibal 5K/10K/15K. The race is the largest road race in the state outside of a major metro area.
Kim Sovcik and Christina Wilson walked the 5K together, finishing in a leisurely 1:05:52.
In at least her third appearance at the race, Joyce Ryerson of Versailles ran the 5K, finishing in 39:22 and placing 9th (of 20) in the women's 50-54 age group.
Julio Juarez, a former Lake-area runner now living in Hannibal, also ran the 5K and crossed the line in 21:05, winning the men's 45-49 age group (over 42 others). Julio was the overall winner (in 17:59) of the 2017 Give 'Em The Bird 5K.
Complete race results can be found here.
Participation was down for the seventh year in a row. (This race had over 1,300 total finishers at it's peak in the mid 2010s.) Here are the number of finishers, by distance, since 2018.
HANNIBAL CANNIBAL 5K/10K/15K
HANNIBAL, MISSOURI
NUMBER OF FINISHERS

Distance

2018

2019

2020

2021

2022

15K

125

125

108

100

122

10K

185

138

154

156

139

5K

762

726

632

634

612

Total

1,072

989

894

890

873
* * * * *
INDEPENDENCE DAY WEEKEND EVENTS -- JULY 2 - 4
We're racing again locally this holiday weekend. The City of Eldon's Independence Day 5K Run/Walk starts at 7:00 a.m. on Monday at the Public Safety Building on S. Oak St. Race-day registration opens at 6:30 a.m. Scroll down this column to "Upcoming Events" to get more details about the race.
The Tour de France starts Friday morning. Stage 1 is a 13km individual time trial in Copenhagen, Denmark. TV coverage will be on the USA Network from 8:30 a.m. to 1:00 p.m. (our time). There are 21 stages in this year's race, with the final stage on July 24th. Watch at your own risk--the Tour can be addicting, and a huge productivity killer.
Waynesville:
4x4x48 for the Fourth Challenge, 6:00 p.m. Friday through 6:00 p.m. Sunday (see listing under Upcoming Events)
Jefferson City:
4th of July Firecracker Mile, Monday (free; no frills)
Columbia:
Parley Pratt Freedom Run (4-mile & 1-mile), Monday
Warrensburg:
Freedom Fest 5K, Saturday
Hannibal:
Hannibal Cannibal 5K/10K/15K, Saturday
Carthage:
Red, White and Boom 5K Run, Monday
Springfield:
Four on the 4th (4-mile), Monday
Branson:
Firecracker 5000 (5K/10K), Monday
Kansas City and vicinity:
Summer Sizzler 5K/10K, Independence, Saturday
Stars & Stripes 5K, Sunday
Lenexa Freedom Run (5K/10K), Monday


St. Louis and vicinity:

Chesterfield Stars & Stripes 5K/10K, Monday
O'Fallon Firecracker Run (5K/10K), Monday

* * * * *

RUN FOR THE HORSES 5K/10K RUN/WALK (posted June 25th)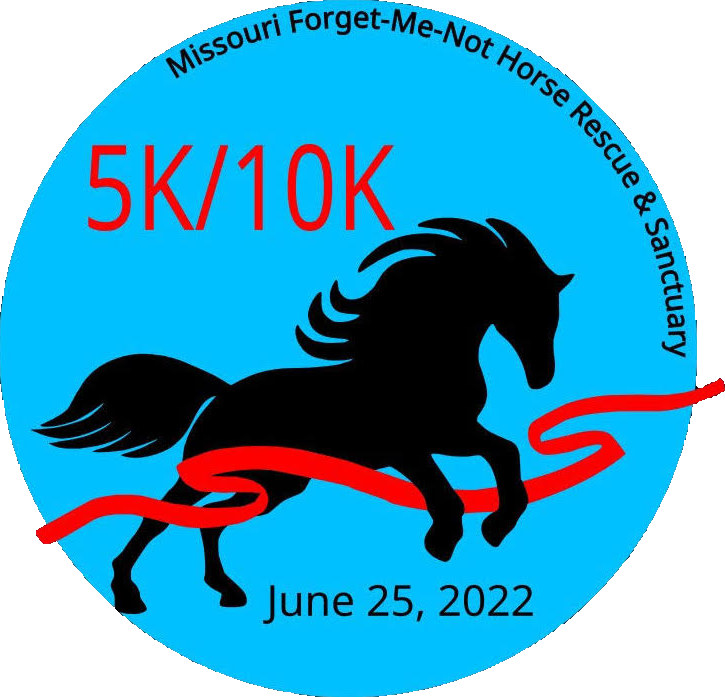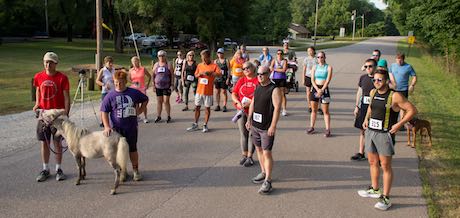 Twenty-five two-legged, plus a few four-legged, warm-blooded creatures came out to run or walk on one of the warmest mornings of the year thus far. The temperature was about 75° at the start. An hour later, temperatures were in the low 80s, and on the way to an afternoon high of 99°.
A slight breeze and lots of shade on the course provided some slight but welcome relief from the very warm and humid weather at the Missouri Forget-Me-Not Horse Rescue & Sanctuary's (Facebook page) Run for the Horses 5K/10K in Linn Creek on Saturday. Twenty-five runners and walkers--about the same as last year--toed the starting line.
The 10K had two entrants--one male, one female--so the overall victories were never in doubt. On the men's side, Christopher Leonard, who lives in Wichita but was visiting family at the Lake this weekend, finished in a very impressive 42:00. (It turns out he's raced at the Lake before, finishing the Bridge & Dam Half Marathon back in March in 1:26:36 and placing 5th overall (of 127).)
Another visitor to the Lake, Tonya Cogan from Liberty, Missouri was the women's winner. Tonya crossed the line in 1:15:23.
10K participants and overall winners Christopher Leonard (42:00) and Tonya Cogan (1:15:23).
The 5K had the dubious distinction of having the slowest winning times of any local 5K race in memory. Steve Brennaman was the top male, winning in 33:20. Elena Dissen was the women's overall winner, in 34:07.
5K overall winners Steve Brennaman (33:20) and Elena Dissen (34:07). Steve achieved something extremely rare--claiming an overall race victory while in one's 60s.
The full race results can be found at these links:
Photos snapped automatically as runners crossed over the finish line can be viewed here.
My race photos can be viewed here.
Still more photos, plus a few short videos, can be found at MFMN's Facebook page.
* * * * *
The Macklind Mile: The fastest runners in the St. Louis area and beyond competed in Big River Running's Macklind Mile on Saturday.
In the elite division, the fastest mile was a 4:07 for the men, and 4:51 for the women. (To compete in the elite race, men must have run a 4:30 or better, and women 5:30 or better, in the past year.)
In the competitive (non-elite) division, the fastest miles were 4:23 for the men, and 5:08 for the women. Robert Bruns, a regular at 4 Fore 30 and the Trail of Four Winds 25K, placed 16th among the men, finishing in 4:40.
The fastest human/dog team ran a 4:29.
Complete results can be found here.
* * * * *

2022 Archives
2021 Archives
2020 Archives
2019 Archives
2018 Archives
2017 Archives
2016 Archives
2015 Archives
2014 Archives
2013 Archives
2012 Archives
2011 Archives
2010 Archives
2009 Archives
* * * * *

4X4X48 FOR THE FOURTH CHALLENGE (posted June 13th)
A new endurance challenge is coming to Waynesville. You might think of it as a backyard ultra for less-crazy runners with more time to spare.
In early 2021, retired Navy Seal and incredible endurance athlete David Goggins came up with a new running challenge for runners. It's not nearly as strict or physically demanding like a backyard ultra, but it goes on for 48 hours. It's known as the David Goggins Challenge, or more descriptively as the 4x4x48 Challenge.
In short, you're required to run four miles in a four-hour period. That sounds easy enough. But, after four hours, you're required to run another four miles within the next four hours. And then again…and again…and again…and again….and so on, until you've run 48 miles in a 48-hour period.
The 4x4x48 for the Fourth Challenge will start on the evening of Friday, July 1st at the Waynesville Middle School. It's a free event, but donations will be accepted for the OneSolePurpose Project, whose goal is to provide a new pair of shoes to every child in Pulaski County's Title I schools.
* * * * *
ELDON INDEPENDENCE DAY 5K RUN/WALK (posted June 8th)
The City of Eldon's Independence Day 5K Run/Walk will be held on Monday, July 4th. The race willl start at 7:00 a.m. at the Public Safety Building at 111 S. Oak St. Race-day registration opens at 6:30 a.m.
The entry fee is $15 if you register by the pre-registration deadline of June 24th. After that date, the fee is $20. T-shirts will only be provided to those who pre-register by June 24th.
Click here for a registration form.
* * * * *
CHRISTMAS IN JULY 5K RUN/WALK (updated July 1st)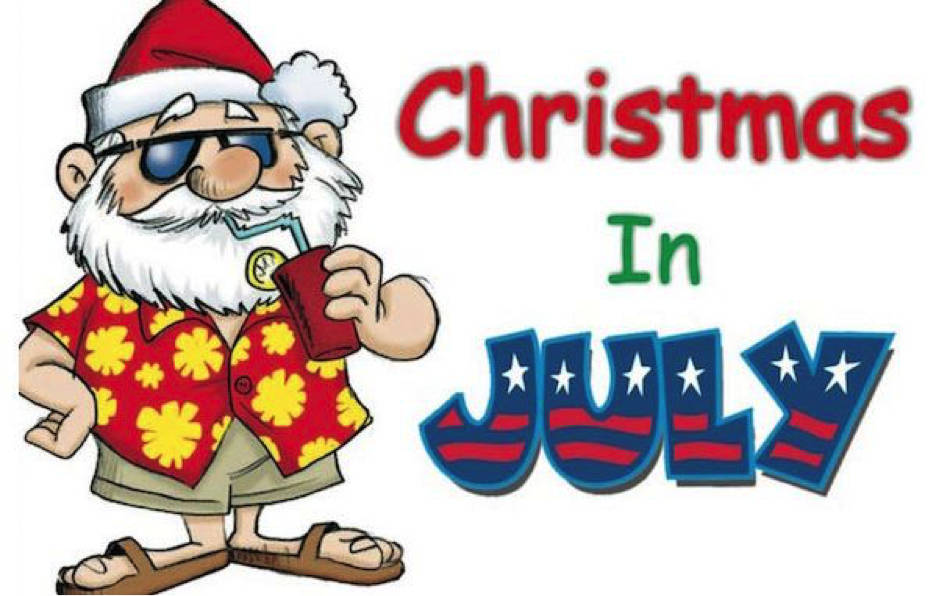 The Tri-County YMCA's fifth annual Christmas in July 5K Run/Walk will be held at the YMCA in Osage Beach on Saturday, July 23rd. To beat the July heat, the race will start at 7:00 a.m., with race-day registration opening at 6:00 a.m.
The entry fee is $30 through June 30th, and $35 thereafter. T-shirts can only be guaranteed to those who register by June 30th.
Online registration is available here.
Click for a mail-in registration form with additional race details.
* * * * *
PREGNANCY HELP CENTER'S 5K WALK/RUN FOR LIFE (posted March 30th)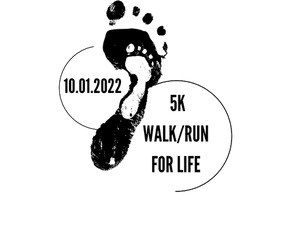 The Pregnancy Help Center of the Lake of the Ozarks (Facebook page) is holding its 5K Walk/Run for Life (Facebook page) on Saturday, October 1st. The walk/run starts at 9:00 a.m., with race-day registration open from 7:00 to 8:00 a.m. The event will again be held at JJ Twigs Pizza & BBQ on Bagnell Dam Blvd. in Lake Ozark. As in the past, the event will include the always popular raffle prize giveaways, childrens' activities, and food and drinks. A pre-race fun run for kids age 6 and younger starts at 8:30 a.m.
The entry fee for runners and walkers is $15 until 11:59 p.m. March 31st, $20 from April 1st to June 30th, $25 from July 1st to September 30th, and $30 on race day. 5K participants age 11 and under are free unless they wish to be eligible for run prizes, in which case they pay the normal entry fee.
Click to register online or for all the event details. The online registration page also contains a fundraising option.
* * * * *
LAKE AREA MAGICAL ADVENTURE (posted November 5th)

A new endurance race is coming to the Lake of the Ozarks in October.
The Lake Area Magical Adventure (Facebook page)--LLAMA, for short--is a 200-mile team relay race to be held on October 22-23. Teams of up to 12 runners will race with a 36-hour time limit to complete the course.
Registration is available here.
* * * * *
4 FORE 30 INFINITY (posted February 2nd)
The fifth annual 4 Fore 30 Infinity last man standing race will be held December 3rd at Lake Valley Club west of Camdenton. Kids' Harbor will again being the race's nonprofit beneficiary.
Registration and complete details about the race can be found here.
* * * * *