Introduction
I recently traveled to Houston, Texas to see how the city has changed in the twenty-two years since I moved away, as well as to participate in the 43rd annual Chevron Houston Marathon held on January 18, 2015. As I often do for races, I carried a camera to capture images and memories that would otherwise fade away with time. My photos from the race, plus a few taken in the days leading up to it, are shown below, along with a little background.
Click on any photo to view a larger image.
* * * * *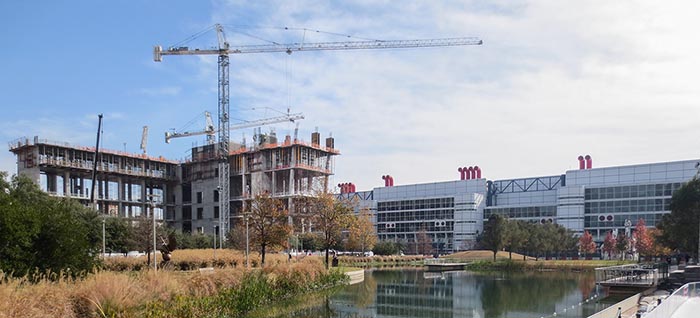 The George R. Brown Convention Center in downtown Houston is the host facility for the Chevron Houston Marathon, the Aramco Half Marathon and the ABB 5K. The convention center is pictured on the right, adjacent to a 500-room Marriott hotel currently under construction.
When it was completed about thirty years ago, the convention center looked like a big mistake. It was completed at a time when the oil industry--and by extension the city of Houston--was hurting badly because of low oil prices. There was also very little development or activity near the east end of downtown where the convention center was located.
As oil prices rose, Houston's economy eventually recovered. It also led to the construction of new office buildings, hotels, Minute Maid Park (home of the Houston Astros), the Toyota Center (home of the Houston Rockets), and high-rise residential towers near the convention center.
Construction is still booming in Houston. The skyline is dotted with construction cranes almost everywhere you go. The recent, sharp decline in oil prices will undoubtedly put a damper on future construction.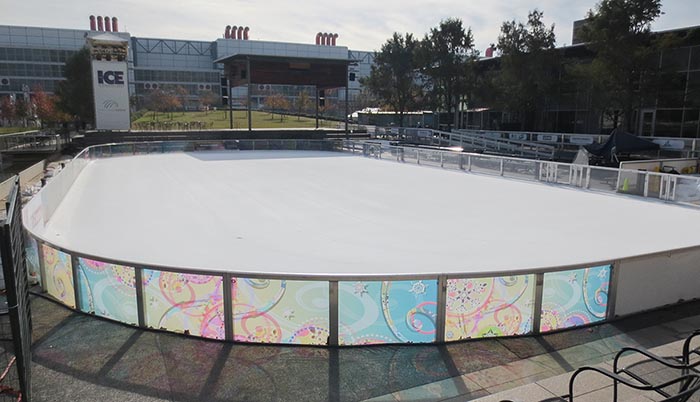 Located in front of the convention center is Discovery Green, an urban park that hosts civic events. (Pictured above is an ice-skating rink in the park.) The park was built with donations from Houston corporations and some of the city's many wealthy benefactors. Houston has a can-do attitude like nothing I've seen anywhere else. When something needs to be done, or someone dreams of doing something big, it gets done.
Houston, like any big city, has its problems. Its traffic congestion, for example, was the worst in the country when I lived there from 1978 through 1993, and despite having spent billions of dollars expanding existing highways and building new ones, it looks to be no better. If not for the traffic and the brutal hot and humid summers, Houston, in my opinion, would be a great place to live.
One might think that, after enduring torrid summers, Houstonians at least get to enjoy a warm winter, but that's not the case. Winters in Houston are warmer than in Missouri, but they're not like those in south Florida. It gets cold. Below-freezing temperatures are not common in the coldest spells. Snow, however, is extremely rare--I saw it just twice in 15 years of living there. The weather for the Chevron Houston Marathon is a crapshoot--it can be cold and rainy, or warm and sunny.
For 2015, the weather for Chevron Houston was absolutely perfect, with the temperature ranging from 50 at the start to the low 60s by noon. The skies were crystal clear (except for a few stray clouds), and there was virtually no wind. I've never experienced such beautiful weather for a marathon, and will probably never do so again.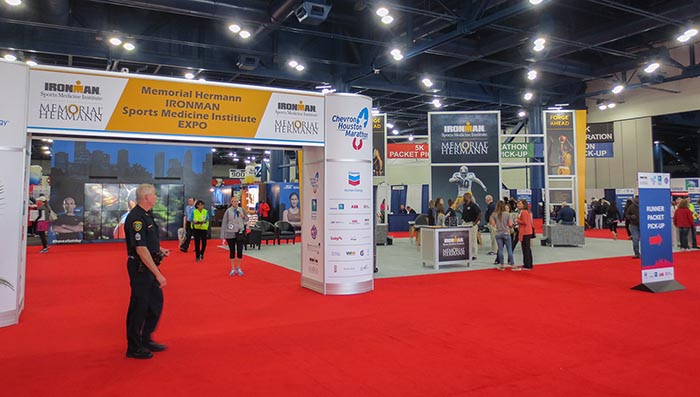 The race expo was held in the convention center, and was sponsored by the Memorial Hermann Ironman Sports Medicine Instititute. (Memorial Hermann is a huge hospital system in the city.)
The packet pickup process was very quick and efficient, thanks to an army of well-trained volunteers. Taken together, the expo and packet pickup gave a very good first impression of the event.
I must admit, though, that I was there at the start of the expo on Friday, when there were very few runners around. I suspect things were much more crowded on Saturday, and those picking up their packets on that day might have had an impression different from mine.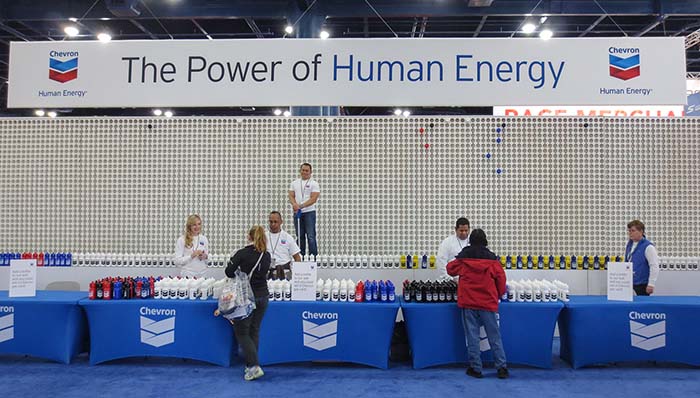 Chevron is headquartered near San Francisco. It gained a big presence in Houston in 1984 when it acquired Gulf Oil, which had a large number of Houston-based employees.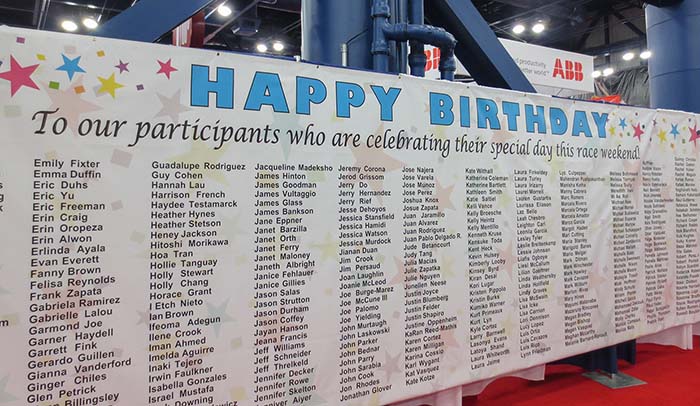 Here's a nice touch, and something I've never seen before at a race expo--birthday wishes to those who would be celebrating theirs on race day. It was a big banner, about seven feet tall and 30 feet long, so it no doubt cost a nice sum of money to make.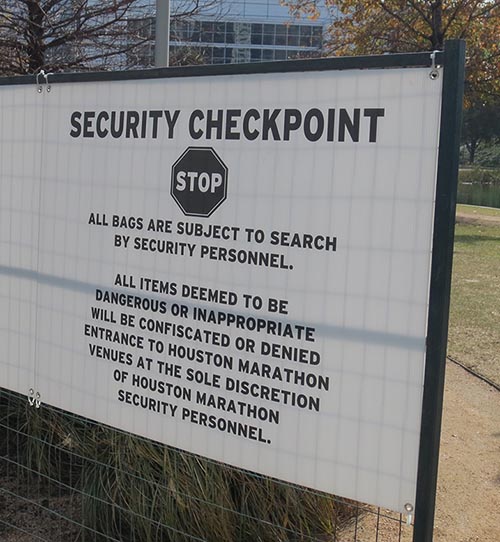 Security is still a concern two years after Boston.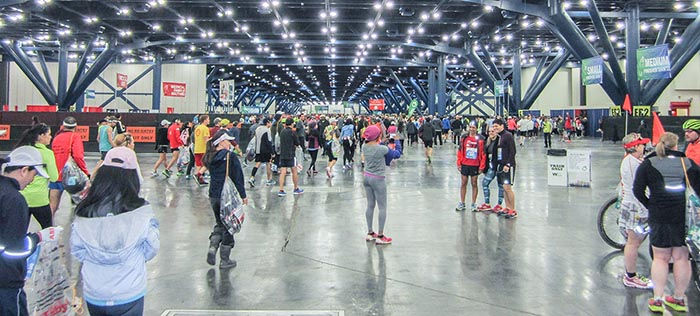 On race morning, the gear check and weigh-in were held in the massive first floor level of the convention center. We were advised to be there at 5:30 a.m., but getting there that early wasn't really necessary for those of us starting in the last corral. (We wouldn't be crossing the starting line until about 7:30.)
They had 200 porta-potties placed in the corner of the convention center, but with about 18,000 runners (7,000 for the marathon, 11,000 for the half marathon), the lines were still pretty long. As is becoming more common at big marathons, there were porta-potties reserved for VIPs or those running for charities.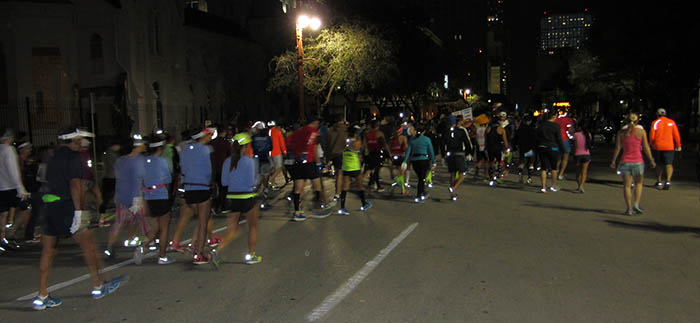 At around 6:00 a.m., we were told to start making our way to our respective corrals near starting line, which was located about five blocks north and five blocks east of the convention center. It took about 15-20 minutes to walk there.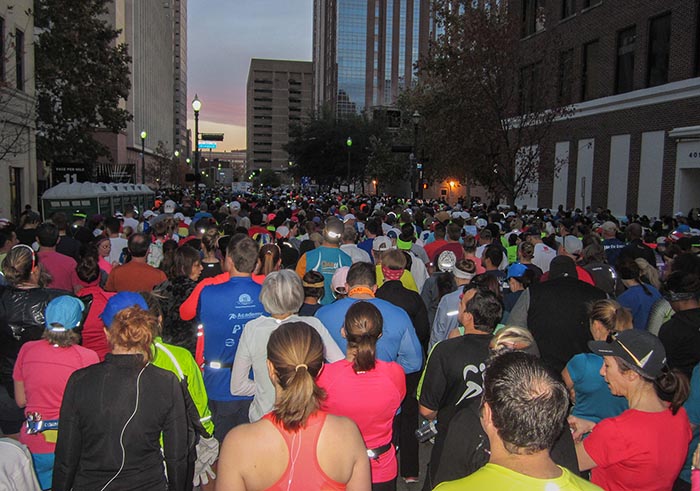 The view from the middle of Corral D at around 7:10--ten mintues after the elite runners started their race. From where this photo was taken, the actual starting line is two blocks ahead, and one block to the left.
The official sunrise was at 7:15 a.m., so the darkness gave way to light minutes later.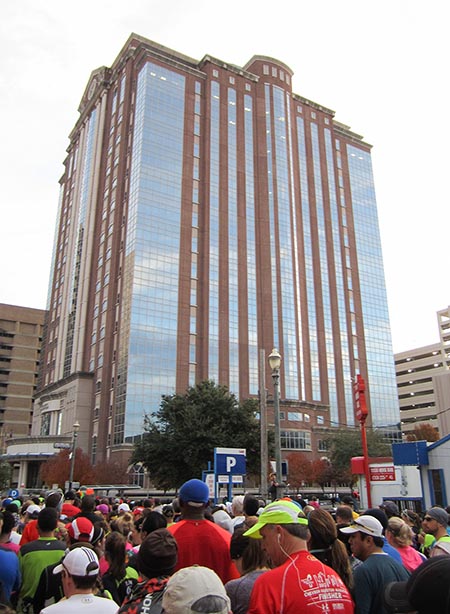 The Harris County Courthouse building. One of many beautiful buildings we'd be passing today.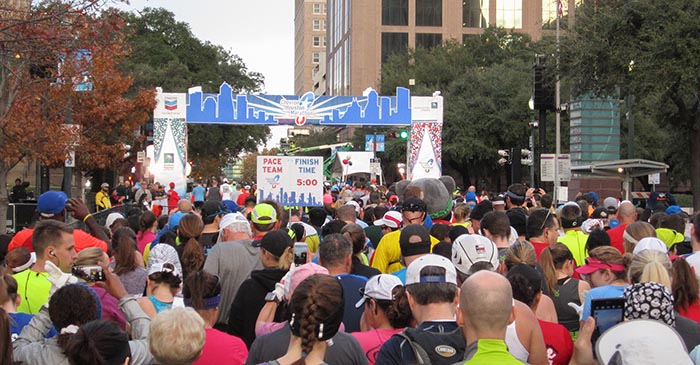 I finally reach the starting line at 7:26 a.m. The pre-race jitters are now a memory.
I was behind the 5:00:00 pace team at the very start, but soon put them some distance behind me. I figured that, as poorly prepared for this race as I was, I'd see them again. Sure enough, they caught me at the 15-mile mark, where I was able to stay with them for only a short distance before they pulled ahead for good.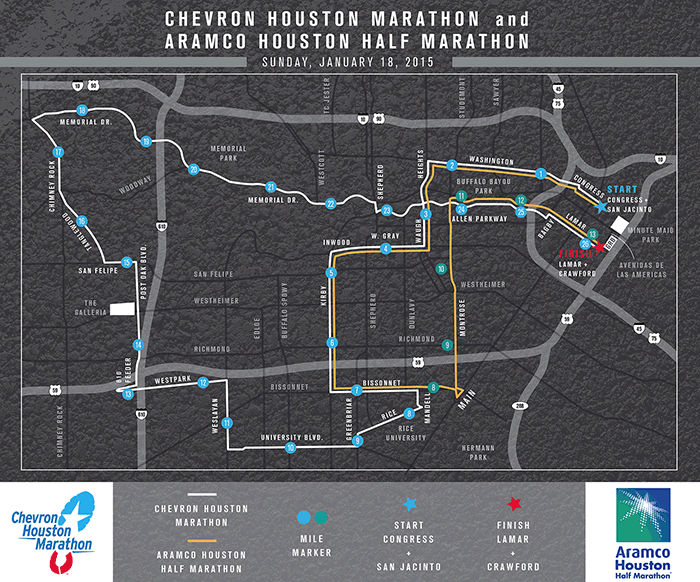 The marathon course took us through a nice mix of residential neighborhoods, commercial and retail areas, and city parks. It included some of the most scenic and attractive parts of Houston. The half marathon course split off just before the 7-mile mark, and wouldn't have been as scenic.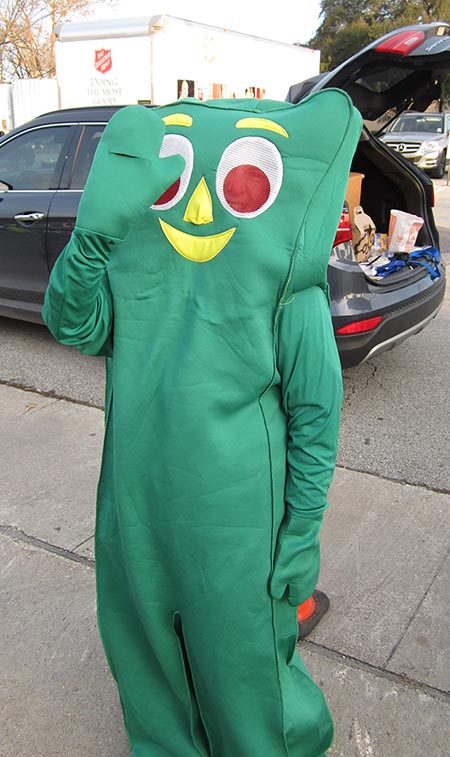 Gumby was there to cheer us on at the 1-mile mark on Washington Blvd. in the Heights area. Gumby was the first of many characters seen along the course.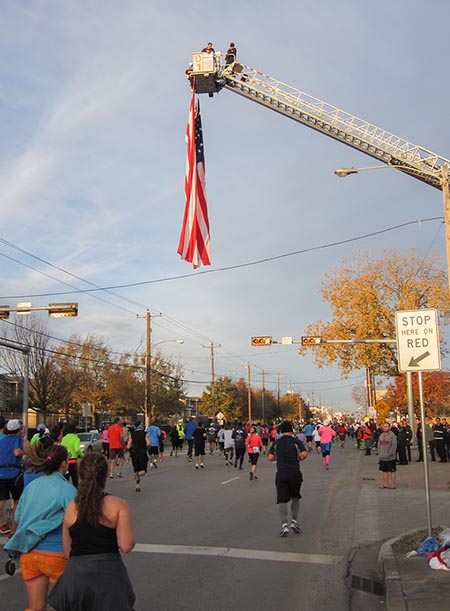 The Houston Fire Department was out to cheer us on.
Marathon weekend was a big deal in Houston--bigger than I thought it would be. It received a lot of television and press coverage, and the communities along the course came out to support us.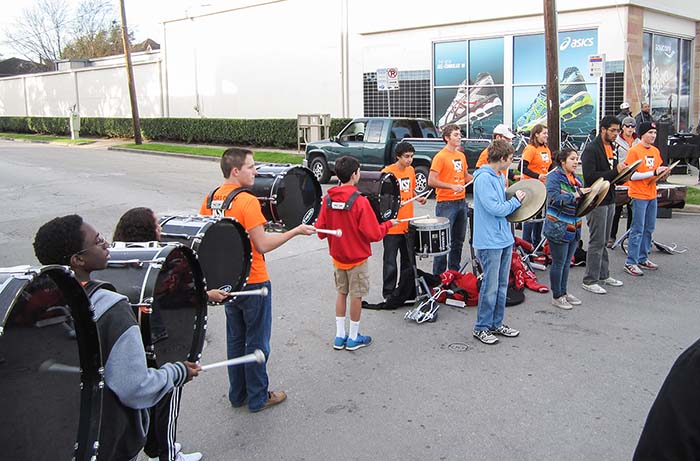 This was the first of many bands and entertainers that appeared along the course.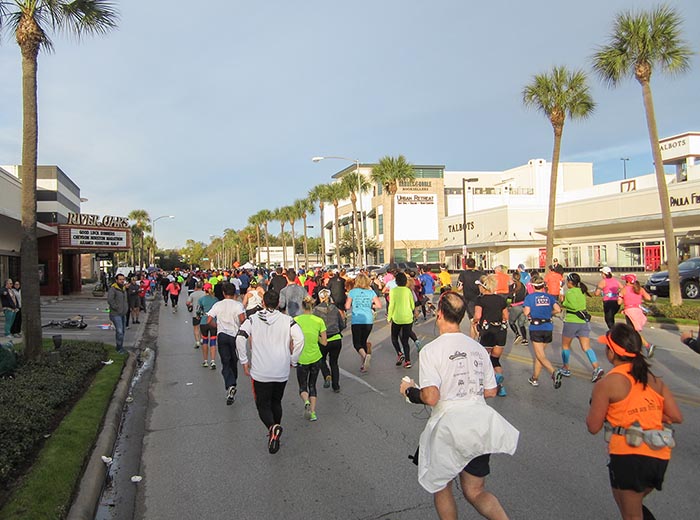 We're now at mile 4 on W. Gray Street in the River Oaks neighborhood. River Oaks is the wealthiest part of Houston, and some of the mansions there are spectacular.
The River Oaks Theater took the time and effort to wish us good luck on their marquee. You have to appreciate things like that.
A high-rise condominium building along Kirby Dr. at mile 5, a short distance south of River Oaks. With available land increasingly scarce and expensive, numerous high-rise condominium and apartment buildings have been built in the more desirable areas of Houston.
At mile 5.5 on Kirby Dr. was a dance troupe known as FFCCUSS-Bloque Houston. I assume from the banner behind them that they're orginally from Bolivia.
Chickens cheered us on as we crossed under the Southwest Freeway at mile 6. Houston has very large Hispanic and Asian communities. It was obvious when looking at the spectators--estimated to number around 200,000--along the course.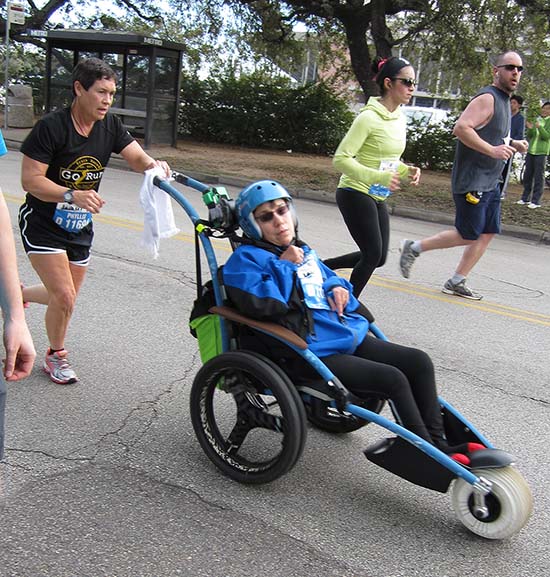 I remember passing Phyllis Aswell pushing this wheelchair participant (presumably a relative) near the starting line, but she eventually caught and passed me at the 6-mile mark. They finished the marathon, in 5:00:57. It was very inspirational to see.
The Houston Marathon Committee goes to great lengths to help charities raise funds through the Run for a Reason program. The program allocates a certain number of race slots to designated charities that in turn give those slots to runners who commit to raise money for them. Last year, sixty charities raised over $2 million through the program.
One of this year's charities was the Parent Project Muscular Dystrophy, which was raising funds for and awareness of Duchenne Muscular Dystrophy. The young lady in the photo above was supporting those efforts as a spectator at mile 9 on University Blvd. in the city of West University Place, commonly called "West U.". Rice University is located nearby.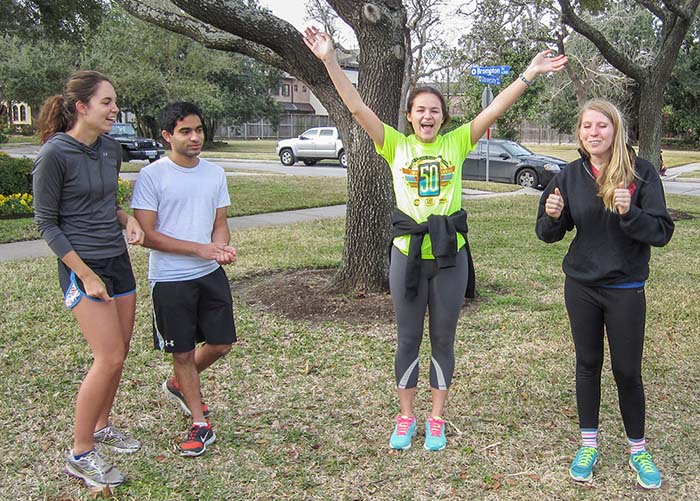 Lots of college kids came out to cheer us on in West U.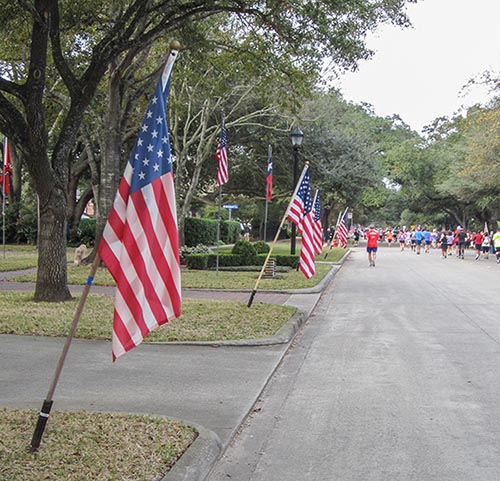 Like many communities near major universities, West U. is a very nice part of town. I forget which civic organization was responsible for placing the flags in front yards along most of University Blvd. on miles 9 and 10, but it was a very nice touch.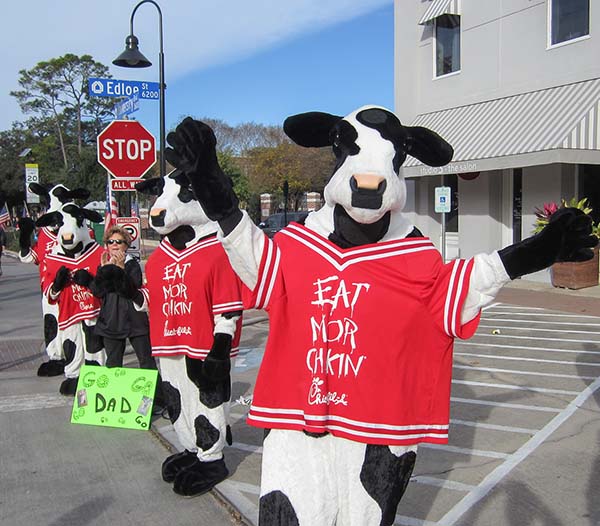 The Chick-Fil-A cows wandered off the farm to cheer us on in West U. (I love Chick-Fil-A's sandwiches, which is one reason the scale at the morning weigh-in at the convention center screamed "Get off! Get off!" when I stepped on it. Thank goodness we don't have a Chick-Fil-A restaurant at the Lake.)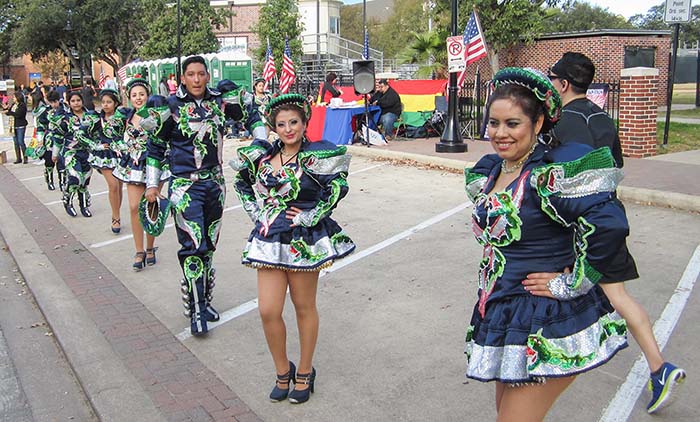 Another dance troupe--Caporales San Simon-Bloque Houston--at mile 10 on University Blvd.
Mile 10 was a popular spot for entertainers. This group was Dee Dee & Mike and the Moondance Band.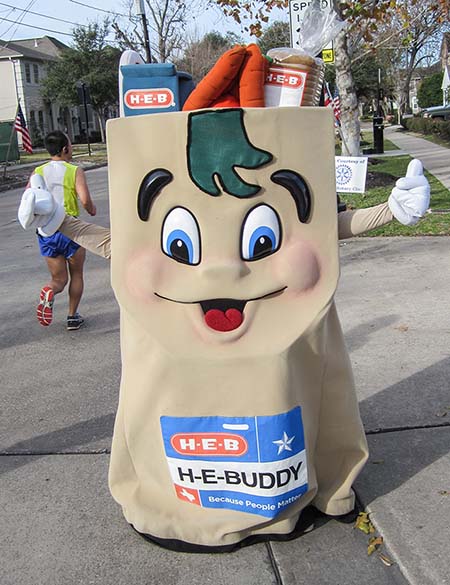 H-E-B is a San Antonio-based supermarket chain with lots of stores around in the Houston. They were a major sponsor of the race, and provided all of the post-race food.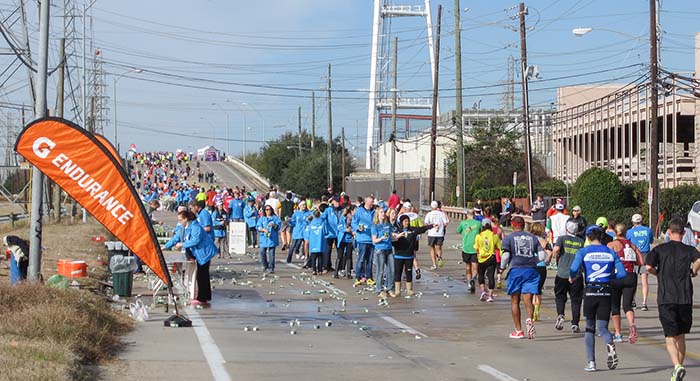 This is the aid station just before the 12-mile mark on Westpark Blvd. This race had more volunteers than I've ever seen at a race, and at times I thought they had more than they really needed. But, I appreciated every single one of them being out there for us. I thank every one I can, and often joke, "We couldn't suffer so miserably like this without your help."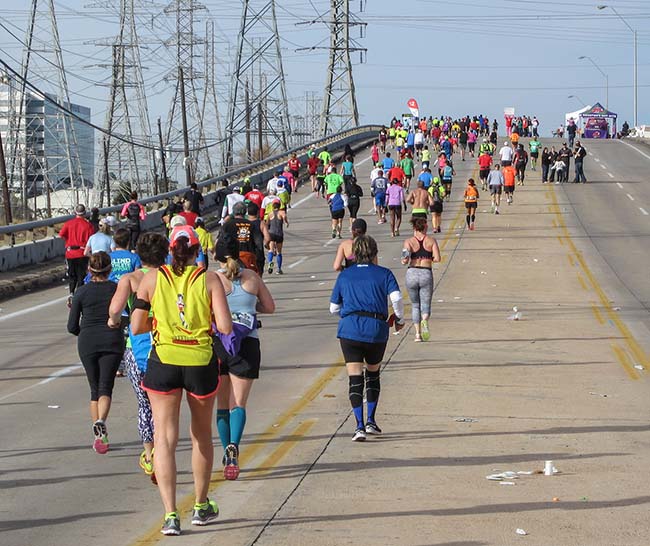 OMG!!! I knew that the course was flat except for some minor hills later in the race, but I wasn't expecting this. It's a railroad overpass at the 12-mile mark. My legs had died three miles earlier, so I had no alternative but to walk up the hill. I wasn't alone in doing so. I had seen surprisingly little walking on the course up until this point.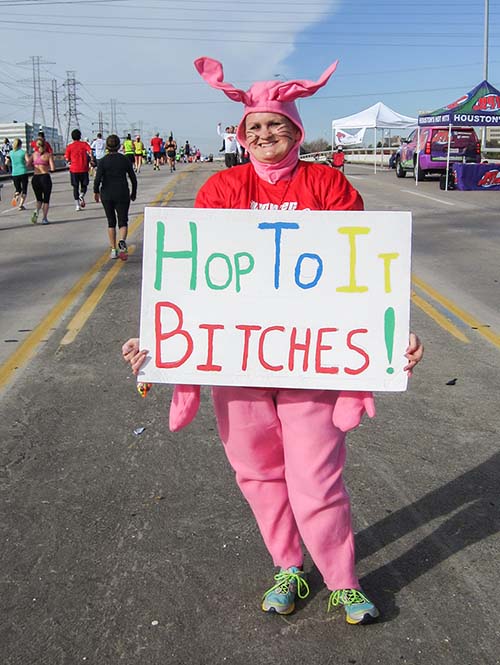 Hopping wasn't an option, either.
Some boisterous spectators had climbed to the top of the overpass to cheer us on.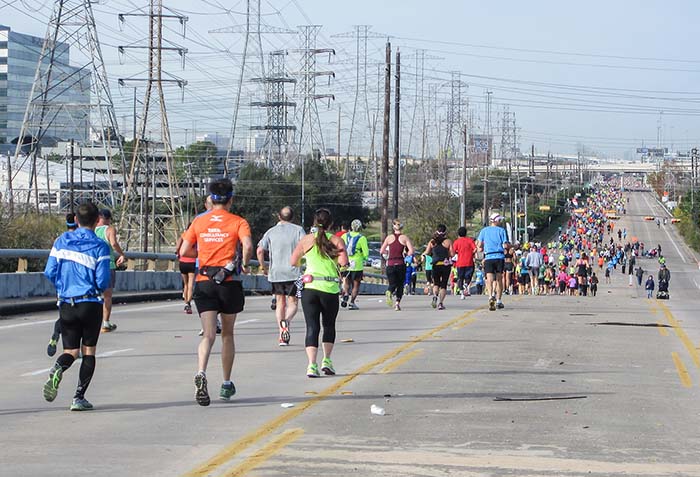 What goes up must come down, thankfully. Here's the view to the west from the top of the overpass. The halfway point of the marathon is a mile (straight) ahead, but it seemed like we had to run miles to get there. I prefer not being able to see long distances ahead of me on a course, as it can be mental torture. Back at the 10-mile mark, I was able to see the 64-story Williams Tower near the Galleria that we would be passing at the 14-mile mark, and it looked impossibly too far away to run there.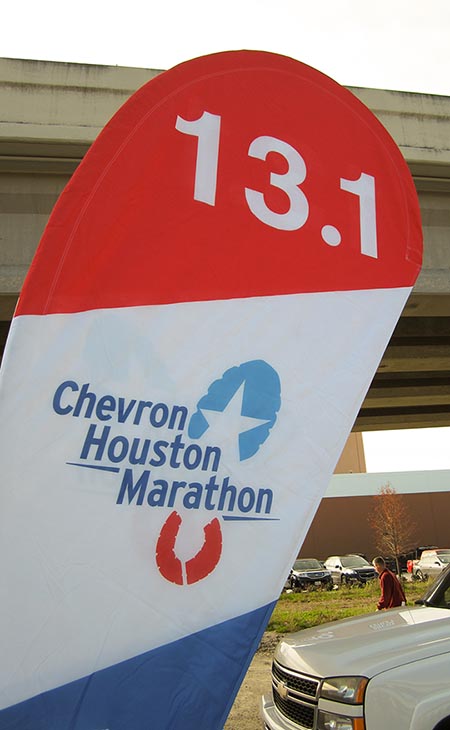 "Why, oh why", you ask yourself at this point of a marathon, "didn't I choose to do the half marathon?"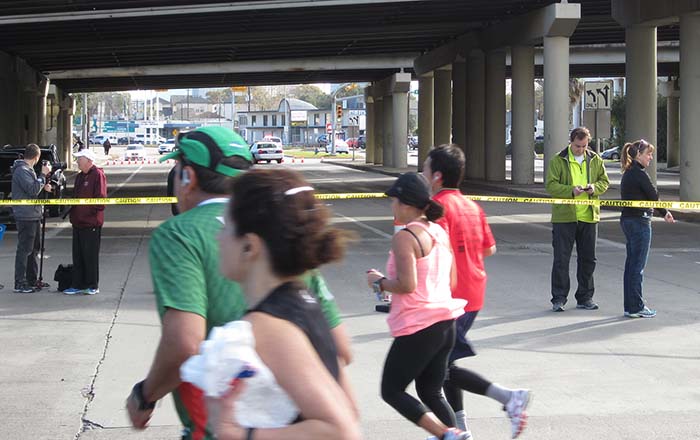 This photo was taken just before the 14-mile mark, at the intersection of Post Oak Blvd. and Richmond Ave. The 610 West Loop is in the background. Unbeknownst to many, a high-speed police chase was underway (look closely, and you'll see two police cars in the background that were part of it) and it came dangerously close to the marathon course. Had the driver of the vehicle being chased turned left instead of right on Richmond Ave., he would have crossed the course with potentially disastrous consequences, as there was a constant flow of runners going through the intersection at the time. The driver, who was being pursued for brandishing a weapon during a domestic dispute minutes earlier, crashed his vehicle soon after getting on the 610 West Loop, and then took his own life.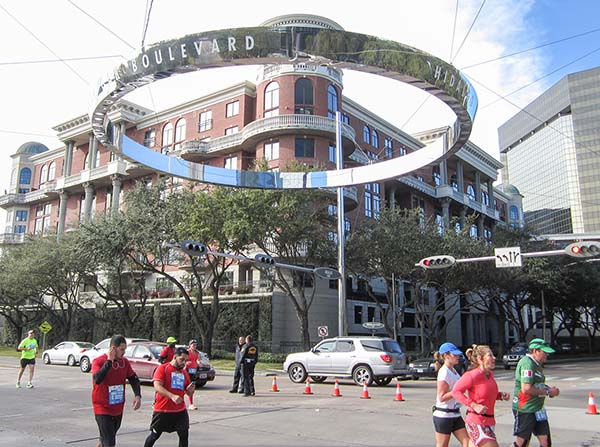 Post Oak Blvd. is the place for high-class shopping in Houston, with The Galleria located right along it. A high-class shopping district naturally warrants some high-class street signs, and the signs in the area all look like this one at Post Oak Blvd. and Hidalgo St.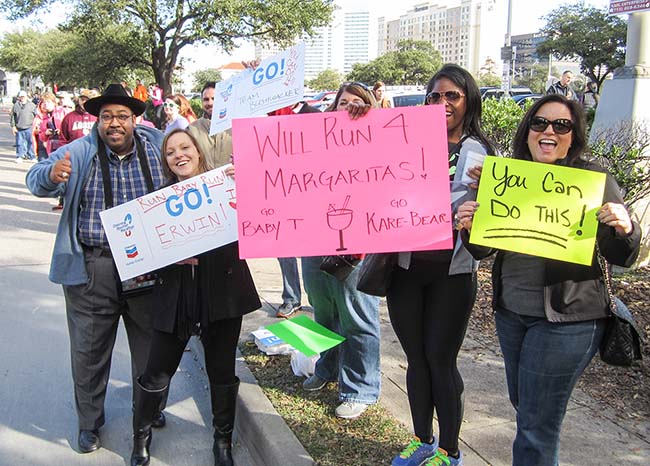 There were lots of spectators all along Post Oak Blvd.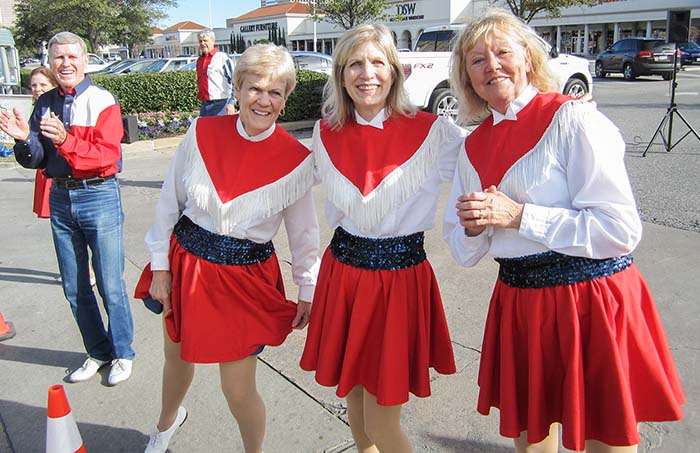 I believe these are the Texas Lovin' Cloggers, entertaining us at mile 14 on Post Oak Blvd.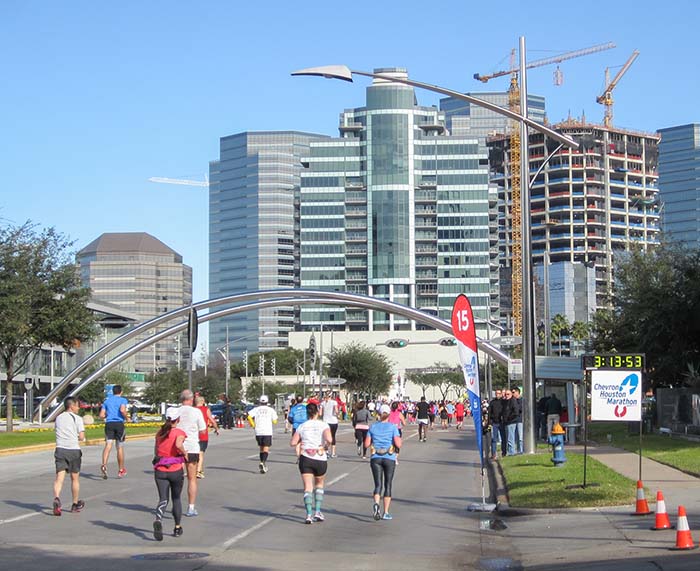 We're now approaching the 15-mile mark on Post Oak Blvd., just before the course turns left onto San Felipe Street. Decorative stainless steel arches like those pictured were seen at other parts of Post Oak Blvd.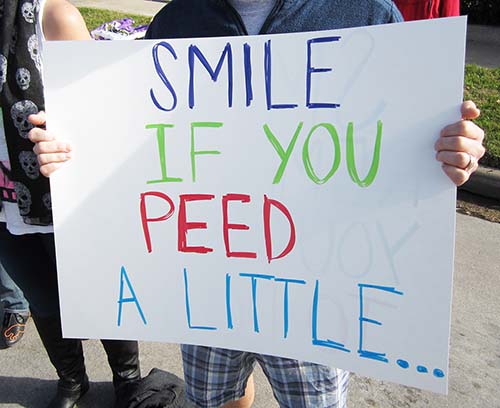 One of thousands of signs seen along the course. I wish I had time to take photos of all of them. I really regret not having taken a photo of my favorite sign of all, held up by a little boy at the 3-mile mark. It read, "You're not even close."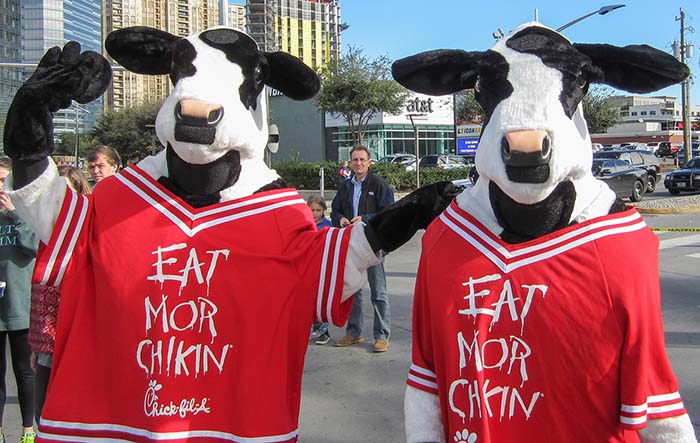 They're baaaaaaack! I can't be certain, but I suspect these are the very same Chick-Fil-A cows I saw at mile 10.
Belly dancers from the Sirrom School of Dance entertained us on San Felipe St.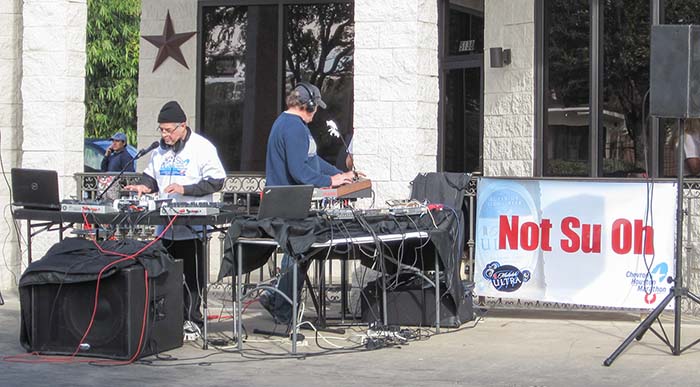 Not far past the belly dancers were some DJs who called themselves Not Su Oh. (I have no idea what the name means or where it comes from.) They had some pretty serious equipment. A few folks in houses along the course brought their stereo equipment out onto the front lawn and played for us. (Some of their music was actually better than the pros'.)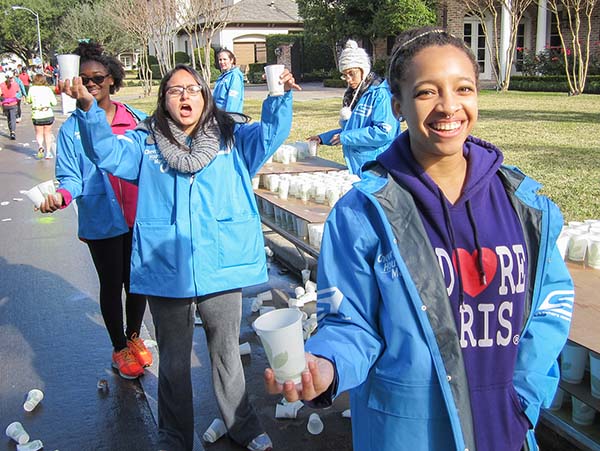 Just a few of the thousands of volunteers for the race. They were fantastic!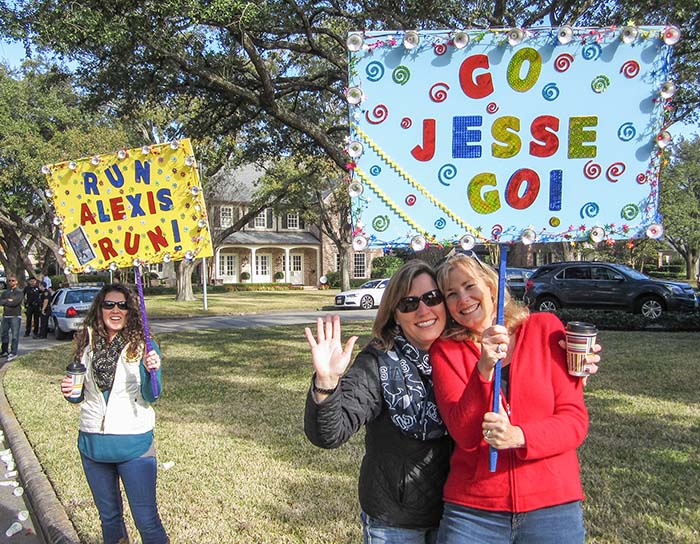 A few spectators along Tanglewood Rd. in the very nice (and expensive) Tanglewood neighborhood. I told these ladies I needed a picture of some good-looking Texas women to take back home to Missouri, and they happily obliged.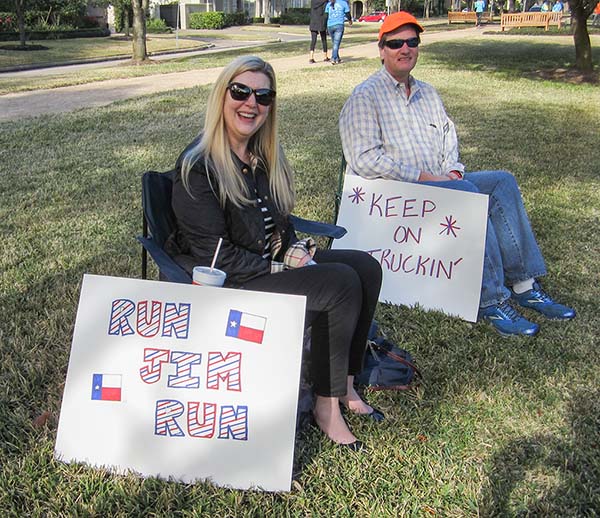 Obviously, I had to stop and take a photo of this. How did they even know I was in Houston for the marathon?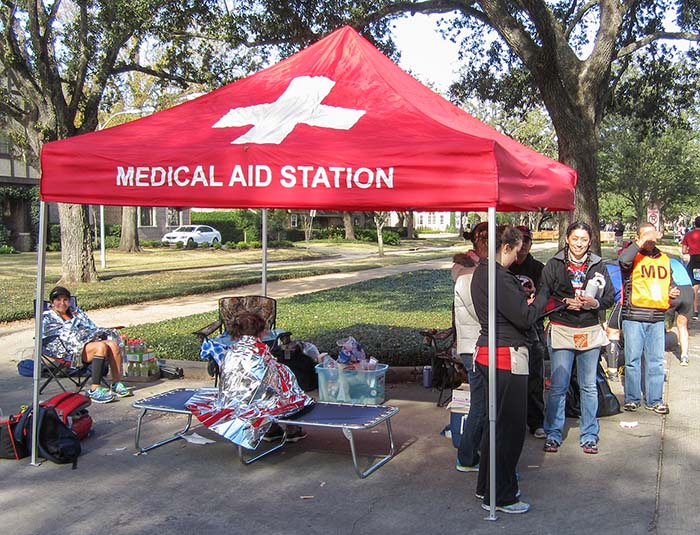 One thing that struck me is how many medical aid stations there were along the course. At the GO! St. Louis Marathon, there are usually only a few. On this course, there must have been close to twenty. This particular aid station was at mile 16 on Tanglewood Rd. It was at about this point that I noticed a few runners starting to suffer from leg cramps, and the number increased as I went along.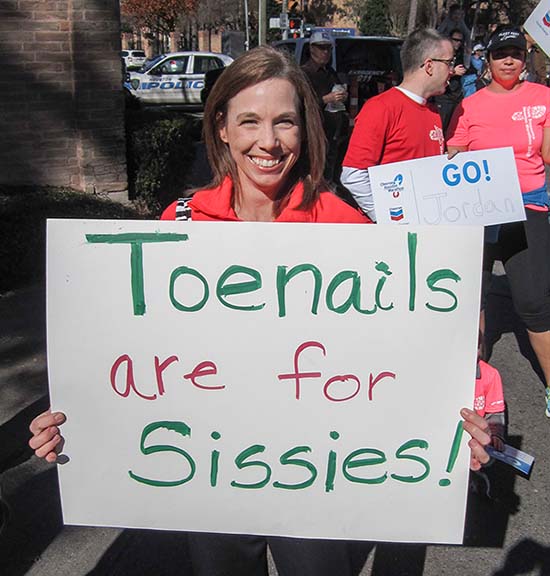 A spectator with her sign along Chimney Rock Rd. at the 17-mile mark. Toenails are indeed for sissies. I've lost many over the years--and will be losing yet another one thanks to this marathon.
I'm not sure what to make of the Irish hat with Viking horns and orange pigtails, but this spectator was cheering us on at mile 18 on Memorial Drive. Making the turn onto Memorial Drive was a big morale booster, as we were now--finally!--heading in the direction of the finish line.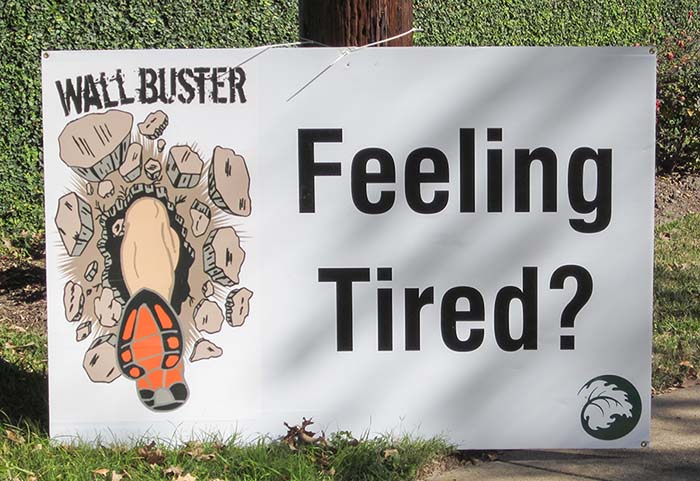 Why, yes. Yes I am.
Mile 20 is often the point in the marathon where runners hit "the wall". From miles 18 through 22 (or thereabouts), "Wallbuster" signs such as this appeared periodically. The Houstonian Club, a very luxurious health and fitness club, was behind the Wallbuster cheering zone signs.
There are some beautiful homes and interesting architecture along Memorial Drive. Taking photos briefly took my mind off the agony of running.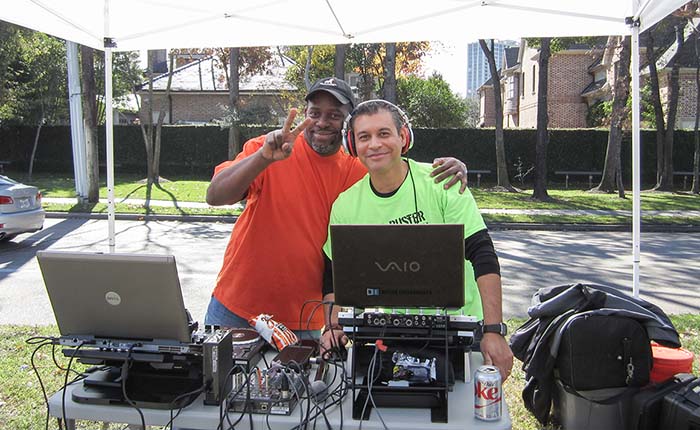 Another pro DJ, this time at the 19-mile mark, just before we crossed under the 610 West Loop overpass into Memorial Park.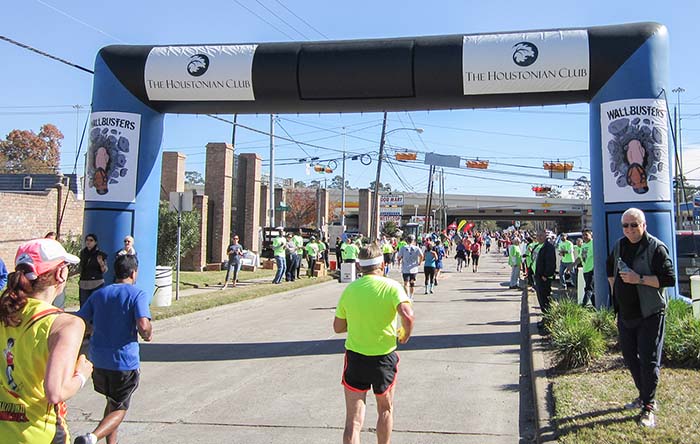 Just past the DJ was The Houstonian Club's Wallbuster inflatable banner. The 610 West Loop is in the background.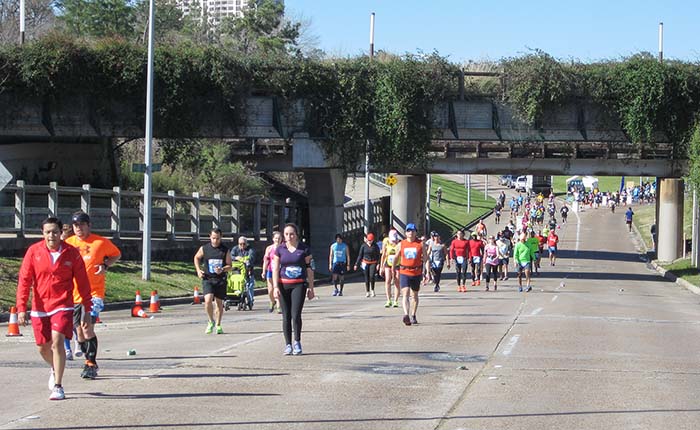 This photo was taken at the 20-mile mark, where Woodway Drive splits off from westbound Memorial Drive in Memorial Park. (Memorial Park is a large public park on Houston's near west side.) There are very few marathoners in the photo running up this hill.
There weren't many spectators in the park, but this one was standing in the street cheering us on while waiting for her mom to pass by.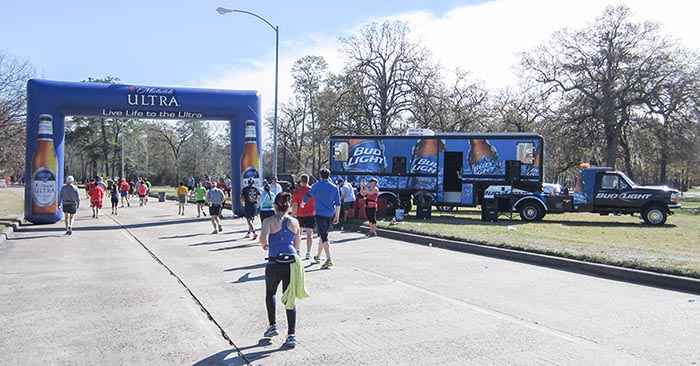 Michelob ULTRA was a race sponsor, and was serving beer to runners soon after the 20-mile mark.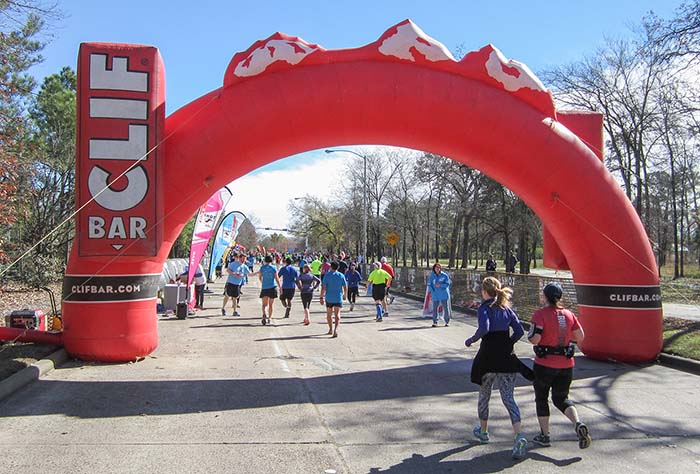 Clif Bar was another sponsor. They handed out gels here at the 21-mile mark which, in my opinion, is far too late in a marathon to do much good. (By the time the gels are digested and converted into energy, the marathon is nearly over.) Putting it here was one of my very few complaints about the race.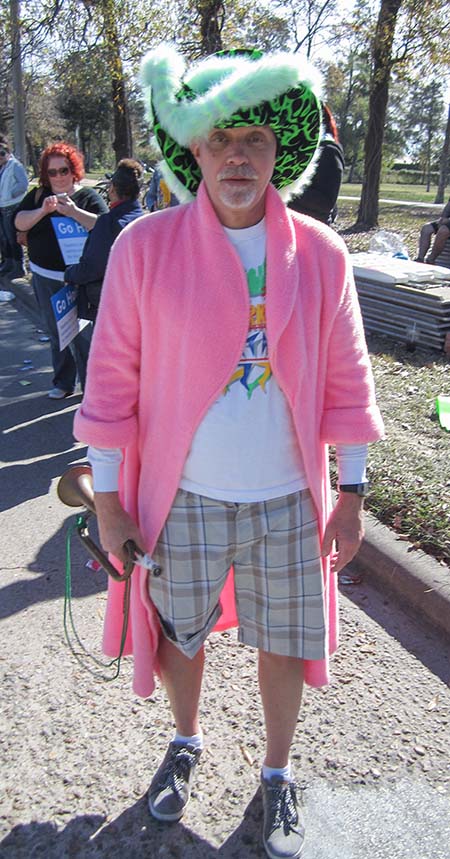 This has to be a fashion violation of some sort.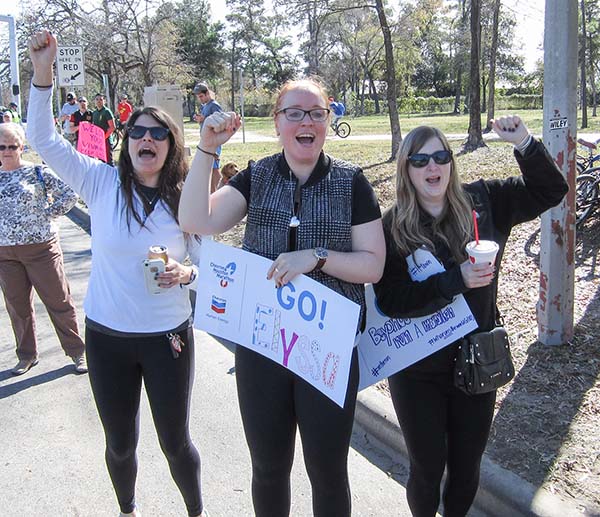 I thought these ladies were cheering for me, so I thanked them. I quickly learned that their cheers were for someone coming up behind me. Oops! Never mind.
No comment.
The signs seemed to get more risqué as the miles wore on.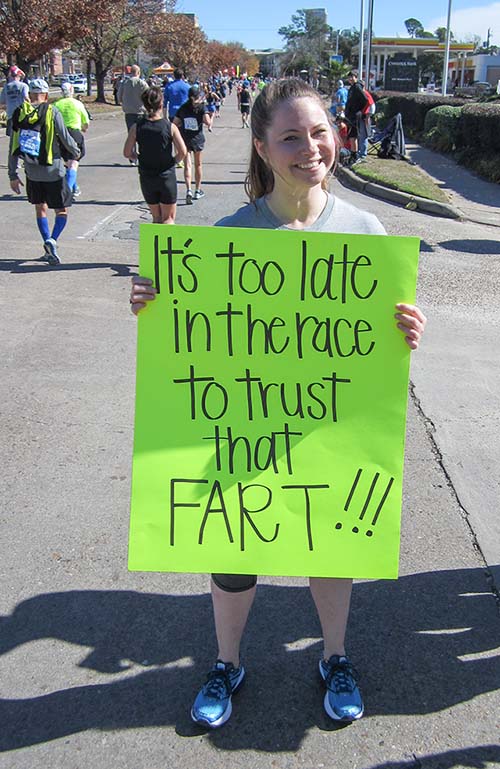 Yet another memorable sign, at the 22-mile mark at Memorial Drive and Birdsall St.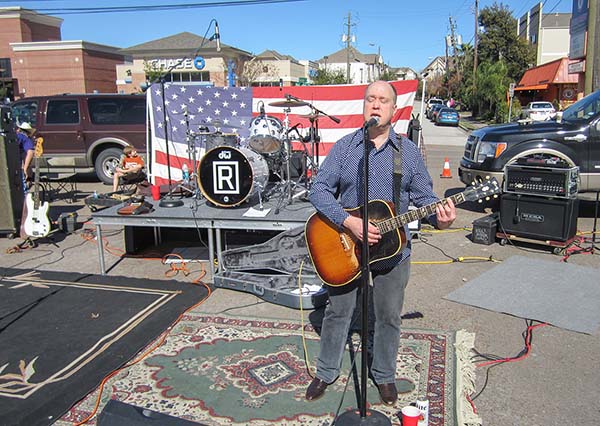 Los Rauncheros entertained the marathoners just past the 22-mile mark.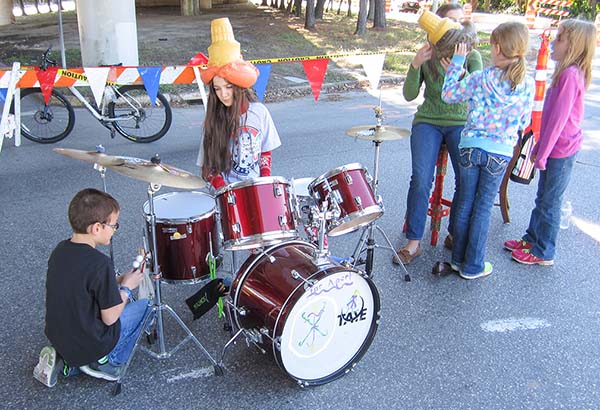 The drums weren't being played when I passed by, so I don't know if they were part of a band or not. (Nice hats, by the way.) We're inching closer to the finish line. This is was just before the 23-mile mark, where we turned from Shepherd Drive onto Allen Parkway. Allen Parkway would take us all the way downtown.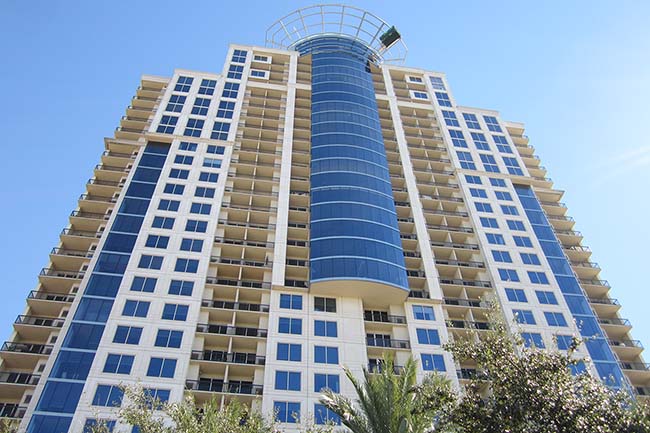 A high-rise condominium or apartment complex along Allen Parkway. I was hoping to look up and see some spectators on their balconies cheering us, but didn't see a one.
Batman, Robin, Gumby (again) and a character in orange I can't identify (when you don't have kids, you're clueless about such things) cheering us on. There are just 2 miles to go, so our spirits are rising.
The local CBS-affiliate TV station put out a large banner for us.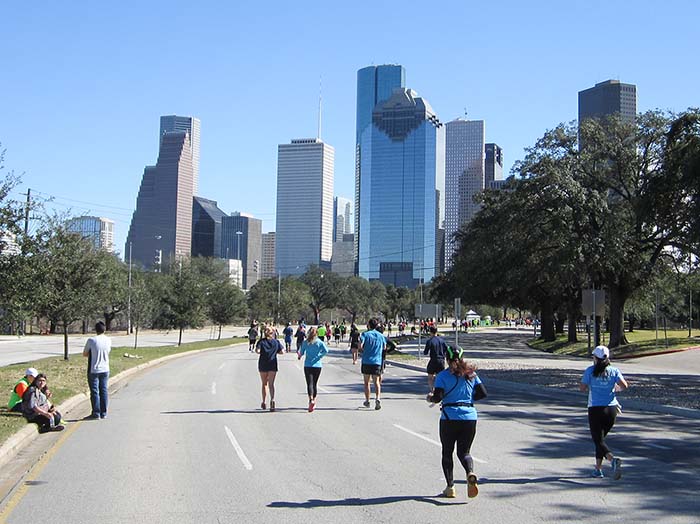 Downtown inches closer. There are less than two miles to go at this point.
Some of the last spectators we saw before entering the downtown area.
1.2 miles to go. The race clock started at around 7:00 a.m., so it's now about 12:30 p.m.
This is Lamar Street. The finish line area is straight ahead, but still about a half mile away. It seems like it's taking an eternity to get there.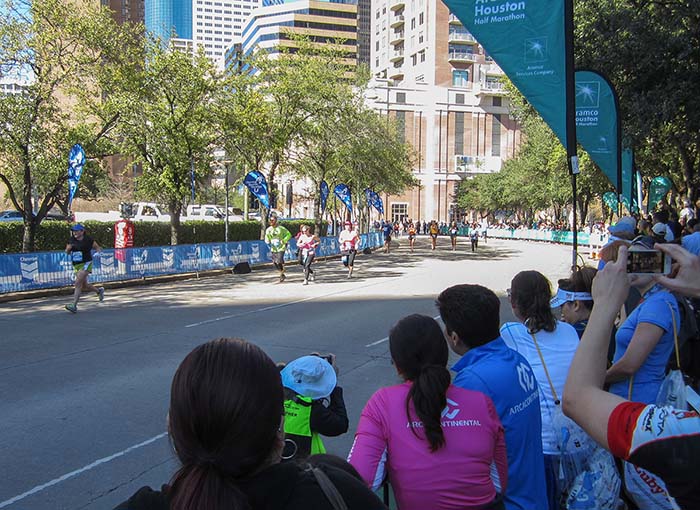 After a sweeping, right-hand curve at the end of Lamar Street, the finish line finally comes into view.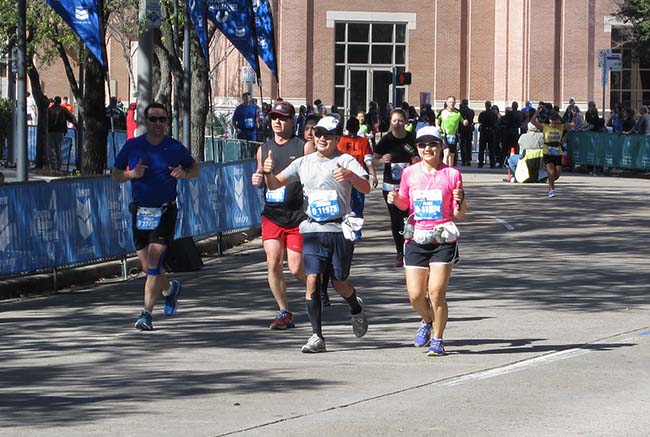 The celebrations begin as the runners see the finish line and the cheering crowds.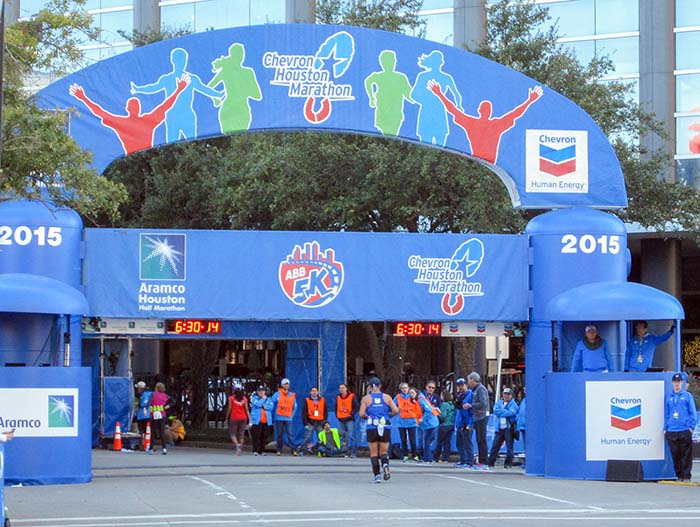 The finish line. The race clock would be turned off in about 10 minutes when it hits 6:40:00. Anyone not crossing the finish line by then would not be an official finisher. I felt terrible for those who missed the cutoff--some by a matter of a few minutes.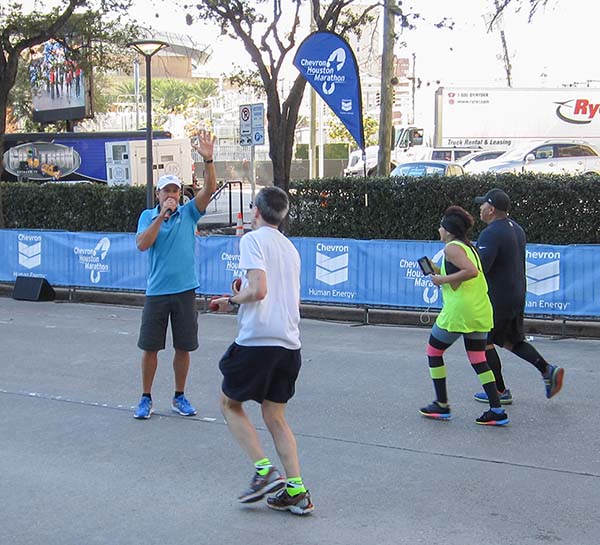 The finish line announcer welcomes the runners in.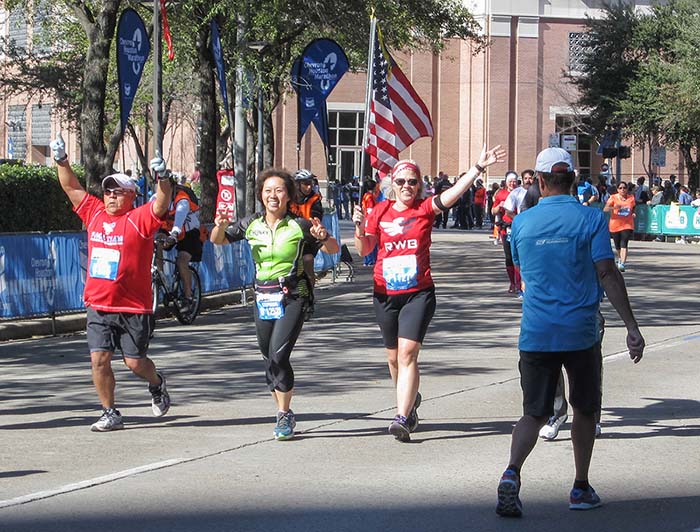 Lots of smiles could be seen at this point.
Some chose to cross the finish line together with family or friends.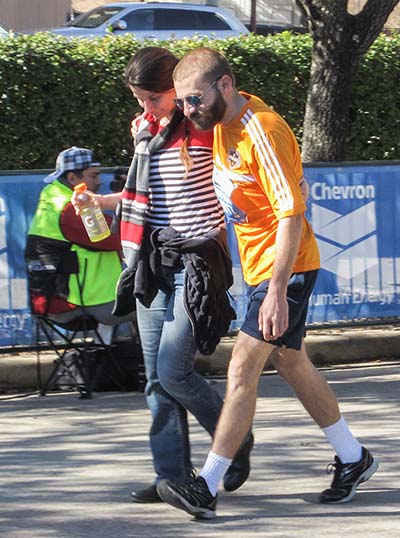 Some needed a bit of help.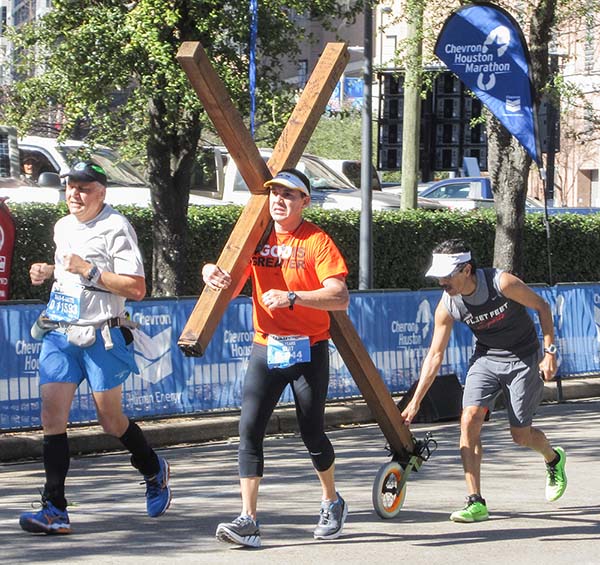 For some, the marathon was more than just a marathon.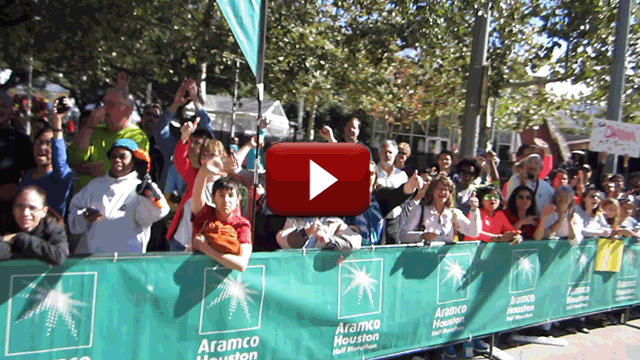 Here's a short video clip of what the finish chute looked like from a runner's perspective.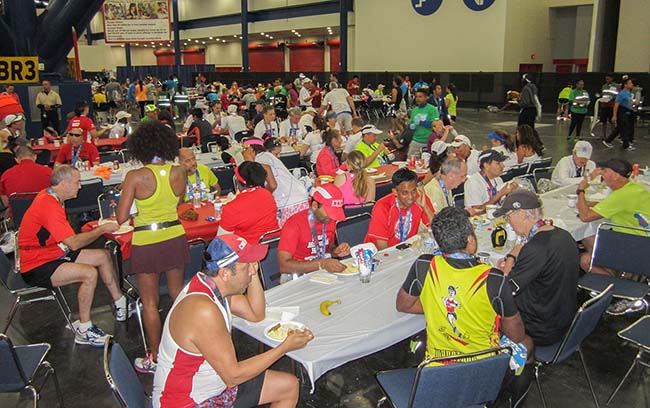 After crossing the finish line, finishers received a medal, t-shirt and a commemorative drinking glass (all pictured below), had their photo taken, and were treated to food and drinks provided by H-E-B.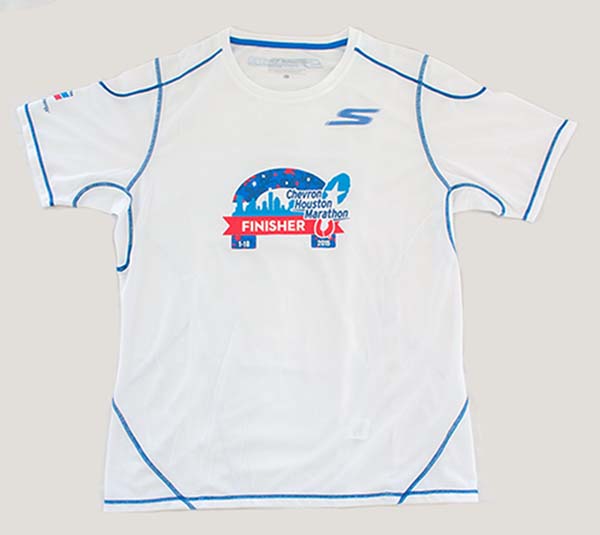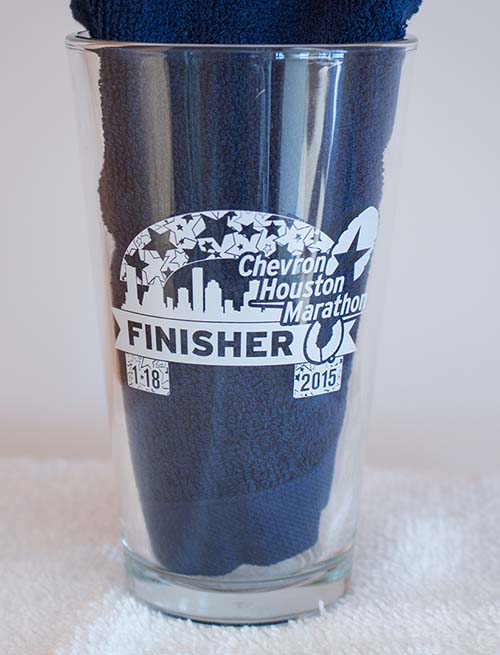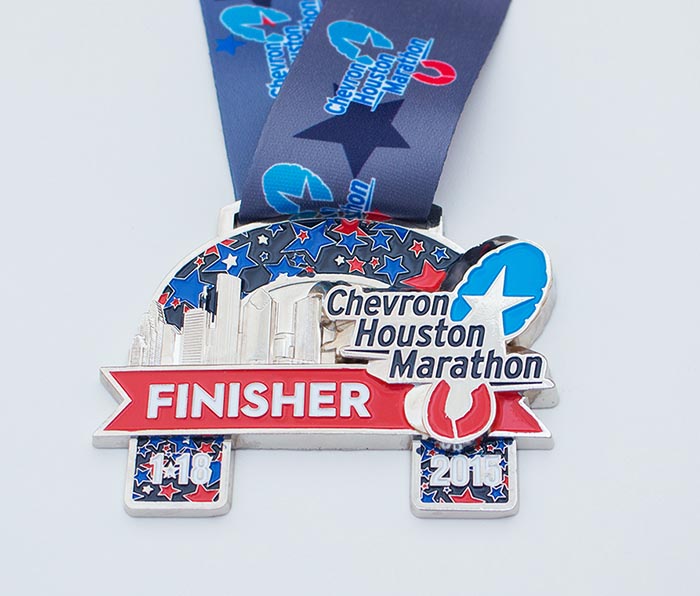 * * * * *
The Chevron Houston Marathon is a truly outstanding event. I didn't quite know what to expect of it before heading to Houston, but I came away very impressed. Everything about it exceeded my expectations--the venue, the course, the organization, the volunteers, and the spectators.
To be honest, I really don't have much interest in running marathons. As I said at the outset, my primary reason for going to Houston was to see how the city has changed these past 22 years. Without coming up with a secondary reason for going--namely, to run the Chevron Houston Marathon--I'm not sure I would have ever made the trip. I'm so glad I did, and happy to have finished the marathon. The entire trip turned out to be a wonderful experience.
I was expecting this trip to Houston to be my last, but the marathon was such a great experience that I hope to return to Houston to do it again in the next few years.
Thanks for reading!
Jim Glickert
January 25, 2015