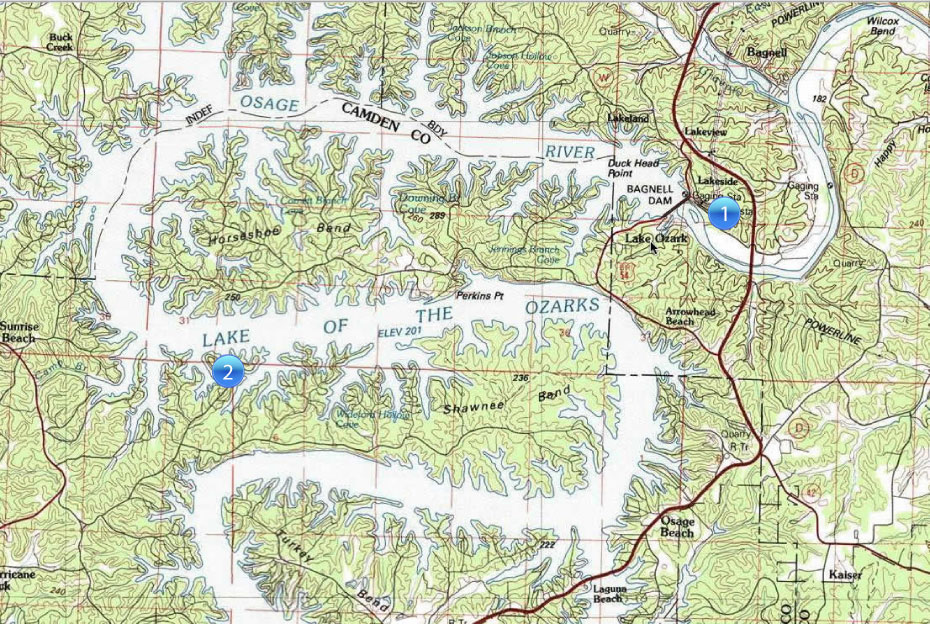 Osage River and
Bagnell Dam to 25 Mile Marker
1. Missouri Department of Conservation public access ramp. This ramp is located just below Bagnell Dam on the Osage River.
Click here to view a more detailed map of a kayak route down the river.

WARNING: Never go kayaking on the Osage River if water is being released from Bagnell Dam (above the minimum discharge level). Before setting out, contact AmerenUE to ascertain any plans to release water. Even a minimal flow can make it difficult to paddle upstream. A heavy flow will make it virtually impossible, and the swirling currents will be potentially dangerous. Because there are few resources available on the river, make sure you are equipped with water, food and emergency supplies.
2. Public access ramp. It's located near Ozark Bar-B-Q at the 11-mile mark of the lake. (I must admit that I don't have any personal experience in using the ramp.)